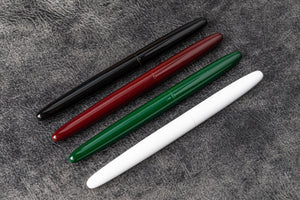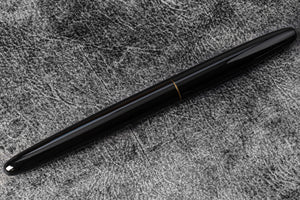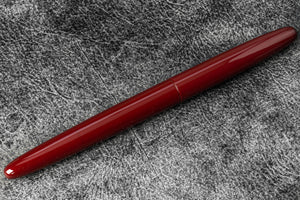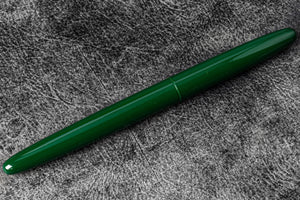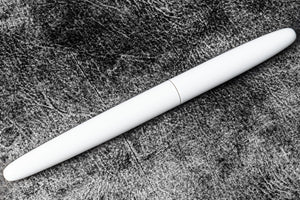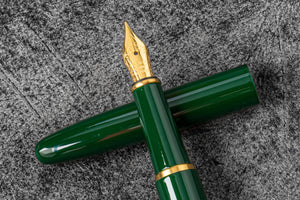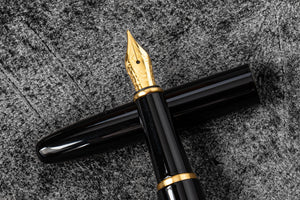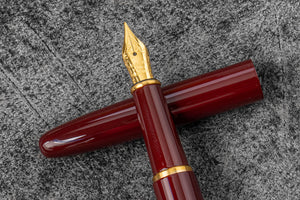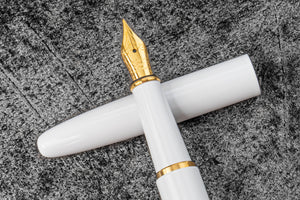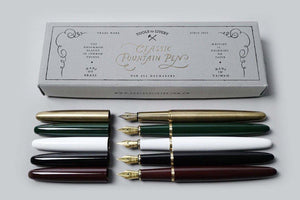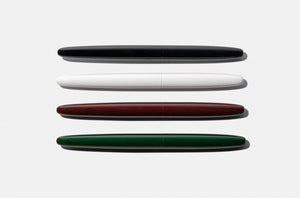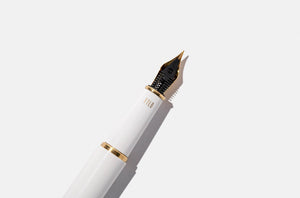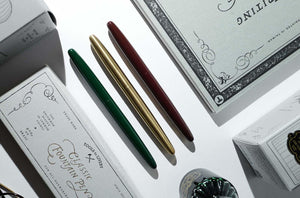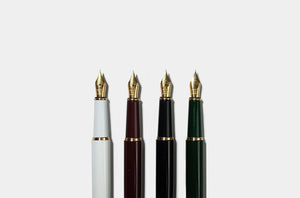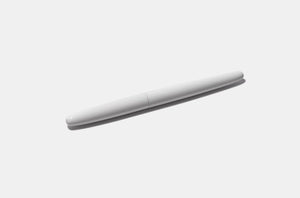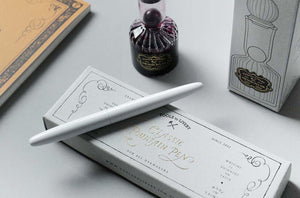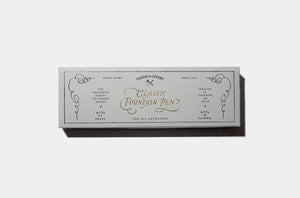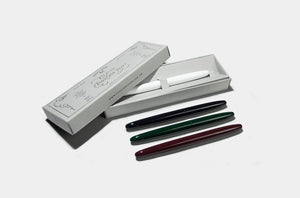 TOOLS to LIVEBY Fountain Pen (F Nib)
Transform your writing experience with this simple and elegant retro fountain pen brought to you by Tools to Liveby. The barrel of the fountain pen is made from intricate brass and finished with a shiny retro paint and features the engraved letters of 'TTLB' on the back. This fountain pen comes with an F nib which allows for delicate writing. So grab your fountain pen paper notebook and a superior fountain pen like this for the perfect combination to put your thoughts onto paper.
Length: 13.8cm

Nib: F - Stainless Steel

Includes: One ink refill (black)

Available in 4 retro colors: Black, White, Red, Green

Filling: Take Standard international cartridges, converters.
Tools to Liveby is a stationery & lifestyle store founded by Karen Yang in Taiwan. It's committed to satisfy the functional and aesthetical needs for people who have a strong passion for stationery. Tools To Liveby feels  like a warm homecoming for the pen, pencil and paper obsessed. The company searches far and wide around the globe for the finest writing instruments. Their range currently consists of scissors, brass paper clips and more stylish writing materials. Tools to Liveby is most well-known for their famous brass scissors and paper clips.
Better than I expected
I impulse bought this pen with an order and am quite pleased! The all brass body adds heft to the pen without being clunky, and the pen itself is well balanced for writing with the cap un-posted, as is my preference.
I found the F nib wrote extremely well out of the box. I tried the included ink cartridge, but it's not for me. I got a standard international converter to use with bottled ink.
Overall, I would recommend this pen to people who like slim, heftier pens, and don't care about a clip or the potential for this smooth pen to roll across a table.
Lovely Pen
I enjoy the styling of this pen as well as how smooth it writes. Modern but not too slim. The ink flow is fluid. Nice weight. Look forward to getting another one in a different color. Started with a black one.
Sleek and sturdy…
At the sale price of 35.40 USD, this slimline but substantial pen is very good value. Ideal in its slight dimensions to slip in with a notebook, the pen feels surprisingly hefty in the hand. At first look, the small, unrefined-looking nib gave me pause but, after minor adjustment, I found the ink flow to be generous for such a fine nib—reliable too. For daily use, I find this pen fits perfectly into the pen loop of my Galen Leather B6 Slim notebook cover.
Great pen!
I have this fountain pen and LOVE it! I'd suggest buying the ink, as well. I love the product.
Customer service is awesome - quick response and very good help. Fast delivery, too.
Just ok
The nice things about this pen: weight is good, the brass at least makes me feel like it's not a cheap pen; slim so it fits into pen loops; nice color. It is, however, pretty dry, and I like wet writers. This is also my first pen without a clip so it rolled off the table and now this is the first nib I've misaligned. The things I didn't like about this pen: for the price, I should've gotten a TWSBI instead since this one doesn't include a converter; and the cap snaps on rather than roll, so I had an unfortunate incident that I was struggling to remove this pen from a loop and it uncapped quite forcefully that a splatter of ink ended up on my leather cover. So much trouble! It just wasn't love at first sight.
I will get the nib fixed though, and use a very wet ink to see if I can work with this pen. Otherwise I might just sell it off.
I like these!
These are much more the kinds of pens I would get. The problem is that you can't test the pens before before you buy.
sturdy pen
I was attracted by the look and the price of this pen, but I was happily surprised when I received it, it's a sturdy pen, nice and smooth, and the nib is great, I really enjoy my purchase !
Red ink pen
I received my TTLB ink pen and was excited to try it. I love it. I have more expensive pens and some cheaper but this is just perfect. I had the fine nib which suits my writing style. The nib flows beautifully. The pen is tactile and smooth. I love that. The red colour is elegant and not brash. I purchased some standard converters to be able to change colour of ink which fit perfectly. I couldn't be happier with my pen in fact I think it might now be my favourite.
Visually Appealing but Low Quality
I truly enjoy fountain pens and own several from different brands. I was attracted to this one because of the look but upon receiving I was disappointed with the manufacture quality, especially in comparison to other pens I own or have owned of the same price. The material feels very cheap as does the construction and the nib that is used. It writes fine, I would say its a very light nib. I think for the price I would expect something a bit better in the form of quality, or the price should be lessened.
müşteri görüşü
Böyle estetik ve ince düşünülmüş ürünlerin başarı ile Türkiye'de üretilmesi çok gurur verici. Ülke içindeki müşterilere de uluslararası müşteri muammelesi yapılarak USD üzernden satış yapılmasını doğru bulmuyorum. Pazarlama politikası açısından itici buluyorum.
Kalem görünüm olarak güzel, yazımını rahat bulmadım. Mürekkep akışı rahat değil, belki M uç daha kullanışlı olabilirdi.
Most of the items are handmade to order and usually take a minimum of 1-2 weeks to dispatch. Out of stock items mean, not in the production cycle and generally re-stocking in a few weeks. You can subscribe to the in-stock notification on the product page. Good things take time. We appreciate your patience!
Shipping
We ship worldwide. All items are sent via our shipping partners UPS/Fedex. Your items may need to be signed for upon receipt.

Due to security reasons, we cannot ship to PO boxes.

Some items are ready for shipment in our workshop, located in Istanbul. In stock items dispatch within 6-7 working days after payment has cleared using our shipping partners, UPS & FedEx. If the item is not in stock, then we will need to make your order.

Deliveries to USA addresses will take 3-4 days. For the UK and Europe, 2-3 days. To Australia, 6-7 days. For the rest of the world, expect a maximum of 7 working days. Plus production times.

Buyers are responsible for customs duties. There are no additional taxes for goods being delivered to the USA.

European Union : New rules after 1 July 2021; we charged VAT for orders up to 150€. It means no hidden or extra customs fees during the delivery. Orders more than 150€ subject to customs same as before.
UK : Orders are subject to VAT. Around %20 percent. + courier fees.
Brazil: Due to high taxes, we suggest to use a redirecting service like Regarding redirecting services, I've been using fishisfast.com

Most countries, except the USA, are subject to VAT (value added tax) and customs duties. These are the responsibility of the recipient. Since rates vary by country and by what was ordered.

Shipping fees are automatically calculated during the checkout process. See your checkout for shipping options. As an example, a small journal's shipping fee starts at US$9.80.
HS Tariff Code for Leather Goods 420221 (You can check your country import regulations with this code)
Returns - Cancellations
Items (except personalized items) can be returned for a full refund within 7 days of receipt. Buyer is responsible for the Shipping costs. Please feel free to ask any questions you might have before placing an order.
Due to all items are made to order, after receiving your order, we immideatly start to make your items. We don't accept cancellations/changes after orders placed.
Embossed Monogram
Products suitable for personalization, are shown on the product pages.It is and additional option.

Currently, we can't customize the wooden items.

If you want a monogram option on your item please select it from choose box at the right side of the page.
The Monogram default position will be on the front right bottom corner. Up to 3 characters.
Up to 3 characters you can personalize your item with ; A....Z Capital letters 0....9 numbers . , & ! # - _ @ / : * punctuation.
Font and height, the default for this listing is Times New Roman, 1 cm high, same as the lead picture.
SEEN ON INSTAGRAM