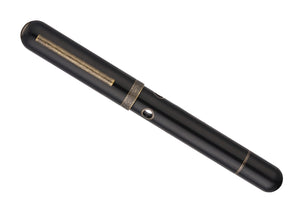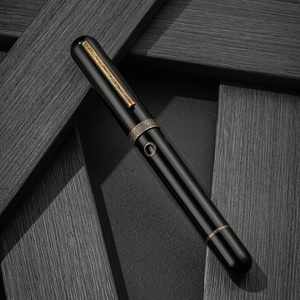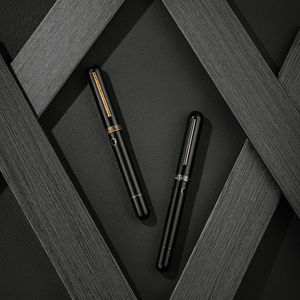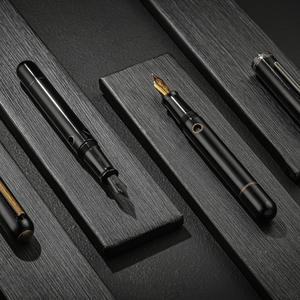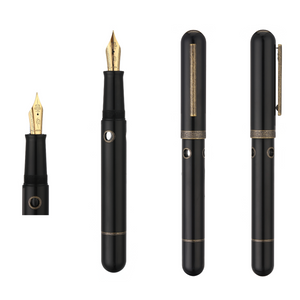 Nahvalur (Narwhal) Nautilus Bronze Corydoras Ebonite Fountain Pen
Introduced in the fall of 2021, the Nahvalur Nautilus combines vintage materials with modern designs. When fountain pens were first invented, all pens were made of a hardened rubber called ebonite. Today, hardly any pen companies are still using this beautiful material. The Nautilus series is bringing back this retro material while combining modern design elements. Three portholes are carefully crafted onto the body of the pen to allow users to view the ink reserve. 
Nahvalur Nautilus Bronze Corydoras Fountain Pen Specifications:
Pen Material: Ebonite
Trim: Retro Brass
Nib: Stainless steel #6 size or 14k Gold #6 size made by Nahvalur
Filling Mechanism: Piston-filling (bottled ink only)
Pen Length, Closed: 5.9 in. / 149mm
Pen Length, Open (Cap Off): 5.24 in. / 133mm
Pen Length, Open (Cap Posted): Cannot be posted
Pen Barrel Diameter: 0.51 in. / 13mm
Pen Grip Section Diameter: 0.39 in. - 0.45 in. / 10mm - 11.5mm
Pen Weight: 1.3 oz. / 36.85g
Packaged in a gift box
Really nice pen
I always wanted one of these types of pen, but they're not carried in stationery stores anymore. This one is really nice. I like the ebonite, and the nib is high quality and writes smoothly. I particularly like the little bronze-coloured portholes for viewing the ink supply: it gives the Pen a sort of "Jules Verne" look that I really like.
First Nahvular
This is my first pen by this company. I got this pen because I love the Steampunk vibe of it. Writes really smooth. I got the BB double broad. Feels nice to hold and it's long enough to fit my medium sized hands which is good because this pen doesn't post. The brass color trim looks great on this pen. Very glad I got it.
Finally
The first time I saw a picture of this pen I knew that I had to have it. I looked everywhere for it and everyone was out of it. I put it on my wish list with several retailers. Galen Leather was the first to get it back in stock. It is a beautifully understated, classic black ebonite with bronze accents. Classy everyday carry pen. The Narwhal stub nib is smooth with just the right amount of wetness. Love this pen.
Most of the items are handmade to order and usually take a minimum of 1-2 weeks to dispatch. Out of stock items mean, not in the production cycle and generally re-stocking in a few weeks. You can subscribe to the in-stock notification on the product page. Good things take time. We appreciate your patience!
Shipping
We ship worldwide. All items are sent via our shipping partners UPS/Fedex. Your items may need to be signed for upon receipt.

Due to security reasons, we cannot ship to PO boxes.

Some items are ready for shipment in our workshop, located in Istanbul. In stock items dispatch within 6-7 working days after payment has cleared using our shipping partners, UPS & FedEx. If the item is not in stock, then we will need to make your order.

Deliveries to USA addresses will take 3-4 days. For the UK and Europe, 2-3 days. To Australia, 6-7 days. For the rest of the world, expect a maximum of 7 working days. Plus production times.

Buyers are responsible for customs duties. There are no additional taxes for goods being delivered to the USA.

European Union : New rules after 1 July 2021; we charged VAT for orders up to 150€. It means no hidden or extra customs fees during the delivery. Orders more than 150€ subject to customs same as before.
UK : Orders are subject to VAT. Around %20 percent. + courier fees.
Brazil: Due to high taxes, we suggest to use a redirecting service like Regarding redirecting services, I've been using fishisfast.com

Most countries, except the USA, are subject to VAT (value added tax) and customs duties. These are the responsibility of the recipient. Since rates vary by country and by what was ordered.

Shipping fees are automatically calculated during the checkout process. See your checkout for shipping options. As an example, a small journal's shipping fee starts at US$9.80.
HS Tariff Code for Leather Goods 420221 (You can check your country import regulations with this code)
Returns - Cancellations
Items (except personalized items) can be returned for a full refund within 7 days of receipt. Buyer is responsible for the Shipping costs. Please feel free to ask any questions you might have before placing an order.
Due to all items are made to order, after receiving your order, we immideatly start to make your items. We don't accept cancellations/changes after orders placed.
Embossed Monogram
Products suitable for personalization, are shown on the product pages.It is and additional option.

Currently, we can't customize the wooden items.

If you want a monogram option on your item please select it from choose box at the right side of the page.
The Monogram default position will be on the front right bottom corner. Up to 3 characters.
Up to 3 characters you can personalize your item with ; A....Z Capital letters 0....9 numbers . , & ! # - _ @ / : * punctuation.
Font and height, the default for this listing is Times New Roman, 1 cm high, same as the lead picture.
SEEN ON INSTAGRAM