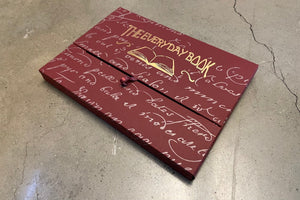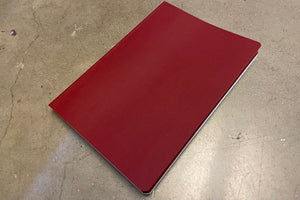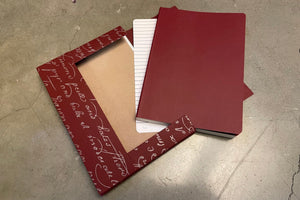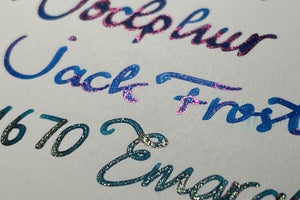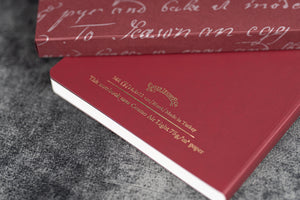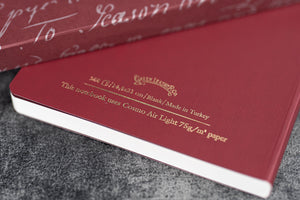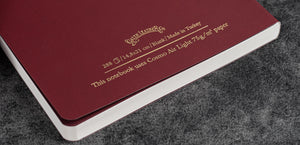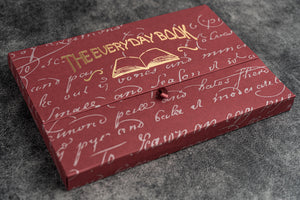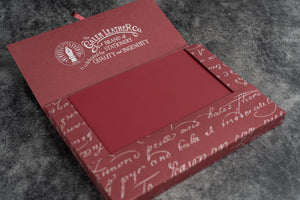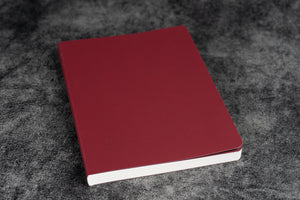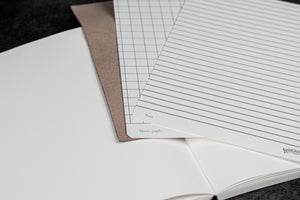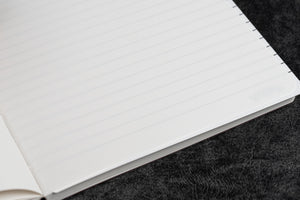 Everyday Blank Notebook - Cosmo Air Light Paper - A5 Size - 288 Pages
Introducing our new bound blank notebook in A5 size. It features the stunning fountain pen-friendly Cosmo Air Light Paper-75gsm. Produced by Japanese Nippon paper company. This blank journal is perfect as a standalone travel notebook for recording all your special memories and ideas, or as a refill for our best-selling Leather Notebook Covers and A5 journal covers. It's quite possibly one of the best journals for fountain pens.
Our specially crafted burgundy 
A5 size notebook
is made of
Cosmo Air Light Paper-75gsm paper, known as the new popular fountain pen-friendly paper. Each notebook contains 300 pages and is hand-bound with traditional bookbinding techniques. If you're looking for a stylish blank page notebook, then this is the one for you. You can even choose the leather color of your choice including the ever-popular, timeless, and stylish black journal. This 300-page journal pairs so beautifully with our stylish black leather notebook cover.
Specs
Completely flat-lay
Comes in magnetic closure cardboard box.
Hand-bound from Cosmo Air Ligth

 75 gsm white paper

Blank paper
144 sheets (288 pages)
Includes grid and lined guides
Includes blotter (also can be used as a writing mat for comfortable writing)
145 x 210 mm (5,70 x 8,26 inches)
Cosmo Air Light Paper
This is a 75 gsm Japanese paper. It has been on the agenda of the fountain pen world (and our's) for a while. This is the most sheen and shading we have ever seen. Here's a detailed review of the CAL paper.
Feedback is available while writing, as its surface is not as covered as the Tomoe river, Rhodia, etc. The paper isn't slick like Tomoe River either. Instead, it has just enough texture that you don't feel like your pen is ice-skating over the surface. But still, it provides a smooth writing experience. Your text is a click thicker but there's no bleeding and minimal ghosting. The colors are very vibrant. The drying time is a bit longer. I personally think it's especially suitable for applications such as a journal, watercolor, etc.
Here's the pictures and a quick video review:
.
.
.
.
.
.
.
.
Gorgeous notebook
The quality of this notebook is fantastic. The paper is beautifully smooth and a joy to write on. The presentation with the magnetic case, guides and leather blotter just make it a great purchase.
Different than Tomoe River, but not worse
I'd have to say Tomoe River feels a little better than the Cosmo air, but only marginally. This also is purely personal preference. I do prefer Cosmo over Midori paper which I've been using for years. The Cosmo is slightly thicker than TR and that's a good thing "in my book" (pun intended) ink does not show through Cosmo as much as TR. TR is great, but for the price (and availability) Cosmo Air is a great substitute
Ornate magnetic case, lovely sheen, pages open flat!
I am still new to the fountain pen world and this is my first serious notebook purchase and boy I am not dis-appointed. The notebook and case has a lovely maroon cover, beautiful lettering and shouts class!
The note book has a good thickness which the pages has a nice off white colour. The thickness of the pages is very good which lay FLAT and has no bleed through. The paper shows the sheen in ink very well. This is the first time I have received a leather blotter and the inlay cards are great.
Everyday notebook A5
So thrilled to find that Galen is now offering this notebook in Cosmo Air Light Paper! I love that they changed the cover color to a beautiful burgundy! Beautifully packaged and shipping is always fast! Thank you Galen Leather for another wonderful product!
Very good paper
After having tried this notebook, which was an excellent experience, this time I purchased three of them. Why: it doesn't bleed through, the paper is smooth and the coating doesn't cause any skipping with my fountain pens as was the case with my TRP-notebook. I like the size very much and the burgundy colour.
Amazing paper
My first time trying cosmo air light paper and I love it, using it as an ink journal alongside the Tomoe river A5 notebook. Arrived earlier than anticipated, very well packaged and with a few extras too. The book is very well made, looks good on the desk and opens fully. I will be purchasing again from Galen leather, waiting on the passport size note book to come back in stock.
Great products and service
Service very fast and the products are great!
Yeah- nope! Great packaging/extras, prefer TRP 68 to CAL paper due odd issues
Held off using this purchase of early 2022 until I found out what was happening to replace Tomoe River Paper (TRP). I love TRP after introduction by Galen through happy accident. Glad I don't like Cosmo Air Light (CAL) paper at all as this is the only stock I have of the now defunct paper. Will give the new TRP a try instead.
Used over a week now and 60 pages in confirms I cannot stand CAL paper. (At my usage rate another 35 days to go.) Yes it sheens, shades etc blah blah. BUT- and for me it is a never again level BUT- compared to TRP it's average to awful.
The fingerprint wax resist effect is not appreciated because using a page shouldn't take this much effort (doesn't happen in TRP of any product I've used ie Galen, Sakae Technical 52 and 68GSM). Very obvious using Sailor ink (Manyo) and even Pilot Iroshizuku (Take-sumi) before you see how shimmer ink behaves. So if you don't touch the page to write you're good- oh wait...
Dry time for a Midori rotating date stamp on this CAL is even longer than any TRP- over 12 hours in ambient temperature over 25 Celsius stamped sections will still be wet. (I do 7 days in a row and in a TRP just leave the separated book to dry overnight. Less than 8 hours TRP book is all good to use/close.) Then there's the oil slick effect visible on both sides of the CAL page (a more yellow colour haloing the black ink). This is a waterproof stamp to hold up against water based Fountain Pen ink I use over the top for my ink notes. Won't bother using it for the next 35 days but what a pain.
The notebook is good. The cover is very thin so needs a good cover if you're not gentle with it. (Galen don't have the leather A5 cover in stock so I'm using it without. Dinged it already on my writing desk.) First page at the front was unusable due very wierd gluing with dark spots on the page but that page only gets used last to indicate the date the book covers. The reverse and all pages since seem fine to write on (if you can get past the fingerprint wax resist which I cannot). Minor cosmetic niggle and not something I've seen in other Galen gear. The guide sheet is thicker than I have others by Galen of in both guideline width and paper thickness which is also useful here.
Glad I tried it but it's a nope.
Excellent Quality!
My first time using this, it's excellent quality for ball point or fountain pen, use the lined blotter underneath, doesn't bleed through. Roller ball was too smeary, needs time to dry. So, not a fan of that combination on this paper.
Good quality
The notebook is well made and the paper is very smooth. Despite the fact that the Cosmo Air Light paper is thicker (75 gsm) than the Tomoe River Paper (52 gsm) the writing shows a little bit through. Up to now I had no problems with the coating of the paper as with the TR paper. I highly recommend the Everyday Blank Notebook.
Most of the items are handmade to order and usually take a minimum of 1-2 weeks to dispatch. Out of stock items mean, not in the production cycle and generally re-stocking in a few weeks. You can subscribe to the in-stock notification on the product page. Good things take time. We appreciate your patience!
Shipping
We ship worldwide. All items are sent via our shipping partners UPS/Fedex. Your items may need to be signed for upon receipt.

Due to security reasons, we cannot ship to PO boxes.

Some items are ready for shipment in our workshop, located in Istanbul. In stock items dispatch within 6-7 working days after payment has cleared using our shipping partners, UPS & FedEx. If the item is not in stock, then we will need to make your order.

Deliveries to USA addresses will take 3-4 days. For the UK and Europe, 2-3 days. To Australia, 6-7 days. For the rest of the world, expect a maximum of 7 working days. Plus production times.

Buyers are responsible for customs duties. There are no additional taxes for goods being delivered to the USA.

European Union : New rules after 1 July 2021; we charged VAT for orders up to 150€. It means no hidden or extra customs fees during the delivery. Orders more than 150€ subject to customs same as before.
UK : Orders are subject to VAT. Around %20 percent. + courier fees.
Brazil: Due to high taxes, we suggest to use a redirecting service like Regarding redirecting services, I've been using fishisfast.com

Most countries, except the USA, are subject to VAT (value added tax) and customs duties. These are the responsibility of the recipient. Since rates vary by country and by what was ordered.

Shipping fees are automatically calculated during the checkout process. See your checkout for shipping options. As an example, a small journal's shipping fee starts at US$9.80.
HS Tariff Code for Leather Goods 420221 (You can check your country import regulations with this code)
Returns - Cancellations
Items (except personalized items) can be returned for a full refund within 7 days of receipt. Buyer is responsible for the Shipping costs. Please feel free to ask any questions you might have before placing an order.
Due to all items are made to order, after receiving your order, we immideatly start to make your items. We don't accept cancellations/changes after orders placed.
Embossed Monogram
Products suitable for personalization, are shown on the product pages.It is and additional option.

Currently, we can't customize the wooden items.

If you want a monogram option on your item please select it from choose box at the right side of the page.
The Monogram default position will be on the front right bottom corner. Up to 3 characters.
Up to 3 characters you can personalize your item with ; A....Z Capital letters 0....9 numbers . , & ! # - _ @ / : * punctuation.
Font and height, the default for this listing is Times New Roman, 1 cm high, same as the lead picture.
SEEN ON INSTAGRAM