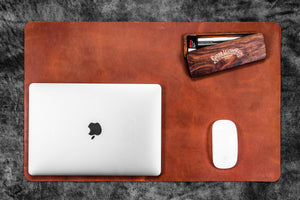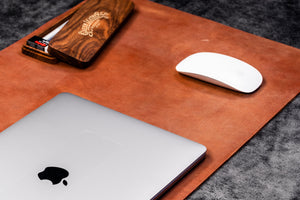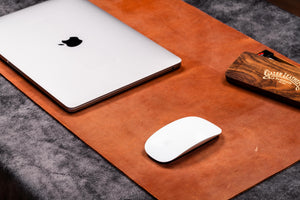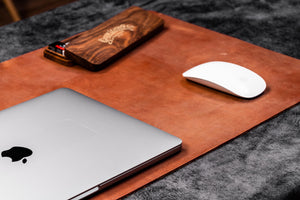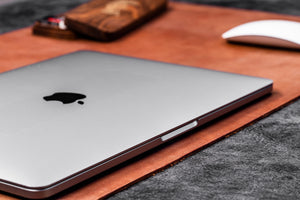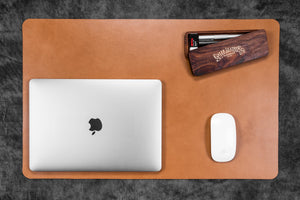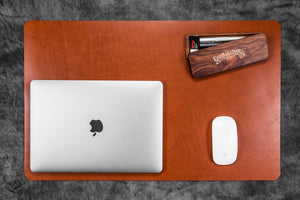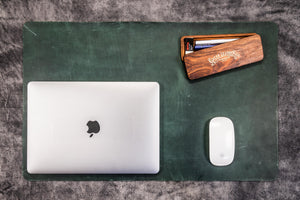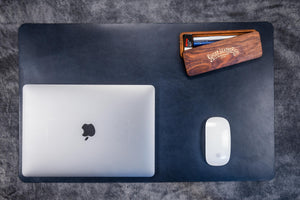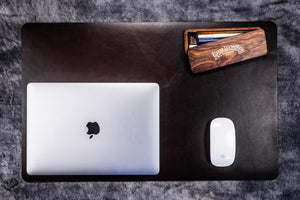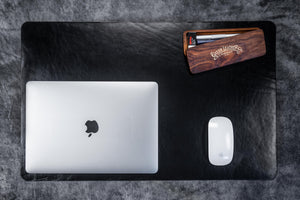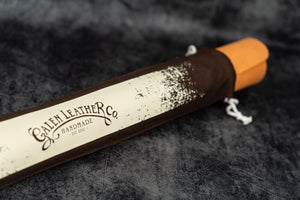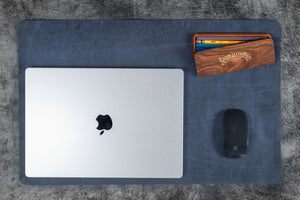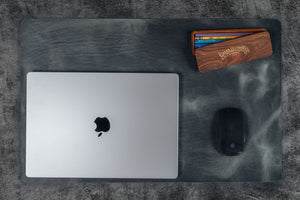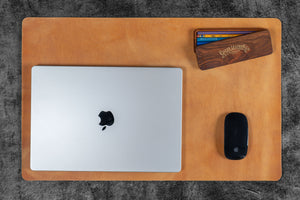 Reviews On YouTube
Leather Desk Pad - Desk Mat
Do you find yourself uninspired as you sit at your boring work desk each day, staring at the same computer screen for hours on end? Sometimes it's the simplest little changes which can instantly lift your mood and transform the feelings you have towards your work. Little additions to your office desk, like an indoor pot plant, a photo of your loved ones, or adding a few stylish executive desk accessories like a beautiful handmade leather desk pad, are enough to give that extra little pep to your step.
Our executive desktop pad is a stylish twist on the classic desk mat. It feels decadent being made from 7-8 oz vegetable tanned bridle leather and looks stunning thanks to the beeswax burnished edges. Beyond looks, it's actually extremely useful too. At a size of 24" x 15", or 18" x 32" it's large enough to protect the main working area of your desk. It can be used as a desk blotter, a laptop and mouse pad, and provides a smooth and firm surface for writing on. The leather desk pad is rollable and is delivered in a cardboard tube.
If you're looking for a truly unique desk protector pad, you have the option of personalizing it in your favorite color. From a beautiful natural tan, to bright blue, pink, green or orange - you'll find a color to match your taste and personal style. We even have a leather mouse pad you can pair it with.
You can further personalize your luxury desk writing pad when placing your order with any combination of 3 characters printed on the front, bottom corner of the office desk mat. All you need to do is check the box for personalization on the product order page. Alternatively, if you're looking for custom desk pads for your business, you can place a bulk order that can imprinted with a company name, logo or larger images.
It may even inspire you to transform your entire work space with other stylish leather desk accessories to create a more relaxing atmosphere. After all, any extra bit of motivation is helpful when it comes to keeping you focused at work each day, right?
*You can use the desk pads on wooden surfaces like old wood writing desks, safely. There's no chemicals coming from tanning process to avoid damaging the wood surface finish. 
Details
Our Leather
We use vegetable-tanned full-grain leather for desk pads. It's around 7-8 oz, 2mm in thickness. Medium stiff, rollable.
Packaging
Desk mats delivered in a cardboard tube. The cardboard material is very thick and reusable. You can safely carry your pad with you when you traveling.
Personalization
You can personalize your desk writing pad when placing your order with any combination of 3 characters embossed on the bottom right corner of the office desk mat.
How to choose the right leather desk pad?
Size
The first thing you need to decide when choosing a leather desk pad is its size. Usually, a small leather desk pad is sufficient for a 13"-14" laptop, mouse, and phone. For a 15" and above laptop or a desktop computer such as Imac, and some desk accessories we recommend using a large leather desk pad in size 18"x32".
Color
The choice of color is very personal. However, if you want it to look aesthetic in general, you can read our suggestions below. If you have a light-colored table such as white or oak, the brown leather desk pad will look very stylish by creating contrast. If you are going to use it on an antique or walnut wooden desk, you can use a black leather desk pad or a green-colored desk pad. Dark colors show fewer blemishes and marks, and light colors age with use and take on a pretty nice patina over time.
Leather Type
The last thing you need to decide on is the leather type. Crazy Horse leathers look distressed and age more than other leathers. These skins may have natural scars. Plain-colored leathers have a more solid color and texture.
Most of the items are handmade to order and usually take a minimum of 1-2 weeks to dispatch. Out of stock items mean, not in the production cycle and generally re-stocking in a few weeks. You can subscribe to the in-stock notification on the product page. Good things take time. We appreciate your patience!
Shipping
We ship worldwide. All items are sent via our shipping partners UPS/Fedex. Your items may need to be signed for upon receipt.

Due to security reasons, we cannot ship to PO boxes.

Some items are ready for shipment in our workshop, located in Istanbul. In stock items dispatch within 6-7 working days after payment has cleared using our shipping partners, UPS & FedEx. If the item is not in stock, then we will need to make your order.

Deliveries to USA addresses will take 3-4 days. For the UK and Europe, 2-3 days. To Australia, 6-7 days. For the rest of the world, expect a maximum of 7 working days. Plus production times.

Buyers are responsible for customs duties. There are no additional taxes for goods being delivered to the USA.

European Union : New rules after 1 July 2021; we charged VAT for orders up to 150€. It means no hidden or extra customs fees during the delivery. Orders more than 150€ subject to customs same as before.
UK : Orders are subject to VAT. Around %20 percent. + courier fees.
Brazil: Due to high taxes, we suggest to use a redirecting service like Regarding redirecting services, I've been using fishisfast.com

Most countries, except the USA, are subject to VAT (value added tax) and customs duties. These are the responsibility of the recipient. Since rates vary by country and by what was ordered.

Shipping fees are automatically calculated during the checkout process. See your checkout for shipping options. As an example, a small journal's shipping fee starts at US$9.80.
HS Tariff Code for Leather Goods 420221 (You can check your country import regulations with this code)
Returns - Cancellations
Items (except personalized items) can be returned for a full refund within 7 days of receipt. Buyer is responsible for the Shipping costs. Please feel free to ask any questions you might have before placing an order.
Due to all items are made to order, after receiving your order, we immideatly start to make your items. We don't accept cancellations/changes after orders placed.
Embossed Monogram
Products suitable for personalization, are shown on the product pages.It is and additional option.

Currently, we can't customize the wooden items.

If you want a monogram option on your item please select it from choose box at the right side of the page.
The Monogram default position will be on the front right bottom corner. Up to 3 characters.
Up to 3 characters you can personalize your item with ; A....Z Capital letters 0....9 numbers . , & ! # - _ @ / : * punctuation.
Font and height, the default for this listing is Times New Roman, 1 cm high, same as the lead picture.
SEEN ON INSTAGRAM