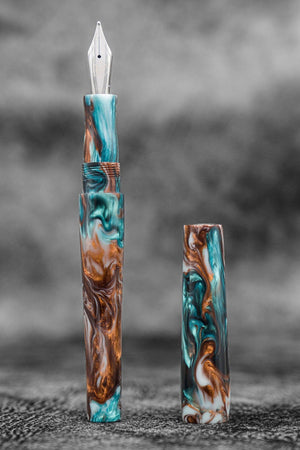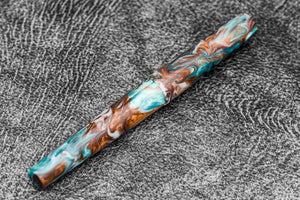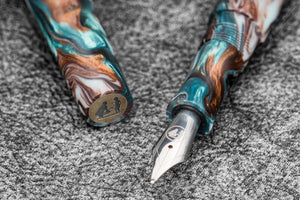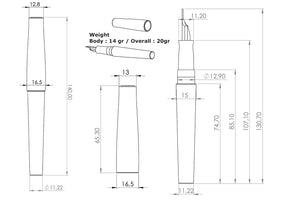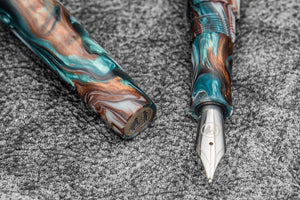 Galen X Studyo Agackakan - Fountain Pen V1 - Teal Agate
Studyo Agackakan Galen collaboration Fountain Pen V1, made of Teal Agate material by Bob Dupras. Sterling Steel Galen logo embossed on the top. Comes with JoWo steel number #6 nib. Nib options are above.
Reviews On YouTube
Product
Galen X Studyo Agackakan - Fountain Pen V1 - Teal Agate
Description
The Galen V1 is a handmade fountain pen turned from aluminate resin. The pen itself is a full-sized modern classic, measuring 140mm capped. The pen has been turned from this beautiful layered resin and it's highly polished. The barrel threads are unique, they facilitate a quick rotation (one time) tight seal, and a graceful capping experience.
Specs
| | |
| --- | --- |
| Condition | New |
| Brand | Studyo Agackakan & Galen |
| Type | Fountain Pens |
| Color | Teal Agate |
| Demonstrator | No |
| Body Material | Resin |
| Cap Rotations | 1 |
| Cap Type | Screw-cap |
| Compatible inks & refills | Bottled inks, Standard international cartridges (Schmidt K6) |
| Filling Mechanism | Converter (one screw-in included), Cartridge, Eyedropper |
| Grip Material | Resin |
| Nib Size | EF, F, M, B, 1.1S - IF, IM, IB, OM, OB, 14K |
| Nib Color | Silver |
| Nib Material | Steel |
| Postable | Yes |
| | |
| --- | --- |
| Trim Color | Silver |
| Diameter - Body | 16mm (06in) |
| Diameter - Cap (without clip) | 17mm |
| Diameter - Cap (with clip) | 17mm |
| Diameter - Grip (mm) | 11mm |
| Length - Body - Inc Nib | 132mm |
| Length - Cap | 66mm |
| Length - Nib | 25mm |
| Length - Overall (Closed) | 140mm |
| Weight - Body | 14g |
| Weight - Cap | 6g |
| Weight - Overall (g) | 20g |
| Max Ink Capacity - Cartridge | 1.7ml |
| Max Ink Capacity - Converter | 1.2ml |
| Max Ink Capacity - Eyedropper | 4 ml |

Features
Galen X Studyo Agackakan - Fountain Pen V1 - Teal Agate
Material: Precious Resin
The cap posts, but designed for writing balance with or without the cap posted.
Nib: Galen Engraved Steel #6 Jowo Nib
Filling System: Cartridge / Converter Filled (Standard International K6- Screwed converter included)
Also can be used as an eyedropper.
Nib Sizes
#6 size JoWo steel nib with many tip options, 14K Gold, custom grinds
Packaging
Comes in a Galen craft cardboard pen box.Made of recycled paper. Included a maker certificate.
Stüdyo Ağaçkakan
Studyo Agackakan is a pen studio based in Istanbul. All pens are handmade with special resins.
Custom Grinds
Special nib grinds by Meltem Hazarhun (@amphorastale).
Tortoise! Aka 'Root Beer'
The Tortoise is so pretty and my 3rd Studyo Ag pen. I also have the Teal Agate and Plum Abalone. I've got my eye on one more. Just waiting for it to come back in stock.
Teal Agate
I bought the Teal Agate with M nib, and I also added a Fine nib unit to my order. I like them both! Smooth and wet nibs.
The material is GORGEOUS. It looks like shimmery wood and water. No white swirls like in the listing photo, but milky blue areas instead which is great.
VERY comfortable grip.
Similar in size/length to a Lamy Safari or TWSBI Eco.
I would love to buy another someday!
Great Writer - Stunning Resin
This pen is my first Gallen - Studyo Agackakan pen. The unique resin (Ocean Cenote) is stunning and a joy to behold. It feels great in the hand and writes as you would expect from a smooth JoWo nib.
Spectacular
This is a stunningly beautiful pen. Hoping for more of the same quality to add to my collection.
What a beautiful pen!
Fantastic pen, beautiful craftmanship, love the size. The nib is a Medium stub that writes so smooth! Very, very happy, I'm a fan of Studyo Agackakan works.
My Second Studyo A pen
Galen was so kind to help me choose which pen I wanted before purchasing. I love these pens so much that I'm selling off other ones in my collection for more of these. The grip section is extremely comfortable. The F nib is fantastically smooth. These compare in size to a TWSBI Eco.
Agackakan - Fountain Pen V1 - Tortoise
Beautiful pen. Nib does not dry out. Smooth writing.
Beautiful pen!
This is the first Agackakan I have bought and it is stunning. I ordered an Oblique nib which was my mistake, but I had the nib re-ground and I love it!
Stylish and dependable
Very stylish design -- resin is even better looking in person than the pictures. High quality construction -- cap screws perfectly and post securely. Nib stays quite wet even without use and no leakage even on medium nib. Nib writes very well, no skipping or hard starts. Filling converter without any issues as well. All around great pen, would highly recommend.
Most of the items are handmade to order and usually take a minimum of 1-2 weeks to dispatch. Out of stock items mean, not in the production cycle and generally re-stocking in a few weeks. You can subscribe to the in-stock notification on the product page. Good things take time. We appreciate your patience!
Shipping
We ship worldwide. All items are sent via our shipping partners UPS/Fedex. Your items may need to be signed for upon receipt.

Due to security reasons, we cannot ship to PO boxes.

Some items are ready for shipment in our workshop, located in Istanbul. In stock items dispatch within 6-7 working days after payment has cleared using our shipping partners, UPS & FedEx. If the item is not in stock, then we will need to make your order.

Deliveries to USA addresses will take 3-4 days. For the UK and Europe, 2-3 days. To Australia, 6-7 days. For the rest of the world, expect a maximum of 7 working days. Plus production times.

Buyers are responsible for customs duties. There are no additional taxes for goods being delivered to the USA.

European Union : New rules after 1 July 2021; we charged VAT for orders up to 150€. It means no hidden or extra customs fees during the delivery. Orders more than 150€ subject to customs same as before.
UK : Orders are subject to VAT. Around %20 percent. + courier fees.
Brazil: Due to high taxes, we suggest to use a redirecting service like Regarding redirecting services, I've been using fishisfast.com

Most countries, except the USA, are subject to VAT (value added tax) and customs duties. These are the responsibility of the recipient. Since rates vary by country and by what was ordered.

Shipping fees are automatically calculated during the checkout process. See your checkout for shipping options. As an example, a small journal's shipping fee starts at US$9.80.
HS Tariff Code for Leather Goods 420221 (You can check your country import regulations with this code)
Returns - Cancellations
Items (except personalized items) can be returned for a full refund within 7 days of receipt. Buyer is responsible for the Shipping costs. Please feel free to ask any questions you might have before placing an order.
Due to all items are made to order, after receiving your order, we immideatly start to make your items. We don't accept cancellations/changes after orders placed.
Embossed Monogram
Products suitable for personalization, are shown on the product pages.It is and additional option.

Currently, we can't customize the wooden items.

If you want a monogram option on your item please select it from choose box at the right side of the page.
The Monogram default position will be on the front right bottom corner. Up to 3 characters.
Up to 3 characters you can personalize your item with ; A....Z Capital letters 0....9 numbers . , & ! # - _ @ / : * punctuation.
Font and height, the default for this listing is Times New Roman, 1 cm high, same as the lead picture.
SEEN ON INSTAGRAM