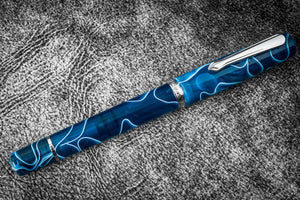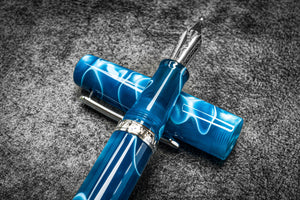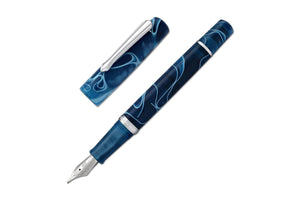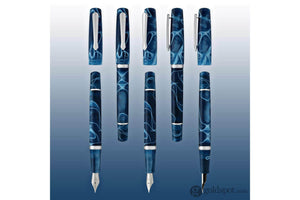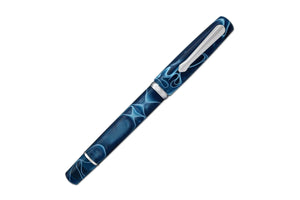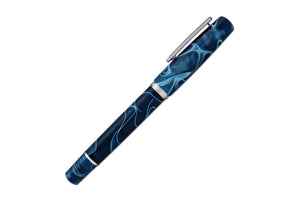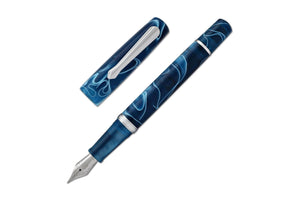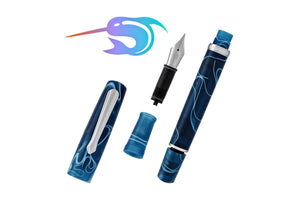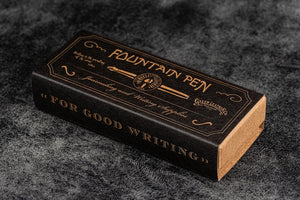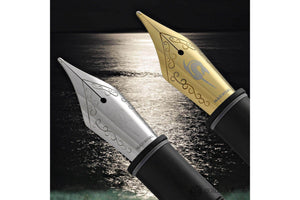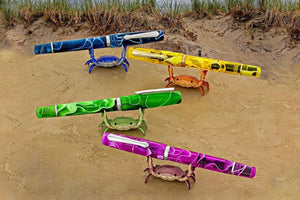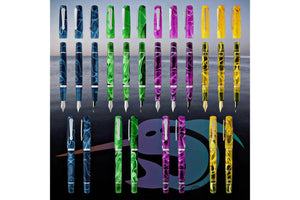 Nahvalur (Narwhal) Fountain Pen - Poseidon Blue + Leather Pen Sleeve
From the depths of imagination surface a new breed of writing instrument tapping into the stream of consciousness with artistic beauty and elegance. Yes, the Narwhal fountain pen is a real pen! The swirling, translucent acrylic has a mystical aquatic quality. The Narwhal drinks deep of fountain pen ink with an internal piston-filling mechanism. The stainless steel fine writing nib has a consistent flow to keep up with an ocean of thoughts.
They say that the Narwhal is the "unicorn of the sea." The Hippocampus is the mythical "horse of the sea" depicted as a half-horse, half-fish animal of ancient lore. Hippocampi are said to have pulled the royal chariot of Poseidon. The swirling curls and ribbons of purple and white are inspired by the graceful cavorting of the aquatic Hippocampus.
Narwhal Fountain Pen Specifications:
Finish: Translucent Acrylic
Trims and Clip: Silver
Nib: No. 6 stainless steel, fine point
Filling System: Piston mechanism (bottled ink fill only)
Comes with a handmade leather  single pen sleeve
We are unable to honor pen sleeve color requests.
Pen Length, closed: 5.77 in. / 146.5 mm
Pen Length, open, cap off: 5.24 in. / 133 mm
Pen Length, open, cap posted: cap does not post
Pen Diameter, barrel: 0.53in. / 13.5 mm
Pen Diameter, section: 0.43 in. / 11 mm
Pen Total Weight: 0.7oz. / 19.8 g
Gift boxed
A great review by FigBot of these Pens on Youtube:


We would like to thank GoldSpot Pens for introducing us to this wonderful brand. Image Credits: GoldSpot
Smooth writing instrument.
This is a very nice writing instrument. The screw bladder works well. Note to anyone not used to having the screw for the bladder exposed.... if you accidentally "unscrew" the cap when placed on the opposite end from the nib, you may have a message to clean up.
So glad I bought it...
I have been looking at this Narwhal pen at several different places, but when I saw it here, I couldn't resist adding it to my order. It is a good size and finished nicely. I am looking forward to finding just the right ink for it. (I had to force the wrench more than I would have thought, but I did eventually get it to fit to disassemble the pen.)
Bold and buttery
This is my first Narwhal so I can't compare to others . I bought the yellow one because it's bold and beautiful, perfect for a sunny summer day. The nib slides on the paper with no friction (mine is a M nib) but I've seen that skips on the up strokes, I think with a bit of use it will be fine, maybe needs another flushing but I'm pretty confident it will write without fault in no time.
I'm impressed to have a gorgeous writing tool like this, with a leather pen sleeve for this price.
The swirl pattern of the body and cap it's mesmerizing and I will definitively buy it in blue.
It would make the perfect gift for yourself or a loved one.
Gorgeous and affordable
This is actually my first fountain pen. I was attracted to the reputation of the company firstly, then the price and style. I went for the medium nib as I like to press down and have fat letters and it is very smooth and glides on the paper. I think I will go for a thin bib next for a more refined letter.
Smooth writer out of the box
As a pen lover, better: pen addict, I had been curious about the narwhal from the day they had launched it, since it's the very first pen from a project of two young Canadians.
Anyway, the acrylic has already been seen before from some other brands, the clip is nothing special, either,... so I could wait.
When I saw it offered here in combination with the pen sleeve, I thought the time for the narwhal and me to meet had come.
I did not get disappointed. It's a smooth writer!
Quite long: about 1 cm longer than a Lamy Safari, both posted and unposted.
It does post, but I wouldn't recommend it, since it's already long enough without the cap, and the risk of turning the piston knob accidentally is quite high, since the cap sits on the knob when posted.
The cap unscrews in two full turns.
The piston works well.
Although nothing new, the acrylic is very pretty and has some nice chatoyance. I have the blue one and it's not very transparent. You can only see the ink level when you hold the pen against the light. Which is fine.
The M nib on my pen was butter smooth and wet right out of the box.
All in all, I am really glad to finally own one of these narwhals now. It's definitely worth the money.
The beautiful pen sleeve is a little bit short for this long pen, but I don't mind, since it fits a lot of my other pens nicely. Currently I use it to carry my beloved Pelikan M200 with me.
I already own some products in crazy horse leather from other manufacturers, and from my experience, the Galen leather goods are hands down the best you can get for the money. Not only "for the money". They are simply very well made and designed. This pen sleeve is no exception.
I highly recommend both, pen and sleeve.
What every customer from out of Turkey must keep in mind: You will have to pay taxes, custom fees + a quite high FedEx fee.
FedEx may send you an invoice weeks, sometimes even months, after delivery. But know that an invoice will come and you will have to pay.
Anyway, even with taxes and fees added, the prices for Galen products are fantastic!
Just keep taxes and fees in mind while shopping.
In the picture, you see a writing sample of the newer version of the Tomoe River paper in ivory. In Galen-notebooks, you'll still find the old Tomoe River paper in white. In my opinion, the old paper is a lot better than the new, and it has become quite hard to get. So grab it here while it lasts 😉
Superior Writing Experience
The pen is gorgeous looking, but it doesn't stop there. Writes butter smooth, easy to ink and clean. Pairs perfectly with most FPS papers.
Writes more like a medium, but I don't mind it.
I'm so glad I bought it. And the Pen Sleeve is made with the same superior quality as Galen's other products. Highly recommend!
Beautiful pen and awesome service
Highly recommend Galen Leather for prompt service and wonderful products. I bought a Narwhal pen and a beautiful pen rest both outstanding products
An affordable nice piston filled pen with a good leather sleeve
The Narwhal pen has a nice design, a good size and weight and a more than decent steel nib (only in F) that writes very smoothly. The acrylic - I choose the yellow one - has been seen in other brands but it is nice and allows to see the ink. The cap does not post, but the pen has a decent size and is confortable to use. The piston works correctly. The pen holds a lot of ink. As for the leather sleeve made by Galen Leather it is quite nice. Mine came in Crazy Horse Brown which matches my yellow pen quite well. The sleeve looks and feels better after two weeks of use. Nevertheless, it would be even better if it was a bit longer and a tad larger.
Perfect gift
I bought this as a gift for my brother. He loved it. Great quality and beautiful pen for a good price.
Most of the items are handmade to order and usually take a minimum of 1-2 weeks to dispatch. Out of stock items mean, not in the production cycle and generally re-stocking in a few weeks. You can subscribe to the in-stock notification on the product page. Good things take time. We appreciate your patience!
Shipping
We ship worldwide. All items are sent via our shipping partners UPS/Fedex. Your items may need to be signed for upon receipt.

Due to security reasons, we cannot ship to PO boxes.

Some items are ready for shipment in our workshop, located in Istanbul. In stock items dispatch within 6-7 working days after payment has cleared using our shipping partners, UPS & FedEx. If the item is not in stock, then we will need to make your order.

Deliveries to USA addresses will take 3-4 days. For the UK and Europe, 2-3 days. To Australia, 6-7 days. For the rest of the world, expect a maximum of 7 working days. Plus production times.

Buyers are responsible for customs duties. There are no additional taxes for goods being delivered to the USA.

European Union : New rules after 1 July 2021; we charged VAT for orders up to 150€. It means no hidden or extra customs fees during the delivery. Orders more than 150€ subject to customs same as before.
UK : Orders are subject to VAT. Around %20 percent. + courier fees.
Brazil: Due to high taxes, we suggest to use a redirecting service like Regarding redirecting services, I've been using fishisfast.com

Most countries, except the USA, are subject to VAT (value added tax) and customs duties. These are the responsibility of the recipient. Since rates vary by country and by what was ordered.

Shipping fees are automatically calculated during the checkout process. See your checkout for shipping options. As an example, a small journal's shipping fee starts at US$9.80.
HS Tariff Code for Leather Goods 420221 (You can check your country import regulations with this code)
Returns - Cancellations
Items (except personalized items) can be returned for a full refund within 7 days of receipt. Buyer is responsible for the Shipping costs. Please feel free to ask any questions you might have before placing an order.
Due to all items are made to order, after receiving your order, we immideatly start to make your items. We don't accept cancellations/changes after orders placed.
Embossed Monogram
Products suitable for personalization, are shown on the product pages.It is and additional option.

Currently, we can't customize the wooden items.

If you want a monogram option on your item please select it from choose box at the right side of the page.
The Monogram default position will be on the front right bottom corner. Up to 3 characters.
Up to 3 characters you can personalize your item with ; A....Z Capital letters 0....9 numbers . , & ! # - _ @ / : * punctuation.
Font and height, the default for this listing is Times New Roman, 1 cm high, same as the lead picture.
SEEN ON INSTAGRAM