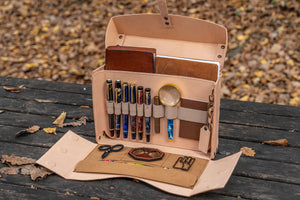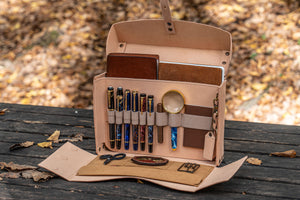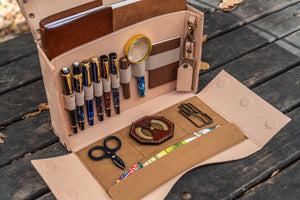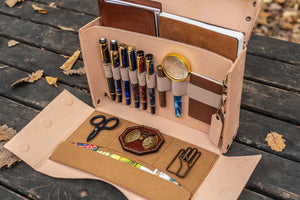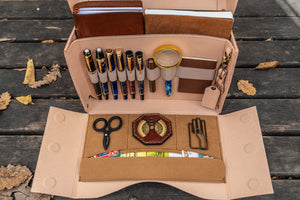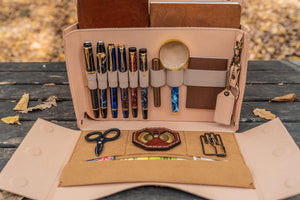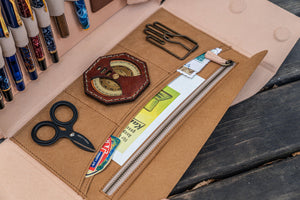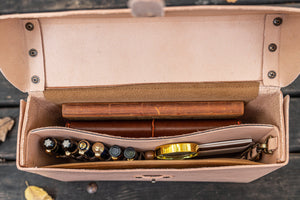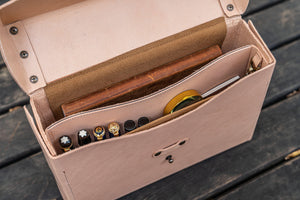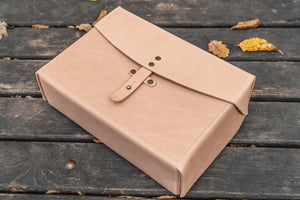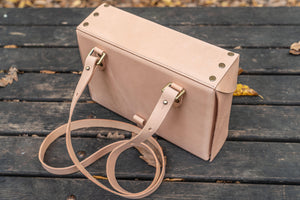 Writer's Medic Bag - Undyed Leather
100% HANDMADE IN TURKEY
PRODUCT:
Handmade Leather Writer's Medic Bag


COLOR/FINISH:
Undyed Leather - Not covered
Undyed leather essentially means nude leather, with nothing covered up. This produces a natural looking product that will have some natural marks, scars and other blemishes. In other words, it has not been processed to make the leather appear perfect, like something you would get in a department store. When you get your brand new undyed, vegetable-tanned leather goods, you are seeing its natural color. The hide is effectively naked and so will age and darken with the sun just like your own skin. Aging will develop a rich color and patina. Sun exposure, daily handling, water, and conditioning give natural vegetable tanned leather a rustic look over time. Read more about
vegetable-tanned leather.
DESCRIPTION:
In honour of our founder Zeynep's last design, we've finally brought her dream to life. As a lover of all things vintage, she was inspired by the design of a traditional medic kit bag and adapted it to incorporate the Galen Leather product range.
The Writer's Medic Bag will light up any writer's or creative's imagination. It's the ultimate stylish way to carry around your writing kit to the coffee shop, on the train, plane or wherever your work takes you. With compartments for notebooks, journals, pen slots and accessories, you can easily pack all your writing essentials with you.
Galen Leather fans will fall in love with this writing kit bag as it's the ultimate collector's item for displaying all your favourite products from our range. It also makes a beautiful and thoughtful gift for writers. The gorgeous distressed tan colour is a best seller throughout our collections so without a doubt we had to include it as a colour option for the Writer's Medic Bag.
SIZE:
11.4" x 7.87" x 3.14" | 2 lbs - 29 x 20 x 8 cm | 0.9 Kg
The interior dimensions of the main pocket
16 x 27 x 3.5 cm - 11.4" x 6.3" x 1.5"
SETUP VIDEOS
INSPIRATION:
Here is the setup by @micahfinds
메딕백 엄지척.
갈렌레더 감성 아이템의 끝판왕.
에이징 하는 재미로 Undyed 가죽으로 골랐지만 확실히 첫느낌은 다른가죽제품으로 골라야 만족스러운것 같다. 생지가죽은 에이징전에는 아쉬운면이 많다.
기리메 마감은 안되어 있으며, 이부분이 조금 아쉽다.
메딕백 크기는 매우 작다. 작은 핸드백크기 정도로 남자가 들고다기는 조금 애매하다.
남자가 들고다니면 일수가방느낌.
여자들이 데일리가방으로 들고 다니기엔 부담없는 크기.
들고다닐거면 조금더 비싸지만 메딕백 XL를 추천하겠다.
그럼에도 불구하고 책상위에 문구류 정리해놓는 용도의 가방으로 사용하면 매우 멋진 제품이다.
바로 사용하려면 다른색상을 고르시고 에이징하는 과정을 즐기시려면 Undyed.
Great and with a warm heart
I really love to have this great bag. Find and feel a warm heart of Galen Leather family and Zeynep who invented this. Thank you so much and hope this bag will be loved by lots of people.
Beautiful workmanship
I have several undyed leather items from Galen and this does not disappoint. Always good quality and workmanship. Kudos to keeping your work top quality.
Fantastic
This undyed Medic Bag is Heaven for lovers of pens, paper and leather. Galen products make me feel "official ". I love all their products.
A Fantastic Purchase
I have been thinking about getting this bag for a long time, having seen many videos. I finally pulled the trigger and I am so glad I did. I had very high expectations for the undyed leather, which I communicated to Yunus. Galen Leather delivered beyond my expectations. Such amazing leather, superb quality, fabulous workmanship, amazing customer service... I cannot wait to see it age with my use. It is so beautiful, I can't stop looking at it. A Fantastic Purchase. :) Thank you Galen Leather.
Fantastic bag
Obvious high quality in thiis beautiful bag. A place for all my writing essentials and daily necessities. An EDC dream.
Just beautiful !
I am so thrilled to have receive this Writer's Medic Bag which will last my lifetime and also who ever I leave it to ! It's simply gorgeous !!
It's very well made with lovely detailing and I just love it !!
Thank you so much Galen leather !!!
perfect to me
i got this 2weeks ago. and it starts aging now. slot of pen and section of notes are perect to a5 note and any kind pens. im really looking forward to see this after 3month. color will turn into coffee by aging.
writers medic bag
Today I received this beautiful bag. The undyed leather is louscious and scented. I can't wait to get it ready for use.
Most of the items are handmade to order and usually take a minimum of 1-2 weeks to dispatch. Out of stock items mean, not in the production cycle and generally re-stocking in a few weeks. You can subscribe to the in-stock notification on the product page. Good things take time. We appreciate your patience!
Shipping
We ship worldwide. All items are sent via our shipping partners UPS/Fedex. Your items may need to be signed for upon receipt.

Due to security reasons, we cannot ship to PO boxes.

Some items are ready for shipment in our workshop, located in Istanbul. In stock items dispatch within 6-7 working days after payment has cleared using our shipping partners, UPS & FedEx. If the item is not in stock, then we will need to make your order.

Deliveries to USA addresses will take 3-4 days. For the UK and Europe, 2-3 days. To Australia, 6-7 days. For the rest of the world, expect a maximum of 7 working days. Plus production times.

Buyers are responsible for customs duties. There are no additional taxes for goods being delivered to the USA.

European Union : New rules after 1 July 2021; we charged VAT for orders up to 150€. It means no hidden or extra customs fees during the delivery. Orders more than 150€ subject to customs same as before.
UK : Orders are subject to VAT. Around %20 percent. + courier fees.
Brazil: Due to high taxes, we suggest to use a redirecting service like Regarding redirecting services, I've been using fishisfast.com

Most countries, except the USA, are subject to VAT (value added tax) and customs duties. These are the responsibility of the recipient. Since rates vary by country and by what was ordered.

Shipping fees are automatically calculated during the checkout process. See your checkout for shipping options. As an example, a small journal's shipping fee starts at US$9.80.
HS Tariff Code for Leather Goods 420221 (You can check your country import regulations with this code)
Returns - Cancellations
Items (except personalized items) can be returned for a full refund within 7 days of receipt. Buyer is responsible for the Shipping costs. Please feel free to ask any questions you might have before placing an order.
Due to all items are made to order, after receiving your order, we immideatly start to make your items. We don't accept cancellations/changes after orders placed.
Embossed Monogram
Products suitable for personalization, are shown on the product pages.It is and additional option.

Currently, we can't customize the wooden items.

If you want a monogram option on your item please select it from choose box at the right side of the page.
The Monogram default position will be on the front right bottom corner. Up to 3 characters.
Up to 3 characters you can personalize your item with ; A....Z Capital letters 0....9 numbers . , & ! # - _ @ / : * punctuation.
Font and height, the default for this listing is Times New Roman, 1 cm high, same as the lead picture.
SEEN ON INSTAGRAM