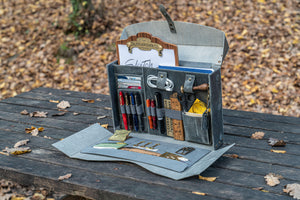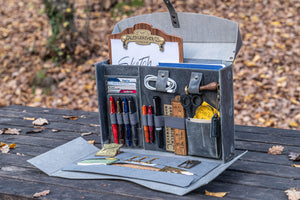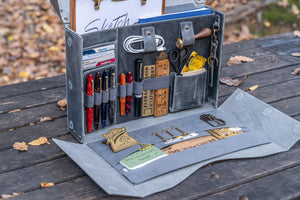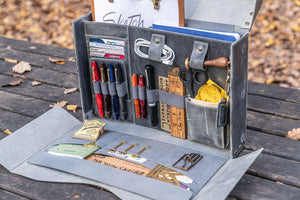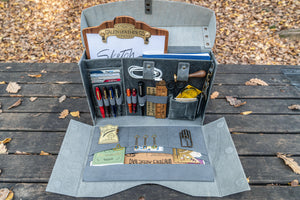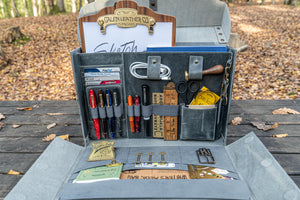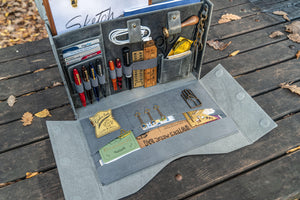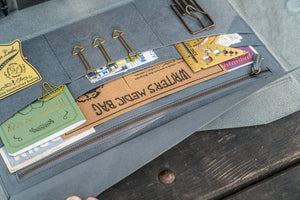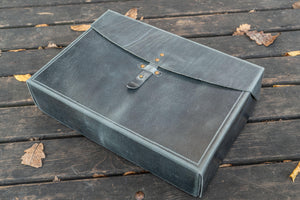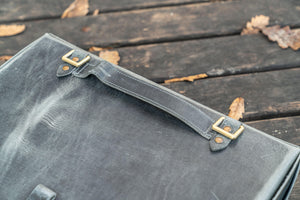 Writer's Medic Bag XLarge - Crazy Horse Smoky
100% HANDMADE IN TURKEY
PRODUCT:
Handmade Leather Writer's Medic Bag


COLOR/FINISH:
Crazy Horse Smoky Grey/Distressed
Distressed smoky color showing under-tones of the black and rich grey. Ages and softens quicker compared to regular leather. Suede feeling finish.
DESCRIPTION:
In honour of our founder Zeynep's last design, we've finally brought her dream to life. As a lover of all things vintage, she was inspired by the design of a traditional medic kit bag and adapted it to incorporate the Galen Leather product range.
The Writer's Medic Bag will light up any writer's or creative's imagination. It's the ultimate stylish way to carry around your writing kit to the coffee shop, on the train, plane or wherever your work takes you. With compartments for notebooks, journals, pen slots and accessories, you can easily pack all your writing essentials with you.
Galen Leather fans will fall in love with this writing kit bag as it's the ultimate collector's item for displaying all your favourite products from our range. It also makes a beautiful and thoughtful gift idea for a writer. The gorgeous distressed tan colour is a best seller throughout our collections so without a doubt we had to include it as a colour option for the Writer's Medic Bag.
SIZE:
15" x 10" x 3.14" | 2.5 lbs - 37 x 25 x 8 cm | 1.1 Kg
The interior dimensions of the main pocket
35 x 24 x 3.5 cm - 15" x 9.6" x 1.5"
REVIEWS ON YOUTUBE
Perfect! Holds Everything I Need
This is a wonderful bag and there's nothing quite like it anywhere else. It holds my laptop and iPad snugly in the back pocket. The main section fits my standard size Traveler's notebook and a hardcover A5 journal. I use the small zip bag that came with it as a holder for my iPad charger and other odds and ends - this also fits in the front.
I love the attention to detail, like the flaps that cover the zip on the front panel and the fittings on the back panel. No worries about scratching my laptop or pens. The magnets make it so easy to open and close and it stays shut when carrying it.
I applied a leather balm before using the bag, and that's helped keep it looking tip top.
Unbeatable quality.
All Galen Leather products are made with such amazing quality. This is only my second product but I am impressed. The XL Medic bag is well thought out. I almost bought the normal medic back some time ago but my finances were not quite in order. I'm glad for that as the XL is just about the right size. It is forcing me to consider what I want to have on me when I travel as I own far too much writing tools to fit everything. It does force you to have intention if you don't want a messy cluttered bag. For some that are a bit more mindful of what they travel with the smaller bag may be adequate, but for me the XL is perfect.
rooAnother Writer's Bag
This Xlarge Medic Writier's Bag is terrific and beautiful, just like the first Writer's Bag that I bought (a friend happily now owns the first one). The additional room in the Xlarge is very useful. Like the first Bag, this one is made with great care, and the color is a joy. I love this bag.
Portable workspace
The extra-large Medic's bag picks up where the original one left off. It is well-suited for plein-air and roving artists as it will hold sketchbooks, watercolor blocks, with room for your brushes, paints, iPad pro - pretty much a minimalist studio.
Amazing!
I adore this bag! I am someone who loves to go the park with a book and stationery and my journal and sit for hours. This bag has already been with me several times to the park and continues to bring me joy. It is extremely well designed. I agree with many of the reviews that I have found that the security of the shoulder strap is questionable, but I have managed to add a washer to each of the button closures on the shoulder strap - and that makes it much more secure and unable to undo itself under the pressure of being worn. I do find the position of the handle to be awkward, however I barely use it and when I do, I can see that it will stretch over time, so it really doesn't bother me. The layout and design of the interior is what is most important and that is amazing... When it was sent to me, the presentation was probably the best presentation I have ever seen in my life - - - -little touches to show how special the bag/company are to the owners and makers as well as a sense of what is important to them...............and they share that with you as the buyer..............I have told everyone about this bag and have brought it places JUST to show others who love such things.................. It isn't for everyone, but it is SO PERFECT for those of us who cherish the art of well-made things and of writing............. I haven't been this happy with something in years and years.....................and will continue to cherish it forever....................
I'm in LOVE!
I have owned the smaller Medic's Writers Bag since it's release in Nov 2019. When Galen Leather came out with the XLarge Writer's Medic Bag, in some wonderful colors, I jumped right on it! I absolutely love the larger size. I have now moved a travel size amount of my travel journal supplies into the XLarge Medic Bag, and will use my regular size Medic Bag as a grab-and-go watercolor sketch bag. Both of these bags are so well made, so beautiful, and they just get better with age/use. I finally got around to doing a review video type thing on my channel - https://youtu.be/mi-Psbsmzak
Gorgeous color!
I love the new size and colors. I choose the Crazy smoky grey color and it is soooo beautiful. As always, I am very happy with my purchase. Thanks Yunus and your team.
This is my joy
I now have a dedicated set up to write with. I feel like the larger size was well thought out. I loved the original but it was just too small to fit into my already established writing routine.
This, however fits the mark. I can fit my writing computer in here, as well as a stack of pens for writing, mark-up and just being pretty. I can add some cards and notes, and fit a number of notebooks. I love the key chain for my emergency backup usb that I keep with the computer and there's a spot for me to keep my cables too.
Everything I need to write.
The only thing I'd like to see is a slightly sturdier feeling strap. I have no doubt this one will do just fine, but it doesn't feel sturdy.
My desk is ready to travel
I spent Christmas Day filing my WMB with my favorite pens and supplies. There is a place for everything with room to store the ephemera I collect on my travels. I bought the Smokey to match the wallet I recently purchased. I absolutely love the color and the lived in, heirloom appearance of the leather. So I'm packed and ready to roam when the world reopens and I could not be happier.
Most of the items are handmade to order and usually take a minimum of 1-2 weeks to dispatch. Out of stock items mean, not in the production cycle and generally re-stocking in a few weeks. You can subscribe to the in-stock notification on the product page. Good things take time. We appreciate your patience!
Shipping
We ship worldwide. All items are sent via our shipping partners UPS/Fedex. Your items may need to be signed for upon receipt.

Due to security reasons, we cannot ship to PO boxes.

Some items are ready for shipment in our workshop, located in Istanbul. In stock items dispatch within 6-7 working days after payment has cleared using our shipping partners, UPS & FedEx. If the item is not in stock, then we will need to make your order.

Deliveries to USA addresses will take 3-4 days. For the UK and Europe, 2-3 days. To Australia, 6-7 days. For the rest of the world, expect a maximum of 7 working days. Plus production times.

Buyers are responsible for customs duties. There are no additional taxes for goods being delivered to the USA.

European Union : New rules after 1 July 2021; we charged VAT for orders up to 150€. It means no hidden or extra customs fees during the delivery. Orders more than 150€ subject to customs same as before.
UK : Orders are subject to VAT. Around %20 percent. + courier fees.
Brazil: Due to high taxes, we suggest to use a redirecting service like Regarding redirecting services, I've been using fishisfast.com

Most countries, except the USA, are subject to VAT (value added tax) and customs duties. These are the responsibility of the recipient. Since rates vary by country and by what was ordered.

Shipping fees are automatically calculated during the checkout process. See your checkout for shipping options. As an example, a small journal's shipping fee starts at US$9.80.
HS Tariff Code for Leather Goods 420221 (You can check your country import regulations with this code)
Returns - Cancellations
Items (except personalized items) can be returned for a full refund within 7 days of receipt. Buyer is responsible for the Shipping costs. Please feel free to ask any questions you might have before placing an order.
Due to all items are made to order, after receiving your order, we immideatly start to make your items. We don't accept cancellations/changes after orders placed.
Embossed Monogram
Products suitable for personalization, are shown on the product pages.It is and additional option.

Currently, we can't customize the wooden items.

If you want a monogram option on your item please select it from choose box at the right side of the page.
The Monogram default position will be on the front right bottom corner. Up to 3 characters.
Up to 3 characters you can personalize your item with ; A....Z Capital letters 0....9 numbers . , & ! # - _ @ / : * punctuation.
Font and height, the default for this listing is Times New Roman, 1 cm high, same as the lead picture.
SEEN ON INSTAGRAM