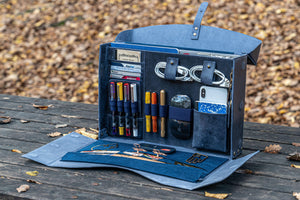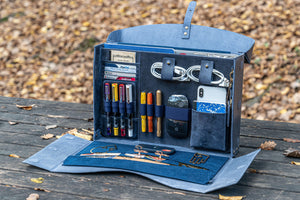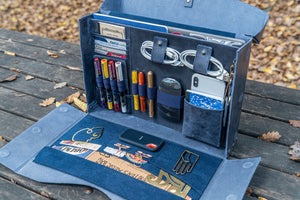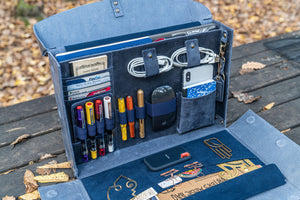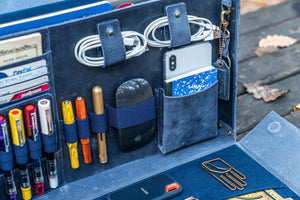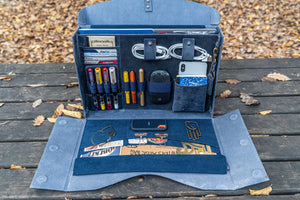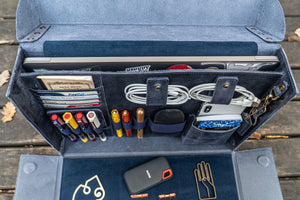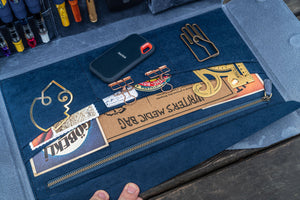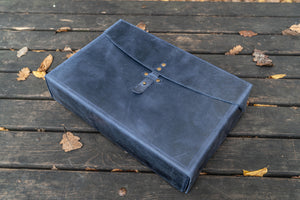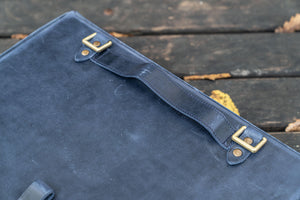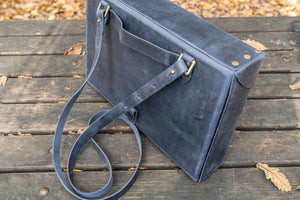 Writer's Medic Bag - XLarge Crazy Horse Navy Blue
100% HANDMADE IN TURKEY
PRODUCT:
Handmade Leather Writer's Medic Bag


COLOR/FINISH:
Crazy Horse Navy Blue/Distressed
Distressed navy blue color showing under-tones of dark blue, light purple and rich navy. Ages and softens quicker compared to regular leather. Suede feeling finish.
DESCRIPTION:
In honour of our founder Zeynep's last design, we've finally brought her dream to life. As a lover of all things vintage, she was inspired by the design of a traditional medic kit bag and adapted it to incorporate the Galen Leather product range.
The Writer's Medic Bag will light up any writer's or creative's imagination. It's the ultimate stylish way to carry around your writing kit to the coffee shop, on the train, plane or wherever your work takes you. With compartments for notebooks, journals, pen slots and accessories, you can easily pack all your writing essentials with you.
Galen Leather fans will fall in love with this writing kit bag as it's the ultimate collector's item for displaying all your favourite products from our range. It also makes a beautiful and thoughtful gift for a writer. The gorgeous distressed tan colour is a best seller throughout our collections so without a doubt we had to include it as a colour option for the Writer's Medic Bag.
SIZE:
15" x 10" x 3.14" | 2.5 lbs - 37 x 25 x 8 cm | 1.1 Kg
The interior dimensions of the main pocket
35 x 24 x 3.5 cm - 15" x 9.6" x 1.5"
REVIEWS ON YOUTUBE
This bag is the best thing ever!
I love my Writer's Medic Bag XL in Crazy Horse Navy. It's perfect for organizing my holiday card writing supplies, or my regular pen pal correspondence supplies and enough pens to make the writing fun. I have my stamps and envelopes and stationary in it as well as many other writing related items. It's so fun to have this perfect bag for the purpose. The leather is lovely and is aging nicely. I'm so pleased with this bag!
WRITER'S MEDIC BAG
This is a gorgeous high quality bag! I actually use it for watercolour plein air painting. I'm so happy with it and it was well worth the wait. Workmanship is outstanding! You will be very happy with one.
Love the design
I love the look and functionality of the bag. It's the only one that opens this way and the blue is gorgeous.
I do wish it was a bit wider so I could fit a bit more in it. There is barely room for a computer and a notebook in the pocket.
And the straps are very uncomfortable. You really can't wear it as a backpack which is a shame bc being able to wear it both ways was a definitely one of the reasons I got it. Given how pricey this was, I do wish those two things were fixed to make it a more versatile bag.
5 star all the way.
I love it. I have not yet set it up. I'm in the process of doing,it now. It is true to the color and the size.
Amazing Day Writing Bag
This medic bag for writers features a variety of secure pen holders, slots for letters, papers, and personal items, as well as a dedicated section for larger notebooks and a laptop.
I was able to fit a large hardback notebook, a soft-cover notebook, and my laptop into the notebook slot, as well as fit in my pens, a bottle of ink, two letters, several smaller notebooks, a coin purse, and a tin with pen nibs. There is also space for keys and a slot for cards.
The front flap of the bag folds out for easy setup and securely magnetizes to the sides of the bag when it comes time to pack up. The front latch secures the flap and keeps the bag closed while you are walking, biking, or even running to catch the bus.
The bag also comes with an adjustable leather strap that can be quickly attached to the bag for easy carrying.
Although the bag ships from Turkey, I received it quickly. It came securely packaged and was an absolute delight to open! I am already using this bag as my day bag when I go out. It is comfortable, easy to use, and a statement piece my literary self will treasure forever.
Read my full review with photos here: https://ninchronicles.com/writers-medic-bag-for-writers/
This is a stellar artifact of heirloom quality
I love this piece. It is a treasure sure to last and its character can only grow as it ages and gains in experience. It's a great size. I currently have it full of brush pens and water color pads & paints. It has ample slots for all the various implements one might need, pads, note cards, IDs, credit cards, business cards, whatever. The blue color is stunning, and the leather itself is thick and smooth.
It came with extra metal pieces--I'm guessing this is in case anything wears out, which is a great touch on the part of the folks at Galen. Likewise, the thoughtful inclusions of Turkish delicacies were a fun surprise that helps create a connection with the people and culture from which Galen Leather sprung. The hand-written lines of poetry from Rumi on a card in the bag found me in just the right place and have inspired me to love this Writer's Medic Bag. My creative and artistic side has been re-awoken, and this will be my standard travel bag for all the essentials. This object may well outlive me and be passed on to a deserving descendent one day
I'm honored to carry a piece of Zeynep's legacy with me wherever I go. She sounds like a marvelous individual and knowing this was one of her crowning achievements really creates a connection. Thanks, Yusuf, for bringing this to life!
Everything about this purchase exceeded my (very high) expectations
I agonized about buying this bag for almost a year. I wish I'd bought it sooner. First of all, it arrived really, really (really!) quickly. I understood that it had a long way to travel and was coming from a small business so I was prepared to wait, but I didn't have to. The packaging was beautiful and filled with extra little treasures. So fun! The quality of the bag is impeccable. I will absolutely order from Galen Leather again. I can't say enough good things about my experience.
Writer's Bag XL
Ordered this the day it became available.
There's lots to love about it. And I'd love to love it. But...
I think that some changes need to be made for the next version. These issues weren't initially apparent, but here we are:
1) The design could really benefit from a broader strap and strap design.
2) Most importantly... the flap/wall can't withstand a couple of months of solid usage. The corners have begun to fray and fall apart. This just reveals cardboard, and has needed to be glued several times. A more solid fabric, sewn ends, corner protection, etc., all of these would make for a much more durable product.
3) I wish that the flap was solid and could be used as a desk.
4) I wish that it were a LITTLE bit deeper, as it would be able to better accommodate hardcover books without things getting cramped.
I'd consider buying more Galen products in the future — I love some of their products — but I wouldn't recommend this one for daily use, only for the occasional.
I ultimately gave mine away to a friend, and have since switched to a briefcase.
Beautiful craftsmanship
As a lifelong writer, I've honestly looked for the 'perfect' writing bag for home and travel for YEARS. I finally found it. This bag is a masterpiece.
Navy Blue XL Medic Bag
WOW!!! This bag exceeds even my expectations! The care of packaging is outstanding. The speed of delivery in these trying times was amazing (it took longer for a package to reach me from 2 states away, than my package from Turkey)! Then the Medic Bag itself! I was amazed at how much this bag can easily hold. From the description, I figured it would hold paper, pens, ink, a tablet etc. However, it easily holds laptop, PanPastel trays, colored pencils, pencils, fountain pens, ink, cords, and so much more! The craftmanship is exquisite and I wish I could figure out more uses so I could justify getting another one! LOL Thank you so much for designing and crafting such a lovely piece! It inspires me to even more creativity!
Most of the items are handmade to order and usually take a minimum of 1-2 weeks to dispatch. Out of stock items mean, not in the production cycle and generally re-stocking in a few weeks. You can subscribe to the in-stock notification on the product page. Good things take time. We appreciate your patience!
Shipping
We ship worldwide. All items are sent via our shipping partners UPS/Fedex. Your items may need to be signed for upon receipt.

Due to security reasons, we cannot ship to PO boxes.

Some items are ready for shipment in our workshop, located in Istanbul. In stock items dispatch within 6-7 working days after payment has cleared using our shipping partners, UPS & FedEx. If the item is not in stock, then we will need to make your order.

Deliveries to USA addresses will take 3-4 days. For the UK and Europe, 2-3 days. To Australia, 6-7 days. For the rest of the world, expect a maximum of 7 working days. Plus production times.

Buyers are responsible for customs duties. There are no additional taxes for goods being delivered to the USA.

European Union : New rules after 1 July 2021; we charged VAT for orders up to 150€. It means no hidden or extra customs fees during the delivery. Orders more than 150€ subject to customs same as before.
UK : Orders are subject to VAT. Around %20 percent. + courier fees.
Brazil: Due to high taxes, we suggest to use a redirecting service like Regarding redirecting services, I've been using fishisfast.com

Most countries, except the USA, are subject to VAT (value added tax) and customs duties. These are the responsibility of the recipient. Since rates vary by country and by what was ordered.

Shipping fees are automatically calculated during the checkout process. See your checkout for shipping options. As an example, a small journal's shipping fee starts at US$9.80.
HS Tariff Code for Leather Goods 420221 (You can check your country import regulations with this code)
Returns - Cancellations
Items (except personalized items) can be returned for a full refund within 7 days of receipt. Buyer is responsible for the Shipping costs. Please feel free to ask any questions you might have before placing an order.
Due to all items are made to order, after receiving your order, we immideatly start to make your items. We don't accept cancellations/changes after orders placed.
Embossed Monogram
Products suitable for personalization, are shown on the product pages.It is and additional option.

Currently, we can't customize the wooden items.

If you want a monogram option on your item please select it from choose box at the right side of the page.
The Monogram default position will be on the front right bottom corner. Up to 3 characters.
Up to 3 characters you can personalize your item with ; A....Z Capital letters 0....9 numbers . , & ! # - _ @ / : * punctuation.
Font and height, the default for this listing is Times New Roman, 1 cm high, same as the lead picture.
SEEN ON INSTAGRAM