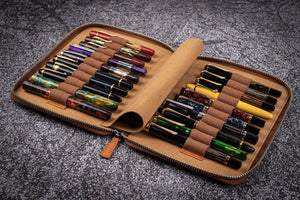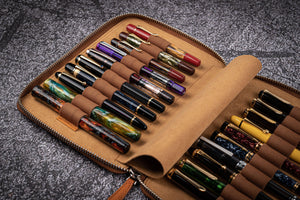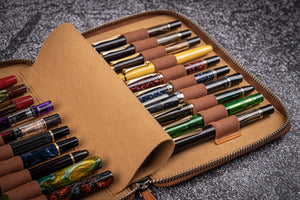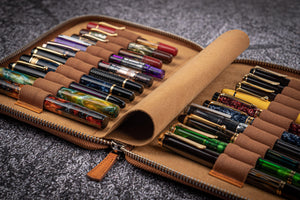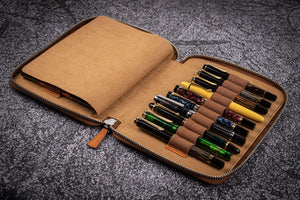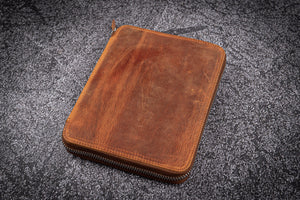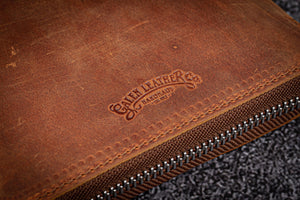 Leather Zippered 20 Slots Pen Case - Crazy Horse Brown
100% HANDMADE IN TURKEY
PRODUCT:
Handmade Leather Zippered 20 Slots Pen Case 

COLOR/FINISH:
Crazy Horse Brown

Distressed brown color showing a lot of different brown under-tones including tan, mocha and hickory. Ages and softens quicker compared to regular leather. Suede feeling finish.
SIZE:
7.3 x 9.2 inches (18.5 x 23.5 cm)

FEATURES:
20 elastic pen loops
Full grain leather
Holds up to 145 mm / 5.6 inch pens
Protector fabric
YKK zipper
MATERIALS:
100% vegetable tanned cow leather
Hand stitched using

 

waxed polyamide thread

The edges are beveled, waxed and burnished for a finished look
DESCRIPTION:
This Leather Zippered 20 slots Pen Case has a velvet lined interior and holds up to 20 pens. When you want to carry your favorite pens, you want them protected in your bag, purse or pocket to avoid ink leaking everywhere or getting them scratched. This leather pen holder is great to protect your fountain pens and keep them safe.
*Accessories are not included
So good I bought 3
This pen pouch is perfect for all pen sizes. The longest pen I have is the Benu Euphoria and the girthiest is the Conklin All American or Opus Jazz in one pouch and smaller/thinner pens in the others. Once you slide a fat pen in one of the slot, the elastic tend to loosen and a small/thin pen like a Kaweco would not fit snugly thereafter. The leather feels luxurious, smells nice and with regular treatment with the balm, this pouch will last forever. I love them so much. Best colour for me is still the crazy horse navy blue and crazy horse brown!
Absolutely love it!
I find I can fit a variety of pens from different brands in here as can be seen in my photo. Leather flap protects them from rubbing on one another. For my slimmer pens I just use their clip to clip over the elastic and they stay perfectly. Otherwise the rest fit perfectly snug in the bands. Zipper is great and the size is perfect because it compliments my Galen leather zipped folio perfectly! I don't have to worry about choosing pens for a trip I just grab the whole thing, very compact but roomy for the pens. I even manage to keep some A5 size Tomoe River paper in there in case I want to write or test my pens. As you can see I have a lot of pens so the 20 was really the way to go for me. The leather flap is shown rolled back here so I could display my pens but it comes completely flat and smooth.
The leather is very soft. Zipper is very hardy, they do a great job on their zippers being tough and sturdy while still closing and opening easily.
My pens are toi big or the case is to compact !!
I decided to return the case back because large pens cannot hold in it and i could not close it.
I consider ordering the magnum box recently issued.
Great Pen Pouch
I like the leather pouch because it's very soft. The color of the leather pouch is also very beautiful. But I hope the band that puts the pen in is a little narrower. It's loose when you put in a thin pen. Overall, it's a great pen pouch.
Beautiful Leather, Tight Fit
I love the leather and the workmanship is high quality. The Crazy Horse Brown is beautiful. The zipper feels solid and pens stay snug in the elastic loops. There is a protective flap to keep the pens from rubbing together.
When loaded with the total 20 pen capacity, closing the zipper takes some finesse; I initially had to use a hand to squeeze the sides together. Once closed, the nice flat shape of the case was lumpy.
Even with the protective flap, I was worried about how tightly pressed together the pens were, as the flap doesn't cover every part of the pen fully and I like large pens.
My solution to this was to place the pens facing the opposite way on one side. This alleviates much of the issue, and now it closes more easily and maintains its shape, but I wonder if it would be possible to allow a little more space in the overall thickness in order to account for large pens.
Beautiful, sturdy, and aging well
I love this case. The leather feels and smells great, and it's getting a charming scuffed patina as it ages. I will be getting another as my pen collection grows!
The best 20 pen case ever.
I've been using the 2 GL 10 pen leather cases and decided to move up to using one big case instead of lugging around 2. I am very much happy with the case. The flap gets some getting used to but it's not a problem over all. I store the pens with the clip on its side so that when it closes, it becomes compact and do not risk getting the clips rubbing across each other. However for photos, i twist the clips right back up.
Overall i love the case. The interiors are space for your pens yet it's compact. I love the elastic wraps around them are high quality and i love the nice touch of leather at both ends. This case is a keeper.
Gorgeous bit of kit
Fully expected to wait a couple of weeks for it to be made but I got lucky and I guess there was one in stock. Turned up within 10 days or so in Super. Natural. British Columbia. I read a lot of Canadians got stung with brokerage and other fees (not the fault of Galen at all) from FedEx, but I was spared that pain. Absolutely adore it, and as my pen collection creeps ever higher I suspect it'll soon have a companion. Not cheap, but absolutely worth the money. Beautifully hand made and attention to detail of design and finish is second to none.
Gorgeous case
This case is so beautiful! My pens fit perfectly and the leather smell is amazing :)
Most of the items are handmade to order and usually take a minimum of 1-2 weeks to dispatch. Out of stock items mean, not in the production cycle and generally re-stocking in a few weeks. You can subscribe to the in-stock notification on the product page. Good things take time. We appreciate your patience!
Shipping
We ship worldwide. All items are sent via our shipping partners UPS/Fedex. Your items may need to be signed for upon receipt.

Due to security reasons, we cannot ship to PO boxes.

Some items are ready for shipment in our workshop, located in Istanbul. In stock items dispatch within 6-7 working days after payment has cleared using our shipping partners, UPS & FedEx. If the item is not in stock, then we will need to make your order.

Deliveries to USA addresses will take 3-4 days. For the UK and Europe, 2-3 days. To Australia, 6-7 days. For the rest of the world, expect a maximum of 7 working days. Plus production times.

Buyers are responsible for customs duties. There are no additional taxes for goods being delivered to the USA.

European Union : New rules after 1 July 2021; we charged VAT for orders up to 150€. It means no hidden or extra customs fees during the delivery. Orders more than 150€ subject to customs same as before.
UK : Orders are subject to VAT. Around %20 percent. + courier fees.
Brazil: Due to high taxes, we suggest to use a redirecting service like Regarding redirecting services, I've been using fishisfast.com

Most countries, except the USA, are subject to VAT (value added tax) and customs duties. These are the responsibility of the recipient. Since rates vary by country and by what was ordered.

Shipping fees are automatically calculated during the checkout process. See your checkout for shipping options. As an example, a small journal's shipping fee starts at US$9.80.
HS Tariff Code for Leather Goods 420221 (You can check your country import regulations with this code)
Returns - Cancellations
Items (except personalized items) can be returned for a full refund within 7 days of receipt. Buyer is responsible for the Shipping costs. Please feel free to ask any questions you might have before placing an order.
Due to all items are made to order, after receiving your order, we immideatly start to make your items. We don't accept cancellations/changes after orders placed.
Embossed Monogram
Products suitable for personalization, are shown on the product pages.It is and additional option.

Currently, we can't customize the wooden items.

If you want a monogram option on your item please select it from choose box at the right side of the page.
The Monogram default position will be on the front right bottom corner. Up to 3 characters.
Up to 3 characters you can personalize your item with ; A....Z Capital letters 0....9 numbers . , & ! # - _ @ / : * punctuation.
Font and height, the default for this listing is Times New Roman, 1 cm high, same as the lead picture.
SEEN ON INSTAGRAM