56 Of The Best Custom Pen Makers From Around The World
A Bespoke Pen - It's a Romantic Thing
There are custom pen makers all over the world who have taken the basic tenants of turning a fountain pen (something that has been done for centuries,) and added their own stories, philosophies, and history to them. Many of them are lovingly focused on this singular item. They are in big cities and tiny towns, sometimes using the places and the natural elements around them to distinguish the style of their pens. Many of these custom fountain pen artisans have created their own materials and pushed the boundaries of machinery to offer new perspectives of what a pen can be. The commonality is that the writing instrument has been an inspiration to all of them. They are the maker and original keepers of these objects. When presented to the new keeper of the pen, the object takes on a whole new meaning. The next story begins and starts to create a secondary history that will outlast both them and the person who created it.
For someone who truly loves pens, there may be nothing more meaningful than getting to have your writing instrument customized to your every whim and will. How it looks, how it feels in your hand, and the symbolism that it might hold for you.
At Galen Leather, fountain pens are more than a hobby; they're an obsession. So it's no wonder we incorporate the ability to safely store your fountain pens into the designs of our pen cases, journal covers and pen sleeves. We even recently launched our own range of what we consider to be some of the best fountain pens available en masse that pair beautifully with our best journals for fountain pens.
For The Love of Custom Made Pens
On the heels of this obsession, I wanted to share some of the customer fountain pen makers that can make having a bespoke fountain pen a reality for you. We have also, in some cases, included smaller artisan makers who produce limited edition pens rather than customized pens because we felt that their contribution should be acknowledged and celebrated. It should also be noted that many of the custom pen makers may have long waiting lists or not be accepting custom orders at this time. So, it may be a good time to mention that patience is a virtue and also how exciting it can be to receive a custom fountain pen after waiting more than a year for it.
Custom Pen Makers From Around The World
It should also be noted that while nearly thirty pen makers and artisans are listed here, it is by no means an exhaustive list, so if you know of a maker that is not included, please put the information for contacting them in the comments and readers will be able to seek them out.
I hope you find someone's work that speaks to you and that this article is the first step in acquiring your next heirloom.
Herewith (in mostly alphabetical order,) are the artists making some of the most unique and beautiful writing instruments around the globe.
2023 Update (26 New Makers)
The world has changed so much since we last presented a list of makers in the pen world contributing new and sometimes ancient methods of crafting writing instruments. If there is a positive we can take away from the past three years it is that inspiration and innovation will not be held back by a pandemic. This second list of pen makers is proof positive that creativity can blossom during challenging times, producing some of the most beautiful and technically novel pens we've seen. 
As with our previous list, it is by no means an exhaustive list, so if you know of a maker that is not included, please put the information for contacting them in the comments and readers will be able to seek them out.
I hope you find someone's work that speaks to you and that this article combined with our first list of twenty-eight, is the first step in acquiring your next heirloom.
Herewith is our second list of artists making some of the most unique writing instruments around the globe.
Astoria 
Trained as master toolmaker, Max Schrage spent four decades at Montblanc before starting his own fine writing instruments company. In 2009 he acquired the rights to the Astoria Pen company where he makes his David and Goliath models mostly Ebonite with the occasional additions of gold and steel. While some of the iterations are sleep and simple, others are intricate floral masterpieces that resemble fine jewelry where Schrage can really show of his masterful skillset and veteran status in the pen world.
Bokumondoh
Hiroko the proprietor of Bokumondoh studied in the UK and Italy after graduating from fashion school in her native Tokyo. In 1997 she moved to Aomori, Japan to learn the Tsugaru-nuri style of lacquering from a master practitioner of the technique. In 2002 she founded Bokumondoh and twenty years later she is pushing the boundaries of this ancient technique of lacquering in a modern way. With a waitlist of one year, her art is clearly in demand and one look at her website or Instagram will illustrate why. Each of her pens is a work of art, layer upon layer of lacquer, and hours of labor that all culminate to create pens that have depth and a story of their own to tell.
Duchessa 1935
A relaunch of a nearly hundred-year-old brand, Duchessa 1935 is one of the great historic brands of Italy. Using old world craftsmanship and materials, coupled with modern technology, Duchessa 1935 uses original nibs and accessories and new resins to create pens that celebrate the past and the present. Artistic pens that celebrate tradition and innovation, these are wonderful writing instruments for those who love art history, the city of Florence and Italian pens.
Elbwood The Hanseatic Penmaker
The "E" in Elbwood should also stand for Elegant and its atelier's master craftsman and sole proprietor, Frank Pressentin is as elegant as his bespoke pens and pencils. There is nothing rushed and fussy about these writing instruments. They are luxurious in their simplicity and express their beauty in fine lines, curves and gorgeous materials. There is nothing extraneous and nothing mechanized. The work is all done by hand, passing the artist's emotions into each piece like a sculptor. These minimalistic tools will take on the patina and use of the owner over time, getting even better as they tell the stories of the writer. Custom writing instruments are available by request and start with a consultation to start the dialogue that will inform the pen for its long lifetime.
Ellington Pens
A collector turned penmaker, Ethan Ellington, spent eighteen months during the pandemic in his London studio working on the prototype for a luxury pen that checked all of the boxes minus an excessive price tag. Using his background in mathematics he focused his design on weight to comfort, adjusting the dimension, construction, and materials until it passed muster during blindfolded prototype testing against the most expensive fountain pens in the marketplace. The result: Ellington Pens' first eight designs with an octagonal cap, offered in eight beautiful colors, balanced whether they are unposted or posted, at an extremely palatable price point. 
F3 Pens
The evolution of their original company Fisher of Pens which they ramped down in 2019, F3 which stands for Fisher Family Fountain Pens, started in 2021. This husband-and-wife team (their kids were actually the impetus for penmaking in the family, having tried a make your own pen station at a booth at a craft fair and encouraged their Dad to try too,) have taken their ten years and experience of making thousands of pens to create their newest creations. While they do not accept custom commissions, they do take suggestions and if your idea is selected, you have first rights of refusal when the pen is made before it's open to the public. 
Faivet
Matthew Faivet, the tailor-made designer, has been making pens in Alsace, France since 2010. Offering custom pens in a wide range of materials such as woods, resin, ebonite, bone, and horn. Mainly a custom purveyor, Faivet shares a dialog with his clients when they start by choosing from his nine models and from there, he will work with them to come up with the pen of their dreams, limited only by their imaginations. 
Garcia Deschact
Garcia Deschact is the love of true loves Andy Deschact and Laura Garcia Belli. While they come to pen making from backgrounds that might seem unlikely (think opera singing and molecular biology for Laura and being a chef and sculptor as Andy did,) they coalesce perfectly in their pens which are made using sterling silver, enamel, ancient and precious woods, gemstones and other fine materials. Their site offers pens for sale (don't miss their licensed Smurf pens which are as charming as they are flawlessly executed,) but also offer custom services for proprietary pens to meet a client's exacting requests.
Giants' Pens
Two brothers, Joep and Teun Prinsen of the Netherlands are behind Giants' pens aim to make high quality pens at an affordable price. Combining their yin and yang skills and temperament they have spent the last several years learning their craft in order to expand their custom offerings with regards to finishes and materials.
Gravitas
Gravitas Pen started as Ben Walsh Pen Design by its namesake, a cabinet and furniture designer from Dublin, Ireland who started his eponymous company making cement pens which he sold globally to corporate and private clients. Encouraged by this success, Ben set out to make a top-quality pen that could outlast its owner. Precision machined using ultem, titanium, polycarbonate, powder coating and other strong and modern materials, the design and construction of Gravitas' pens have been through hundreds of hours of testing and multiple versions before Walsh was satisfied they were ready for market. And word on the street is that this is just the beginning.
Haskoson
German made Haskoson focuses on sustainability, social compatibility, and regional production. Using new materials and celluloids from days long past, Haskoson creates timeless writing instruments that are as functional as they are beautiful.
Hex Pens
Based in Hong Kong, Hex Pens combines the traditional art of fine writing instruments with state-of-the-art technology. A feast for the eyes, these pens look like DNA, the double helix, an optical illusion, or all of the above. The company also offers a custom version, so if you can dream up how you'd like to see your ink suspended within your pen, it's possible Hex can make it happen. Currently, all of Hex's pens are sold out, but they are expected to restock in Q1 of 2023, so stay tuned.
Karas Kustoms
Specializing in fully machined writing instruments, Arizona made Karas Pen Company draws their inspiration from their home state and attempt to partner with other Arizona companies to source anything they can't make in house. Working in aluminum and resin, Karas' pens are sleek, functional, and often come in limited small batch runs making them highly sought after by their diehard fans and Karas Pen Club members.
Kasama Pens
Proudly crafted in the Philippines, Kasama pens are all about materials, Kasama, meaning companion, make a perfect every day carry pen because they are made with durable (and beautiful) plastics such as ultem, peek, Delrin and vespes and metals like titanium, aluminum, and copper. Artistically they are not afraid to mix these materials and the result is something strong both physically and aesthetically.
Kiwi Pens
If you are looking for an affordable pen that has a large ink capacity that won't leak or burb, look no further than Kiwi Pens. Through the partnership of a pen enthusiast and a veteran pen maker of sixty plus years, these eyedropper and demonstrator pens come with Bock nibs and are all about the ink.
Loclen
Since 2008 Loclen has been handcrafting pens in Veneto, Italy. These are contemporary pens that are unique in their innovative design but made using traditional techniques. They are crafted mostly from aluminum and brass on old school lathes and mills by skilled artisans and are for any pen (or pencil!) enthusiast looking for a pen that is cool, chic and functions perfectly. 
Lotus Pens
Arun Singhi has been in the pen industry for more than five decades and went out on his own in 2015. While he works in metal and ebonite, his specialty is hand painted pens and they are spectacular works of art that are incredibly detailed and express the art of Indian motifs, history, and culture. He offers custom pens, so if you can dream it, Mr. Singhi will use his skill, heart and soul to bring it to life for you.
Mayfair Pen Company
Mayfair Pen's goal is to make their customer the perfect pen and aside from rare drops and pen shows, they are a by custom order only. With five models currently, the features that have been a standout in the market and drawn rave reviews from Mayfair Pen owners are the pens' pure minimalism that is all about ink capacity aka the "vial of resin", the option for ultem sections, and the pens' very distinct concave curve at the section, making them supremely comfortable to write with and a gorgeous way to show off materials. 
Penteo Pens
What do you sometimes do when you love fountain pens? You start making your own. This is the case with Teodor Mircea who makes his socially responsible pens with materials like Eltaryn (an ivory alternative), urushi, wood, and ebonite. Penteo keeps some pens in stock, but offers a very large selection of materials to choose from for a custom pen. Penteo also offers a button-filler option, so if you are in search of a unique custom pen, Teodor may be the one who should make it for you.
Ranga Pens
For over fifty years, Ranga has been making pens. Started by M.S.Pandurangan and now joined by his son, the company makes fifty models in acrylic and ebonite. With so much to choose from and Ranga's reasonable price point, clients in over 100 countries often have more than one bespoke Ranga in their collection. 
Rockster
With a dozen models made in Wales, Rockster pens are offered in small batch commission sign-ups and the occasional offering on Instagram. In other words, to get one, you have to stay on top of things. Anyone who has seen these beauties would agree it is well worth it. Made with cellulose, erinoid, woods and other materials and with signature bands of color throughout the cap and barrel, these are striking writing instruments with small details that make them standouts.
Schon Dsgn
While Ian Schon's Schon Dsgn made our list last time around, a lot has happened since we last wrote about him. He moved his studio to Philadelphia, he went against his personal love for the pocket pen and answered his fans' cries for a full-sized fountain pen and most notably, he manufactured his first in house nib and it is exceptional. Called the Monoc nib, it is made from solid titanium with an integrated nib, housing and tipping. The titanium gives it a soft graphite like quality without bounce. If you are someone who like to have full control over your nib when writing, this is your nib. While it is currently only offered in one width, it can be tuned by a nibmeister to your liking, and it fits any of Schon Dsgn's pens that take a #6 Jowo nib. A real innovation in manufacturing, it deserved mention in this new round of our makers' list and trust me, you want one (I know I do,) so get on the waitlist stat!
Stanford Pen Studio
In the home studio of Dave and Di Mohr in Stanford, South Africa, the Stanford Pen Studio is pushing boundaries. While Dave is making the pens, Di is making the blanks and this partnership has produced some of the most out of the box thinking when it comes to blank inclusions and their baker's dozen of classic, elegant, models. Think seed beads, wound and woven metallic thread, native woods, your favorite Expressionist painting and hand-painting by their own collective of artists and you have just some of what you might see in the finished barrel of a Stanford Pen Studio pen. Nature and design convene in a kaleidoscope of colors and thoughtful design. And while they may currently have a waiting list, they do offer custom work, so your favorite pet or flower can be a part of your next favorite pen.
Scopus Pens
We met Eran from Israel, at DC Pen Show 2023, who had a table next to us. And his pens caught our attention, each one is like a one-of -kind work of art. Scopus Pens was an idea born of a meeting between three passionate artists in the very special surroundings of the city of Jerusalem. Ilana and Eran Hovev met Misha Manusov during the Jerusalem Art Fairs, and an instant connection was evident. Each has their own individual approach to expression through art, and the conversation soon turned to how nature influences art. Understanding that there was a mutual vision, the trio used the time they found during the Covid pandemic to develop and tune this vision, and the result is the wonderful and unique world of Scopus Pens.
Stüdyo Ağaçkakan 
Originally a solo act, in 2019 Stüdyo Ağaçkakan became the brainchild and company of two friends who are using the platform of their pens to share the history and culture of their Turkish heritage. Their pens convey Turkish motifs, art and craft using innovative techniques and materials. They have now brought their pens to the world, traveling to international shows where audiences have been enchanted by the care, thoughtfulness, and variety of their pens. From jeweled overlays, urushi and hand painted elements, there is a pen for all tastes. And if there isn't one that perfectly suits you, the studio will customize one for you.
Tom's Studio
Inspired by his wife Gemma's calligraphy, but uninspired by the lackluster tools in her industry. Using his skills as a furniture designer, product designer and blacksmith, Tom set out to make better and more creative tools that stay true to the calligrapher's needs. Along the way, he piqued the interest of fountain pen enthusiasts and so he applied the criteria of the calligrapher to more portable fountain pen. Seven years later, the company offers both calligraphy and fountain pens, as well as their newest pen the Lumos. The Lumos has nine interchangeable and replaceable fineliner and brush pen nibs which make it both versatile and sustainable, perfectly in line with the brand's ethos.
Wet and Wise
Take a mechanical engineer who is a seeker of beauty and a fountain pen enthusiast, and you might just have the next custom pen maker. Such is the case with the owner of Wet and Wise who was an engineer for over two decades. Each pen is handmade in Belgium using vintage and modern resins and celluloids. The company specializes in bespoke items, tailoring the pen to the clients' individual specifications.
2021 Update (28 Pen Makers)
18111
Yoshi Nakama has been an artist all of his adult life. Having settled in NYC from Japan in the late 1970's he became a fabricator for a prominent artist.
That artist just happened to be a fountain pen lover, something that he shared with Mr. Nakama. In 2012, he bought a lathe and produced some wood pen kits. My how far his designs have come from that time. Now made start to finish, by hand (save for the Jowo nibs,) 18111 pens are cast Alumilite resin adorned with maki-e techniques that have been translated to modern tools and materials. Roll stoppers are 3D printed in wax and cast in gold plated brass. Each blank is hand cast, turned and threaded by hand. The result is the natural world expressed in explosions of color and gilded in gold.
Additive Pens
They look like science experiments, the kind that cause oohs and ahhs.
Completely 3D printed barrels are fitted with caps and grip sections that have been machined from solid rods of clear cast acrylic. They can only be eyedroppered, but this is where the magic begins. Not only do these pens hold a tremendous amount of ink, the ink becomes the star of the show as it swirls through a double helix or ribbon design. For those hesitant because stained acrylic gives them pause, Additive Pens has developed a proprietary ink resistant coating to minimize it. So, ink these away and remember that the reason you have an Additive Pen is to write with it. That is, if you can stop staring at the extraordinary barrel long enough to.
Atelier Lusso
Eric Sand's Atelier Lusso starts with a car. A Ferrari to be exact. One that his father took him to see: the 1964 Ferrari Lusso Coupe. To Eric, this car was a marvel of great design and engineering working together. In honor of that memorable automobile, the company name Atelier Lusso, which translates to "the luxury home studio" was chosen. With pens tailored to the clients' exacting requirements and made from vintage and modern resins and celluloids, Atelier Lusso signature hammered trims add distinction to these elegant pens where the old world and the modern meet.


Birmingham Pen Co.
This self-proclaimed "tiny American pen and ink manufacturer" was started by brothers Nick and Josh in 2008. Fast forward to 2018 when the company was officially launched with their first house-machined fountain pen. Based outside of Pittsburgh, this is a true family affair with Dad and Mom, now also part of the process of bringing pens and proprietary inks from Pennsylvania to you. Named for the town of Birmingham in the UK, which was once a hub for thousands of craftspeople specializing in pen and nib manufacturing, Birmingham Pens produces colorful, sleek, and affordable pens to celebrate this history and bring the name into the future. Each pen is accompanied with a certificate of authenticity that is letterpress with the unique index # of your pen and its date of completion. Just one small touch of this burgeoning operation, tiny or not.


Broadwell Studios
David Broadwell has been an artist all of his life. His studio began translating some of the techniques and materials he used for knives to writing instruments in 2001. Made in Texas, these pens are truly fine works of art. One need only look at his Guernica pen celebrating Picasso's 1937 mural and masterpiece to know that. Made mostly from ebonite, wood, metals, celluloid and often carved or engraved, Broadwell's pens are so celebrated that he has been asked and has made kit pen kits for other companies over the years. In his studio, though, the pens are all David Broadwell, start to finish and when you can't find him making his art, you may just want to check the open road, he may just be taking a ride on his Harley Davidson.


Brute Force Designs
Brute Force Designs started with an old lathe that had to be stripped down to its bare bones and years of study that led to the manufacturing of their first pen. Made from wood, copper, brass, aluminum and other metals and materials, they may be seemingly simple, but what they really are is sleek and understated, with ebonite and urushi making appearances now and then and a distinct sophistication that is ever present.


Carolina Pen Co.
Nestled on a farm in Aiken, South Carolina, Jonathon Brooks has been making tangible art for his clients, since 2009. Living out his company's motto: "Putting your personality in writing", Jonathon tailors each pen to its owner, creating an extension of their personality in domestic and exotic woods, ebonite, rare vintage plastics and artistic embeds. And while his pens are quite well-known, his custom resin materials are also a big claim to his fame. Used by makers all over the world, his blanks have a signature that resembles beautiful marbled Italian papers, bursting with colors that nature seems to have put together, but are actually the result of his artistry. And if this wasn't enough, he is known to be one of the kindest guys on the pen show circuit and also one of the first tables to visit as most of his pen show stock is here one minute and gone the next.


Chesapeake Pen Co.
The first time I listened to Tom Gaunlt speak on Instagram, I thought he had a great voice for radio and forgot to look at the lathe he was explaining and the resulting work coming off it. Once I was able to focus, I immediately DM'd him for a beautiful lavender pen that is still a favorite in my collection. Based on the Chesapeake Bay, Tom has been creating things for 50 years, starting in his Grandfather's workshop. A professional pilot by trade and a boat restorer by passion, Tom's pens truly reflect the place from which they come. Made from local materials, acrylic made to mirror the rainbow of colors found in sea glass and roll stops that evoke the flora and fauna of the Chesapeake, these are pens that are a tactile reminder of the fleeting nature of time and place. A real treasure that evokes the land and sea for all who have them in their hands and pen collections.


Country Made Pens
Troy Breeding is the first to remind visitors to his site that "not all pen makers live in the big city. Some even live way out in the country." The country in this case, being Lebanon, Missouri where Breeding is creating some of the most sophisticated hand-engraved barrels on the market. Using ebonite, mixed metals, and Italian acrylic, he engraves some the most intensely intricate engravings, one can hardly believe that a Renaissance artist didn't do the work.


The Desiderata Pen Company
A musician by trade and a pen maker by necessity to have the perfect flex pen for his own use, Pierre Miller is for me, a great pen maker and a great intellect about pen making. I could wax poetic for days about his pens, which are outstanding to look at and for daily use, but rather (because you can click the link above and see for yourself,) I am instead going to use this article as a PSA. You need to sign up for this one-man show's email, read his About page, and FAQ's stat. Not only do they offer a lot of useful information about pens, they are a window into Pierre's mind which is as deep as it is entertaining, as witty as it is biting (in a good way,) and I would just hate for anyone with a love of pens or a love of language to miss out on a single word. Trust me. And then buy one of his made in Chicago, small-batched, hand-machined pens.


Edison Pen Co.
Brian Gray started Edison in his garage with one manual metal lathe in 2007. Now a husband and wife team, with the onboarding of his other half Andrea, Edison is known both for their production line sold to retail accounts and their signature line, reserved for their direct to consumer pen clients. You will find no cart and no button to press "buy" on the site, a purposeful omission to encourage that custom orders be a conversation. You can peruse the site for previous collaborations and iterations of Edison pen models and then begin to work with the team (that places client service at the forefront,) to create the perfect pen for your hand. With so many materials to choose from and collaborative work with an urushi master, your options are seemingly endless, a task that the team at Edison are more than happy to help you tackle.
Franklin Christoph
What can I say? To put it out there so there is complete transparency, I own over 50 Franklin Christoph pens. At times this feels like the blessing that it is and other times it feels like a "what the heck have I done" moment. Every time I think maybe I have gone too far and should pare down the collection I just can't let go of any of them. They are just all that special. A ceramics company for 91 years, the current iteration of this generational family company, begins in 2001 with the IPO of their first fountain pen. Many years, accolades and awards later, Franklin Christoph is probably best known for two things (aside from the quality of their pens): the Stock Room on their site which presents their newest limited edition offerings (an offshoot of their famous prototype tables at pen shows,) and their unparalleled client service, which is legendary for being as efficient as it is personable. While they do not traditionally offer custom pens, F-C does offer a free custom pen of a clients' choice for their 50th pen, and again for their 100th. Having passed one of these milestones, I can only hope to have enough willpower to not get to the next one.


Garcia Deschacht
If there is something aesthetically engaging and dramatic right from the start when you click on this site, it may be because the husband and wife proprietors are a chef and an opera singer respectively. With luxury materials such as diamonds, sterling silver, mother of pearl, and vintage Omas blanks, this Belgian based company is making truly luxurious writing instruments. Make sure to take a look at the rest of their team known as the "cuddle department," as it's clear that adorable cats have added to the joy of this duo's pen enterprise.
Hardy Pens
Gregory Hardy's designs rise out of a love of writing and writing instruments. For him, making pens in the age of disposable things is a contribution that helps his clients make memories that they can attach to the pen they used and allow him to experience the joy he feels from working with fine tools and engaging in the creative process. Utilizing a host of materials, including blanks by Jonathan Brooks, Diamondcast and Jon Lesher, Hardy's pens let the materials shine in every custom piece he produces.


The Herbert Pen Company
Chet Herbert operates his namesake company out of Richmond, Virginia, and focuses nearly exclusively on custom pens. With models inspired by local places and people, his custom pens are made using acrylic, alumilite, lucite, ebonite, vintage celluloids and blanks that can be mixed in-house. A collaborative process between Chet and his clients, he can recreate vintage models and craft modern ones. Nothing is off limits until the client has the pen specifically designed and executed solely for them. The only exception to his one of a kind offerings are commissioned limited edition pens which have included collaborations with Papier Plume in New Orleans and a pen made for the enthusiastic members of the DC Metro Pen Club. While his waiting list is often quite long, have patience grasshopper, it is well worth the wait.


Hinze Pen Company
A self-taught woodworker, Jim Hinze has been making pens for over fifteen years. And while Hinze makes beautiful pens which I hope you will click to see, I especially want to make note that Hinze has spent many years sharing the knowledge he's gained, insuring the next generation of pen makers are equipped to keep the hobby and profession going long after he retires his own lathe. Traveling to shows and imparting his wisdom is more valuable than the most beautiful pen and a testimony to Jim Hinze's love for the craft, his work and of people.


Hooligan Georgia
Hooligan Georgia is a distinguished custom pen maker, led by Tim Cullen, a craftsman with over 13 years of experience. His work is a blend of art and dedication, transforming various materials like metal, wood, horn, celluloid, and acrylic into unique heirloom pens. Each pen is not just a writing instrument but a narrative of Tim's passion and skill in woodworking, metal smithing, casting, machining, and hand engraving. The essence of Hooligan Georgia's pens lies in their individual character and the stories they embody, reflecting a deep commitment to the art of pen-making​


Kanilea Pen Company
Husband and wife team, Hugh and Karol Scher's pens express Hawaii as an earthbound paradise, both the physical nature of the place and as a state of mind. Kanilea translates to "joyful sound" and evokes ideas of recharging the spirit and connecting with the elements of nature, something the Scher's have done over the many years that they have traveled to these magical islands. Everything about their pens reflects their love of this place: the stunningly accurate and beautiful materials they use to bring parts of Hawaii to life, the environmentally conscious packaging they come in and the Hawaiian based groups that they donate some of their proceeds to.  All of this goodness should not detract from what is the heart of the company though: really fine and beloved by many, pens.


Kilk Fine Writing Instruments
One of my favorite finds while penning this article (and I really do pen them before I type them,) is Kilk Fine Writing Instruments in Istanbul.
It is hard to put their story together without wondering about the cloud of mystery that surrounds it. I'm hesitant to chalk it up to a lost in translation moment because I like what I've gauged from my reading, which is that at some point an artist in a collective decided to make pens for its members. Meaning "writing instrument" in Old Turkish, the company believes that writers should have a pen that is private and exclusively made, just for them; that the pen carrier's persona and the persona of the pen should be one and the same. Made with gorgeous resins, ebonite, stones and details of sterling silver, these pens are exactly what their makers intended them to be: jewels.
Lazzari Design
www.jakelazzari.design.co.uk/fountain-pens
Are you looking for a pen that looks like it could have been made in space or on another planet? Jake Lazzari's pens may be just the writing instrument for you. They look quite literally out of this world, absolutely beautifully rendered pens made by this designer with a background in mechanics. With a lifelong interest in architecture, science fiction design and industrial mechanics, Lazzari's pens also reflect his interest in fine Italian cycle components. With a grant from the Arts Council of Wales this Welsh design company is making a unique contribution to the pen market and to design.


Monty Winnfield
These pens look like they were made by a jeweler's hands with good reason: they were!
Having made wedding rings since 2009 and other handcrafted items since 2004, Monty Winnfield turned his trade towards pens, as well. All made to order in Colorado, customized nibs and pens are made using titanium, ebonite, exotic woods, brass, acrylic and alumilite. Some people want rings for their wedding, and some want pens. I'm with the camp that says life at its finest is about and instead of or and prefer to have both. Monty Winnfield seems to cater to just that! 
Mythic Pen Company
Founded in Georgia in 2019, Mythic Pen Company has already made the scene on IG where I spied some of their handiwork and had to immediately go to their site to see more. Handmade to order, with custom pens encouraged, Mythic is the brainchild of an avid pen collector who wants to make beautiful pens that its owners will not be able to wait to use again and again. The company has also secured community partners to help make their goods even more special: a leather goods company for notebook covers, a jeweler for gemstones that can be used in the design of their pens and Gena Salarino of Custom Nib Studio to customize their nibs. Pretty, pretty, good for only a year's work!


Newton Pens
Ready to shed a little tear over pens? If you're not, take a moment and then read this story about Shawn Newton who started his Hot Springs, Arkansas pen company to help kids in need.
A former educator, Shawn had been giving pens to his students for years when he came up with the idea to make great pens to give to them, rather than store-bought ones. His first goal in 2011 was to make good quality pens for deserving students. His next goal was more ambitious: to help them go to college through scholarships. Fast forward to the end of 2019, with nearly $60,000 given to students to pursuit their secondary educations. These pens with a cause are beautiful to look at and use but the good that they do, is even more special.
Pjotr Pens
It is possible that Pjoter's Rein van Der Mast was the first person to 3D print a fountain pen nib. Having done so in 2013, his sculpture like fountain pens not only disrupt how fountain pens are made, but also how they look. They reflect Van der Mast's education in industrial design and engineering. They have integrated mechanics and modern details that make them unlike any other pens in the marketplace.
Ryan Krusac Studios
Founded in 2008, Ryan Krusac Studios encourages its clients to "write something beautiful with something beautiful" and he delivers on his part of this and then some. One of the most gifted makers in terms of custom engraving and hand-painting, Krusac's limited editions and one of a kind pens are extraordinary works of art. Working with exotic wood, precious metals, antlers and what must be a tiny paintbrush, Krusac's education in casting and ceramics and his many years as a designer for a major carpet company, is all on display when you encounter his pens. While he says that nature is not replicable, meaning that each piece of wood and antler he uses will be different, it could be argued that Ryan Krusac does an incredible job of replicating nature; bringing out the best of his materials as nature intended them.
Schon DSGN
Philly based Ian Schon is revolutionizing the pocket pen. Begun as a Kickstarter in 2012, he was originally looking to create a design object that he could add to his everyday life. Ian used his engineering background to draft and manufacture a compact aluminum alloy pen that could easily be carried in his pocket but could be full-sized when posted. Eight years later, Schon has become a fixture on the pen and makers circuit for his EDC pens and his affable nature. And while his initial intent may have been to create a pen that would allow you to "buy once and use forever," he has many loyal users for whom one (or six!) just isn't enough. Manufactured start to finish in-house using aluminum, steel, brass, copper, often anodized in a rainbow of colors, Schon is making, ballpoint, rollerball and last year launched the Pocket 6 fountain pen (named for the size 6 nib the pen takes). The pens' materials are meant to patina over time, giving them personality and making them an heirloom that can last a lifetime.


Scriptorium Pens
A scriptorium is the name given to the writing rooms of medieval monasteries where important religious documents were copied, and monks made their own pens and ink. Scriptorium Pens in Jackson, Mississippi, seems to be the perfect name for retired English teacher Renee Meeks fountain and dip pen company. Equally fitting is the fact that her fountain pens are as colorful as the illuminated manuscripts their name alludes to. With no two pens alike, Renee utilizes blanks by the most prestigious makers and engages solely in custom work.  Maybe, just maybe, these beautifully made pens will result in the forming of the modern scriptorium.


Tailored Pen Company
Jon Lesher's Tailored Pen Company in Louisville, Kentucky customizes pens start to finish utilizing vintage Lucite, ebonite, Juma, Diamondcast, modern Italian acrylics and his own custom blanks to make his celebrated pens. A tradesman and entrepreneur, this master turner can make your dream pen on his metal or wood lathe. Many other makers in the pen world count on Jon for his custom blanks for their own pieces. Should you collaborate with Tailored Pen Company, you can work with him directly on the material. A truly unique one of a kind pen to call your own.


Write Turnz
If you are looking for an heirloom piece, artisan Jason Olson may just be the pen maker to turn it for you. Using mainly reclaimed and repurposed materials, Olson is open to trying any material that holds sentimental value for you. Think wood from your childhood home, a branch from a tree in a site meaningful to you, or at his own suggestion, even the handle from your Grandmother's umbrella. Jason's pens allow you to wax nostalgia and wax poetic at the same time!


Ironfeather Creative
Brian Weavers pens are known for distinctive, masterful carving and hand cast roll stops. Made in Aiken, South Carolina, his pens are made of alumilite, sterling silver and other precious metals, but he manipulates these materials to the boundaries of their potential, creating trompe l'oeil where carvings might evoke leather, flora and fauna. Completely hand carved and hand turned, you may find yourself asking are they writing instruments or are they fine art? The answer is definitively both.
If you are a custom pen maker and want to be featured on our next article please don't hesitate to contact us via contact page. Also we are supplying Jowo Nibs in bulk for pen makers.
---
19 Responses
Leave a comment
Comments will be approved before showing up.
---
Also in Blog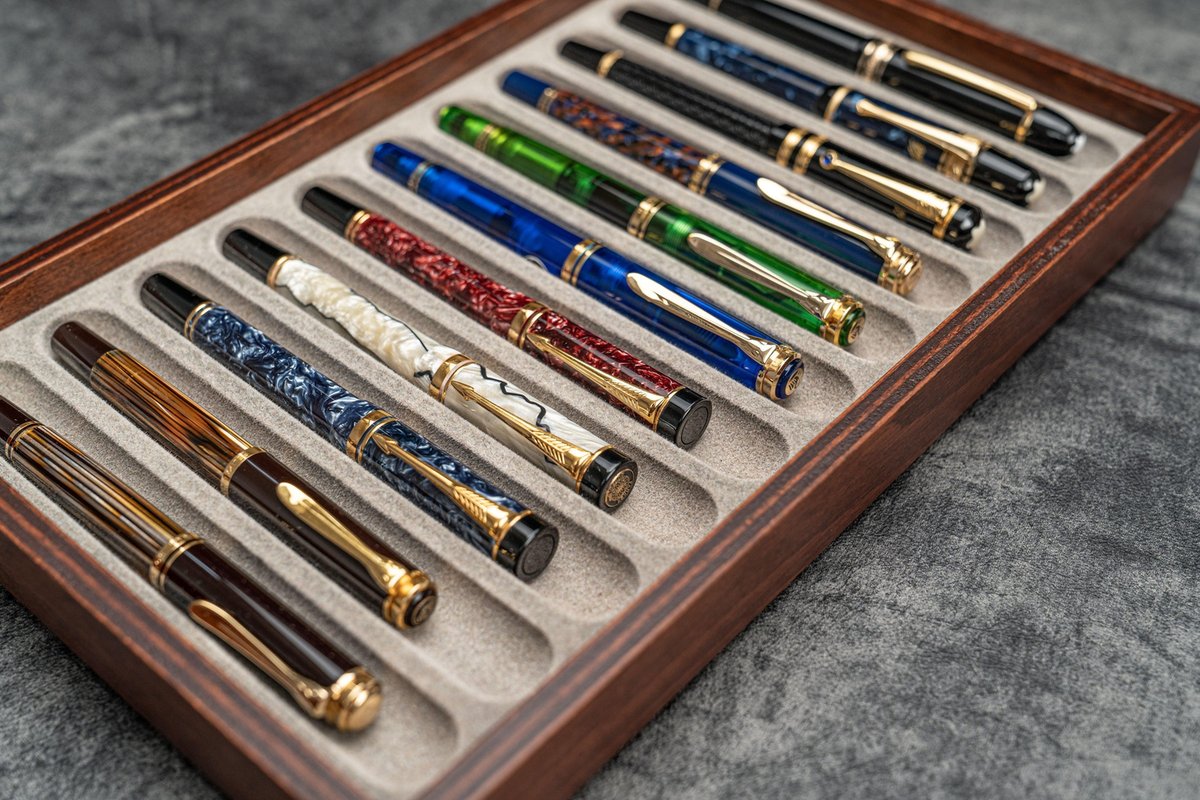 It's a specialty of our company and one of our most important signatures to make beautiful leather and wooden cases for all your needs.
In fact, we have nearly twenty ways for you to make sure your pen is carefully carried and stored for every personality and style.
Here are the 6 best Japanese Notebooks I gave a whirl that gave me hope for a happy future for myself and my pens.