Best Notebooks for Fountain Pens - There are Lots and Lots of Amazing Japanese Paper Out There
What I Learned During the Great Tomoe River Discontinuance of 2023
If the stationery world has been more up in arms about something in the last few years, I'm not aware of it. The news that Tomoe River paper would no longer be manufactured reverberated throughout the fountain community, causing reams to disappear from shelves before the rumor mill could even sort out the truth of what was left of the world's supply.
I will be the first to admit that I frantically emailed Yunus and asked for a spare set (okay, fine, two spare sets of my favorite sizes of Everyday Books to be sent. My trusty B5 Everyday Book is a luxury and nearly a necessity!) Yunus remained calm during our back and forth. He soothed my frazzled "in love with 68gsm" nerves and assured me that Galen had a fair amount of Tomoe River paper in stock (the old version for you purists out there) and that there were also some alternatives that I needed to give a chance to or revisit after abandoning them for TR. 
If you haven't, this would be a good time to head here: https://www.galenleather.com/collections/japanese-notebooks
You will find that there are a whole range of beautiful Japanese papers that, while they may not be a substitute for Tomoe River, are worthy opponents and in fact, for some applications are a better choice. I heard those audible gasps. It's true!  
Here are the six fountain pen friendly notebooks, I gave a whirl that gave me hope for a happy future for myself and my pens (this melodrama is just slightly exaggerated by the way. It's just paper people!)
This is classic as classic gets. Let's start with the cover which has simple white cloth tape binding and a glassine book jacket. (There is something about the crinkle of the cover that harkens the crinkle of Tomoe River.) The paper, which Midori started making in 1960 has been continually improved over the past sixty plus years to be pleasurable, comfortable with just the right amount of feedback. It comes with a bookmark for keeping track of your progress and stickers to mark the dates the notebook was in use for cataloging.
For many years, since the 40's to be exact, The Life Paper company has been manufacturing their beautiful paper. It was a long-kept secret that didn't reach past Japanese borders until the turn of the 21st century. I discovered this elusive paper at my friend Chandra Greer's stationery store in Chicago and I couldn't get over the design and the quality. Revisiting this paper was like seeing an old friend. It has a warm, cream, hue, is smooth and thick and you can feel all the hands that touched its 100 pages while it was being made outside of Tokyo. It's a handmade luxury, a true beauty and I've happily added back into my rotation after putting it to the test.
These notebooks are named after the Greek goddess of Memory and all your memories are well kept when penned in this notebook. It's a beautifully microperforated book with thoughtful details that add to its sleek and sophisticated interior, kept safe by the chic, durable, black, exterior. Bright white 80 gsm paper can withstand a lot of ink, glue stick and even a light wash of watercolor. Based on our firsthand experience, it makes a great notebook for students and for professionals.
At 28 pages the Apica is a slim profile notebook which is portable and offers the flexibility of having multiples of them to organize your projects or for various subjects. Made since 1987, these notebooks have vintage looking covers that give them a bit of flair and sturdy covers which house bright, smooth, white paper. Drawing from our experience, it's economical and it won't weigh your everyday carry bag down. Everyone should have a few Apica brand notebooks.
Stalogy notebooks have long been a favorite of mine. Even while in the throes of my love affair with Tomoe River, I have always had a Stalogy in use. They have one of my favorite qualities of TR (the crinkle! I do love the crinkle!) and the addition of the printing that allows one to easily date the page (though you may need a magnifying glass or readers to read it,) make it a great notebook for journaling and course work. The thinness of the paper makes it a great everyday carry whether you choose the full year or half year size. The limited-edition colors launched this year have also made it an attractive selection for a TR replacement for me. 
Perhaps the paper that has come up most in the community as the savior when the last of the TR is gone and our stockpiles depleted, is Cosmo Air Light. Surprisingly, it is not necessarily because it is a similar paper, its texture, weight, how it reacts with ink, don't really resemble TR. What it does do similarly is allow pens and inks to show off like the former, as indicated by my tests. Colors look vibrant on Cosmo Air Light. Shading and sheening are given the full treatment on this paper. The paper is almost glossy and full of glide. If you prefer a paper with any amount of feedback, this is not the one for you, but if you want your pen to fly, this paper was made for you.
The best drying time. The latest addition to the fountain pen notebook game is the new "Yu-Sari" series of notebooks. Made by Japanese Nakabayashi, famous for their Taccia inks and Logical prime notebooks. This is a specially designed paper, developed for writing with fountain pens, with a particularly strong emphasis on "quick-drying of ink", based on our firsthand experience, no bleed-through, and a balance between smoothness and optimal writing performance. In our tests, we saw drying times between 15 and 20 seconds. The word "Yu-Sari" stems from an archaic word meaning "Sunset" (YU = Sun, Sari = Past) and is also named after the similarity of the night coming quickly after sunset. Exactly like the ink dries quickly on a sheet after writing. The paper is 70 gsm and shows great ink properties, like sheening and shading. (Less than TRP and CAL papers, better than Rhodia.) Dry time is better than with Tomoe River Paper and Cosmo Air Light paper. The Notebook has a soft cardstock cover with gold embossing. The traditional Japanese binding of the notebook ensures that it sits totally flat as you write.
So, pen community, whom I love, let's keep an open mind and give some love to papers other than the stockpile of Tomoe River you're holding on to for a rainy day. Do you have a favorite alternative? I would love to hear about it in the comments section. After all, one can never have enough variety when it comes to notebooks and paper.
---
1 Response
Leave a comment
Comments will be approved before showing up.
---
Also in Blog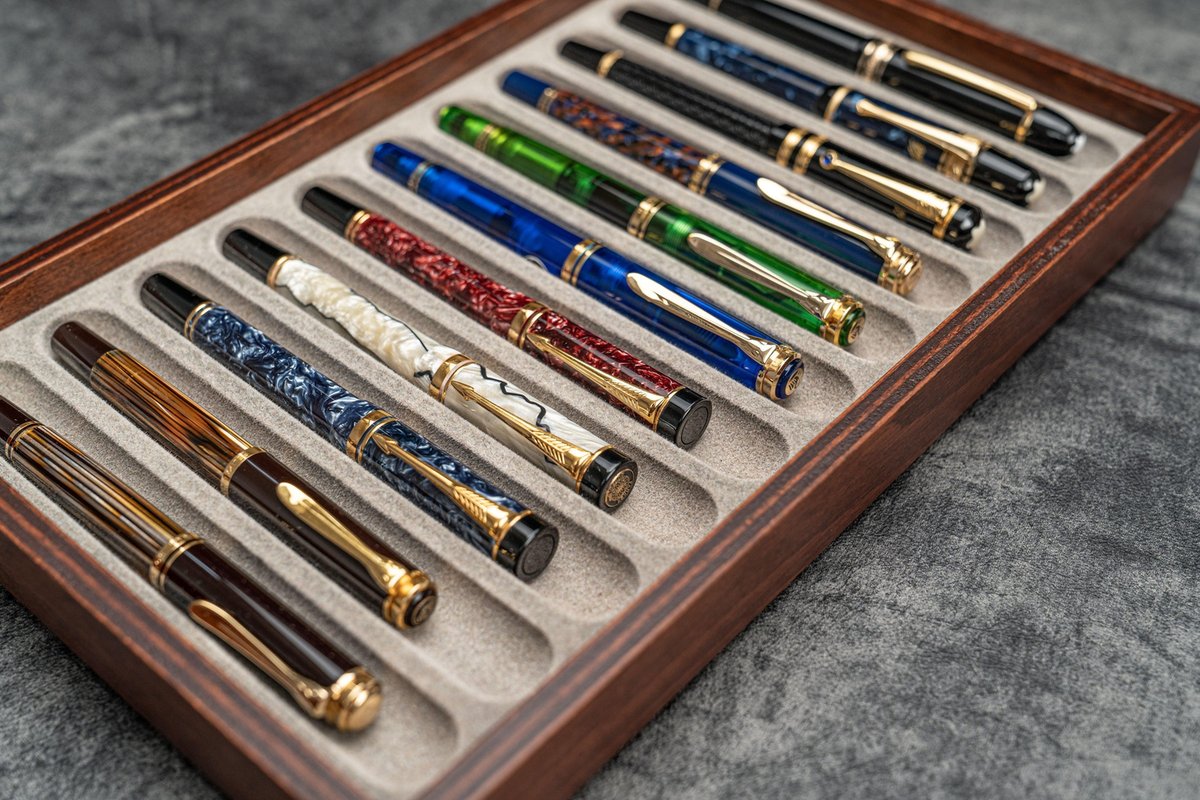 It's a specialty of our company and one of our most important signatures to make beautiful leather and wooden cases for all your needs.
In fact, we have nearly twenty ways for you to make sure your pen is carefully carried and stored for every personality and style.
Have you been on the hunt for the perfect fountain pen paper? 
As I have become more and more enamored with the art of the analog, I have found myself in search of the perfect blank page, and for me the answer to that search is 
Tomoe River paper
.
The third anniversary is typically a measure of a marriage's beauty, flexibility, and resilience. This automatically makes leather the perfect third-anniversary gift for your spouse.