How to Condition Leather - Everything You Need to Know About Leather Conditioning
If you've invested in a product made of high-quality leather, then you'll want to keep it in top shape. Caring for your leather will help it give you the long life and durability for which it was created — and that you expect.
Conditioning your leather periodically is a great way to keep your leather smooth, supple, and in great shape for years to come.
Best of all, you don't need to take your leather somewhere else to have it conditioned. Leather conditioning is easy to do yourself, as long as you have a few necessary tools. Whether it's for your journal cover, leather journal, leather dopp kit or a handmade leather wallet, and so long as it's real leather, you'll find these tips will work.
Leather Conditioning the Right Way
Leather conditioners are products that are designed to moisturize your leather goods and help keep the fibers pliable. There are lots of commonly available leather conditioners; the one you choose will depend upon the type of leather, how it's used, and your own preference. Our very own leather conditioning cream is an all natural solution that contains natural oils to condition and treat your leather for long lasting wear.
Let's look at other ways to keep your leather conditioned and in top shape.
Spot or Deep Clean
Before you condition your leather, you'll want to make certain that your shoes, bag, belt, wallet — whatever leather goods you're conditioning — are nice and clean.
To spot-clean leather, use a bit of water and a soft-bristled brush to remove any grime, grit, or dirt that is marring the leather. Then, use a clean, dry, soft cloth to wipe away any remaining dirt.
If your leather is grimy or dirty, you may need to use a leather cleaner or a leather soap to get the dirt out. Follow the directions on the bottle of cleaner or bar of soap, then wipe the leather with a clean, dry cloth and let dry completely before continuing.
Don't rush ahead — it's crucial that your leather be completely dry, or the conditioning treatment won't be absorbed into the leather fibers properly.
Test a Spot First
Before you try a new leather conditioner on your leather goods, always make sure you test it out on an inconspicuous place. On purses, this can be the bottom of the bag; on shoes, a spot at the base of the heel; on belts, the area where the belt overlaps.
This is an essential step since some leather conditioners can cause permanent discoloration. High-quality leathers like full-grain or aniline leathers are particularly susceptible, but marring and discoloration can happen on any quality or grade of leather.
To test, rub a small amount of the conditioner into a small spot with a soft, clean cloth and then let it dry for at least 24 hours before checking the results.
If there is no color change to your leather, you can proceed safely with conditioning the rest of the piece. There is no need to test again on that piece in the future if you continue to use the same brand and type of conditioner.
Condition Your Leather
Once you've found a leather conditioner that you like that doesn't mar your leather, you can condition your leather goods whenever you feel like the leather is getting dull or dry.
Some experts advocate conditioning every six to 12 months, but this is entirely dependent on the environment your leather is in, the amount of use it gets, and your own preferences.
Leather conditioner is a moisturizer, and, just like the skin on your body, leather will soak it up.
This means that you shouldn't expect your leather to be shiny just because you've applied conditioner. Leather fibers, like skin, will drink in the conditioner, absorbing as much as it can. The excess can be wiped away with a soft cloth, leaving a smooth, supple surface.
There are several products you can use to condition all types of leather:
Leather creams — provide moisture with the least change in color and are great for aniline leathers
Leather oils — Natural oils like lanolin and neatsfoot can help soften leather
Leather waxes — Waxes don't moisturize as well, but they do provide more waterproofing
Caring for Your Leather with Leather Balm
 Old Swiss Army Bag - Before and after Galen Leather Balm
A Note on Lanolin
Lanolin is the naturally-produced wax derived from sheep. Like humans produce sebum, sheep generate lanolin.
Many style gurus and leather companies argue either for or against the use of lanolin on leather, but it's entirely dependent on your taste. Lanolin is a good moisturizer, but it tends to soften leathers more than an over-the-counter brand-name leather conditioner.
For jackets, shoes, and sometimes purses, this may be okay. However, many people would rather have their leather feel stiff and rugged. It's up to you!
If you happen to get an ink stain on your leather product, please refer to our guide to remove pen ink.
Keeping Your Leather in Good Shape for a Lifetime of Use
Conditioning your real leather with the leather moisturizing product of your choice can help preserve the rich, supple texture of your leather, keep it from cracking and splitting, and prolong its usable life.
Whether you choose lanolin or one of the many other leather creams and lotions, having a leather conditioning habit built into your leather-care ritual will increase the beauty of your leather as well as extending its life.
---
2 Responses
Leave a comment
Comments will be approved before showing up.
---
Also in Blog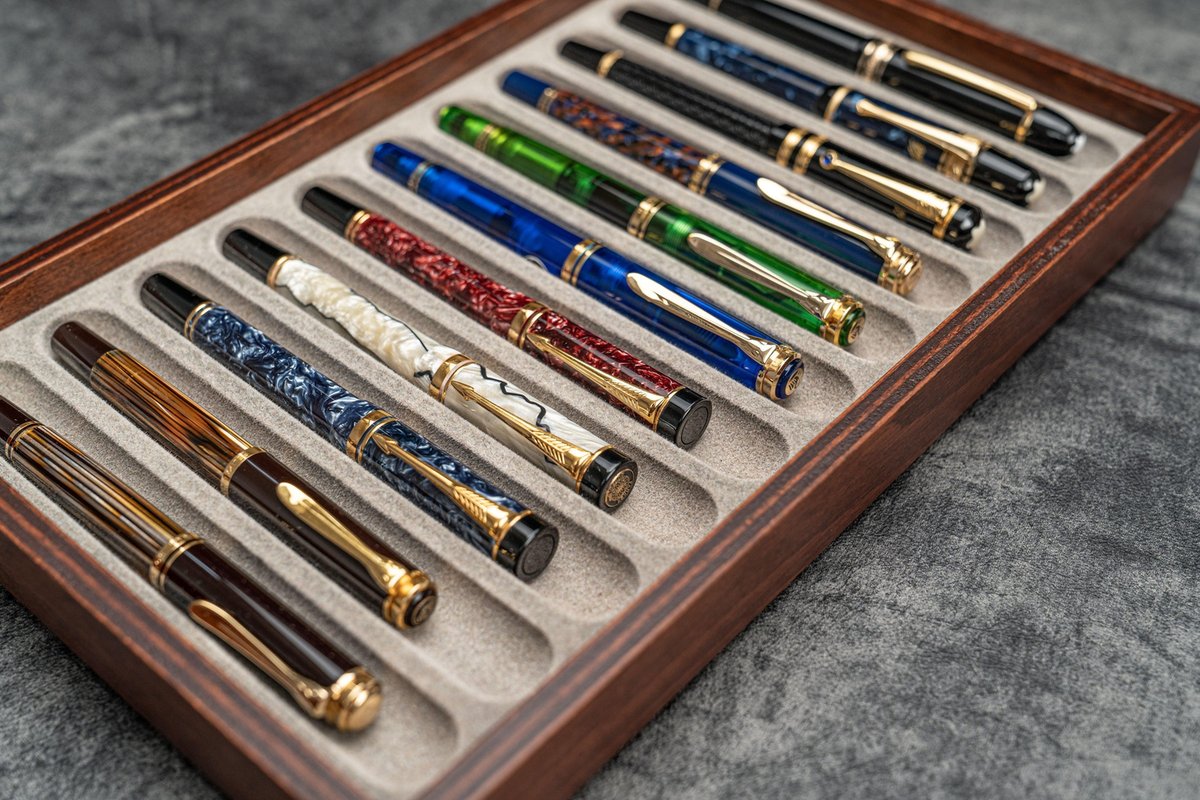 It's a specialty of our company and one of our most important signatures to make beautiful leather and wooden cases for all your needs.
In fact, we have nearly twenty ways for you to make sure your pen is carefully carried and stored for every personality and style.
Here are the 6 best Japanese Notebooks I gave a whirl that gave me hope for a happy future for myself and my pens.