Paris Fountain Pen and Fine Stationery Stores
Ah, Paris. It is indeed once of the most romantic cities in the world no matter how much of a skeptic you may be. As Thomas Jefferson once said, "A walk about Paris will provide lessons in history, beauty, and in the point of Life".
So, it seems fitting that a city filled with beauty would find locals and tourists needing many means to express it.
Thankfully, Paris and its outskirts are filled with shops filled with writing instruments and all the accoutrements that go with them.
Herewith, in no particular order are just some of the independent retailers that you might visit should you find yourself in the city of light and that you can support through their online shops as they wait to reopen their doors.
The Marais area is known for its paper. In fact, the Rue du Pont Louis Phillippe has been dubbed the "Rue du Papier" or the "Street of Paper". Here you will find the following boutiques:
Paris Stationery Stores
Calligrane
First opened in 1979 by Ann Barth, Calligrane has always been an artistic alternative to the classic stationery store. Paper takes center stage here, exploring its most creative and artistic characteristics. Today owned by Vanessa Barth and her husband Maru, Calligrane places emphasis on paper artists, both discovering them and devoting gallery space to them. There is still a fair amount of stationery, tools for correspondence and notebooks to be found here and you'll be delighted when you find that they're made out of things like vegetables and sumac trees.
Papier +
Also located on the Rue du Pont Louis Phillippe, Papier + has been manufacturing its own products since 1976. Beautiful, handmade, lined envelopes in all sizes and colors are a feast for the eyes and it is difficult not to pull one of each color, whether you are in need of them or not. Careful consideration has also been paid to a range of linen covered hardback notebooks, also in every shade of the rainbow and all the colors in between. Offered in several sizes, these books have incredibly thick, smooth, paper, perfect for fountain pen.
Melodies Graphiques
Found directly across the street from Papier +, Melodies Graphiques is now housed in two store fronts. Eric du Tugny, an entomologist and self-taught calligrapher has owned Melodies Graphiques for thirty-two years. The son of a Papeterie owner, has called himself "the watchman of calligraphy" and while once worried about the art becoming lost, he has to at least be pleasantly surprised by the loyal locals and visitors from all over the world who visit his two shops for calligraphy nibs, papers, notebooks, ink, sealing wax and then some. His shops, co-owned with his wife, are a treasure trove of what feels as old as it is new. And should you be lucky, you will find either one or both of them working on a calligraphy project so you can see just how skilled they are.
Mora Stylos
Talk about a tale to tell, the story of Mora Stylos is one for the history books. Born in Odessa, Boris Mora left his native Russia at age 18 to escape the Bolshevik Revolution. He settled in Paris where he trained as a jeweler, but soon found a talent and love for writing instruments. He opened his namesake shop in 1930. He fought on the side of the French during the second World War, was kept prisoner in Germany for five years, and upon his return, picked up where he left off, selling and repairing pens in his boutique until 1978 when his son took over and who still remains in charge today.  Andre Mora is responsible for developing new products with expanding his expertise on antique and vintage pens. You will find fine European brands in house and perhaps a vintage Oldwin, the Maison's own brand.
Opera Stylos
Since 1947 Opera Stylos has been hosting lovers of beautiful objects and knowledgeable collectors of writing instruments and accoutrements. With a workshop on site, Opera Stylos is a shop all about elegance and the pen as art,
Palais du Stylo
With retro décor, you will feel that you are walking back in time when you visit the Palais du Stylo. Owned by the Renard family, the shop represents some of the world's largest fine writing brands, engraves in-house and is all about luxe. Madame Renard is known to be an expert pen matchmaker, so should you find yourself there with her, allow her to help you select the perfect instrument to exercise your writing's beauty and refinement.
Since 1951, the Papeterie du Dôme has been nestled in the heart of Montparnasse, home to the workshops and studios of artists, cafes and breweries. Intellectuals and artist have long made their homes here, too, and Papeterie du Dôme has provided many of them with writing instruments, diaries, and writing papers. This chic area of the left bank is a wonderful place to spend an afternoon sipping a drink at a corner café, writing with items purchased at the Papeterie.
Plume et Bille
Translated in English, Pen and Ball is a small shop with all of the biggest European brands. With a desk for testing their wares, this fine writing store is a wonderful place to experience an assortment of writing instruments and for lovers of beautiful objects to find well-crafted, fine, desk accessories.
Point Plume
The granddaughter of a painter in the Rouen School and the daughter of two entrepreneurs, Laura Ridel, pays tribute to those who came before her with a boutique where artistic expression and innovation are paramount. With the most luxurious world-renowned brands, the Ridel name is making its mark with their own line of extravagant pens and leather accessories.
Stylo City
In 1924, Mr. Colombain opened his store in the Latin Quarter, where it still remains. 1924 is a significant year in the pen world. It was the year the Montblanc introduced its Meisterstuck and the year that Caran D'Ache was born. Thirty years later, the store was sold to Louis Laurent and his wife who ran the business until passing it to their son in 1977.  Here you will find fine writing instruments, ink and decades of experience to assist you in finding just the right tools.
Elysees Stylos Marbeuf
www.stylos-marbeuf.fr
On the world-famous Champs de Elysee in 1949, the Elysees Stylos Marbeuf opened its doors. Here you will find pens, leather goods, stationery, office supplies and a team of friendly and knowledgeable associates to guide you to the pen perfectly suited to you. In the heart of one of the most fashionable parts of Paris, you will find this a most elegant writing boutique.
Delfonics
Founded in Japan in 1987, the Paris location of Delfonics can be found under the Louvre. It's true! Underneath the Louvre is a shopping center and just before the underground entrance to the museum you will arrive at Delfonics. Originally a purveyor of diaries and photo albums, Delfonics now offers a full range of stationery, accessories and pens. For Delfonics, these items are important as a gateway to unleash creativity and sensitivity and transmit the art of stationery as culture. It is colorful and playful, practical and fanciful space. It makes for a wonderful stop to choose tools to express one's own creativity after viewing the works of masters in perhaps the most famous art museum in the world.
Makaire Ecriture
Should you find yourself in Aix-En-Provence, you will want to make time to visit Jean-Michel Vadon's shop. Once a stationery and bookstore, the current incarnation of Makaire Ecriture is housed in a 17th century mansion where quality is serious business and spaces are dedicated to the world's top luxury brands. For leather good and writing instruments, this is Provence's most prestigious shop.
Sennelier
While not a store for writing instruments or stationery per se, I cannot write a list of Parisian stores for paper lovers without including Sennelier. Founded in 1887, Sennelier faces the Louvre and is around the corner from the École de Beaux-Arts. Here, Gustave Sennelier was a manufacturer of oil paint, pastels and other fine art supplies that became a reference brand for other brands all over the globe.
On any given day, this tiny space is as jammed with people as it is with artists' supplies. It is a must do on any artists visit to the city, a place where the traditions of the old masters can be felt, while the innovations of modern artists are being realized.
Merci
Founded in 2009 by Bernard and Marie France Cohen, owners of the prestigious Bonpoint children's brand, Merci was a thank you from these lifelong career retailers for life and for the talented designers they admired.
This lifestyle store is a cornerstone of the northern part of the Marais and it is buzzing with energy every day of the week. With incredible visual displays, Merci changes themes and merchandise on a regular basis. While you will not always find a large range of stationery, paper and writing instruments, they are a part of the mix from time to time and you can always purchase a Merci branded planner, Merci BIC Cristal or BIC 4 color at the point of sale as a souvenir.
Grim 'Art
While Grim 'Art has only been on the Boulevard St. Germain for eighteen years, the craftsmanship of their goods goes back centuries, like the cobblestone street it sits on. Shelves and shelves of leather journals in rich colors just beg to be taken home and filled. Leather bags, wood accessories, fine writing paper, and ink round out the offerings at this intimate and thoughtful shop.
Creatz & Fils
Since 1896 Creatz and Sons has been Nice's premier destination for fine writing instruments. With 1900's stained glass windows and large cupboards to house their wares, it is currently owned by Janine Forestier who is known to be able to pair people with the pen that suits their soul best. A grand store on the corner of the Rue du Lycée, it is a wonderful place to find a new pen, but also a resource for repair and for the spare parts they keep on hand, some older that 100 years old.
Ecritoire Paris
Founded in 1975, the granddaughter of inventor Andre Tardy brings tradition and heritage together with the innovation spirit she comes from. A place rich with memories, Ecritoire concentrates mostly on European brands of writing instruments and paper, including their own proprietary brand which includes the most charming laser cut envelopes.
Papier Tigre
Since 2012, Papier Tigre has been manufacturing in their own space, creating some of the most innovative prints, notebooks and desk accessories on the market. Made for thinkers, artists and boardroom maestros, Papier Tigre's colorful world also focuses on sustainability, responsibility, transparency and producing locally. Their products are great fun, of excellent quality and most importantly to the brand, contribute to the collective good. A joy to visit when in Paris!
---
1 Response
Leave a comment
Comments will be approved before showing up.
---
Also in Blog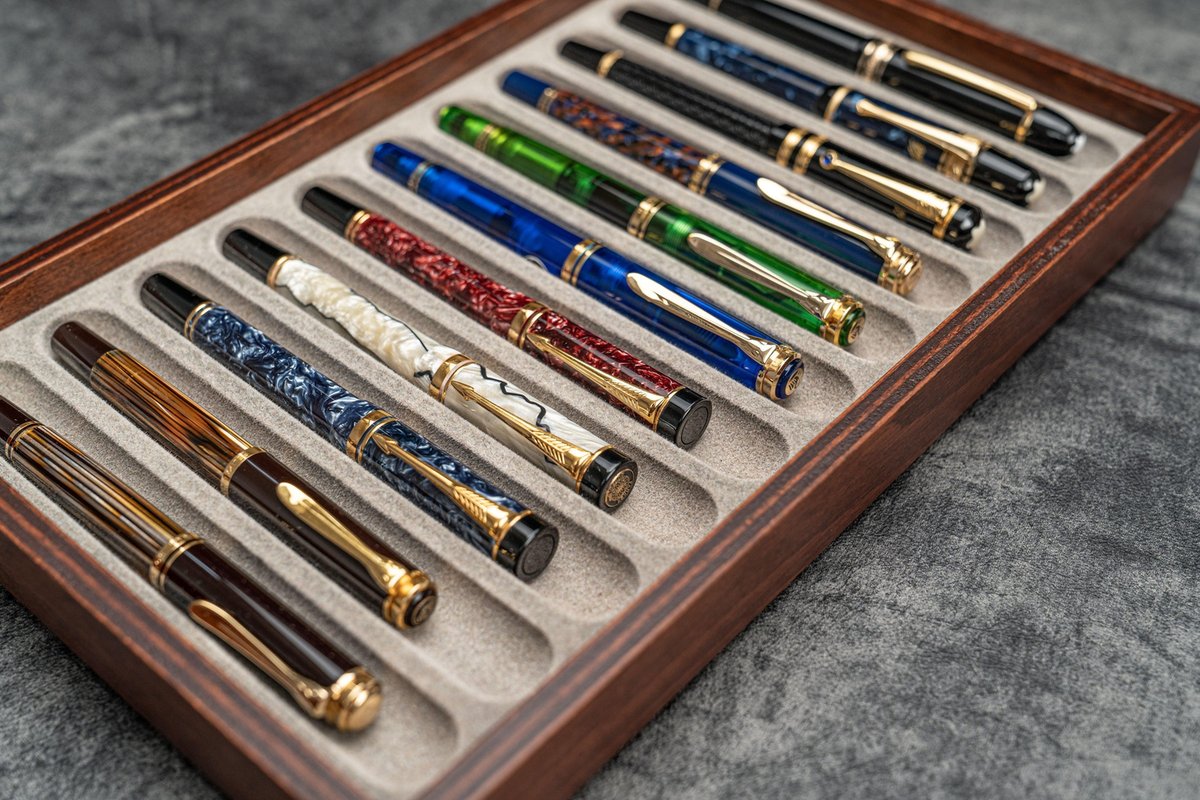 It's a specialty of our company and one of our most important signatures to make beautiful leather and wooden cases for all your needs.
In fact, we have nearly twenty ways for you to make sure your pen is carefully carried and stored for every personality and style.
Here are the 6 best Japanese Notebooks I gave a whirl that gave me hope for a happy future for myself and my pens.
Have you been on the hunt for the perfect fountain pen paper? 
As I have become more and more enamored with the art of the analog, I have found myself in search of the perfect blank page, and for me the answer to that search is 
Tomoe River paper
.