15 Journal Set Ups We Love On Instagram To Inspire You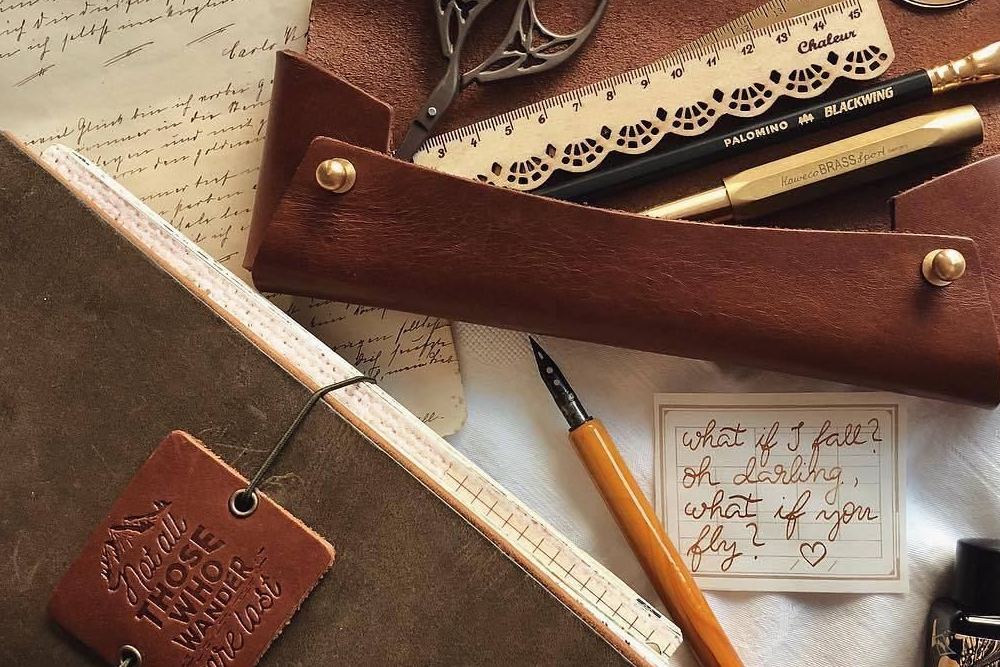 Let's face it, there's something unique about leather that elicits the feelings of ruggedness, prestige and sophistication. And, while we may be slightly biased, nowhere is this more evident than in our Galen Leather handmade journal covers and pen cases. These are the type of accessories that one uses to express their unique style and to protect their precious personal collection of equally prestigious pens and notebooks. In simpler words, they are the perfect synonym for 'cool'.
We love seeing how you use and display your handmade leather journals, refillable leather journals and pen cases on Instagram. Our followers, in our humble opinion, are the epitome of 'cool.'
To inspire your own personal expression, we've included a few of our favorite journal set ups in recent times. A big shout out to all our loyal followers who share the love. It truly means the world to us!
1. 
Product Featured: Zippered Hobonichi Weeks Cover in Crazy Horse Brown

It's no secret that many (if not most) successful and focused individuals keep a detailed planner. Whereas it is easy to keep digital records on your phone or iPad, the old school way of having a physical notebook to jot down your ideas or well thought-out plans has proven time and again to be more efficient and practical. And what's a better way of actualizing your future plans than via a leather bound planner? The air of solidness and neatness that such a planner elucidates is simply out of this world.
2.
Products Featured: EDC Wallet in Crazy Horse Green, Major Leather Fountain Pen Case in Brown, Zippered Hobonichi Weeks Cover in Black, Wooden Sketchbox
While having and keeping a leather-bound planner speaks of intellect and professionalism, pairing it with a leather pen case takes it to the next level of traditionalism and ruggedness. It's almost as if you are going back in time - back to the long forgotten era when scribes and wise sages once recorded their nuggets of wisdom on leather-bound scrolls. It's even better if you already have a collection of old-fashioned fountain pens to boot.
3.
Product Featured: Traveler's Notebook in Crazy Horse Tan

A diary or private journal is one of the best - if not the only place - that one can disclose and lay bare their deepest feelings without the fear of being judged or misunderstood. Ever asked yourself why almost all of the greatest men and women who have ever walked on the face of the world kept detailed journals? Well, it's because some thoughts and ideas are very precious for us to risk forgetting them forever. And what's a better way of documenting your day-to-day musings than in a blank page journal? This chic journal can also double up as a traveler's notebook whenever you decide to take that odd adventure to explore the wonders of the world around you.
4.
Product Featured: The Wooden Pen Rest

We love when customers blend our wooden office accessories. In this photo, our wooden pen rest is featured alongside a zippered journal portfolio. Doesn't it make you want to sit down and scribble for hours on end fueled by a deliciously brewed dark coffee by your side?
5. 
Product Featured: Zippered Hobonichi Weeks Cover in Crazy Horse Brown

The seduction of leather-bound goods knows no limit as illustrated here. There's a reason our zippered covers are so popular! It's amazing all the bits and pieces you can keep securely fastened in this little guy.
6. 
Product Featured: EDC Wallet
Among the many things that a modern but equally rugged man should always have as part of his daily gear and weekend essentials is a leather-bound notebook to scribble down his thoughts and brilliant ideas. Of course, you mustn't forget the army knife, Swiss watch, old-fashioned fountain pen and car keys. Nothing speaks of masculinity better.
7. 
Product Featured: Flap Pen Case, Zippered 5 Slots Pen Case

As we drift deeper into the digital age, it's so great to see small communities banding together to hold onto the beautiful aspects of the analogue age. One such example are pen lovers who we support wholeheartedly with our pen cases, sleeves and pen flaps.
8. 
Product Featured: Traveler's Notebook Cover

Who said that the allure of leather is limited to masculinity, stoicism and robustness? Our leather traveler notebook covers are the epitome of free-spirited energy. It will remind you that travel and dreaming is always just at your fingertips.
9. 
Product Featured: The Student Leather Pencil Case in Crazy Horse Forest Green, Traveler's Notebook
We love it when we see you pairing our pencil cases with your journal covers. You can easily pair the two together as illustrated here to add a touch of personality and sophistication.
10.
Product Featured: Hobonichi Cousin A5 Folio
It's easy to see you all love our Hobonichi covers. The addition of the zipper definitely makes them practical if you are constantly packing it up throughout the day for work or study.
11. 
Product Featured: The Writing Box, iPad Mini & Large Moleskine Cover in Crazy Horse Tan
This set up is one set up to be envious for. If ever you needed an all-in-one classy portfolio to jazz up your daily note taking or journaling, then you can take this as a great example for all the possibilities of our range.
12. 
Product Featured: Zippered iPad Mini and Large Moleskine Folio

With an aura of polished traditionalism paired with a classic pen, the Galen leather notebook covers never ceases to impress on Instagram.
13.
Product Featured: EDC Wallet

When customers keep coming back for more, we know we're doing something right, right? Rest assured, we're certain you'll be coming back for more too! 
14. 
Product Featured: Travel Wallet

Planning for a holiday anytime soon? Well, you will find planning and organizing your travel documents all the more fun with a travel wallet. As you can see from this inspiration, you can pack a lot into one small wallet!
15. 
Product Featured: Travel Journal Cover

You will enjoy a sense of personal satisfaction when you eventually fill one our travel journal covers to the maximum capacity. It will mean you've gathered many a travel story and moment captured in time to reflect on for a lifetime of memories.
---
Leave a comment
Comments will be approved before showing up.
---
Also in Blog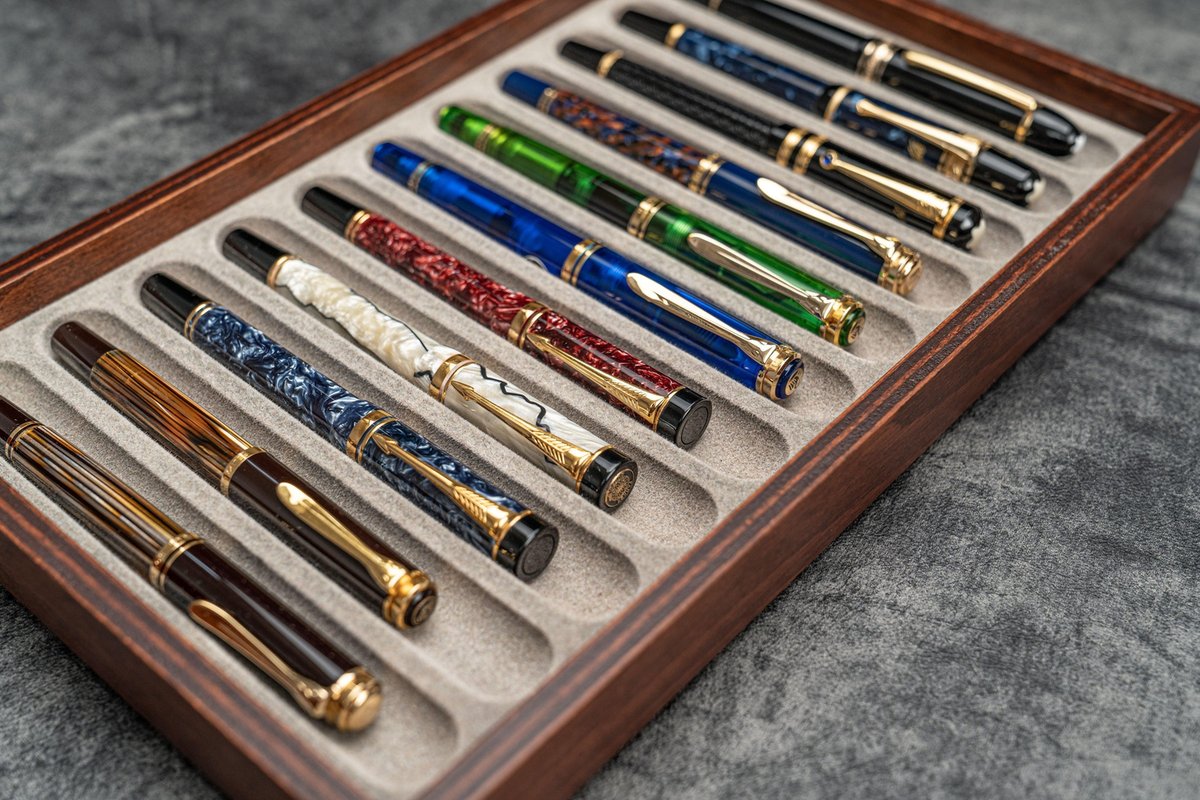 It's a specialty of our company and one of our most important signatures to make beautiful leather and wooden cases for all your needs.
In fact, we have nearly twenty ways for you to make sure your pen is carefully carried and stored for every personality and style.
Here are the 6 best Japanese Notebooks I gave a whirl that gave me hope for a happy future for myself and my pens.
Have you been on the hunt for the perfect fountain pen paper? 
As I have become more and more enamored with the art of the analog, I have found myself in search of the perfect blank page, and for me the answer to that search is 
Tomoe River paper
.