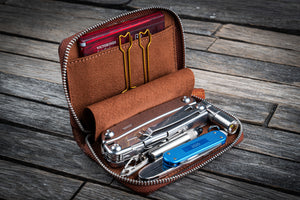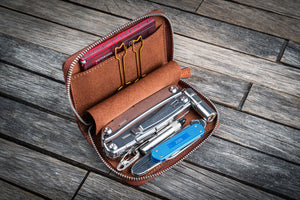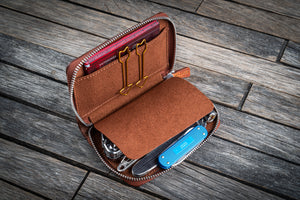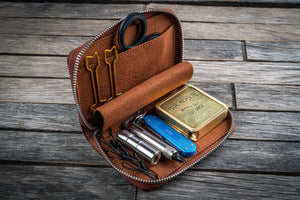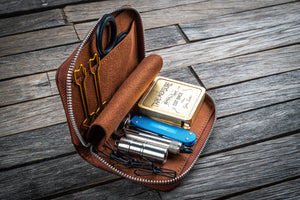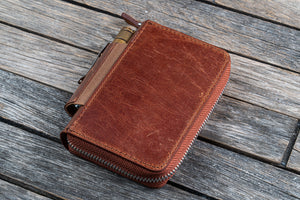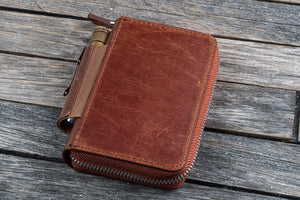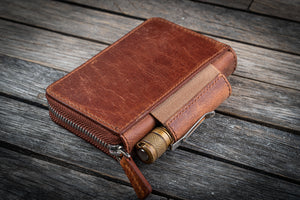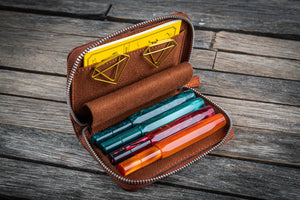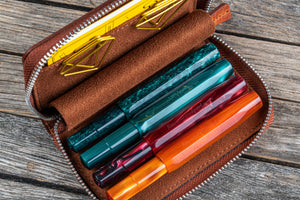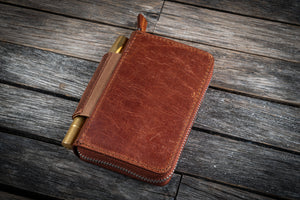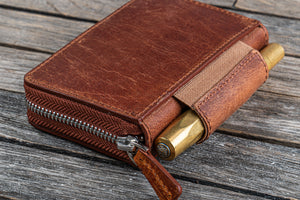 EDC Wallet - Crazy Horse Tan
100% Handmade in Turkey
Product:
Handmade Leather EDC Wallet
Color/Finish:
Crazy Horse Tan/Distressed
Distressed tan-brown color showing under-tones of brown, caramel and walnut. Ages and softens quicker compared to regular leather. Suede feeling finish.
Materials:
100% vegetable tanned cow leather
Hand stitched using

waxed polyamide thread

YKK Zippers
Dimensions:
11,5(4,52") cm x 9(3.54") cm x 2(0,78") cm when closed
11,5(4,52") cm x 15,5(6,10") cm when opened
Description:
The EDC Wallet is a great pocket size zippered wallet for carrying everyday tools. It's minimalist style makes it easy to match with any outfit and comes with a sturdy YKK zipper. Perfect for carrying cash, credit cards, and business cards.
It can fit a B8/A8 or a credit card size notebook, Kaweco sport or similar size pens, or a mini flashlight.
Includes an outside pen loop for quick access.
*Accessories not included
EDC WALLET - CRAZY HORSE TAN
so cute. This product is also so beautifully made. the leather is super nice. I'm going to make a small book or separate sheets of watercolor paper and a small box of watercolor. Perfect with the little kaweko! Dear Galen I hope you and your families are well. I wish you all the best!
Fantastic Quality
I wanted some way to organize the ever-expanding pile of stuff I keep in my pockets, but I didn't want a nylon pouch like so many EDC guys seem to favor. I understand that nylon is technically more durable than leather, but given that I'm unlikely to be out in harsh elements all that often I wanted to get something that looked good and would look even better over time as it breaks in. I don't remember where I originally saw this listed, but I was super happy when I found it. It arrived yesterday, and it's the perfect size to fit in a pocket while still being able to hold a good amount of stuff and the craftsmanship is top-notch. I cannot recommend this enough. I keep the Buck 112 Ranger, Leatherman Rev, flat and phillips hand bits, and emergency whistle in the EDC wallet and there's still a little bit of room to spare for a couple of other things I might add later. The wallet is pretty much bang-on the width of an iPhone 12, about 3/4 the height, and roughly 2x as thick as the iPhone 12 (with a minimalist case)
Crazy Horse Tan EDC wallet
Craftmanship and quality as always, wonderful product! Nicely accompanies my raw brass Fischer Space Pen.
Beautiful
Really love this case for urban sketching as I can carry a kaweco and waterbrush with tiny palette. Team are lovely too. Just placed another order!
Dinky but perfect
Like all the galen leather products I have I just love this. The leather is tactile and beautiful and it is the perfect size. I was not so sure I needed the pen loop but is the most perfect touch
Perfect for Me
Finally found a new wallet that things won't fall out of, and I can carry a pocket fountain pen as well, fits all my stuff in and is not big and bulky in the hip pocket.
again a perfect product.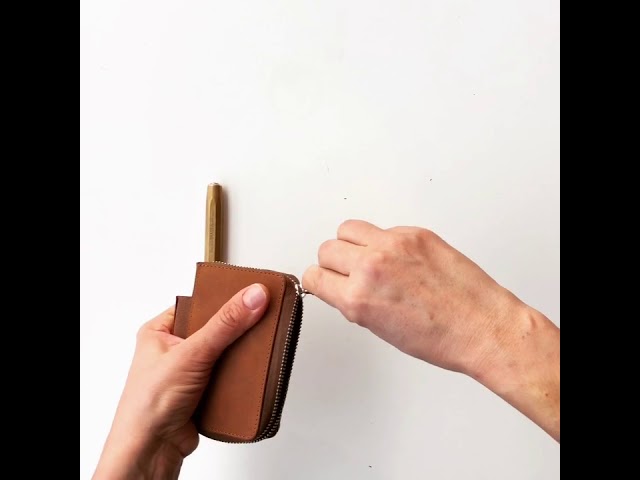 Crazy horse tan
Very nice color. Also very travel friendly with plenty of room.
So beautiful and compact!
This wallet is so wonderfully made and so cute. I love it!
Birthday present
I ordered this handy little pouch for a friend for his 40th birthday and he enjoyed and still enjoys it a lot! I can highly recommend it. Great gift!
Don't Wait A Moment Longer!
I purchased three of these: 2 in Crazy Horse Tan and 1 in Crazy Horse Green. I haven't taken it out of my bag yet, and my husband and son carry theirs every day as well. This is a PERFECT EDC to keep your necessary daily instruments in. It doesn't replace the leather Traveler's Company wallet insert I purchased, but it's a fantastic addition that never leaves my bag. Two thumns up!
Most of the items are handmade to order and usually take a minimum of 1-2 weeks to dispatch. Out of stock items mean, not in the production cycle and generally re-stocking in a few weeks. You can subscribe to the in-stock notification on the product page. Good things take time. We appreciate your patience!
Shipping
We ship worldwide. All items are sent via our shipping partners UPS/Fedex. Your items may need to be signed for upon receipt.

Due to security reasons, we cannot ship to PO boxes.

Some items are ready for shipment in our workshop, located in Istanbul. In stock items dispatch within 6-7 working days after payment has cleared using our shipping partners, UPS & FedEx. If the item is not in stock, then we will need to make your order.

Deliveries to USA addresses will take 3-4 days. For the UK and Europe, 2-3 days. To Australia, 6-7 days. For the rest of the world, expect a maximum of 7 working days. Plus production times.

Buyers are responsible for customs duties. There are no additional taxes for goods being delivered to the USA.

European Union : New rules after 1 July 2021; we charged VAT for orders up to 150€. It means no hidden or extra customs fees during the delivery. Orders more than 150€ subject to customs same as before.
UK : Orders are subject to VAT. Around %20 percent. + courier fees.
Brazil: Due to high taxes, we suggest to use a redirecting service like Regarding redirecting services, I've been using fishisfast.com

Most countries, except the USA, are subject to VAT (value added tax) and customs duties. These are the responsibility of the recipient. Since rates vary by country and by what was ordered.

Shipping fees are automatically calculated during the checkout process. See your checkout for shipping options. As an example, a small journal's shipping fee starts at US$9.80.
HS Tariff Code for Leather Goods 420221 (You can check your country import regulations with this code)
Returns - Cancellations
Items (except personalized items) can be returned for a full refund within 7 days of receipt. Buyer is responsible for the Shipping costs. Please feel free to ask any questions you might have before placing an order.
Due to all items are made to order, after receiving your order, we immideatly start to make your items. We don't accept cancellations/changes after orders placed.
Embossed Monogram
Products suitable for personalization, are shown on the product pages.It is and additional option.

Currently, we can't customize the wooden items.

If you want a monogram option on your item please select it from choose box at the right side of the page.
The Monogram default position will be on the front right bottom corner. Up to 3 characters.
Up to 3 characters you can personalize your item with ; A....Z Capital letters 0....9 numbers . , & ! # - _ @ / : * punctuation.
Font and height, the default for this listing is Times New Roman, 1 cm high, same as the lead picture.
SEEN ON INSTAGRAM