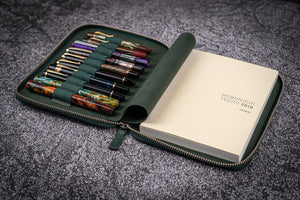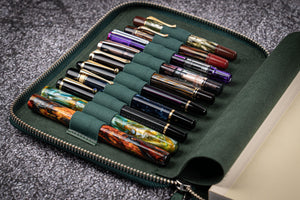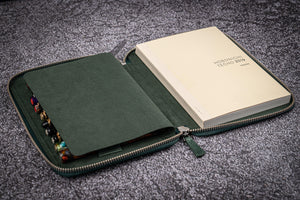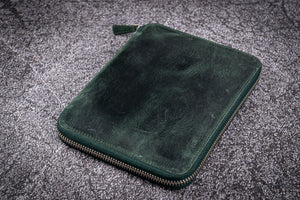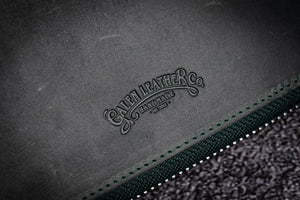 Leather Zippered 10 Slots Pen Case with A5 Notebook Holder - Crazy Horse Forest Green
100% HANDMADE IN TURKEY
PRODUCT:
Handmade Leather Zippered 10 Slots Pen Case with A5 Notebook Holder

COLOR/FINISH:
Crazy Horse Forest Green
Distressed dark green color showing under-tones of light green, sacramento and emerald. Ages and softens quicker compared to regular leather. Suede feeling finish.

SIZE:
7.3 x 9.2 inches (18.5 x 23.5 cm)

FEATURES:
10 elastic pen loops
A5 Notebook Holder
Full grain leather
Holds up to 145 mm / 5.6 inch pens
Protector fabric
YKK zipper
MATERIALS:
100% vegetable tanned cow leather
Hand stitched using

 

waxed polyamide thread

The edges are beveled, waxed and burnished for a finished look
DESCRIPTION:
This Leather Zippered Pen Case with A5 Notebook Holder has a velvet lined interior and holds up to 10 pens and a A5 sized notebook. When you want to carry your favorite pens, you want them protected in your bag, purse or pocket to avoid ink leaking everywhere or getting them scratched. This leather pen holder is great to protect your fountain pens and keep them safe.
*Accessories are not included
I'm very happy with all the products from Galen 👍🏻.
I'm very happy with all the products from Galen 👍🏻.
Attaching a few photos.
Worth Every Penny
I've used my notebook cover all day every day since receiving it. It holds many of my fountain and rollerball pens and a thick Nomatic Notebook. I even have room for a few pages of reference codes folded within the cover. The flap covering my pens started to tatter, so I chose to burn with a lighter to reduce fraying. I'm very happy with this purchase and the quality of the product.
Great quality
Shiny and smooth surface. Love it. However, it will be 5 stars if the size was better. I couldn't zip it after I inserted all pens with the A5 note. After all, this is really good case.
P/s: best wishes for the business.
Deep green color ages well! Versatile case.
Fits the Hobonichi 5 year diary with slim pens. I love that this case looks great even after it takes all the dings and scratches from being actively used daily. It fits every A5 size journal I use including the Hobonichi 5 year diary which is larger than the regular A5 Hobonichi "cousin". Highly recommend this, especially if you like to carry a lot of pens for color-coding or just for fun:).
Beautiful case!
I received the 10 pen and notebook case for Christmas and I am so happy with it. The workmanship is superb, the leather is exquisite and I can now carry ten pens and my journal safely in my bag. I read some reviews that suggested the case was a bit tight with ten pens and a journal but I'm happy with the way it's zipping up. The leather is a bit stiff but I know that will soften overtime and become even more beautiful than it already is. I am very happy, the green colour is gorgeous. I was worried it wouldnt come in time for Christmas what with Covid and Christmas post but surprisingly it came from Turkey to Australia in really good time. Very happy with Galen Leathers superb service and quality goods.
This pen case is amazing!
It is quite hard to find a pen case for a large volume of pens that is good quality, made of sturdy materials and looks amazing - this ticks all of those boxes in my opinion! I just love it. I've taken it on a few trips now and it hasn't disappointed. Now, if you primarily have large or wide pens, this should fit them (it fits TWSBI Eco and Noodler's Triple Tail, for example), but you may need to go for a slimmer pad. It will fit with a regular A5 pad (I've tried, see photo with the Life Noble pad - this fit easily with a whole bunch of different pens) but if you don't like a snug fit against your pens it's something to consider. There is a piece of soft leather inside that protects your pens from scratches and the elastic loops are high quality and a snug fit - it really it a fantastic product - but if you have a frail vintage pen, either putting a large pen next to it or a slimmer pad should sort out the anxiety!
Wonderful item, perfectly made!
I have many Galen Leather items and they are all so beautifully designed, functional, durable, and the craftsmanship is outstanding. This pen/journal case is a wonderful colour and, when filled, not bulky. It fits easily into a bag and has everything you need in one place. Another magical item from Galen. Thank you!
Ecstatic over this
I've been looking for this type of pen/journal case for years. A good friend recommended Galen Leather after she bought one of their 3 pen cases. I love this case and I have it loaded up with my favorite tools. I have no problem fitting everything in and zipping up the case. With this I'll be out and about writing and sketching in my journal or writing letters to my family and friends. I love the color, the combination of a hard exterior and soft interior, the elastic straps that can hold thick and thin devices and the construction. It arrived sooner than expected in a great box with care instructions and some wonderful surprises inside. There was great communication with Yusuf throughout the whole process. I am a very happy customer and will gladly recommend Galen Leather.
Almost Great!
I was so very excited to finally get this case. It said you could fit a Hobonichi Cousin and your 10 pens and that is exactly what I did, but the case isn't really wide enough and there is much bulging of the pens sticking out and the zipper gets stuck when I'm trying to open and close the case. I'm afraid the case will eventually burst when all I have in there is a notebook and pens. The leather is beautiful. I love the color. I just wish it were slightly wider and deeper so my pens would bulge and the zipper wouldn't stick.
Good for pretty much everything.
Only recently and only after seeing all these beautiful demonstrations here on this website, I've gotten back into writing with fountain pens. Before that, and when I actually bought my first product here (this product btw), I only thought of using this nice zippered case for my sketchbook and some art utensils I'd like to have with me all the time.
I've been using it for this very purpose ever since. The loops were designed for holding thick fountain pens, though, and so I had to improvise and put maybe two or three pencils/artist pens into one loop at the same time. That's not actually a downside though, since it means you get to carry double or triple the amount with you, and that's great.
One thing you have to be careful though is with pencils that don't have a protection for their tip, as they can pierce the soft cover or zippered side of the case, and the tip will break off, of course.
Oh, and DON'T EVER MAKE THE MISTAKE of leaving the string bookmarks of your notebooks flapping around in there. Mine got caught up between the zipper and nearly destroyed it on day two. That would have been a mess. The zippers are nice and very solid, but put something in between and try and tear it out, and you might separate them and need to get them repaired. Best you cut the string bookmarks off of your notebooks before putting them in there.
Most of the items are handmade to order and usually take a minimum of 1-2 weeks to dispatch. Out of stock items mean, not in the production cycle and generally re-stocking in a few weeks. You can subscribe to the in-stock notification on the product page. Good things take time. We appreciate your patience!
Shipping
We ship worldwide. All items are sent via our shipping partners UPS/Fedex. Your items may need to be signed for upon receipt.

Due to security reasons, we cannot ship to PO boxes.

Some items are ready for shipment in our workshop, located in Istanbul. In stock items dispatch within 6-7 working days after payment has cleared using our shipping partners, UPS & FedEx. If the item is not in stock, then we will need to make your order.

Deliveries to USA addresses will take 3-4 days. For the UK and Europe, 2-3 days. To Australia, 6-7 days. For the rest of the world, expect a maximum of 7 working days. Plus production times.

Buyers are responsible for customs duties. There are no additional taxes for goods being delivered to the USA.

European Union : New rules after 1 July 2021; we charged VAT for orders up to 150€. It means no hidden or extra customs fees during the delivery. Orders more than 150€ subject to customs same as before.
UK : Orders are subject to VAT. Around %20 percent. + courier fees.
Brazil: Due to high taxes, we suggest to use a redirecting service like Regarding redirecting services, I've been using fishisfast.com

Most countries, except the USA, are subject to VAT (value added tax) and customs duties. These are the responsibility of the recipient. Since rates vary by country and by what was ordered.

Shipping fees are automatically calculated during the checkout process. See your checkout for shipping options. As an example, a small journal's shipping fee starts at US$9.80.
HS Tariff Code for Leather Goods 420221 (You can check your country import regulations with this code)
Returns - Cancellations
Items (except personalized items) can be returned for a full refund within 7 days of receipt. Buyer is responsible for the Shipping costs. Please feel free to ask any questions you might have before placing an order.
Due to all items are made to order, after receiving your order, we immideatly start to make your items. We don't accept cancellations/changes after orders placed.
Embossed Monogram
Products suitable for personalization, are shown on the product pages.It is and additional option.

Currently, we can't customize the wooden items.

If you want a monogram option on your item please select it from choose box at the right side of the page.
The Monogram default position will be on the front right bottom corner. Up to 3 characters.
Up to 3 characters you can personalize your item with ; A....Z Capital letters 0....9 numbers . , & ! # - _ @ / : * punctuation.
Font and height, the default for this listing is Times New Roman, 1 cm high, same as the lead picture.
SEEN ON INSTAGRAM