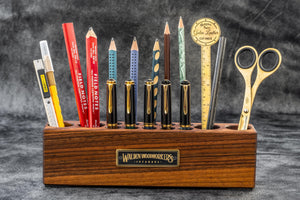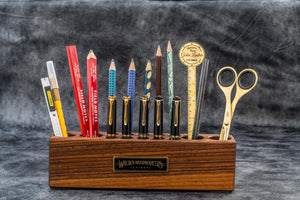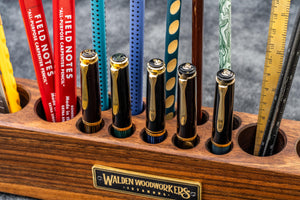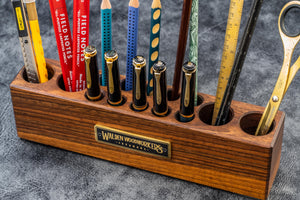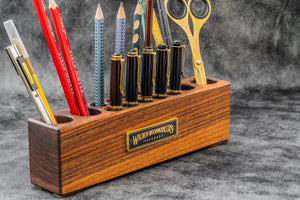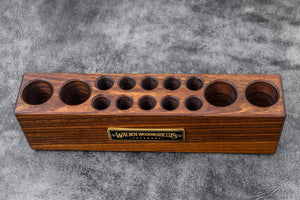 Wood Desk Organizer - Pen and Tool Holder - Walnut
Organize your desk or work bench with the minimalistic design of this beautifully handcrafted Wooden Walnut Desk Organizer. It's a unique addition to your office, tool shed or as a home decor item. For some of us, it's essential to have a clutter-free work space. Have you seen how perfectly matched it is alongside our leather desk pad? Organization tools like this can help reduce the stress that often comes with cluttered areas, and not being able to find things when you need them most. Hello productivity! Also available in Mahogany.
Features:
Size: approx. 5 x 25 x 7cm
Four large holes and 10 smallholders
The small holes fit all type pens and pencils. Also it's suitable for thick fountain pens (like Pelikan M800 or Montblanc 149) up to 14mm diameter

Please note, the grain and color of the wood will vary naturally from the sample shown.
Bad quality
Unbelievable, there has so many flaws on front, this one really looks like defective product. This is the second time to sent product to me, and I told I don't want defective item, but seller still sent this item with many flaws. I wont buy again and will tell people I know don't buy it.
My Wood Desk organizer is very useful and attractive.
It seems I like the ethic and look of Galen brass and wooden accessories. I have this one for ten pens and other things and will soon be buying another for my desk at work. As I have more than 10 fountain pens I shall buy a third for the surplus. I love the walnut finish and the sturdiness of the thing.
Gives me that "warm" feeling
This minimalist design is neatly crafted and I am very satisfied with it. Also, I gave it as a gift to many people who do office works.
Best desk accessory!
Great new additions to my desk! I've got lots of fountain pens, quills, rulers, Scissors, you name it. This fantastic pen and tool holder is a great way to organize my desk while beautifying it too! Love the design and quality. Galen Leather never disappoints! Awesome service as always. Highly recommend.
Hermoso!!!
Hermoso, decorativo, de gran calidad. Un producto excelente. Altamente recomendable para los amantes de journaling
Excellent like everything else Galen Leather sells
Wow! The quality of the items are always amazing and beautiful. And, the box they come in are wonderful! Quality and excellent customer service from end to end. I will continue to be a customer.
Gorgeous product
Beautifully made, lovely timber
Perfect and attentive
It is one of my favorite for galenleather products. Make my desk organized and stylish. Love it very much.
Outstanding
Purchased for my husband who is absolutely in love with this pen and tool holder. It has completed his desk perfectly!
Just lovely
After years of pens standing in a mug and with a move to fountain pens, I needed something more elegant. This does the job beautifully. The workmanship is so fine I've just ordered more products from galenleather. Highly recommended.
Most of the items are handmade to order and usually take a minimum of 1-2 weeks to dispatch. Out of stock items mean, not in the production cycle and generally re-stocking in a few weeks. You can subscribe to the in-stock notification on the product page. Good things take time. We appreciate your patience!
Shipping
We ship worldwide. All items are sent via our shipping partners UPS/Fedex. Your items may need to be signed for upon receipt.

Due to security reasons, we cannot ship to PO boxes.

Some items are ready for shipment in our workshop, located in Istanbul. In stock items dispatch within 6-7 working days after payment has cleared using our shipping partners, UPS & FedEx. If the item is not in stock, then we will need to make your order.

Deliveries to USA addresses will take 3-4 days. For the UK and Europe, 2-3 days. To Australia, 6-7 days. For the rest of the world, expect a maximum of 7 working days. Plus production times.

Buyers are responsible for customs duties. There are no additional taxes for goods being delivered to the USA.

European Union : New rules after 1 July 2021; we charged VAT for orders up to 150€. It means no hidden or extra customs fees during the delivery. Orders more than 150€ subject to customs same as before.
UK : Orders are subject to VAT. Around %20 percent. + courier fees.
Brazil: Due to high taxes, we suggest to use a redirecting service like Regarding redirecting services, I've been using fishisfast.com

Most countries, except the USA, are subject to VAT (value added tax) and customs duties. These are the responsibility of the recipient. Since rates vary by country and by what was ordered.

Shipping fees are automatically calculated during the checkout process. See your checkout for shipping options. As an example, a small journal's shipping fee starts at US$9.80.
HS Tariff Code for Leather Goods 420221 (You can check your country import regulations with this code)
Returns - Cancellations
Items (except personalized items) can be returned for a full refund within 7 days of receipt. Buyer is responsible for the Shipping costs. Please feel free to ask any questions you might have before placing an order.
Due to all items are made to order, after receiving your order, we immideatly start to make your items. We don't accept cancellations/changes after orders placed.
Embossed Monogram
Products suitable for personalization, are shown on the product pages.It is and additional option.

Currently, we can't customize the wooden items.

If you want a monogram option on your item please select it from choose box at the right side of the page.
The Monogram default position will be on the front right bottom corner. Up to 3 characters.
Up to 3 characters you can personalize your item with ; A....Z Capital letters 0....9 numbers . , & ! # - _ @ / : * punctuation.
Font and height, the default for this listing is Times New Roman, 1 cm high, same as the lead picture.
SEEN ON INSTAGRAM