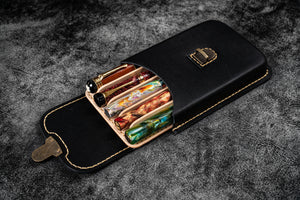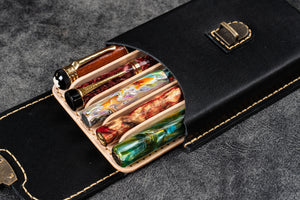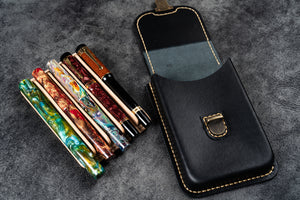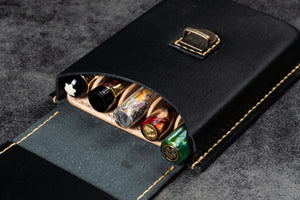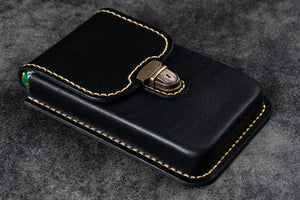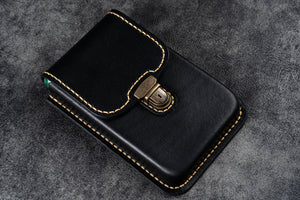 The Old School - Leather Molded Pen Case for 5 Pens - Black
A stylish leather pen case with removable pen tray with an old school brass closure. Made by Turkish artisan Vav Leather.
100% HANDMADE IN TURKEY
PRODUCT:
Handmade Leather Wet Mold Pen Case For 5 Pens With Old School Brass Closure
COLOR/FINISH:
Black
If you are a fan of the real black retina screen, this color is for you. Very deep and rich with solid black tones (so no grey, burgundy or brown tones). Semi-matte finish.
SIZE:
Fits pens up to about 15 cm long and 1.5 cm in barrel diameter.
Tested with these Fountain pens:
Montblanc 149 -146 
Kaniela Fountain Pen
Vintage Pelikan 400NN
Pelikan Souveran M800
Pelikan M150
Lamy Safari
Lamy Safari Al star
TWSBI 580 AL
TWSBI VAC 700
Parker Sonnet
Platinum #3776
FEATURES:
5 pen slots
Full-grain leather
Undyed leather removable tray
Brass closure
MATERIALS:
100% vegetable tanned cow leather
Hand-stitched using

 

waxed polyamide thread

The edges are beveled, waxed, and burnished for a finished look
DESCRIPTION:
Our Leather Old School Vintage Pen Case for 5 Pens will keep your precious pens from getting scratched, ruined, or from leaking in your bag or jacket pocket. Suitable for most Fountain pens and other type of pens.
*Accessories are not included
Reviews On YouTube
What a fantastic!!!
Perfect quality to wait 2 weeks!!!
The case is a perfect product, and their letters also impressed me.
Thank you so much Galenleather!
Favorite pen case
Got this pen case as a birthday present from my friend and I love it so much. The leather is sturdy and of high quantity. Beautiful stitching, gorgeous clasp and big enough for larger pens. I love the black and undyed leather combination and bought a second one for three pens soon after I received this one. My favorite pen case.
Greetings from Singapore.
Love the thoughtfulness that comes with the package. I appreciate the letter and the little goodies that came with the handsome pen case. Have been using it from day one. Love the stitching, the vintage looking clasp, and the tough leather. Very satisfied with the product. Thank you Folks at Galen.
Great work of Art!
Excellent case in thick leather with an exquisite old fashioned look. Great item!
Thank you very much!
What a work of art…
Saw this on FB and absolutely love the look. Got it as a Christmas gift for myself and it arrived handsomely wrapped and presented. Shows that the people take pride in their merchandise. Beautiful leather feel, gave the buckle clip a good polish and it looks awesome. Thank you Galen. Now I waiting for the black leather zipped portfolio to be available.
Gorgeous!
This pen case is soooo well made. Leather quality is supreme. I'm new to fountain pens so I wanted something beautiful to store them in and Galen Leather did NOT disappoint!
Very traditional stuff
It is very good pen case. Robust and traditional design and good quality. It remind me my father's old pen case. I recommend this product.
Buen producto con materiales genuinos!
Me quede sorprendido cuando recibí mi compra, los materiales con los que fue hecho son de excelente calidad, las plumas entran y se acomodan de una manera cómoda, al igual para disponer de cada una de ellas.
El envio internacional no fue un problema aunque no niego que tuve mis dudas de que no llegara por algún problema en aduana o se perdiera en el camino porque la distancia es muy larga , pero la verdad tuve una experiencia plena y muy satisfecho haber hecho mis compras con Galen Leather Co. Felicidades!
Excellent product
Thank you for my new leather pen case. It has been beautifully crafted and very robust which protects my expensive pen collection! Finally managed to get something I've been searching for a while. Thank you
Most of the items are handmade to order and usually take a minimum of 1-2 weeks to dispatch. Out of stock items mean, not in the production cycle and generally re-stocking in a few weeks. You can subscribe to the in-stock notification on the product page. Good things take time. We appreciate your patience!
Shipping
We ship worldwide. All items are sent via our shipping partners UPS/Fedex. Your items may need to be signed for upon receipt.

Due to security reasons, we cannot ship to PO boxes.

Some items are ready for shipment in our workshop, located in Istanbul. In stock items dispatch within 6-7 working days after payment has cleared using our shipping partners, UPS & FedEx. If the item is not in stock, then we will need to make your order.

Deliveries to USA addresses will take 3-4 days. For the UK and Europe, 2-3 days. To Australia, 6-7 days. For the rest of the world, expect a maximum of 7 working days. Plus production times.

Buyers are responsible for customs duties. There are no additional taxes for goods being delivered to the USA.

European Union : New rules after 1 July 2021; we charged VAT for orders up to 150€. It means no hidden or extra customs fees during the delivery. Orders more than 150€ subject to customs same as before.
UK : Orders are subject to VAT. Around %20 percent. + courier fees.
Brazil: Due to high taxes, we suggest to use a redirecting service like Regarding redirecting services, I've been using fishisfast.com

Most countries, except the USA, are subject to VAT (value added tax) and customs duties. These are the responsibility of the recipient. Since rates vary by country and by what was ordered.

Shipping fees are automatically calculated during the checkout process. See your checkout for shipping options. As an example, a small journal's shipping fee starts at US$9.80.
HS Tariff Code for Leather Goods 420221 (You can check your country import regulations with this code)
Returns - Cancellations
Items (except personalized items) can be returned for a full refund within 7 days of receipt. Buyer is responsible for the Shipping costs. Please feel free to ask any questions you might have before placing an order.
Due to all items are made to order, after receiving your order, we immideatly start to make your items. We don't accept cancellations/changes after orders placed.
Embossed Monogram
Products suitable for personalization, are shown on the product pages.It is and additional option.

Currently, we can't customize the wooden items.

If you want a monogram option on your item please select it from choose box at the right side of the page.
The Monogram default position will be on the front right bottom corner. Up to 3 characters.
Up to 3 characters you can personalize your item with ; A....Z Capital letters 0....9 numbers . , & ! # - _ @ / : * punctuation.
Font and height, the default for this listing is Times New Roman, 1 cm high, same as the lead picture.
SEEN ON INSTAGRAM