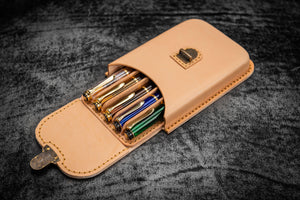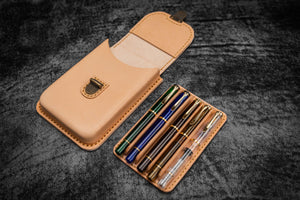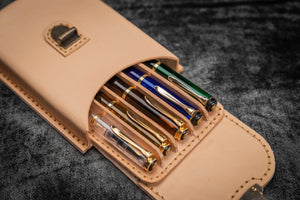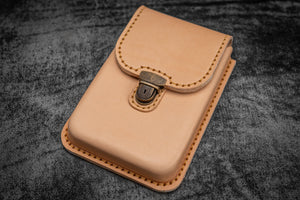 The Old School - Leather Molded Pen Case for 5 Pens - Undyed Leather
A stylish pen case with a removable pen tray and an old school brass closure. Made by Turkish artisan Vav Leather.
100% HANDMADE IN TURKEY
PRODUCT:
Handmade Leather Wet Mold Pen Case For 5 Pens With Old School Closure
COLOR/FINISH:
Undyed Leather - Not covered
Un-dyed leather means, nude leather, with nothing covered up - so this kind of leather will have some natural marks, scars, and other blemishes. In other words, this leather has not been processed to make them appear perfect, like something you would get in a department store. When you get your brand new un-dyed vegetable-tanned leather good, it looks a natural color. The hide is effectively naked and so will age and darken with the sun just like your own skin. Aging will help it develop a rich color and patina. Sun exposure, daily handling, water, and conditioning give natural vegetable tanned leather a rustic look over time.  Read more about vegetable-tanned leather.
SIZE:
Will fit pens up to about 15 cm long and 1.5 cm in barrel diameter.
Tested with these Fountain pens:
Montblanc 149 -146 
Kaniela Fountain Pen
Vintage Pelikan 400NN
Pelikan Souveran M800
Pelikan M150
Lamy Safari
Lamy Safari Al star
TWSBI 580 AL
TWSBI VAC 700
Parker Sonnet
Platinum #3776
FEATURES:
5 pen slots
Full-grain leather
Undyed leather removable tray
Brass closure
MATERIALS:
100% vegetable tanned cow leather
Hand-stitched using

 

waxed polyamide thread

The edges are beveled, waxed, and burnished for a finished look
DESCRIPTION:
Our Leather Old School 5 Slot Pen Case will keep your precious pens from getting scratched, ruined, or from leaking in your bag or jacket pocket. Suitable for most Fountain pens and other type of pens.
*Accessories are not included
Reviews On YouTube
Exceeded expectations
Took only 4 days to arrive to Malaysia all the way from Turkey ! opening the package was such a treat . The added personalisation of a hand written leather was beautiful. Thank you and I look forward to purchasing more items !
Came with several stains/scratches
My pen case came with several stains/scratches which became even more prominent after applying leather balm. I do understand that leather products may have some imperfections but the number and extent of them was really a lot more than I expected. Certainly not the quality I expected paying quite a large sum for a pen case. Generally not happy with the purchase
Dear Leila, sorry to hear that your dissatisfaction. Actually these pen cases made of undyed leather, means there is no covering and finishing. And due to molding technic we can see some imperfections , marks. Which is stated product descriptions for this color. This leather aging, getting darker in use and will get a beautiful patina. If you are still dissatisfied we can try to find a solution.
기대처럼 예뻐요
언제쯤 만족스럽게 구워질지는 모르겠지만 꽤 괜찮습니다 하지만 트레이의 끝부분에는 달리 처리가 안 되어서 트레이 그대로 꺼내놓고 사용하기는 무리가 좀 있어요 그런 일은 드물겠지만 그 틈으로 뭔가 들어가서 만년필에 손상이 가지 않을까 하는 우려도 있습니다.
Light, strong, and beautiful!!
It's a well-made case.
I'm fascinated by the natural and beautiful colors, and with fountain pens it looks more luxurious.
and leather balm is a must.
클래식한 염색안된 생지가죽 케이스
염색안된 가죽케이스는 작은 흠집이나 오염이 묻어 보이는것도 있어서 조금 실망 할 수도 있다. 하지만 태닝하고 에이징하는 과정과 결과물이 기대되기 때문에 구매 했다.
예쁘게 태닝된 케이스를 기대해본다.
Excelente product
Very satisfied with the case to store my 5 pens that I can carry daily without taking up much space in a portfolio or briefcase that is also made of leather. Greetings from Mexico City
Amazing product
I am so happy with this pen case. It is such a great quality. Received it with some extras. Seller is amazing. Thank you so much ☺️
Galen leather pen pouch
Came very well packaged. Beautiful and I love it. Carry it everyday.
Retro and perfectly me
An overseas friend sent me this for my birthday. The quality, like all my other Galen items is perfect.
The craftsmanship is amazing.
I get so many complements on it when it's sitting on my desk at work.
New Favorite Pen Case
This is my second pen case from Galen Leather, and I'm so happy with it! The leather is beautiful. I can't wait to see how it patinas over time. The closure mechanism is sturdy and smooth, and I love the pull-out "tray" that fits inside. It's so nice to take out and put on a desk or table while writing so you can see all the pens you have with you. My only concern is that the leather on the inside of the case feels pretty rough, and I'm a bit worried that it could scuff up my pens. I've been using the case for a little over a month now and haven't noticed anything, so maybe I'm just being paranoid. Overall, I'm pleased with this case and I wish I would have purchased it before the zippered case I already have.
Most of the items are handmade to order and usually take a minimum of 1-2 weeks to dispatch. Out of stock items mean, not in the production cycle and generally re-stocking in a few weeks. You can subscribe to the in-stock notification on the product page. Good things take time. We appreciate your patience!
Shipping
We ship worldwide. All items are sent via our shipping partners UPS/Fedex. Your items may need to be signed for upon receipt.

Due to security reasons, we cannot ship to PO boxes.

Some items are ready for shipment in our workshop, located in Istanbul. In stock items dispatch within 6-7 working days after payment has cleared using our shipping partners, UPS & FedEx. If the item is not in stock, then we will need to make your order.

Deliveries to USA addresses will take 3-4 days. For the UK and Europe, 2-3 days. To Australia, 6-7 days. For the rest of the world, expect a maximum of 7 working days. Plus production times.

Buyers are responsible for customs duties. There are no additional taxes for goods being delivered to the USA.

European Union : New rules after 1 July 2021; we charged VAT for orders up to 150€. It means no hidden or extra customs fees during the delivery. Orders more than 150€ subject to customs same as before.
UK : Orders are subject to VAT. Around %20 percent. + courier fees.
Brazil: Due to high taxes, we suggest to use a redirecting service like Regarding redirecting services, I've been using fishisfast.com

Most countries, except the USA, are subject to VAT (value added tax) and customs duties. These are the responsibility of the recipient. Since rates vary by country and by what was ordered.

Shipping fees are automatically calculated during the checkout process. See your checkout for shipping options. As an example, a small journal's shipping fee starts at US$9.80.
HS Tariff Code for Leather Goods 420221 (You can check your country import regulations with this code)
Returns - Cancellations
Items (except personalized items) can be returned for a full refund within 7 days of receipt. Buyer is responsible for the Shipping costs. Please feel free to ask any questions you might have before placing an order.
Due to all items are made to order, after receiving your order, we immideatly start to make your items. We don't accept cancellations/changes after orders placed.
Embossed Monogram
Products suitable for personalization, are shown on the product pages.It is and additional option.

Currently, we can't customize the wooden items.

If you want a monogram option on your item please select it from choose box at the right side of the page.
The Monogram default position will be on the front right bottom corner. Up to 3 characters.
Up to 3 characters you can personalize your item with ; A....Z Capital letters 0....9 numbers . , & ! # - _ @ / : * punctuation.
Font and height, the default for this listing is Times New Roman, 1 cm high, same as the lead picture.
SEEN ON INSTAGRAM