Intro To The Bullet Journal & Tips in Choosing The Best Bullet Journal
How Did The Bullet Journal Start?
In 2013, Ryder Carroll, a Brooklyn based digital designer, shared his solution for organization with what he thought was a very small audience. He did so through a video that was less than five minutes long. Little did he know then that he was sending a spark out into the universe and that his own remedy for focusing on the essential would ignite a movement that now includes millions of people around the world using his system, The Bullet Journal.
The original video has since been updated, but it is mostly the same as it was: short, sweet, and to the point, much like the system itself. As of October 2019, it has been viewed more than 10 million times. Ryder Carroll could not have imagined how many people would hear his voice and see his hands demonstrating the mechanics of the Bullet Journal in that video. But we did and now the Bullet Journal has not only become a much beloved and discussed tool, it has become an art form.
What is The Bullet Journal?
But, let's start at the beginning and get to the art part in a bit.
The Bujo (the nickname ubiquitous when describing The Bullet Journal), in Ryder Carroll's own words is useful for "decluttering your mind," "cultivating curiosity" and helping to achieve "focus over time." A sufferer of ADHD, Ryder initially developed the Bujo as his own personal tool for weeding out distractions in his life that made it difficult for him to focus on his tasks. It's no wonder that this tool has resonated with so many people. Whether one is challenged with focus or not, we are all sorting through more that 500,000 thoughts per day and I don't know about you, but I find it daunting! Bullet Journaling allows all of us who are trying to get through the mire of it all to figure out what is vital and what isn't. It also allows one to get through regular bouts of shoulda, coulda, woulda's and to quote Ryder again, figure out what we "need to do, should do and want to do."
The result of all of this weeding out and taking stock of our own mental inventories is the opportunity to live in the present and be organized, to boot. As we head towards 2020 and begin to plan our new year, the Bujo also helps by allowing us to catalog our past and plan the future.
How To Use a Bullet Journal
All of this can be accomplished with three symbols, a pen or pencil and a notebook (I was fortunate to see Ryder at a book signing this past year and my fountain pen friends were horrified to find that he was signing his book The Bullet Journal Method and writes in his own Bujo with a fineliner. Eek! Gasp! To be fair it was a Montblanc fineliner, but they were hopeful for a fountain pen sighting.)
The truth is one of the most wonderful qualities of the Bujo Method is that nothing about the set-up of a Bujo needs to be fancy. You can use any notebook, any writing implement, and the symbols and methodology that have gone pretty much unchanged since 2013.
Setting up the Bujo is a fairly simple task, especially considering it is going to synthesize 500,000 thoughts!

The best way to learn about the bullet journal layout is go to the man himself! Watch Ryder's video at bulletjournal.com and within ten minutes you can see the content of the video and get to work on your initial layouts in your notebook.
What Are The Best Notebooks For Bullet Journaling
Now for the big question; which notebook to use for your bullet journal? Well, since you have found me here, as I hope you have for my last two entries, I will point you again to the couple of clicks it will take you to get to the Galen Everyday Notebooks. The A5 size make an excellent Bujo as the size of the page is able to accommodate lots of entries and the profile is slim, so it will be easy to take with you, especially once you get in the habit of Bujo-ing and want it with you at all times.
Personally, I love to decorate a new Everyday Notebook each month and the Bujo gives me a great excuse to. Since I love to use fountain pens (okay, and on occasion I will admit I absolutely LOVE a plain old Bic, it's true!) the Galen notebooks work perfectly because they use Tomoe River paper which can be used with a myriad of mediums. Leuchtturm has made a proprietary Bullet Journal in collaboration with Ryder Carroll (though I don't find this one as fountain pen friendly, it is a wonderful first Bujo as it has the index and some additional information pre-printed, and several page markers to keep everything current at your fingertips).
The Hobonichi blank notebook and Stalogy also make great Bujo's and if you are looking to use mixed media, especially watercolor or markers, Moleskine's Watercolor notebooks could be the right fit for you.
While A5 seems to be the choice of the majority of Bujo users, any size is fair game, and some theories suggest that your planner should always be the smallest size you can use to accommodate your needs. It could be quite interesting to have a pocket Bujo! Many suggest that if you are using the Bujo method, it is key to keep everything in one notebook. As a person who loves to have many notebooks going at one time, I find this difficult, but I will keep trying. One of the nice things about Bujo is that it doesn't judge. While the purists will say there are rules, I like to think that Ryder would be happy that I have my own little Bujo thing going on in Washington, D.C. even if it isn't exactly what he had in mind.
Creating a Bullet Journal Kit
It's a lot of fun to put together a "bujo kit" with all the supplies you like best and easily be able to transport it. Think fancy pens, leather journals, bullet journal covers, paper clip bookmarks, colored pens, highlighters, washi tape (time to drool over this washi tape dispenser) and more.

Once you have your notebook, you will want to consider what to include in your Bujo. While the purist Bujo user will use a combination of monthly and weekly bullet journal layouts, some like to integrate what are known as "collections" to their Bullet Journal. These collections can include items like books to read, project ideas, and brain dumps. Habit trackers have also been included in many Bujo's, assessing sleep, workouts, water intake, etc.
Within your monthly and weekly layouts, you will utilize a series of symbols that are used to denote tasks, events and notes. The lists of these items are either crossed out as they are completed, become obsolete, or are migrated to a new layout if they carry over to the next period of time.
Final Thoughts on The Bullet Journal System
The simplicity of the page and ease of the process is what attracts many to the Bullet Journal system, but some have embraced it as a form of artistic expression. Instagram has become a repository for millions of photos of Bujo layouts. At last check #bujo had well over 3 million photos tagged. Inspiration abounds, with artists all over the world sharing their take on the bujo. Personally, I sometimes find it intimidating to see elaborate spreads as I take the simpler approach to bullet journaling, but I do have some favorites for those of you who want to take the route of making your Bujo a work of art: @leelajournals, @juiank.art, @marjo.bujo and @gerokreativ.
I hope they inspire you, too. It's amazing how many truly talented bullet journal enthusiasts there are and while this is a spot normally reserved for appreciation of the analog, this is a perfect example of why being connected online can also be a benefit to us all.

Speaking of the internet, I would like to point out that with some hesitancy Ryder Carroll did create an official Bullet Journal Companion app. To remain true to his original system and temper the temptation to make bullet journaling a strictly digital pursuit, the app is designed to hold your tasks and notes for 72 hours only, allowing you time to migrate them to a paper notebook before they disappear into the ether.

I hope this entry has helped open up the world of bullet journaling to you if you are new to it, or given you some inspiration if you have one, but wanted to refresh or gussy it up. For more information don't hesitate to consult www.bulletjournal.com. They have done a great job of keeping it updated with current and helpful content.
---
Leave a comment
Comments will be approved before showing up.
---
Also in Blog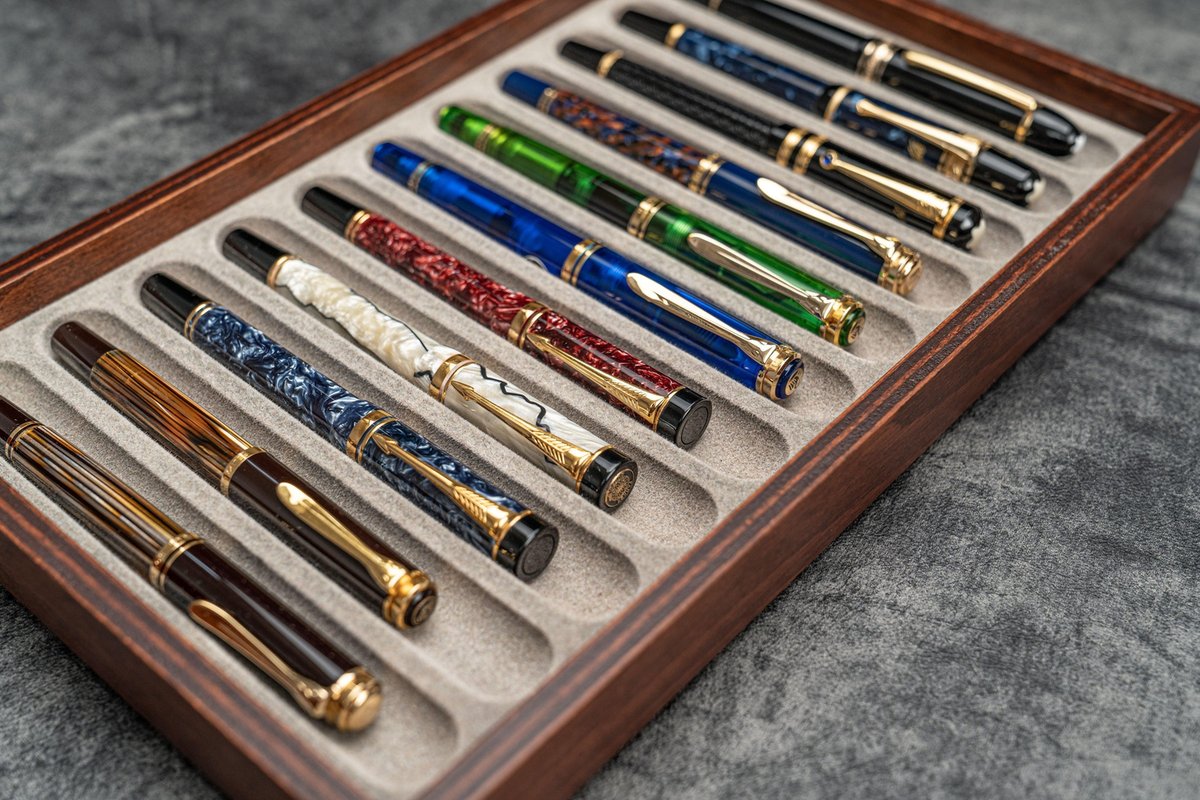 It's a specialty of our company and one of our most important signatures to make beautiful leather and wooden cases for all your needs.
In fact, we have nearly twenty ways for you to make sure your pen is carefully carried and stored for every personality and style.
Here are the 6 best Japanese Notebooks I gave a whirl that gave me hope for a happy future for myself and my pens.
Have you been on the hunt for the perfect fountain pen paper? 
As I have become more and more enamored with the art of the analog, I have found myself in search of the perfect blank page, and for me the answer to that search is 
Tomoe River paper
.