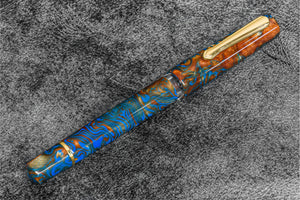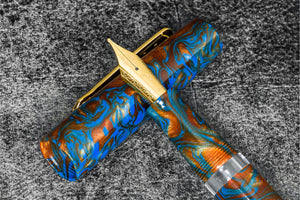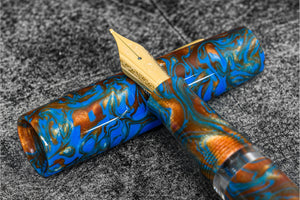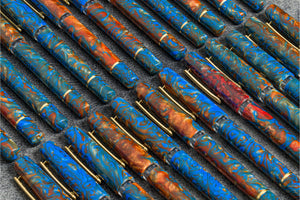 Nahvalur (Narwhal) Fountain Pen - Schuylkill Porpita Navy Special Edition + Leather Pen Sleeve
From the depths of imagination surface a new breed of writing instrument tapping into the stream of consciousness with artistic beauty and elegance. Yes, the Narwhal fountain pen is a real pen! this edition Porpita Navy symbolizing the marine tradition of Narwhal Pens. Porpita Navy features exclusive custom-made resin materials and a 24k gold plated trim. This edition will be limited to around 800 pens.
Introduced at the Philadelphia Pen Show in 2020, the Narwhal Schuylkill (pronounced Skool-kill) is named after the river in Pennsylvania. Swirling shades of blue acrylic are matched with silver-tone appointments, clip, and stainless steel nib. Since the Schuylkill pen material is opaque, Narwhal built in a clear ink window toward the front end of the pen to show the amount of ink in the pen.
Narwhal Fountain Pen Specifications:
Finish: Resin
Trims and Clip:

24k gold plated

Nib: No. 6 stainless steel
Filling System: Piston mechanism (bottled ink fill only)
Comes with a handmade leather  single pen sleeve
We are unable to honor pen sleeve color requests.
Pen Length, closed: 5.71 in. / 145 mm

Pen Length, open, cap off: 5.16 in. / 131 mm
Pen Length, open, cap posted: 6.97 in. / 177 mm
Pen Diameter, barrel: 0.51 in. / 13 mm
Pen Diameter, section: 0.35 in. - 0.43 in. / 9mm - 11 mm
Pen Total Weight: 0.7oz. / 19.8 g
A great review by FigBot of these Pens on Youtube:


We would like to thank GoldSpot Pens for introducing us to this wonderful brand. Image Credits: GoldSpot
Beautiful fountain pen
I am a self confessed fountain pen geek and couldn't resist the colours in this. It was my first Narwhal pen and I wasn't disappointed. It's a superb writer, got a lovely weight and solid feel. Looks stunning too. What's even better is I received a beautiful pen sleeve from Gallen with it!
I have since invested in another Narwhal fountain pen and it's equally as lovely. Great consistency with build quality and finish.
A really lovely pen I would definitely recommend.
Outstanding color and nib
Just a stunning pattern and color on the pen and the nib is a fabulous writing one. Such value. Add in the full size pen holder in a compact form factor and it's just such a nice combination.
Best
This is my favorite pen. About to buy another so that I can use a different ink!
Great pen
This was one of my first Narwhals and I am happy with the decision. It's a great looking and writing pen. I have since purchased a second one in another color.
Great pen
This is a beautiful pen. It is quite chunky compared with other pens I own and feels solid and secure in my hand. I use the medium nib and the ink and the words flow. Great pen, would make a brilliant gift for any word nerd.
Never Disappointed
A great pen. writes well and is a pleasure to use. Love the color but I had hoped for more orange/yellow highlights but very beautiful nonetheless!
First timer, smooth writer
Warmly impressed by your little gifts enclosed. My first Narwhal, although I've heard good things about them. Your price seemed very fair, and the pen is beautiful! Writes smoothly, with good ink flow to nib. I've only used it a couple of times, and still writes well. I saw a few comments that said the pen has trouble after only a little while, but it's fine for me.
I assume that if it does give me trouble, a company that goes out of its way to be friendly will also be reliable. Hope this is the beginning of a good relationship! Roy Tietze
PS the tea was delicious!
Disappointed
Great looking pen with a very easy fill method.
Unlike narwhal pens I've used in the past this one seems to have a very inconsistent feed.
disappointed
This pen is very attractive, but it does not feed properly. after a few minutes of writing, it dries out and will not feed ink. i have tried different nibs and nib units to no avail. i will not be buying Narwahl pens in the future.
Beautiful
There's no doubt this is a beautiful pen. It writes fairly well and I did generally didn't get any hard starts. I docked one star from the rating however, because every time I post the cap, the piston starts to turn and that cause occasional ink spurts from the nib. I have to use the pen unposted just to be on the safer side.
Most of the items are handmade to order and usually take a minimum of 1-2 weeks to dispatch. Out of stock items mean, not in the production cycle and generally re-stocking in a few weeks. You can subscribe to the in-stock notification on the product page. Good things take time. We appreciate your patience!
Shipping
We ship worldwide. All items are sent via our shipping partners UPS/Fedex. Your items may need to be signed for upon receipt.

Due to security reasons, we cannot ship to PO boxes.

Some items are ready for shipment in our workshop, located in Istanbul. In stock items dispatch within 6-7 working days after payment has cleared using our shipping partners, UPS & FedEx. If the item is not in stock, then we will need to make your order.

Deliveries to USA addresses will take 3-4 days. For the UK and Europe, 2-3 days. To Australia, 6-7 days. For the rest of the world, expect a maximum of 7 working days. Plus production times.

Buyers are responsible for customs duties. There are no additional taxes for goods being delivered to the USA.

European Union : New rules after 1 July 2021; we charged VAT for orders up to 150€. It means no hidden or extra customs fees during the delivery. Orders more than 150€ subject to customs same as before.
UK : Orders are subject to VAT. Around %20 percent. + courier fees.
Brazil: Due to high taxes, we suggest to use a redirecting service like Regarding redirecting services, I've been using fishisfast.com

Most countries, except the USA, are subject to VAT (value added tax) and customs duties. These are the responsibility of the recipient. Since rates vary by country and by what was ordered.

Shipping fees are automatically calculated during the checkout process. See your checkout for shipping options. As an example, a small journal's shipping fee starts at US$9.80.
HS Tariff Code for Leather Goods 420221 (You can check your country import regulations with this code)
Returns - Cancellations
Items (except personalized items) can be returned for a full refund within 7 days of receipt. Buyer is responsible for the Shipping costs. Please feel free to ask any questions you might have before placing an order.
Due to all items are made to order, after receiving your order, we immideatly start to make your items. We don't accept cancellations/changes after orders placed.
Embossed Monogram
Products suitable for personalization, are shown on the product pages.It is and additional option.

Currently, we can't customize the wooden items.

If you want a monogram option on your item please select it from choose box at the right side of the page.
The Monogram default position will be on the front right bottom corner. Up to 3 characters.
Up to 3 characters you can personalize your item with ; A....Z Capital letters 0....9 numbers . , & ! # - _ @ / : * punctuation.
Font and height, the default for this listing is Times New Roman, 1 cm high, same as the lead picture.
SEEN ON INSTAGRAM