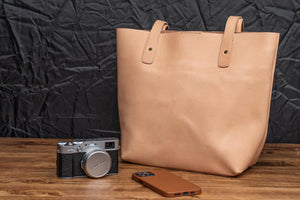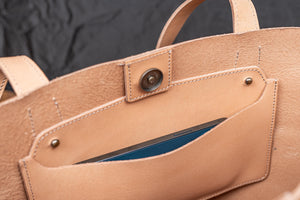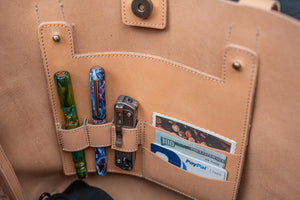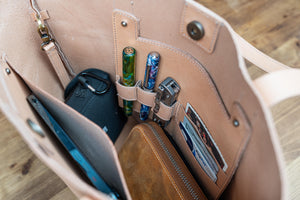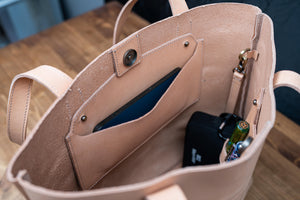 Leather Tote Bag - Undyed Leather
100% Handmade in Turkey
Product:
Leather Tote Bag
Color/Finish:
Undyed Leather - Not covered
Un-dyed leather means, nude leather, with nothing covered up - so they will have some natural range marks, scars, and other blemishes. In other words, they are not processed to make them appear perfect, like something you would get in a department store. When you get your brand new un-dyed vegetable-tanned leather good, it looks a natural color. The hide is effectively naked and so will age and darken with the sun just like your own skin. Aging will develop a rich color and patina. Sun exposure, daily handling, water, and conditioning give natural vegetable tanned leather a rustic look over time.  Read more about vegetable-tanned leather.
Size:
16" x 12" x 5" | 12" handle drop to the top of bag | 2 lbs
40  x 30  x 13  cm | 28cm handle drop to top of bag | 0.9 Kg
This large tote bag is a great size for those who love to carry their life in their bag! It's small enough for everyday use but large enough to handle all the extras. Able to fit a 13" MacBook plus a water bottle, makeup bag, and even your sweater.
Materials:
100% vegetable tanned cow leather
Hand stitched using 

waxed polyamide thread

Solid bottom

Two interior pockets

Brass hardware

Magnetic closure
Description:
A timeless design is always in style and the Undyed Leather Tote bag is the embodiment of utility with a classic look of a vintage handbag. A solidly built tote bag is an everyday staple. The beauty of high-quality leather totes that utilize full-grain leather isn't just the quality, but the unique characteristics that develop with time and use. 
Compatible with:
Allows up to a 15" laptop to be carried along with the rest of your daily accessories

Mobile phone -

 

fits up to iPhone Xs Max

3 elastic slots for Pen/earphones/charger 
Can also store other accessories (as pictured):
Pencils & pens
Passport
Keys - includes a detachable keychain
Credit Cards
Small notebook (like a Field Notes notebook)
Hobonichi weeks or a personal size journal
*Devices and accessories are not included
*Please note, the pen loops are wider compared to the pen cases, you have to activate pen clips to fit pens.
Timeless Elegance Meets Practicality: The Leather Tote Bag in Undyed Leather
As someone who has been on the hunt for the perfect tote bag to accompany me in my daily adventures, the Leather Tote Bag in Undyed Leather has proven to be an exceptional discovery. It seamlessly combines the qualities of style, quality, and functionality, making it an indispensable part of my daily routine.
One of the standout features of this tote is its generous size, which easily accommodates my essentials and more. From books to planners, this bag holds it all with grace and elegance. It's the epitome of a versatile tote, seamlessly transitioning from carrying my daily reading and planning needs to double as a chic companion for any outing.
What truly sets this tote apart is its thoughtfully designed interior pockets. They provide easy access to the smaller essentials that often find themselves buried in the depths of larger bags. My keys, phone, and even a touch of lip gloss now have designated spaces, eliminating the need for a frantic search through a cluttered abyss. It's the kind of organization that simplifies life and adds a touch of convenience to my daily routine.
The undyed leather is a beautiful choice, showcasing the natural charm of genuine leather. This choice of material not only exudes timeless elegance but also promises durability and longevity. I can envision this bag aging gracefully, developing its own unique character that will narrate the stories of the places I've been and the experiences I've gathered.
The Leather Tote Bag in Undyed Leather is more than just a bag; it's a statement of refined taste and practicality. Its versatility and quality make it an investment piece that I plan to carry for years to come. Whether you're a reader, a planner, or simply in need of a stylish and spacious tote, this bag is an excellent choice. It combines fashion with function and is bound to become an essential part of your daily life.
Pure Beauty
I am in love with my Galen undyed tote, undyed writer's medic bag and undyed folio. I love their natural look, the quality and craftsmanship. I love the fact that I will be able to see the patina progression as my life goes on with them. The items were a bit more lighter when they arrived. After applying a light cover of Galen balm, they turned a bit light honey color. Just so gorgeous! Oh grow old with me, the best is yet to be.
Perfect in every way.
As with all Galen Leather products the item exceeded my expectations. I love the undyed leather - this was smooth and unblemished. Perfect. I can't wait for its own patina and character to emerge. The feel and of course smell of the leather was heavenly too. Great size to hold essentials plus extras but not so large as to become a burden. I had thought of using it as a robust knitting bag but now I'm thinking it will become an every day carry.
Lots of compliments
It's taken me a while to write a review because I was too scared to use the bag. I didn't want to take it out in case it got damaged or wet, or someone spilt something on it. I'm glad I did though. So many people have asked where I got the bag from! Its just the right size to fit my essentials in (purse, shopping bag, diary and pen, perfume, wipes, deoderant, make up bag, umbrella, headphones -big proper ones not those bud things). Key loop is great, although I use the smaller key ring from the a5 folio planner for my main keys I use the larger one for none essential items like a little torch.
I waited a long time to get this lifetime bag- so worth it
I had been eyeing and saving up for this bag for a long time. So glad I bought It. This will be a great everyday carry bag for years to come.
Fabulous bag!
First of all my order from Galen arrived so fast! When the undyed leather bag debuted last week I had to have it! I've got the green bag and love it and now I love the undyed bag. It's going to age so beautifully. Galen always creates quality products.
Most of the items are handmade to order and usually take a minimum of 1-2 weeks to dispatch. Out of stock items mean, not in the production cycle and generally re-stocking in a few weeks. You can subscribe to the in-stock notification on the product page. Good things take time. We appreciate your patience!
Shipping
We ship worldwide. All items are sent via our shipping partners UPS/Fedex. Your items may need to be signed for upon receipt.

Due to security reasons, we cannot ship to PO boxes.

Some items are ready for shipment in our workshop, located in Istanbul. In stock items dispatch within 6-7 working days after payment has cleared using our shipping partners, UPS & FedEx. If the item is not in stock, then we will need to make your order.

Deliveries to USA addresses will take 3-4 days. For the UK and Europe, 2-3 days. To Australia, 6-7 days. For the rest of the world, expect a maximum of 7 working days. Plus production times.

Buyers are responsible for customs duties. There are no additional taxes for goods being delivered to the USA.

European Union : New rules after 1 July 2021; we charged VAT for orders up to 150€. It means no hidden or extra customs fees during the delivery. Orders more than 150€ subject to customs same as before.
UK : Orders are subject to VAT. Around %20 percent. + courier fees.
Brazil: Due to high taxes, we suggest to use a redirecting service like Regarding redirecting services, I've been using fishisfast.com

Most countries, except the USA, are subject to VAT (value added tax) and customs duties. These are the responsibility of the recipient. Since rates vary by country and by what was ordered.

Shipping fees are automatically calculated during the checkout process. See your checkout for shipping options. As an example, a small journal's shipping fee starts at US$9.80.
HS Tariff Code for Leather Goods 420221 (You can check your country import regulations with this code)
Returns - Cancellations
Items (except personalized items) can be returned for a full refund within 7 days of receipt. Buyer is responsible for the Shipping costs. Please feel free to ask any questions you might have before placing an order.
Due to all items are made to order, after receiving your order, we immideatly start to make your items. We don't accept cancellations/changes after orders placed.
Embossed Monogram
Products suitable for personalization, are shown on the product pages.It is and additional option.

Currently, we can't customize the wooden items.

If you want a monogram option on your item please select it from choose box at the right side of the page.
The Monogram default position will be on the front right bottom corner. Up to 3 characters.
Up to 3 characters you can personalize your item with ; A....Z Capital letters 0....9 numbers . , & ! # - _ @ / : * punctuation.
Font and height, the default for this listing is Times New Roman, 1 cm high, same as the lead picture.
SEEN ON INSTAGRAM