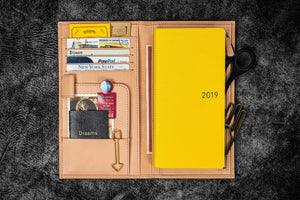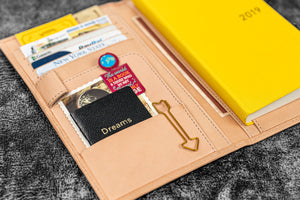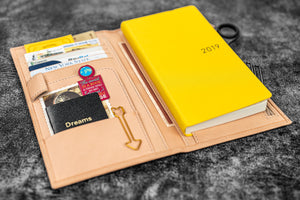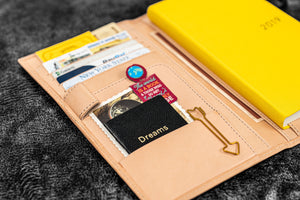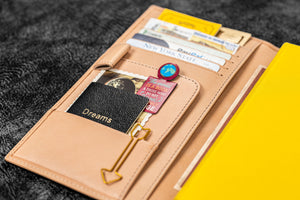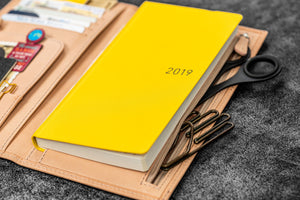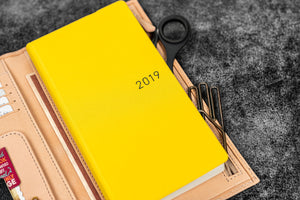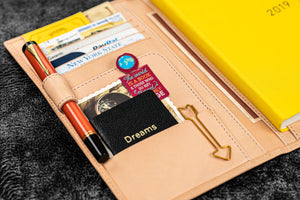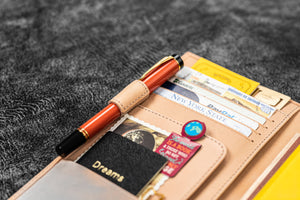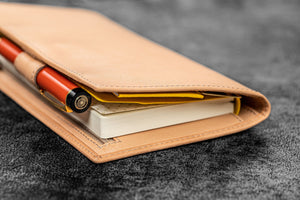 Leather Hobonichi Weeks Cover - Undyed Leather
New updated version! It now fits the Hobonichi Weeks with an additional notebook slot. This undyed leather Hobonichi Weeks / Weeks Mega Cover Wallet can be used as a stand-alone wallet or can be incorporated in your Traveler's Notebook seamlessly (regular size 11x22cm).
Reviews On Youtube
100% Handmade in Turkey
Color/Finish:
Undyed Leather - Not covered
Un-dyed leather means, nude leather, with nothing covered up - so they will have some natural range marks, scars, and other blemishes. In other words, they are not processed to make them appear perfect, like something you would get in a department store. When you get your brand new un-dyed vegetable-tanned leather good, it looks a natural color. The hide is effectively naked and so will age and darken with the sun just like your own skin. Aging will develop a rich color and patina. Sun exposure, daily handling, water, and conditioning give natural vegetable tanned leather a rustic look over time. Read more about vegetable-tanned leather.
Materials:
100% vegetable tanned cow leather
Hand stitched using

waxed polyamide thread

Sturdy YKK zipper
Description:
Our new and improved crazy horse forest green Leather Hobonichi Weeks Mega Cover features a left panel that can fit 4 credit card size pockets, one pocket size notebook and long pocket, one small separator and wide pocket which are perfect for small accessories. There's one large pocket which is great for keeping your cash, receipts or a mobile phone (an iPhone 7 plus fits easily).
There's also a special pen loop made from 60% leather and 40% hidden elastic which fits any pen or pencil whether it's a Caran Dache 849 or a Pelikan 1000 fp.
The right panel comes with a leather pocket with a sturdy YKK zipper and another hidden pocket underneath the leather pocket.
Can be used in 4 different ways:
Hobonichi

Weeks

Cover
Hobonichi

Weeks

Mega

Cover
Stand-alone

Wallet
An unexpected delight
I actually got this regular sized wallet insert/weeks cover by mistake - I wanted the passport. But what a wonderful mistake - they did not ask me to return it which I think is amazing, and the object is precious. I was planning on using it as a insert but the cover is so well designed - has a weight and heft and detail to it which makes it a nice EDC with a few b6 slims. The pen loop is absolutely perfect, and after a few days you can use this without a band covering it to keep it closed. It fits in a lot of knick knacks too so its very utilitarian. This also gives me a chance to consider the Hobonichi weeks notebook, and I love that I can use this for ages.
Love It
This is a favorite company for me. Love my purchase. Beautiful cover! Always a pleasure!
Great handmade leather product, with some recommendations for improvement
Very happy with the quality of this handmade leather item. It fits the Hobonichi Weeks perfectly and also can be used as a wallet, with several card slots and a zippered pocket to put change in or other goodies if needed. However, I do have two improvements to suggest. On one hand, the cover is a little thick, for example, in the case where you would want to use it as a wallet insert in a regular size TN. Making it a little thinner would allow it to be a more versatile product. On the other hand, all interested buyers do note that the video in the description page of the item is misleading, since they have made some modifications to the design of the interior zipped pocket. I would suggest that Galen Leather adds an updated video so that customers can see exactly what they are buying. Otherwise, I am very happy with my customer experience, the Galen leather team answers quickly to emails, shipping is quick (great extras included in package) and I would recommend their products.
Undyed natural journal cover
I love the undid leather journal. I use it for my art journal. The leather is soft and smooth. As always, the packaging and goodies inside are wonderful to receive. I have never been disappointed in any product I have purchased from Galen Leather. I am a repeat customer (many times over). Thank you.
Most of the items are handmade to order and usually take a minimum of 1-2 weeks to dispatch. Out of stock items mean, not in the production cycle and generally re-stocking in a few weeks. You can subscribe to the in-stock notification on the product page. Good things take time. We appreciate your patience!
Shipping
We ship worldwide. All items are sent via our shipping partners UPS/Fedex. Your items may need to be signed for upon receipt.

Due to security reasons, we cannot ship to PO boxes.

Some items are ready for shipment in our workshop, located in Istanbul. In stock items dispatch within 6-7 working days after payment has cleared using our shipping partners, UPS & FedEx. If the item is not in stock, then we will need to make your order.

Deliveries to USA addresses will take 3-4 days. For the UK and Europe, 2-3 days. To Australia, 6-7 days. For the rest of the world, expect a maximum of 7 working days. Plus production times.

Buyers are responsible for customs duties. There are no additional taxes for goods being delivered to the USA.

European Union : New rules after 1 July 2021; we charged VAT for orders up to 150€. It means no hidden or extra customs fees during the delivery. Orders more than 150€ subject to customs same as before.
UK : Orders are subject to VAT. Around %20 percent. + courier fees.
Brazil: Due to high taxes, we suggest to use a redirecting service like Regarding redirecting services, I've been using fishisfast.com

Most countries, except the USA, are subject to VAT (value added tax) and customs duties. These are the responsibility of the recipient. Since rates vary by country and by what was ordered.

Shipping fees are automatically calculated during the checkout process. See your checkout for shipping options. As an example, a small journal's shipping fee starts at US$9.80.
HS Tariff Code for Leather Goods 420221 (You can check your country import regulations with this code)
Returns - Cancellations
Items (except personalized items) can be returned for a full refund within 7 days of receipt. Buyer is responsible for the Shipping costs. Please feel free to ask any questions you might have before placing an order.
Due to all items are made to order, after receiving your order, we immideatly start to make your items. We don't accept cancellations/changes after orders placed.
Embossed Monogram
Products suitable for personalization, are shown on the product pages.It is and additional option.

Currently, we can't customize the wooden items.

If you want a monogram option on your item please select it from choose box at the right side of the page.
The Monogram default position will be on the front right bottom corner. Up to 3 characters.
Up to 3 characters you can personalize your item with ; A....Z Capital letters 0....9 numbers . , & ! # - _ @ / : * punctuation.
Font and height, the default for this listing is Times New Roman, 1 cm high, same as the lead picture.
SEEN ON INSTAGRAM