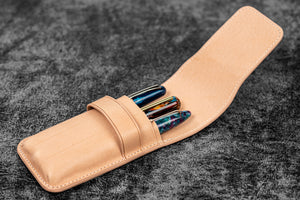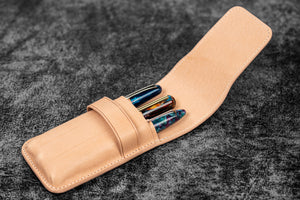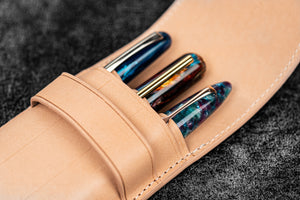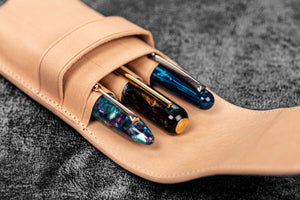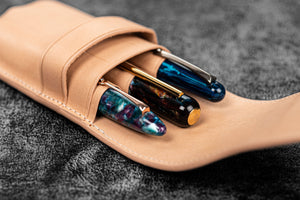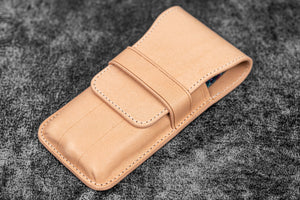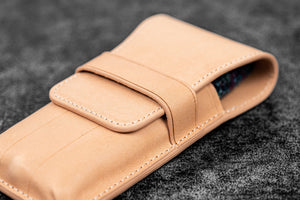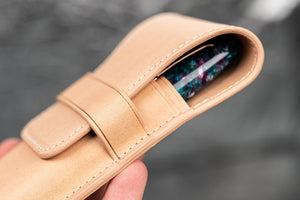 Leather Flap Pen Case for Three Pens - Undyed Leather
100% HANDMADE IN TURKEY
PRODUCT:
Handmade Leather Flap Pen Case For 3 Pens

COLOR/FINISH:
Undyed Leather - Not covered
Un-dyed leather means, nude leather, with nothing covered up - so they will have some natural range marks, scars, and other blemishes. In other words, they are not processed to make them appear perfect, like something you would get in a department store. When you get your brand new un-dyed vegetable-tanned leather good, it looks a natural color. The hide is effectively naked and so will age and darken with the sun just like your own skin. Aging will develop a rich color and patina. Sun exposure, daily handling, water, and conditioning give natural vegetable tanned leather a rustic look over time. Read more about vegetable-tanned leather.
SIZE:
Will fit pens up to about 14 cm long and 1.5 cm in barrel diameter
Tested with these Fountain pens:
Vintage Pelikan 400NN
Pelikan Souveran M800
Pelikan M150
Lamy Safari
Lamy Safari Al star
TWSBI 580 AL
TWSBI VAC 700
Parker Sonnet
Platinum #3776
FEATURES:
3 individual pen slots
Flap closure for quick action.
Molded construction for a comfortable fit. 
MATERIALS:
100% vegetable-tanned, full-grain cow leather
Stitched using

 strong

 polyamide thread

The edges are beveled, waxed, and burnished for a finished look
DESCRIPTION:
Our Three Pen Leather Flap Pen Case will keep your precious pens from getting scratched, ruined, or from leaking in your bag or jacket pocket. Suitable for most Fountain pens and other type of pens.
*Pens on the pictures, are not included
A Perfected, Perfect Pen Pouch
This is a long review, y'all.
If you want a pen case that is quality made and doesn't involve magnets, this is the one. The wonderful people of Galen Leather surpass the word craftspeople. This case is beautiful; sturdy saddled stitching, burnished leather on both the inside and outside, a sturdy, strong strap, and an outer pouch with generously sized pen slots within. The outer pouch can accommodate a small, thin, pen or pencil if you dare (which I do), but maintains its slim profile. Both the outer pouch and the pen slots are soft and gentle on the inside. The back is flat, and sturdy and has a beautiful branding of the Galen logo. The sides of the pouch are also finished to prevent wear. The case fits neatly with my Yuruliku case, sized for the Hobonichi Techo, and still allows the stiff canvas case to zip without a problem.
If you have a variety of pen sizes, no problem. The pens in the photograph are a celluloid Parker Duofold circa the 1940s (so, a fragile pen), a Kaweco AL Sport, and a Kaweco Brass Supra. This case also accommodates a TWSBI Eco without issue and the pen pictured below, slipped in the outer pouch, is a slim Leuchtturm1917 Drehgriffel Aluminum gel pen, but it doesn't interfere with the pen slots. Included with your purchase is a wood stretcher for conditioning the leather to accommodate wider pens.
This case is the undyed, natural leather which is a lovely color on its own and is already taking on a beautiful patina, which was my intention. Because this case lives within another case in my large bag, it has withstood the tests of jostling, public transit, abrasion, and unfortunate drops in its first 3 weeks with me; not even my Parker looks like it moved!
Included in my order was a beautiful note, an unusual but very cool assortment of ephemera, instant coffee, black tea, and an evil eye. The evil eye was especially touching because of its importance in my heritage and daily life. To top this all off, included was a pen sleeve –a generous gift considering all the other wonderful items. The leather sleeve is in the black crazy horse I believe, which is extraordinarily soft and is already another treasured item.
You cannot go wrong with this case, or with any purchase with Galen. I look forward to purchasing more supplies, which of course arrived safely and very well-packed. Thanks so much, I am beyond happy.
TL;DR
This is an outstanding product that will accommodate a wide variety of pens, crafted in quality leather. Galen is a company that takes pride in its work and customers, making it a unique gem among other high-end independent leather shops.
Simply Superb
As always from Galen, super quality and speedy service. What more can you ask for.
Most of the items are handmade to order and usually take a minimum of 1-2 weeks to dispatch. Out of stock items mean, not in the production cycle and generally re-stocking in a few weeks. You can subscribe to the in-stock notification on the product page. Good things take time. We appreciate your patience!
Shipping
We ship worldwide. All items are sent via our shipping partners UPS/Fedex. Your items may need to be signed for upon receipt.

Due to security reasons, we cannot ship to PO boxes.

Some items are ready for shipment in our workshop, located in Istanbul. In stock items dispatch within 6-7 working days after payment has cleared using our shipping partners, UPS & FedEx. If the item is not in stock, then we will need to make your order.

Deliveries to USA addresses will take 3-4 days. For the UK and Europe, 2-3 days. To Australia, 6-7 days. For the rest of the world, expect a maximum of 7 working days. Plus production times.

Buyers are responsible for customs duties. There are no additional taxes for goods being delivered to the USA.

European Union : New rules after 1 July 2021; we charged VAT for orders up to 150€. It means no hidden or extra customs fees during the delivery. Orders more than 150€ subject to customs same as before.
UK : Orders are subject to VAT. Around %20 percent. + courier fees.
Brazil: Due to high taxes, we suggest to use a redirecting service like Regarding redirecting services, I've been using fishisfast.com

Most countries, except the USA, are subject to VAT (value added tax) and customs duties. These are the responsibility of the recipient. Since rates vary by country and by what was ordered.

Shipping fees are automatically calculated during the checkout process. See your checkout for shipping options. As an example, a small journal's shipping fee starts at US$9.80.
HS Tariff Code for Leather Goods 420221 (You can check your country import regulations with this code)
Returns - Cancellations
Items (except personalized items) can be returned for a full refund within 7 days of receipt. Buyer is responsible for the Shipping costs. Please feel free to ask any questions you might have before placing an order.
Due to all items are made to order, after receiving your order, we immideatly start to make your items. We don't accept cancellations/changes after orders placed.
Embossed Monogram
Products suitable for personalization, are shown on the product pages.It is and additional option.

Currently, we can't customize the wooden items.

If you want a monogram option on your item please select it from choose box at the right side of the page.
The Monogram default position will be on the front right bottom corner. Up to 3 characters.
Up to 3 characters you can personalize your item with ; A....Z Capital letters 0....9 numbers . , & ! # - _ @ / : * punctuation.
Font and height, the default for this listing is Times New Roman, 1 cm high, same as the lead picture.
SEEN ON INSTAGRAM