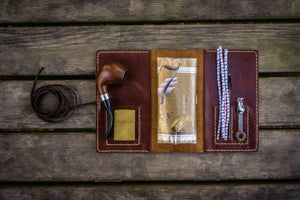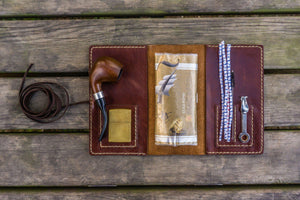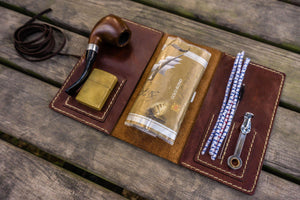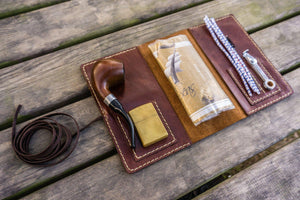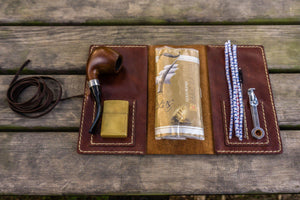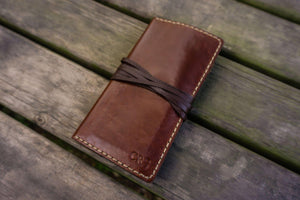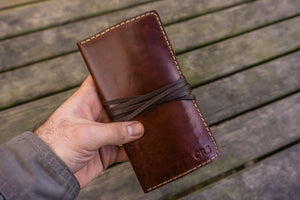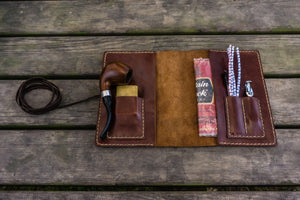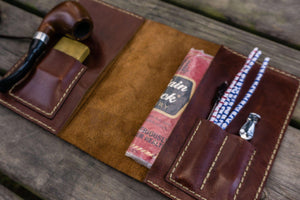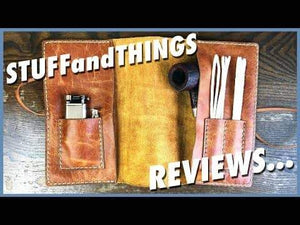 Personalized Leather Pipe Pouch/Pipe Roll - Brown
100% Handmade in Turkey
Product:
Handmade Minimalist

Leather Pipe Pouch/Pipe Roll


Color/Finish:
Brown
This timeless color is a bestseller among all our items. It's a classic brown pecan color, darker than tan, with some deep chocolate tones.
Size:
When open: 21x31 cm or 8.4"x12.4"
When closed: 11x21 cm or 4.4"x8.4"
Can hold up to 16 cm (6.5 inches) pipes
Materials:
100%

vegetable tanned cow leather

Hand stitched using

waxed polyamide thread
Description:
This leather pipe pouch features 2 large pockets to fit a tobacco pipe and/or a 1-2 ounce pouch of tobacco. There's a small separate pocket which holds a lighter, 1-2 tampers and some pipe cleaners. The pouch is designed so your accessories never touch your pipes to avoid scratching and damage. The leather string holds everything in place when the pouch is rolled up.
This Pipe Pouch comes with a PERSONALIZED option. If you want a monogram option on your pouch, please select it from the selection box on the right side of the page. During the purchase, include the initials to be stamped on the pouch in the ''note to seller'' section (maximum of 3 characters). Monogram default position wiil be on the front cover.
Leather softness level is medium. Every piece of leather absorbs dye differently. Your bag may look slightly different than the one shown here.
Great leather tobacco pouch for my husband.
What a superb well made leather pouch, my husband loves it!
They should be proud of the craftsmanship.
Excellent customer service, friendly and very helpful.
Best Pouch Ever
I can say with absolute certainty that this pouch... The Galen Leather Handmade Pipe pouch/Pipe role rustic brown, is in fact the greatest pipe pouch of all time. I have personally tested every single pipe pouch/pipe roll ever to be manufactured and boy howdy, let me tell you, Galen Leather has simply perfected the beautifully subtle art of pipe pouch/pipe roll making. After having tested over 1149 different pipe pouches/pipe rolls I speak with authority on the matter when I tell you that we have a masterpiece on our hands. If you are reading this review... STOP... Click add to cart and purchase the Galen Leather Handmade Pipe pouch/pipe roll (rustic brown) immediately. This is not a matter of personal preference. This is objectively the best pipe/pouch/pipe roll on the market. God Bless you Galen Leather. God Bless you
Beautiful
I bought this to hold my CBD smokeables. It not only do the job but does so looking awesome! Great craftsmanship! Thank you!
It is the best pipe roll in the market.
i love it. It is big enough to carry your esencial tools, pipe and tobbacco. You can probably fit 2 pipes although i haven't tried. And the only thing i don't like. Is that it doesn't have the name of the company stamped somewhere in the pipe roll.
Sleek and Simple
This pipe roll is quite lovely. The leather is very soft but seems durable enough for years of use. The stitching is strong waxed thread and is perfectly done, everything is straight and high quality. The design is simple and elegant, no frills or unnecessary bits to it. I can easily fit 1-2 oz of tobacco, a folding pipe stand, lighter and larger tamper, 10-15 pipe cleaners, and two medium sized billiards with pipe socks. Fully loaded it's quite small and not too thick as to become cumbersome. 10/10, highly recommend.
Excellent product
The leather pipe pouch was well made, the packaging was what really impressed me, it was boxed well and came with some cool items that made it feel personal. Will be buying more in the future.
5 Stars!!!
The price and quality cannot be beat. It exceeded my expectations. I am very satisfied with this purchase. Will recommend.
Extremely satisfied
Could not have been happier with this product. I was in the market for an hierloom quality tobacco/pipe roll and this did not disappoint. And amazed that it shipped to Missouri in just a few days, even with personalization. Great product by true craftsman.
Perfect
Perfect pouch. Minimalist simplicity with super soft leather. The stitching is perfect. Slim profile when loaded and folded up. Definitely recommend for a 1, possibly 2 pipe roll.
It's great and handsome.
Perfect. The little pockets are great. Leather is good quality. It's much better than my hand made version. Love it. Considering buying another for my other vehicle.
Most of the items are handmade to order and usually take a minimum of 1-2 weeks to dispatch. Out of stock items mean, not in the production cycle and generally re-stocking in a few weeks. You can subscribe to the in-stock notification on the product page. Good things take time. We appreciate your patience!
Shipping
We ship worldwide. All items are sent via our shipping partners UPS/Fedex. Your items may need to be signed for upon receipt.

Due to security reasons, we cannot ship to PO boxes.

Some items are ready for shipment in our workshop, located in Istanbul. In stock items dispatch within 6-7 working days after payment has cleared using our shipping partners, UPS & FedEx. If the item is not in stock, then we will need to make your order.

Deliveries to USA addresses will take 3-4 days. For the UK and Europe, 2-3 days. To Australia, 6-7 days. For the rest of the world, expect a maximum of 7 working days. Plus production times.

Buyers are responsible for customs duties. There are no additional taxes for goods being delivered to the USA.

European Union : New rules after 1 July 2021; we charged VAT for orders up to 150€. It means no hidden or extra customs fees during the delivery. Orders more than 150€ subject to customs same as before.
UK : Orders are subject to VAT. Around %20 percent. + courier fees.
Brazil: Due to high taxes, we suggest to use a redirecting service like Regarding redirecting services, I've been using fishisfast.com

Most countries, except the USA, are subject to VAT (value added tax) and customs duties. These are the responsibility of the recipient. Since rates vary by country and by what was ordered.

Shipping fees are automatically calculated during the checkout process. See your checkout for shipping options. As an example, a small journal's shipping fee starts at US$9.80.
HS Tariff Code for Leather Goods 420221 (You can check your country import regulations with this code)
Returns - Cancellations
Items (except personalized items) can be returned for a full refund within 7 days of receipt. Buyer is responsible for the Shipping costs. Please feel free to ask any questions you might have before placing an order.
Due to all items are made to order, after receiving your order, we immideatly start to make your items. We don't accept cancellations/changes after orders placed.
Embossed Monogram
Products suitable for personalization, are shown on the product pages.It is and additional option.

Currently, we can't customize the wooden items.

If you want a monogram option on your item please select it from choose box at the right side of the page.
The Monogram default position will be on the front right bottom corner. Up to 3 characters.
Up to 3 characters you can personalize your item with ; A....Z Capital letters 0....9 numbers . , & ! # - _ @ / : * punctuation.
Font and height, the default for this listing is Times New Roman, 1 cm high, same as the lead picture.
SEEN ON INSTAGRAM