Everyday Blank Notebook - Cosmo Air Light Paper - A5 Size - 288 Pages
Introducing our new bound blank notebook in A5 size. It features the stunning fountain pen-friendly Cosmo Air Light Paper-75gsm. Produced by Japanese Nippon paper company. This blank journal is perfect as a standalone travel notebook for recording all your special memories and ideas, or as a refill for our best-selling Leather Notebook Covers and A5 journal covers. It's quite possibly one of the best journals for fountain pens.
Our specially crafted burgundy 
A5 size notebook
is made of
Cosmo Air Light Paper-75gsm paper, known as the new popular fountain pen-friendly paper. Each notebook contains 300 pages and is hand-bound with traditional bookbinding techniques. If you're looking for a stylish blank page notebook, then this is the one for you. You can even choose the leather color of your choice including the ever-popular, timeless, and stylish black journal. This 300-page journal pairs so beautifully with our stylish black leather notebook cover.
Specs
Completely flat-lay
Comes in magnetic closure cardboard box.
Hand-bound from Cosmo Air Ligth

 75 gsm white paper

Blank paper
144 sheets (288 pages)
Includes grid and lined guides
Includes blotter (also can be used as a writing mat for comfortable writing)
145 x 210 mm (5,70 x 8,26 inches)
Cosmo Air Light Paper
This is a 75 gsm Japanese paper. It has been on the agenda of the fountain pen world (and our's) for a while. This is the most sheen and shading we have ever seen. Here's a detailed review of the CAL paper.
Feedback is available while writing, as its surface is not as covered as the Tomoe river, Rhodia, etc. The paper isn't slick like Tomoe River either. Instead, it has just enough texture that you don't feel like your pen is ice-skating over the surface. But still, it provides a smooth writing experience. Your text is a click thicker but there's no bleeding and minimal ghosting. The colors are very vibrant. The drying time is a bit longer. I personally think it's especially suitable for applications such as a journal, watercolor, etc.
Here's the pictures and a quick video review:
.
.
.
.
.
.
.
.
Gorgeous notebook
The quality of this notebook is fantastic. The paper is beautifully smooth and a joy to write on. The presentation with the magnetic case, guides and leather blotter just make it a great purchase.
Different than Tomoe River, but not worse
I'd have to say Tomoe River feels a little better than the Cosmo air, but only marginally. This also is purely personal preference. I do prefer Cosmo over Midori paper which I've been using for years. The Cosmo is slightly thicker than TR and that's a good thing "in my book" (pun intended) ink does not show through Cosmo as much as TR. TR is great, but for the price (and availability) Cosmo Air is a great substitute
Ornate magnetic case, lovely sheen, pages open flat!
I am still new to the fountain pen world and this is my first serious notebook purchase and boy I am not dis-appointed. The notebook and case has a lovely maroon cover, beautiful lettering and shouts class!
The note book has a good thickness which the pages has a nice off white colour. The thickness of the pages is very good which lay FLAT and has no bleed through. The paper shows the sheen in ink very well. This is the first time I have received a leather blotter and the inlay cards are great.
Everyday notebook A5
So thrilled to find that Galen is now offering this notebook in Cosmo Air Light Paper! I love that they changed the cover color to a beautiful burgundy! Beautifully packaged and shipping is always fast! Thank you Galen Leather for another wonderful product!
Even more than I expected
Experience has taught that I can order from Galen with high expectations. This notebook exceeded those expectations. I'm a big fan of Cosmo Air Light paper, which is smooth but with a touch of feedback. I've read that this paper is no longer being manufactured so I'm surprised to see it's still available here. The workmanship on the notebook is absolutely first rate, even down to the neat little magnetic closure. And there's that beautiful A5 sized piece of leather. I wasn't expecting that and wasn't sure what purpose it's supposed to serve - maybe a blotter? But I've found it works beautifully under individual sheets of A5 paper as a non-slip writing surface so you don't have to hold the paper in place.
I really truly do not need another notebook, but I'm going to order another one of these. Thanks, Galen!
Beautiful notebook
The notebook is perfect! The cover and case are simple and good looking. The paper is really nice and shows fountain pen ink sheen really well.
Fun!
I have not tried out this notebook just yet. But shipping was fast and the product came very well packaged.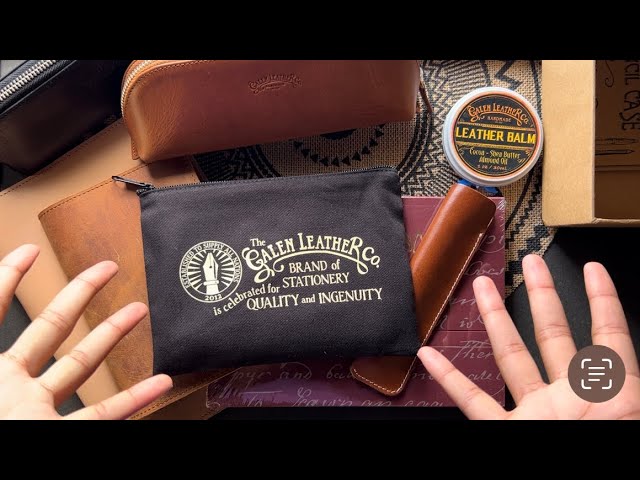 Beautiful notebook
All Galen Leather notebooks are beautifully made. I would still prefer Tomoe River Paper though, as I think it shows better the variations on my inks. But for those who don´t like very thin paper this could be a good option.
Good quality notebook
Its very good quality. I like the paper quality and having the guides and the soft pencil board was very helpful.
I appreciate that the paper is thicker than the Tomoe River Paper but its not as glossy or smooth. But I think it boils down on preference. I like that this paper smudges less than the Tomoe River paper (at least in my opinion) and I do like the feel of this paper better.
Worth It
I love this notebook and have bought a second one. It is perfect for journaling or other writing projects. I love the paper templates that they send with the notebook and the blotter is an extra nice touch. I will probably be buying my third and I haven't even filled the other two up.
Most of the items are handmade to order and usually take a minimum of 1-2 weeks to dispatch. Out of stock items mean, not in the production cycle and generally re-stocking in a few weeks. You can subscribe to the in-stock notification on the product page. Good things take time. We appreciate your patience!
Shipping
We ship worldwide. All items are sent via our shipping partners UPS/Fedex. Your items may need to be signed for upon receipt.

Due to security reasons, we cannot ship to PO boxes.

Some items are ready for shipment in our workshop, located in Istanbul. In stock items dispatch within 6-7 working days after payment has cleared using our shipping partners, UPS & FedEx. If the item is not in stock, then we will need to make your order.

Deliveries to USA addresses will take 3-4 days. For the UK and Europe, 2-3 days. To Australia, 6-7 days. For the rest of the world, expect a maximum of 7 working days. Plus production times.

Buyers are responsible for customs duties. There are no additional taxes for goods being delivered to the USA.

European Union : New rules after 1 July 2021; we charged VAT for orders up to 150€. It means no hidden or extra customs fees during the delivery. Orders more than 150€ subject to customs same as before.
UK : Orders are subject to VAT. Around %20 percent. + courier fees.
Brazil: Due to high taxes, we suggest to use a redirecting service like Regarding redirecting services, I've been using fishisfast.com

Most countries, except the USA, are subject to VAT (value added tax) and customs duties. These are the responsibility of the recipient. Since rates vary by country and by what was ordered.

Shipping fees are automatically calculated during the checkout process. See your checkout for shipping options. As an example, a small journal's shipping fee starts at US$9.80.
HS Tariff Code for Leather Goods 420221 (You can check your country import regulations with this code)
Returns - Cancellations
Items (except personalized items) can be returned for a full refund within 7 days of receipt. Buyer is responsible for the Shipping costs. Please feel free to ask any questions you might have before placing an order.
Due to all items are made to order, after receiving your order, we immideatly start to make your items. We don't accept cancellations/changes after orders placed.
Embossed Monogram
Products suitable for personalization, are shown on the product pages.It is and additional option.

Currently, we can't customize the wooden items.

If you want a monogram option on your item please select it from choose box at the right side of the page.
The Monogram default position will be on the front right bottom corner. Up to 3 characters.
Up to 3 characters you can personalize your item with ; A....Z Capital letters 0....9 numbers . , & ! # - _ @ / : * punctuation.
Font and height, the default for this listing is Times New Roman, 1 cm high, same as the lead picture.
SEEN ON INSTAGRAM