United Kingdom Fountain Pen and Fine Stationery Stores
Several weeks ago, I proposed to Yunus a series of city guides highlighting my favorite stationery shops around the globe. I had just returned from a trip to London and Paris and was bubbling with excitement after visiting some of my old haunts and finding a couple of new gems to share. I have always gotten so much joy from sharing my finds and I was so looking forward to telling you, dear readers, the best way to navigate seeing the most beautiful boutiques in all of the cities. In these magical brick and mortar stationery shops, you can find all sorts of hidden treasures like the best fountain pens, the best fountain pen ink and vintage-inspired stationery.
Now we all find ourselves in a new reality. All of the cities on my list are quiet and most of the boutiques I wanted to share with you have temporarily closed their doors. This is the first time in most of our lifetimes that we find ourselves sharing such an uncertain time globally and it is the first time that the internet exists during a challenge of this scope. 
In support of small independent retailers all over the world, and in the hope that some of what I share with you with bring you a little bit of light during these challenging times, the first in this series for Galen is going to focus on some of the most beautiful, charming, unique, thoughtful, and curated sites and shops in London. I hope it starts a conversation in the comments about some of your favorites, too.
If you find it possible, offer support to these wonderful vendors who have given many of us so much happiness.
Herewith, in no particular order, I share the fine writing and stationery shops in London and around the UK with wishes that the owners, their teams and families are all healthy and safe, and that their doors may open again soon.
Green & Stone
Green & Stone has the distinction of being the longest running shops on the famous strip of King's Rd. When the current owner joined the shop as its Manager in 1972, the business already had 45 years of history behind it. Recently moved to Fulham Rd. in 2018 due to ongoing issues with the King's Rd. space, Green & Stone is considered one of the largest retailers of fine arts materials in Europe. Now a family business, run by a father and son team, Green & Stone has an air of old-fashioned service and quality. And by the owners own description, it's a place to "seek refuge, advice and a cup of tea". 
https://greenandstone.com/
Papersmiths
With five locations, the Papersmith flagship can be found in a four-story Georgian building in Clifton Village. Founders Sidonie Warren and Kyle Clark celebrate and inspire creative pursuits and also have a wonderful selection of goods that focus on emotional intelligence and philosophy.  Their offerings are focused, purposeful and well-designed. It is a cohesive selection that will appeal to all with an appreciation for thoughtful design. https://www.papersmiths.co.uk/
Montblanc Bond St.
The 1st Montblanc boutique in London was opened in 1992 and moved to its current location in 2014. This two-story Georgian Townhouse sits in the center of Mayfair's luxury shopping landscape and carries the full range of Montblanc's writing instruments, leather goods, stationery and watches. Designed as a new concept to roll out to Montblanc boutiques globally, this location offers a space for artistic engagement and celebrates the heritage of the brand while providing insight into the future of the Montblanc story. https://www.montblanc.com/en-shop/find-montblanc.html#
Choosing Keeping
21 Tower St. is now a special address in the stationery lover's address book. There is a magical quality that one encounters when entering Choosing Keeping. It is detailed and specific, curated to house the best that the world of writing and stationery offer without anything extraneous. It is both fiercely modern and reverentially traditional. With writing tools and paper from all over the globe and a beautiful line of eponymous products, it is a treasure chest for the most ardent of stationery lovers. http://choosingkeeping.com/
Present & Correct
https://www.presentandcorrect.com/
Started as a website in 2009, Present & Correct featured the brand's own designs, global loves and vintage items from their travels.  The graphic designer owners had a long-term obsession with stationery that quickly caught on with the sites many ardent followers. The brick and mortar location feels much like the site of its origin. It is a tribute to homework, the post office and school. It has the same, straightforward feel and mirrors the graphic aesthetic of its owners. With products from 18 countries, it is a global celebration of the world's best lines, still giving a nod to the past, with vintage ephemera and objects lovingly sprinkled in the mix. 
London Graphic Centre
https://www.londongraphics.co.uk/
If you should pop in for a chat to the Convent Garden flagship store that opened its doors in 1996, you will be welcomed to the brand that opened its doors in 1973 to sell tools to spark creativity.  Offering a full range of artist's supplies and stationery, it also has the largest selection in London of Freitag bags. Beloved by artists for being one of a kind and environmentally conscious, they are made from recycled truck tarpaulin and seatbelts. 
Pen Heaven
Started as a wholesale business, father and son, Keith and David Cole began offering personalized writing products in 2008. With an emphasis on quality, choice and value, you can find them online, but also schedule a visit to their offices in Central London.
Marby & Elm
Founder Eleanor Tattersfield opened her shop in Exmouth Market to produce stationery with contemporary designs and color that reveres traditional methodology. Her witty and graphic products are made using vintage type, hand-mixed ink and are hand-fed into her presses. The result is an eponymous line that is thoughtful, funny and pushes the envelope. Pun intended.
Smythson of Bond St.
The venerable Smythson of Bond St. opened its doors in 1887. This is a place where the ordinary becomes extraordinary. A true luxury, Smythson products are designed to celebrate the individual and offer versatility for its jet-setting clientele. With four Royal Warrants Smythson's range of leather goods and stationery has solidified itself as a British institution. And while some of what they make may seem out of reach for us commoners, their notebooks and writing paper are often within budget. Arriving in their signature blue box, any item from Smythson feels special and important. 
Stuart R. Stevenson
http://www.stuartstevenson.co.uk/
Now a family run affair on Clerkenwell Rd. Stuart R. Stevenson began his company as a supplier of gilding materials. After finding a derelict space in 1985, Mr. Stevenson spent years renovating it himself in order to open his business to the public. He did so in 1989, selling artists, gilding, and restoration supplies to reflect the needs of his regular, local clientele. The shop also offers a full range of stationery and has the seal of approval of a Royal Warrant.
Blade Rubber Craft
https://www.bladerubbercraft.co.uk/
The 1st stamp store in London, Blade Rubber Craft opened in Bloomsbury near the British Museum for businesses, designers and crafters. Offering a full range of stationery, wooden and self-inking stamps, the shop can also make self-inking stamps while you wait, by appointment.
Jespers of Harrowgate
https://www.jespersofharrogate.co.uk/
Originally founded in 1901 to sell commercial engraving products, this has the distinction of being the only shop on our list to have once made secret engraved control panels for radar systems that were not revealed until the world wars were over! In the 1960's and 70's the company began to focus on office supplies and stationery and after 118 years at the helm, the Jesper family stepped aside to allow the brand to continue in new owners' hands. 
Saker Stationery
http://www.sakerstationery.com/
With its bright purple storefront, Saker stands out in the Victorian seaside town of Clevedon, where it has been for more than 20 years. Serving up eclectic gifts and stationery from all over the globe, Saker aims to be unusual, fascinating and delightfully different.
Nook Shop London
Founders Gemma and Jack opened their store in North East London in 2012 to share their love for accessible items that are well-designed and built to last. And while their stationery items are noteworthy, it is worth more than a mention to take a look at the items for home, table, kitchen and self-care. It may make you want to redo your living space or move into Nook!
Scriptum
Opened in 2003, Scriptum moved a bit down the street in 2006 to its permanent home on 600 year-old Turl St. Inspired by a stationery emporium in Florence, Scriptum carries mostly lines from Great Britain and Italy in an attempt to emphasize old-fashioned values of craftsmanship and attention to detail continuing to have a place in the 21st century. Carrying fine stationery and an elegant selection of related items, the shop also has a full range of Folio Society Books.
Quill
Opened in 2012 on the border of Islington and Clerkenwell, Quill offers a whole lot of style and a little bit of indulgence. Moved by the surge of modern calligraphy the owner discovered in the US, she brought it back to her London brick and mortar and offered the first modern calligraphy workshop and continues to hold classes for students of this practice today. Offering bespoke notecards and calligraphy, the store is also a haven of supplies for the calligraphy enthusiast.
Pen Box The Pen Shop
https://www.penbox.co.uk/pen.shop.htm
In 1998 this Lancaster shop opened specializing in prestige writing instruments. Both vintage and collectible pens can be found here.
Mount Street Printers
https://www.mountstreetprinters.com/
While they don't have a brick and mortar location, you will still want to take a peek at Mount Street Printers. Purveyors of luxury personalized stationery, you can use the handy configurator tool found on their site to make the stationery of your dreams. You just have to put your creation in the cart to let Mount Street Printers make it all come true!
Signatures
http://www.signaturesofyork.co.uk/
Signatures of York has been the city's purveyor of fine writing instruments since 1993 offering a wide range of all of the world's most important brands for pen enthusiasts.
Nappa Dori
https://www.nappadori.com/stores
Nappa Dori is a tribute to quintessential India sensibilities blended with contemporary interpretations, design, materials and craftsmanship. Founded in Dehli in 2010 as the creative studio of Gautum Sinha, Nappa Dori literally means leather and thread. Amongst the London flagship's gorgeous array of leather and travel goods you can find some of the most interesting notebooks and paper goods in the city.
Artcadia
https://www.artcadia.co.uk/about
Vici Blenkharn's letterpress studio began in a garden shed in 20009 in Shrewsbury.
In 2018 she opened her current studio and shop where she continues to share the resurgence of letterpress printing in the UK. Her black and white cards are an exemplary example of this historic craft and her beautiful design sensibility.
The Writing Desk
https://www.thewritingdesk.co.uk/
Family run by Anna and Martin Roberts since 2000, this specialty retail shop opened in 2017 to share the couples' lifetime passion for pens.  As authorized dealers for 51 brands, the team at The Writing Box is as knowledgeable as they are thorough.  They check and tune all nibs at the time of purchase.
Andy's Pens
A twenty-year interest in fountain pen restoration led Andy to open his shop in Haverford. Once a business solely for vintage pens, Andy's now carries modern pens to round out his line-up with a large assortment of pens in every price range and material.
Bartrum's and Co. Ltd.
Found on the border of Wales and England, this two-story shop sits in the heart of Hay-On-Wye. It's wooden exterior gives way to an interior that even smells like an old stationer. Step down into the bottom floor and you will find a Pen Emporium with all of the writing instruments housed like treasures in Edwardian cabinets.
Wheeler's
https://www.wheelersluxurygifts.com/
Wheeler's of Loughborough is the 7,000 square ft. brick and mortar of Bruce Wheeler, a former Sears exec. who brought his retail chops together with his love of pens and gifts. With in-house engraving on the premisis, this is a one-stop shop for luxury gifts and fine writing instruments.
Meticulous Ink
Athena Cauley-Yu opened her bespoke letterpress and fine stationery shop in Bath, where she prints her wares on two Heidelberg Windmill Presses and offers workshops to eager learners. She offers a space that is calm and friendly; feel free to ask her team their favorite Pantone color, cardstock or typeface!
Pens Plus
Under new ownership sine 2019, Pens Plus in Oxford has been a mainstay in the university's town since the 1960's. An authorized Montblanc dealer, the shop also offers a variety of pens and price ranges, hoping to be a part of students' lives and their business lives as the years go on. They also offer repair service on any pen, whether purchased at their shop or elsewhere.
The Pen Shop
Since 1858, The Pen Shop has specialized in writing instruments.
Under the direction of the Allan family for 150 years, it was sold to the McClymont family who have been its steward for more than 30 years. Considered the first fine writing instrument specialist in 1946, by 1988, it was also considered the largest writing specialists store in Europe. With four locations, The Pen Shop is certain to be on your path when visiting the UK.
L. Cornelissen & Sons
While not a fine writing instrument or stationery store, no trip to London is complete for the lover of artist's tools without a stop at L. Cornelissen. Here you will find calligraphy supplies, a beautiful selection of paper and all of the tools to make your own paints: pigments, binders, etc. For those not keen on DIY, they offer an incredible range of materials that have already been made by the world's finest manufacturers. With truly exceptional client service, this is a true gem in the city.
---
Leave a comment
Comments will be approved before showing up.
---
Also in Blog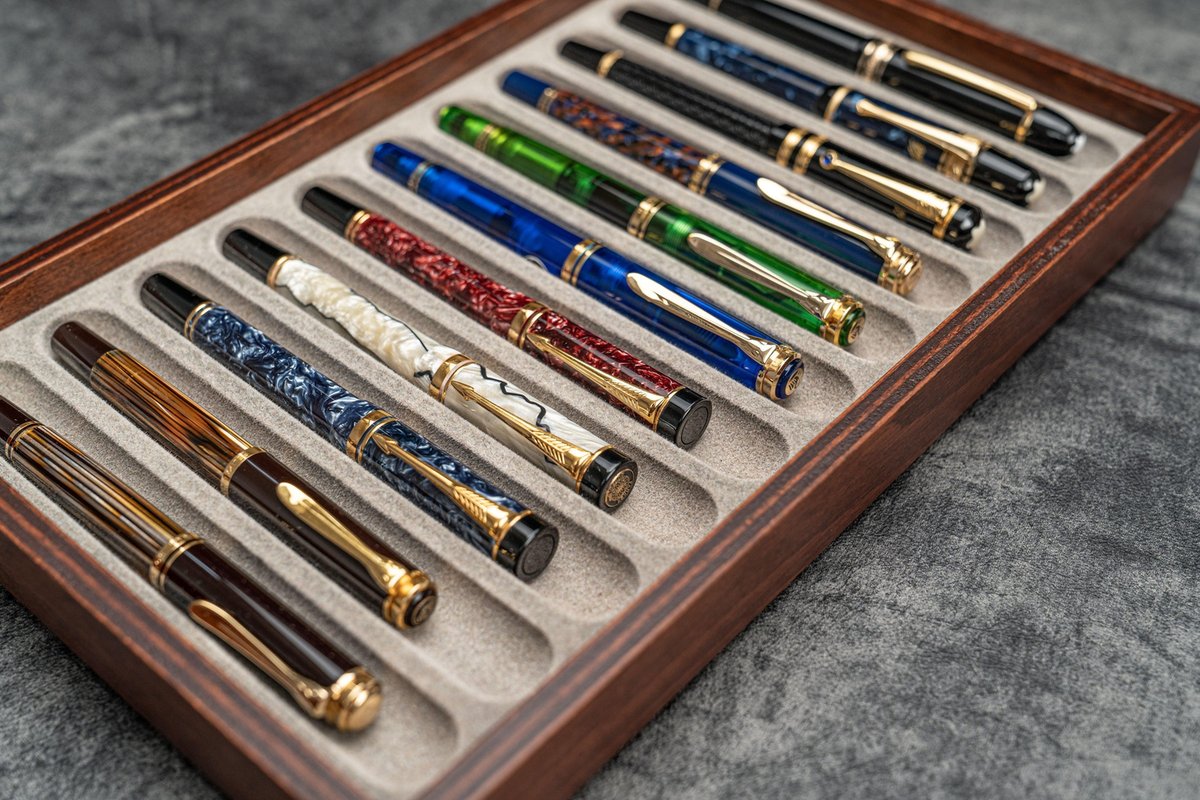 It's a specialty of our company and one of our most important signatures to make beautiful leather and wooden cases for all your needs.
In fact, we have nearly twenty ways for you to make sure your pen is carefully carried and stored for every personality and style.
Here are the 6 best Japanese Notebooks I gave a whirl that gave me hope for a happy future for myself and my pens.
Have you been on the hunt for the perfect fountain pen paper? 
As I have become more and more enamored with the art of the analog, I have found myself in search of the perfect blank page, and for me the answer to that search is 
Tomoe River paper
.