Choosing the Best Traveler's Notebook Size for Your Endeavors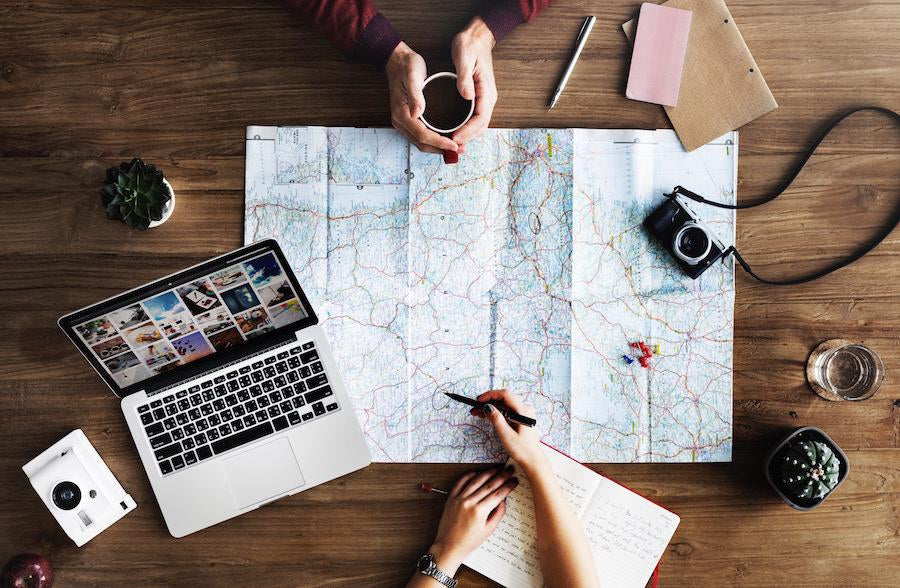 To some, a traveler's notebook is just a notebook. But to you, it's more than just a notebook. It's where you keep your treasured memories detailing the ups and downs of life on the road. It's your safe space for expressing your thoughts and feelings without fear of judgement. It's a means for discovering and understanding your intricate inner world while you're exploring your expansive outer world. It's your solace in the lonely moments that come with the downtimes of travel, a way to keep the boredom at bay during the long waiting times at airports, and a means to share your experiences with your future self when no one else is around to share them with.
Despite living in a digital age, the most creative and adventurous people prefer a pen and paper. The small screen on a smartphone or tablet simply don't do justice for your vast imagination, and the last thing you need is your tech gadgets to run out of battery at the peak of your creativity and adventure.
So, for the true travel enthusiast, a refillable leather journal in the form of a traveler's notebook is as essential to your experience as is your suitcase. Your traveler's notebook is almost a part of you.
For others, they are happy list taking, or simply collecting little momentos from the road. In this case, you want something to store these things in. Or maybe you're an artist who loves to sketch your ideas on paper.
Considering there's no real 'right or wrong way' to record your travel memories, the underlying similarity is you want to keep them safe and protected from being damaged while on the road. You also want a something that will fit your needs, that is, its size and features. So we've dug deep to explore the various traveler's notebook sizes to see what each can do for your future travel endeavors and to help you choose the best traveler's notebook for your needs.
For The Travel-Obsessed
You're the type of person who has a passport full of all kinds of stamps from different places across the globe. There's no adventure you're not willing to partake on and you're always the first one to explore off the beaten path. For you, the best traveler's notebook sizes are ones that fit your passport and important documents.
Our luxury leather passport notebook fits a standard issued passport or Midori passport insert, and can also be used for any insert that fits 5" x 3 ½". This allows you to keep all your travel documents in one place, so you travel with ease and peace of mind.  
For The Note-Taker
As a regular traveler, your idea of a good time is any time you get to unplug. You're more of a note taker than you are a Candy Crush player. You like to escape and explore the outdoors, sans text messages, social media notifications and phone calls. However, you also like to jot down some notes while exploring the earth. 
Our luxury leather pocket traveler's notebook size is perfect for the note-taker. If you've been looking for a field notes leather cover, this is for you! It's the perfect size for 3-4 Field Notes, Moleskine Pocket notebook inserts or anything with a size of 5 ½" x 3 ½". This notebook size allows you to take some notes whenever and wherever your traveling takes you. There's no need for electricity or a charge, and it keeps everything you need all in one place!
For The List-Maker
Every traveler knows the importance of a good list. You make a list of things you buy before you take off, things you pack, things that can't go on your carry-on, things to do, places to see and the list goes on. Pardon the pun. Without your lists, you'd be lost. They keep you organized and prepared for your future travels.
Our regular personalized traveler's notebook is perfect for you. It's 4.5" wide, designed to give you enough room to make your lists without taking up valuable suitcase space. This size can fit any 1-5 Midori standard regular notebook inserts.  
For The Blogger
As a blogger, pen and paper are your lifelines like a smartphone is to a millennial. You're constantly coming up with all kinds of new ideas, many of which happen at the weirdest, most unpredictable times. In a rainforest? Idea! Trekking bare foot in a desert? Idea! Your mind is always running and your travels spark so many ideas, you'd forget half of them by the time you returned back to your hometown.
Our A5 luxury leather traveler's notebook sizes are ideal for you, as they fit any insert at size 8.27" x 5.83" including our Leuchtturm1917 notebooks and Rhodia notebook. The elastic closure also keeps your masterpieces safe throughout your travel.  
For The Doodler
Forget the fidget spinner! You'll likely lose it during your travels anyway. What you really need is our large luxury leather traveler's notebook size. These fit 1-6 Moleskine Cahier notebooks or any size at 8.25" x 5", giving you all the room you need to keep yourself entertained wherever you are.  
For The Artist
For the artist seeking inspiration amongst their travels, an extra-large traveler's notebook is the size you need. Our luxury leather bullet journal fits 1-3 Moleskine Cahier notebooks or any size at 7.87" x 10.31". This bullet journal size is ideal for artists as it allows you to accurately transfer your travel experiences onto paper, so you can treasure the details of your days for years to come.   
Traveler's Notebook Sizes
You never have to worry about your traveler's notebook running out of battery when you have a spark of creativity.  So, what traveler's notebook sizes are you going to bring on your next adventure?
PASSPORT: Fits standard issued passport, Midori passport insert or any insert at size 5" x 3 ½"
POCKET: Fits (3-4) Field Notes, Moleskine Pocket notebook insert or any insert at size 5 ½" x 3 ½"
REGULAR: Fits (1-5) Midori Standard Regular 4.5" wide notebook insert
A5: Fits 1-4 any insert at size 8.27" x 5.83", including Leuchtturm1917 notebooks and Rhodia notebook
LARGE: Fits (1-6) Moleskine cahier Large notebooks, Moleskine large notebooks or any size at 8.25" x 5"
EXTRA LARGE: Fits (1-3) Moleskine Extra-large Cahier Notebooks, composition notebook 
Shop Galen Leather luxury notebook cover sizes today and complete your travel accessories. You also have the option of customizing with embossed initials and adding on a unique travel charm for more personal flair.
---
Leave a comment
Comments will be approved before showing up.
---
Also in Blog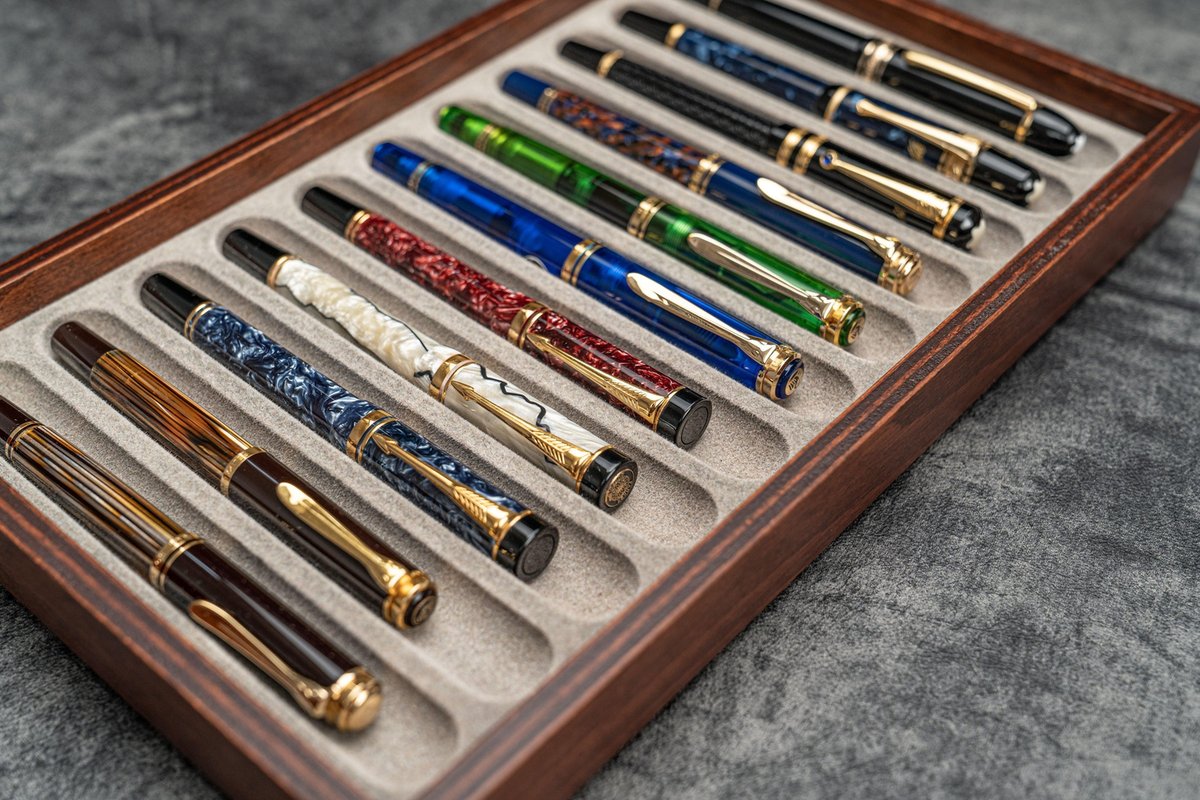 It's a specialty of our company and one of our most important signatures to make beautiful leather and wooden cases for all your needs.
In fact, we have nearly twenty ways for you to make sure your pen is carefully carried and stored for every personality and style.
Here are the 6 best Japanese Notebooks I gave a whirl that gave me hope for a happy future for myself and my pens.
Have you been on the hunt for the perfect fountain pen paper? 
As I have become more and more enamored with the art of the analog, I have found myself in search of the perfect blank page, and for me the answer to that search is 
Tomoe River paper
.