Why You Should Recycle or Donate Books You Aren't Using
For many people, books are a mainstay around the home or office.
Books are more than just something to read and to pass the time with. They are also a fine way to adorn shelves and desks, and a little bit of character to any room.
However, sometimes they can pile up and start collecting dust without us realizing it. Many people don't notice they have an overabundance of books until they have trouble finding the ones they want to read.
Don't trash them. A surplus of books could be a perfect fit for someone else's bookshelf, or they could even be recycled to create books and other products later on. Here are some reasons you should donate books or recycle them as well as some tips on doing it.
Why You Should Donate Books You Don't Need Anymore
In previous years, the act of giving has increased. Beyond just giving to charity and exchanging gifts, many people donate the items no longer needed to facilities who can put them to better use.
Books are a prime candidate for donation for a few reasons, including:
Spreading knowledge: Throughout history, people have tried to preserve books, manuscripts, and other writings even in the face of disasters. These acts show how important it is to keep books in circulation for as long as they're legible and holding together.
Preserving history: Books don't have to be about historical events specifically to be a part of it. Every book is the product of an author's hard work and imagination, plus a glimpse into the period and publishing style of the time. Passing them along to someone who can use them means you're doing your part to preserve this snippet of time and all it holds.
Giving a fine gift: Of all the gifts to give someone, books have to rank near the top of the list. Not only do they spur the imagination, but they're educational. They also have reusability, arguably more so than movies, as people can come back to them and enjoy the experience again after time has passed.
While choosing to donate books is a smart decision for various reasons, many people have questions about where and how to donate books.
Donate to Top Book Distributors
If you're looking for a place to donate books that are still in good condition, Reading Tree has plenty of locations around the world and often ships them to libraries in need. Books for Soldiers can ship them so members of the armed forces have reading materials. 
Organizations like Books for Africa focus on increasing book distribution in specific areas, while Books Through Bars focuses on sending them to correctional facilities. For a more general option, choose Better World Books, which distributes them to marketplaces based on location and need.
Give Books to Goodwill Stores
A lot of stores, such as Goodwill, thrive off charity donations as their primary source of inventory. Books are a common sight at these locations, as many people find them cluttering up their homes and want them to find a new owner. Even if a store is focused solely on another type of merchandise, like clothing, it may work in a network with other stores it can pass the books along to.
Schools and Universities
The final spot to donate books is an easy choice. Schools of all grade levels and universities will almost always gladly accept these gifts. The subject matter and intended audience will impact whether a specific book should be donated, but any educational institution will likely be open to receiving books.
How to Recycle Books in Bad Condition
While donating should always be the first option, book recycling is an option if the book is not in good condition.
A little wear, like tear around the edges or even a tiny rip here or there, is acceptable. However, books that are missing pages or covers, or books that have faded to the point some words are illegible may be better off being recycled.
With over 67 million tons of material being recycled regularly, and paper and paperboard accounting for about two-thirds of it, books are ideal items to be reprocessed.
To recycle books, contact your local recycling facility or garbage disposal company. They can provide some insight into how much you can donate and whether there's a cost or reward available.
Getting Books Ready for Recycling
There are a few things you'll need to check on before getting your books ready for recycling. Some facilities will require you to remove the spines and hardcovers, mainly because of the stiff material and the adhesives that hold them together.
For single-stream recycling, where only a single type of material is processed at once, you may also need to pull out the staples so the metal doesn't end up mixed in with the paper. Some facilities won't accept wet or stained paper, so this may simply need to be thrown out.
Book Lovers Should Invest in Modern Writing Products
Donating and recycling books is a great way to replenish your inventory and make room for new reading material. If you love reading, you may love writing as well. We've got plenty of products any creative mind should consider.
Get your leather journal, zipped portfolios, and other creative writing tools from Galen Leather – contact us today to see what we can offer you.
---
1 Response
Leave a comment
Comments will be approved before showing up.
---
Also in Blog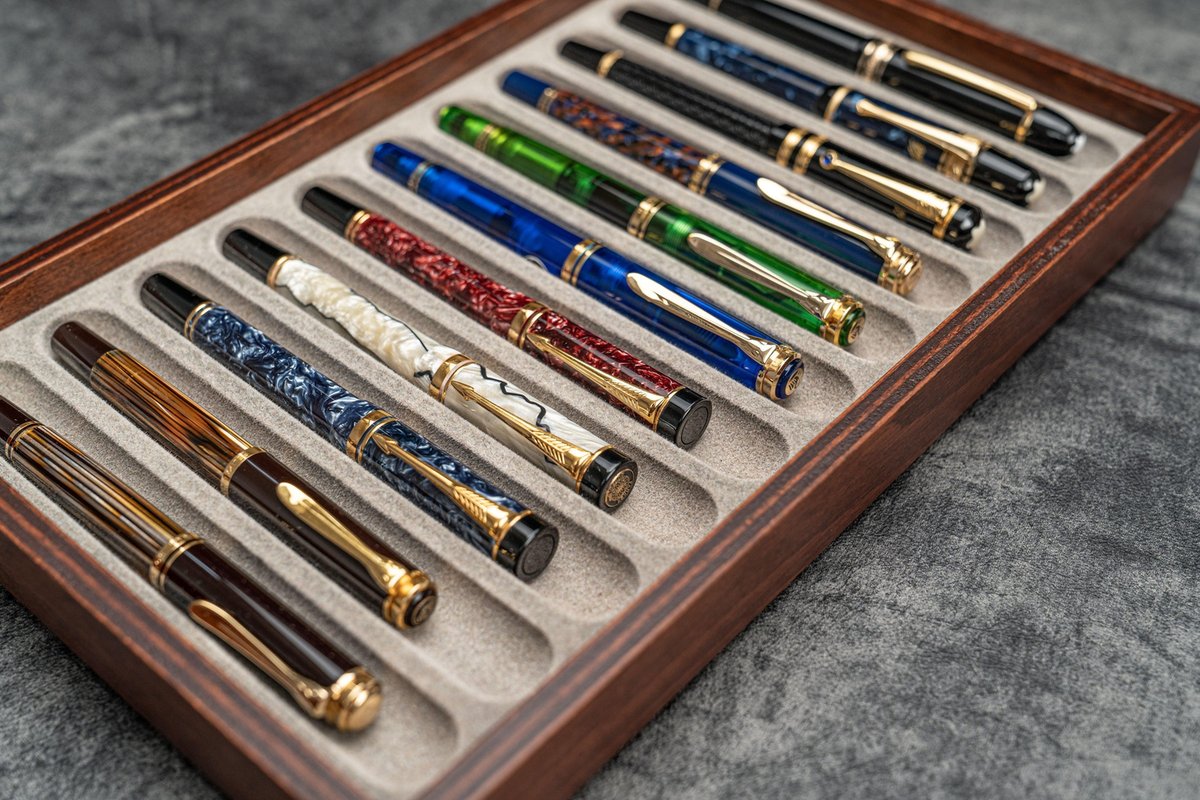 It's a specialty of our company and one of our most important signatures to make beautiful leather and wooden cases for all your needs.
In fact, we have nearly twenty ways for you to make sure your pen is carefully carried and stored for every personality and style.
Here are the 6 best Japanese Notebooks I gave a whirl that gave me hope for a happy future for myself and my pens.
Have you been on the hunt for the perfect fountain pen paper? 
As I have become more and more enamored with the art of the analog, I have found myself in search of the perfect blank page, and for me the answer to that search is 
Tomoe River paper
.