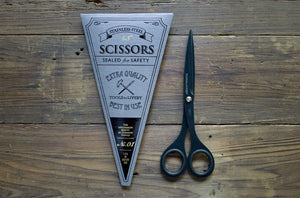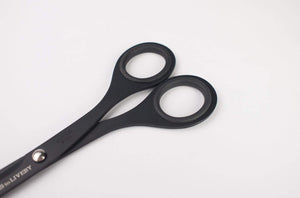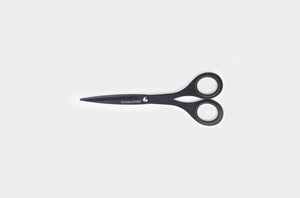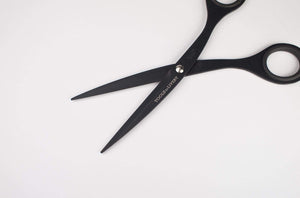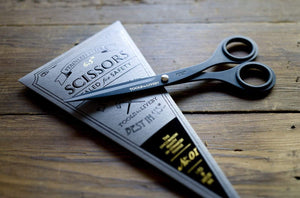 Tools to Liveby Black Scissors 6.5"
The Tools To Liveby 6.5" Black Scissors are an eye-catching accessory for your desk. Their classic design is timeless and they are made from Japanese stainless steel with a comfortable rubber handle. Each pair is etched with a branded logo and comes in a hot foiled protective sleeve. The matte black style has Teflon coating on it to prevent glue from sticking to it. Available in black and gold.
Length: 6.5" / 16.5cm
Tools to Liveby is a stationary & lifestyle store founded by Karen Yang in Taiwan. It's committed to satisfy the functional and aesthetical needs for people who have a strong passion for stationary. Tools To Liveby feels  like a warm homecoming for the pen, pencil and paper obsessed. The company searches far and wide around the globe for the finest writing instruments. Their range currently consists of scissors, brass paper clips and more stylish writing materials. Tools to Liveby is most well-known for their famous scissors and pen clips.
1st order
I can't say enough good about my experience ordering from Galen, the tools to live by scissors and protractor are a welcome addition to my desk, and of the best quality. More important however is the total service package that you get by buying from Galen. I've already made my second order, and I'm looking forward to my third when the color I want of the Medics Writers Bag becomes available.
Love my scissors and all the goodies I got
I have very recently received the scissors, the French curve combination tool, the brass ruler, a writing instrument organizer, and two stackable washer tape dispensers. I love all of them! The order came with a nice note and a few little gifts and the packaging was wonderful. I have gotten other products from this company and they are all long lasting and beautiful.
Best scissors
These are a pleasure to use and to look at. Very nice black finish steel.
I'm a scissors junkie - these hit the spot!
I'm still not sure if I'll keep these as general scissors (allowed to cut paper) or specialist (fabric only) and buy a second pair for general use.
They're the perfect blend of small and medium. Easy on the hand with lovely long cutting length.
Writing this has helped make up my mind. I'll buy a second pair!
Classy and vintage
This is a beautiful pair of scissors, brass and vintage looking with amazing detailing. It sits well alongside all the other Galen brass tools.
Absolutely love it💛💛
Great scissors
Not for lefthanded people altough. Gave it to a righthanded.
Exquisite item!
Very cute and practical! As we have already become accustomed to, the quality is flawless!
Great looking scissors
Hard to find these scissors in stock in the UK , so went for it here. Great quality and nice add on to order.
This scissor is awesome
This black scissor comes in two colors, one in black and one in clean brass color afaik and two sizes i.e. 6.5 inch and 8 inch . this is smaller one . I use it as carrying along with my pen case . It fits perfectly and looks good
Most of the items are handmade to order and usually take a minimum of 1-2 weeks to dispatch. Out of stock items mean, not in the production cycle and generally re-stocking in a few weeks. You can subscribe to the in-stock notification on the product page. Good things take time. We appreciate your patience!
Shipping
We ship worldwide. All items are sent via our shipping partners UPS/Fedex. Your items may need to be signed for upon receipt.

Due to security reasons, we cannot ship to PO boxes.

Some items are ready for shipment in our workshop, located in Istanbul. In stock items dispatch within 6-7 working days after payment has cleared using our shipping partners, UPS & FedEx. If the item is not in stock, then we will need to make your order.

Deliveries to USA addresses will take 3-4 days. For the UK and Europe, 2-3 days. To Australia, 6-7 days. For the rest of the world, expect a maximum of 7 working days. Plus production times.

Buyers are responsible for customs duties. There are no additional taxes for goods being delivered to the USA.

European Union : New rules after 1 July 2021; we charged VAT for orders up to 150€. It means no hidden or extra customs fees during the delivery. Orders more than 150€ subject to customs same as before.
UK : Orders are subject to VAT. Around %20 percent. + courier fees.
Brazil: Due to high taxes, we suggest to use a redirecting service like Regarding redirecting services, I've been using fishisfast.com

Most countries, except the USA, are subject to VAT (value added tax) and customs duties. These are the responsibility of the recipient. Since rates vary by country and by what was ordered.

Shipping fees are automatically calculated during the checkout process. See your checkout for shipping options. As an example, a small journal's shipping fee starts at US$9.80.
HS Tariff Code for Leather Goods 420221 (You can check your country import regulations with this code)
Returns - Cancellations
Items (except personalized items) can be returned for a full refund within 7 days of receipt. Buyer is responsible for the Shipping costs. Please feel free to ask any questions you might have before placing an order.
Due to all items are made to order, after receiving your order, we immideatly start to make your items. We don't accept cancellations/changes after orders placed.
Embossed Monogram
Products suitable for personalization, are shown on the product pages.It is and additional option.

Currently, we can't customize the wooden items.

If you want a monogram option on your item please select it from choose box at the right side of the page.
The Monogram default position will be on the front right bottom corner. Up to 3 characters.
Up to 3 characters you can personalize your item with ; A....Z Capital letters 0....9 numbers . , & ! # - _ @ / : * punctuation.
Font and height, the default for this listing is Times New Roman, 1 cm high, same as the lead picture.
SEEN ON INSTAGRAM