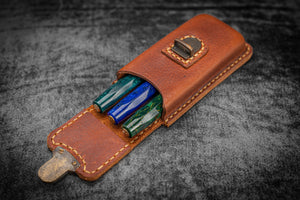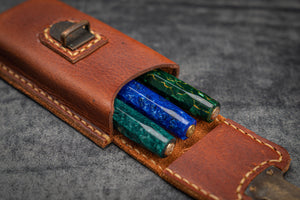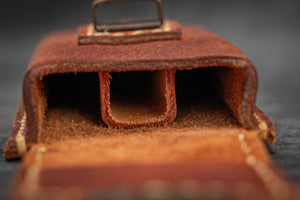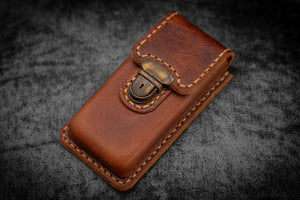 The Old School - Leather Molded Pen Case for 3 Pocket Pens - Distressed Leather
**This pen case designed for pocket-sized pens.
A stylish pen case with 3 molded pockets for each pen and featuring a vintage, old school brass closure. Made by Turkish artisan Vav Leather.
100% HANDMADE IN TURKEY
PRODUCT:
Handmade Leather Wet Mold Pen Case For 3 Pocket Pens With Old School Closure
COLOR/FINISH:
Brown  Distressed
Distressed brown color showing a lot of different brown under-tones including tan, mocha, and hickory. Ages and softens quicker compared to regular leather. Suede feeling finish.
SIZE:
Will fit pens up to about 10 cm long and 1.5 cm in barrel diameter
Tested with these Fountain pens:
Kaweco Sport - Classic AL Art etc..

Schondsgn Pocket 6
FEATURES:
3 pen slots
Full-grain leather
Brass closure

MATERIALS:
100% vegetable tanned cow leather
Hand-stitched using

 

waxed polyamide thread

The edges are beveled, waxed, and burnished for a finished look
DESCRIPTION:
Our Vintage Leather 3 Pen Pocket Case will keep your precious pens from getting scratched, ruined, or from leaking in your bag or jacket pocket. Suitable for most Fountain pens and other type of pens.
*Accessories are not included
Reviews On YouTube
Simply Amazing EDC
This leather pouch / holder is the perfect match for my 3 Kaweco pencils. High quality craftsmanship has gone into the creation of this pouch. Loved it so much I ordered more to give to my friends :)
Everything and then some
The leather is magnificent, of course, and...... well it is simply perfect for pocket pens. it is especially good for the ones that maybe have seen a little too much pocket time and could use a little pampering. The size is spot on, and the pens are easy to get in and out.
Perfect for EDC beautiful and functional craftmanship
This case is just perfect for my Kaweco sport fountain pens. The craftsmanship is beyond wonderful, stitching is perfect and I know its going to be a lifetime artifact on my desk and when I carry it in my journaling bag or purse. The item arrived less than two weeks after order. I love the clasp and the design of this pen case.
Great_cute_small Old School pencase 🙂
Absolute satisfaction, fast delivery, nice work. I recommend and would like to buy some more from this store.
Old School Three Pocket Mini Pen Case
This is a great case for pocket fountain pens. It is beautifully made and has a wonderful vintage style about it. It fits pens like the Kaweco Sport perfectly, even with their clips on. The only thing to note is that the leather is quite flexible. The case will protect your pens from scuffs and scratches, but probably not from too much bending or crushing. If the main body of the case was made of stiff leather, it would be absolutely perfect. All in all, I'm very happy with this product which looks and feels like will last me a lifetime.
Just perfect
This little case is just perfect for three Kaweco Sport pens, even with clips on. I love the clasp and the rugged/cool look. The craftsmanship and quality are top notch and the service was exceptional. This will not be my last purchase from Galen Leather!
Bought this for my Kaweco Sport fountain pen, ballpoint pen and pencil... absolutely fabulous case and great service.
Old school pen case
I like this pen case very much! The is high quality, and the pen case looks nice. The customer service was perfect. I had a question, wrote an e-mail, and got a an answer in half an hour.
I´m sure that this pen case was not the last item I bought at Galen Leather.
D. Engel-Stamhuis
Very Good
Fantastic Quality, aged feel from New, perfectly shaped for the pens it has been designed for. Quality item.
This is what I wanted.
This Old school pen case for 3 pocket pens is perfect for sailor pro gear mini and slim mini. Beautiful and gorgeous. I absolutely love it.
Most of the items are handmade to order and usually take a minimum of 1-2 weeks to dispatch. Out of stock items mean, not in the production cycle and generally re-stocking in a few weeks. You can subscribe to the in-stock notification on the product page. Good things take time. We appreciate your patience!
Shipping
We ship worldwide. All items are sent via our shipping partners UPS/Fedex. Your items may need to be signed for upon receipt.

Due to security reasons, we cannot ship to PO boxes.

Some items are ready for shipment in our workshop, located in Istanbul. In stock items dispatch within 6-7 working days after payment has cleared using our shipping partners, UPS & FedEx. If the item is not in stock, then we will need to make your order.

Deliveries to USA addresses will take 3-4 days. For the UK and Europe, 2-3 days. To Australia, 6-7 days. For the rest of the world, expect a maximum of 7 working days. Plus production times.

Buyers are responsible for customs duties. There are no additional taxes for goods being delivered to the USA.

European Union : New rules after 1 July 2021; we charged VAT for orders up to 150€. It means no hidden or extra customs fees during the delivery. Orders more than 150€ subject to customs same as before.
UK : Orders are subject to VAT. Around %20 percent. + courier fees.
Brazil: Due to high taxes, we suggest to use a redirecting service like Regarding redirecting services, I've been using fishisfast.com

Most countries, except the USA, are subject to VAT (value added tax) and customs duties. These are the responsibility of the recipient. Since rates vary by country and by what was ordered.

Shipping fees are automatically calculated during the checkout process. See your checkout for shipping options. As an example, a small journal's shipping fee starts at US$9.80.
HS Tariff Code for Leather Goods 420221 (You can check your country import regulations with this code)
Returns - Cancellations
Items (except personalized items) can be returned for a full refund within 7 days of receipt. Buyer is responsible for the Shipping costs. Please feel free to ask any questions you might have before placing an order.
Due to all items are made to order, after receiving your order, we immideatly start to make your items. We don't accept cancellations/changes after orders placed.
Embossed Monogram
Products suitable for personalization, are shown on the product pages.It is and additional option.

Currently, we can't customize the wooden items.

If you want a monogram option on your item please select it from choose box at the right side of the page.
The Monogram default position will be on the front right bottom corner. Up to 3 characters.
Up to 3 characters you can personalize your item with ; A....Z Capital letters 0....9 numbers . , & ! # - _ @ / : * punctuation.
Font and height, the default for this listing is Times New Roman, 1 cm high, same as the lead picture.
SEEN ON INSTAGRAM