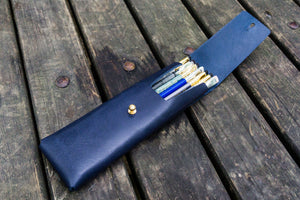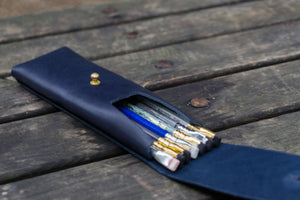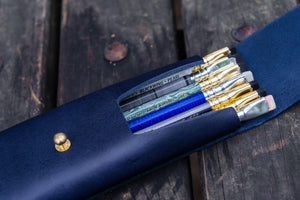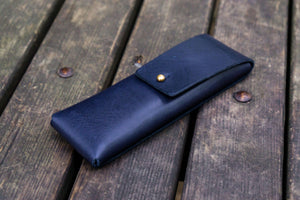 The Charcoal Leather Pencil Case for Blackwing Pencils - Navy Blue
Leather Charcoal pencil case ideal to store pens and pencils, small tools or art supplies. A piece of leather wraps around the pen fluffy, it is a basic and useful Design pen case.
Features
Great to store pencils, pens, small tools, art supplies
Enough length to keep the long pencils with the cap, like Blackwing
Full grain leather vegetable tanned leather
Brass Hardware

Unlined interior
Dimensions
220 x 70 x 20 mm 8.4 x 3 x 0.8 inches
Perfect !
Well made Roomy Pencil Case in Gorgeous Forest Green. Just the right size. Fits plenty of pencils and small ruler too.
Perfect pencil solution
This is my second pencil case. This first is dedicated to my technical drafting kit (2mm lead and smaller). This one is for clutch type sketching pencils ( 5 Koh-I-Noor 5.6mm leads). Just grab this pencil case, a large sketch book and I am good to go! These cases are beautiful and the perfect size. Thank you Galen Leather!
Drafting and Art Pencil Organization
Perfect pencil holder for 2mm drafting clutch pencils. Will also fit 4 Koh-I-Noor 5.6mm art pencils.
Excellent quality
This is my second purchase from Galen and they continue to produce such high end quality covers for all types of calendars and journals. Keep up the great work and I can't wait to see the pen case strap to the cover!
Leather Pencil Case
Excellent!! As Always. Another Order coming soon!
My favorites when ordering from Galen Leather, the stamps, the card with the quotes on the back from Rumi. It's the little things that make it exciting every time I receive an order.
Best Christmas gift
I bought this for my husband, he was elated when he saw it. It looks way better in person. Great quality! Satisfied customer.
Thank you!
Perfect for the blackwing lover in your life
My family and friends know me too well. Need a gift? Galen. What do you want for your birthday? Galen. Hahaha
It took them a while to get the hint but after me sending the content of the store (almost) in messages or simply leaving the computer open on the website everyone got the hint.
This is the Perfect way to get my black wings around in my tote without worrying about my beautifully sharpened tips bluntening or breaking! I'm in love!
Great!
I ordered one case in black, another in brown. Both are elegant and stunning. I was worried that the cases would only work while the pencils still had length or were unsharpened, and that as they became shorter would get lost at the bottom, but no, shorter pencils emerge easily with a slight tilt of the case. These cases are PERFECT for Blackwings.
Great pencil case for your blackwings
Blackwing pencils are longer than normal pencils; this poses a problem since it is difficult to carry your pencils in your bag with safety.
This pencil case is incredible. It fits perfectly the long blackwings, and it is extremely well-made and of high quality. The buying process was extremely easy, and my case arrived on time despite some delays not related to Galen Leather.
Beautiful, high quality product- thank you. My boyfriend loves it.
Most of the items are handmade to order and usually take a minimum of 1-2 weeks to dispatch. Out of stock items mean, not in the production cycle and generally re-stocking in a few weeks. You can subscribe to the in-stock notification on the product page. Good things take time. We appreciate your patience!
Shipping
We ship worldwide. All items are sent via our shipping partners UPS/Fedex. Your items may need to be signed for upon receipt.

Due to security reasons, we cannot ship to PO boxes.

Some items are ready for shipment in our workshop, located in Istanbul. In stock items dispatch within 6-7 working days after payment has cleared using our shipping partners, UPS & FedEx. If the item is not in stock, then we will need to make your order.

Deliveries to USA addresses will take 3-4 days. For the UK and Europe, 2-3 days. To Australia, 6-7 days. For the rest of the world, expect a maximum of 7 working days. Plus production times.

Buyers are responsible for customs duties. There are no additional taxes for goods being delivered to the USA.

European Union : New rules after 1 July 2021; we charged VAT for orders up to 150€. It means no hidden or extra customs fees during the delivery. Orders more than 150€ subject to customs same as before.
UK : Orders are subject to VAT. Around %20 percent. + courier fees.
Brazil: Due to high taxes, we suggest to use a redirecting service like Regarding redirecting services, I've been using fishisfast.com

Most countries, except the USA, are subject to VAT (value added tax) and customs duties. These are the responsibility of the recipient. Since rates vary by country and by what was ordered.

Shipping fees are automatically calculated during the checkout process. See your checkout for shipping options. As an example, a small journal's shipping fee starts at US$9.80.
HS Tariff Code for Leather Goods 420221 (You can check your country import regulations with this code)
Returns - Cancellations
Items (except personalized items) can be returned for a full refund within 7 days of receipt. Buyer is responsible for the Shipping costs. Please feel free to ask any questions you might have before placing an order.
Due to all items are made to order, after receiving your order, we immideatly start to make your items. We don't accept cancellations/changes after orders placed.
Embossed Monogram
Products suitable for personalization, are shown on the product pages.It is and additional option.

Currently, we can't customize the wooden items.

If you want a monogram option on your item please select it from choose box at the right side of the page.
The Monogram default position will be on the front right bottom corner. Up to 3 characters.
Up to 3 characters you can personalize your item with ; A....Z Capital letters 0....9 numbers . , & ! # - _ @ / : * punctuation.
Font and height, the default for this listing is Times New Roman, 1 cm high, same as the lead picture.
SEEN ON INSTAGRAM