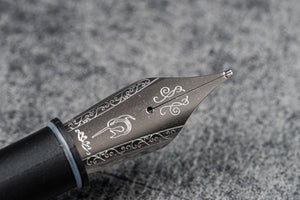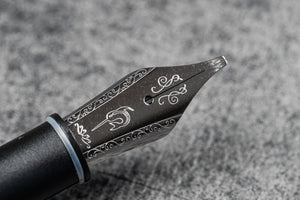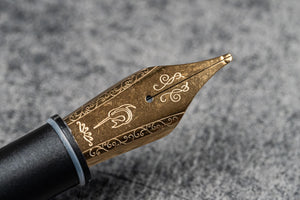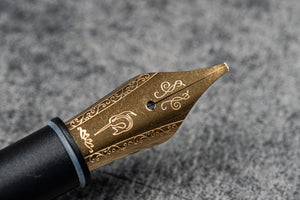 Replacement Narwhal Nib Unit - Size #6
Size #6 Narwhal Fountain Pen Nib Units. Upgrade your Narwhal fountain pen, with replacement nibs. These nibs are screwed, you can easily swap them.
Broad and Stub nib units for Narwhal
I was looking for these and couldn't find many sources, but Galen Leather had them so I stocked up. Narhwal pens seem to have limited types of nib options when selling, so these came by very reassuringly. Thank you for providing amazing service for order processing and the great replacement units.
Excellent
Brought my old Narwhal back to life, and writes perfectly out of the packaging after a little wash with soapy water. Great width and character, and a very nice, smooth stub.
Does the job
I bought this as a replacement for a medium size nib I had on the Nautilus Bronze Corydoras which unfortunately had problems out of the box. It helped quite a lot that this was the only place where I could find one! This nib is much better (it works!) and the broad size is much more to my liking. Nautilus nibs are a bit of hit or miss. This one was a hit.
Great Nib
outstanding service and great nib, casing cracked during transportation and Galen offered a replacement
Broad nib for Narwhal
I was looking to change out the stub nib of my Narwhal Schuykill with a broad nib. It seemed silly to order it from Turkey but Galen was the only place I could find with the nibs in stock. It came promptly, all things considered given the distance, and the nib itself glides like butter over my Clairefontaine notepads. And then, of course, after finding Galen I had to order a pen case…
Spectacular customer service!
I ordered a couple of replacement nibs for one of my fountain pens from Galen Leather, but didn't realize at the time that the company was in Turkey. Once I realized this, I figured that it would be a while before they arrived. Much to my surprise and delight the order arrived in less time than it has taken for me to receive things I've ordered from my own country! I already look forward to my next opportunity to order something from Galen Leather!
Most of the items are handmade to order and usually take a minimum of 1-2 weeks to dispatch. Out of stock items mean, not in the production cycle and generally re-stocking in a few weeks. You can subscribe to the in-stock notification on the product page. Good things take time. We appreciate your patience!
Shipping
We ship worldwide. All items are sent via our shipping partners UPS/Fedex. Your items may need to be signed for upon receipt.

Due to security reasons, we cannot ship to PO boxes.

Some items are ready for shipment in our workshop, located in Istanbul. In stock items dispatch within 6-7 working days after payment has cleared using our shipping partners, UPS & FedEx. If the item is not in stock, then we will need to make your order.

Deliveries to USA addresses will take 3-4 days. For the UK and Europe, 2-3 days. To Australia, 6-7 days. For the rest of the world, expect a maximum of 7 working days. Plus production times.

Buyers are responsible for customs duties. There are no additional taxes for goods being delivered to the USA.

European Union : New rules after 1 July 2021; we charged VAT for orders up to 150€. It means no hidden or extra customs fees during the delivery. Orders more than 150€ subject to customs same as before.
UK : Orders are subject to VAT. Around %20 percent. + courier fees.
Brazil: Due to high taxes, we suggest to use a redirecting service like Regarding redirecting services, I've been using fishisfast.com

Most countries, except the USA, are subject to VAT (value added tax) and customs duties. These are the responsibility of the recipient. Since rates vary by country and by what was ordered.

Shipping fees are automatically calculated during the checkout process. See your checkout for shipping options. As an example, a small journal's shipping fee starts at US$9.80.
HS Tariff Code for Leather Goods 420221 (You can check your country import regulations with this code)
Returns - Cancellations
Items (except personalized items) can be returned for a full refund within 7 days of receipt. Buyer is responsible for the Shipping costs. Please feel free to ask any questions you might have before placing an order.
Due to all items are made to order, after receiving your order, we immideatly start to make your items. We don't accept cancellations/changes after orders placed.
Embossed Monogram
Products suitable for personalization, are shown on the product pages.It is and additional option.

Currently, we can't customize the wooden items.

If you want a monogram option on your item please select it from choose box at the right side of the page.
The Monogram default position will be on the front right bottom corner. Up to 3 characters.
Up to 3 characters you can personalize your item with ; A....Z Capital letters 0....9 numbers . , & ! # - _ @ / : * punctuation.
Font and height, the default for this listing is Times New Roman, 1 cm high, same as the lead picture.
SEEN ON INSTAGRAM