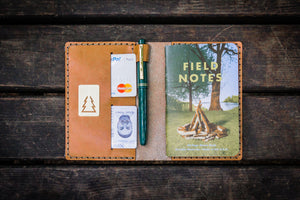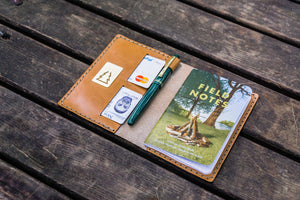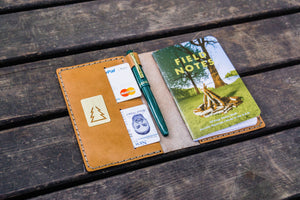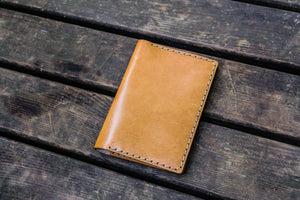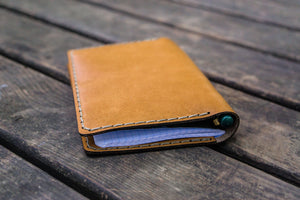 No.33 Personalized Leather Field Notes Cover - Natural
100% HANDMADE IN TURKEY
PRODUCT:
Handmade Leather No.33 Personalized Leather Field Notes Cover

COLOR/FINISH:
Natural

Undyed but finished natural leather color. Semi-matte finish.
SIZE:
Open: 8.81 x 5.9 inches (22 x 15cm)
Closed: 4.33 x 5.9 inches (11 x 15cm)
MATERIALS:
100% vegetable tanned cow leather
Hand stitched using

waxed polyamide thread
DESCRIPTION:
This gorgeous Handmade Leather No.33 Field Notes Cover is the perfect and stylish way to store your EDC essentials for work, study or personal use. Made from well aged leather, it has two card slots and two interior pockets. One can be used for your Field Notes notebook and the others for cash, cards etc. There's also a loop for securing your favorite pen or pencil.
COMPATIBLE WITH:
Original Field Notes or Moleskine Cahier Journal notebooks or notebooks of similar size 3.5 x 5.5 inches (9 x 14cm)
CAN ALSO STORE OTHER ACCESSORIES (AS PICTURED):
Pencil

or pen
Credit cards
Cash
*Devices and accessories are not included
DIFFERENCE BETWEEN THE No. 33 and the No. 44 cover

:
Pockets are stitched in No 44 and it is thicker, more durable.

Pockets are slotted in No 33 and it is thinner compared to No 44.
Simply Excellent
I purchased this cover to use as a pocket carry setup, and I paired it with a Goulet Tomoe River Paper notebook (Field Notes sized) and a Traveler's Company brass fountain pen. The combination is perfect. Stitching on the cover is rugged and flawless. The pen fits all the way down on the loop and the cover closes with ease. I can only imagine that after the leather breaks in this setup will become even more supple and compact, but honestly I'm amazed by how supple the cover is right out of the box. It's really soft and smooth and stays closed without needing any sort of elastic band.
I don't plan to use the credit card slots but I tested them out, and even with cards loaded into the slots the cover closes easily and doesn't feel bulky at all. I was able to slide as many as three cards into a single slot without stretching the leather or feeling like I was overloading the slot, but one card is secure by itself. With the additional tuck compartment on the left side of the cover used for cash, this cover really could double as a wallet for somebody who doesn't carry many cards.
Overall, this is exactly what I wanted out of a pocket notebook cover, and the price simply could not be beat. Well done, Galen!
Field Notes cover
Perfect light weight leather field notes cover in gorgeous smooth black leather. Perfect for a fanny pack and urban trekking when heavy leather is just not an option. Fast shipping and wonderful packaging as always. Included in the box is a nice twill pouch, equally light and useful.
I'm glad I bought it.
I don't speak English, so I use Google Translate.
It's a very nice item and I've had a lot of fun every day since I used it.
I am grateful to the people who made it, the people who sold it, and the people who shipped it to Japan.
thank you.
Everyday Joy
My personalized Field Notes cover is just the thing to take something that is already great and elevate it! I love my writing tools and they serve as a source of inspiration. The cover is beautiful to the eyes and to the touch. I felt as if I was meeting an old friend but for the very first time. Right now I am savoring the space that is in the cover and what I will tuck in there. For me, that's half the fun...I guess it's a form of delayed gratification. LOL. Totally satisfied with the quality, color and design. Will probably have to purchase more!
Beautiful
This is my first Galen Leather purchase. I've been eyeing these products for quite sometime and finally saved enough to make the jump. My impressions:
1 - As expected, these products reflect beautiful craftsmanship and quality leather for which this shop earned their name.
2 - Starting from the stitch everything is perfectly made. The overall build quality is solid.
However, three things dampened my enthusiasm when I received these products.
1 - They do not ship the goods in a cloth bag (like you might've seen in countless videos on YouTube). This results in scuffs and marks when transported over long distances. So, if you are expecting a flawless leather cover, you may be disappointed.
2 - The products are costly. When I shipped to India, I ended up paying 20% of Customs Tax. Only adding to the already costly product. While this is not something we can find fault with the shop, it is something worth noting.
3 - I really wish I had taken the No. 44 cover. Did not know how floppy No. 33 would be. While it is growing on me, the No. 33 cover does feel very flimsy.
Overall, would I recommend? Absolutely. But, wish the products were a tad bit cheaper and wish they would transport the products in a cloth bag inside the gorgeous boxes.
Regards,
Sai
(from India)
No.33 personalized leather Field Notes Cover
A Great folded cover and with 2 slots for credit cards etc and a pen holder , fits nicely in jeans pocket and the leather and stitching is very good quality , good communication from the company and a quick turnaround for a custom job and also fast postage .
Satisfied
As with all other products purchased, very satisfied with quality, look and feel of the cover.
Now in Black Leather
I've purchased several items from your store. None have disappointed me. All excellenet quality and well functioning. My new Field Notes cover is no exception to your excellent quality. However, until recently, you didn't carry tings inventory in black leather. Now you do. I am using mine as a holder and organizer for my index cards, held in place with a couple binder clips.
Practically perfect
Lovely soft, thin pliable leather.
Unfussy and beautifully utilitarian.
Great customer service, fast delivery, great pricing.
I'm a fan.
Most of the items are handmade to order and usually take a minimum of 1-2 weeks to dispatch. Out of stock items mean, not in the production cycle and generally re-stocking in a few weeks. You can subscribe to the in-stock notification on the product page. Good things take time. We appreciate your patience!
Shipping
We ship worldwide. All items are sent via our shipping partners UPS/Fedex. Your items may need to be signed for upon receipt.

Due to security reasons, we cannot ship to PO boxes.

Some items are ready for shipment in our workshop, located in Istanbul. In stock items dispatch within 6-7 working days after payment has cleared using our shipping partners, UPS & FedEx. If the item is not in stock, then we will need to make your order.

Deliveries to USA addresses will take 3-4 days. For the UK and Europe, 2-3 days. To Australia, 6-7 days. For the rest of the world, expect a maximum of 7 working days. Plus production times.

Buyers are responsible for customs duties. There are no additional taxes for goods being delivered to the USA.

European Union : New rules after 1 July 2021; we charged VAT for orders up to 150€. It means no hidden or extra customs fees during the delivery. Orders more than 150€ subject to customs same as before.
UK : Orders are subject to VAT. Around %20 percent. + courier fees.
Brazil: Due to high taxes, we suggest to use a redirecting service like Regarding redirecting services, I've been using fishisfast.com

Most countries, except the USA, are subject to VAT (value added tax) and customs duties. These are the responsibility of the recipient. Since rates vary by country and by what was ordered.

Shipping fees are automatically calculated during the checkout process. See your checkout for shipping options. As an example, a small journal's shipping fee starts at US$9.80.
HS Tariff Code for Leather Goods 420221 (You can check your country import regulations with this code)
Returns - Cancellations
Items (except personalized items) can be returned for a full refund within 7 days of receipt. Buyer is responsible for the Shipping costs. Please feel free to ask any questions you might have before placing an order.
Due to all items are made to order, after receiving your order, we immideatly start to make your items. We don't accept cancellations/changes after orders placed.
Embossed Monogram
Products suitable for personalization, are shown on the product pages.It is and additional option.

Currently, we can't customize the wooden items.

If you want a monogram option on your item please select it from choose box at the right side of the page.
The Monogram default position will be on the front right bottom corner. Up to 3 characters.
Up to 3 characters you can personalize your item with ; A....Z Capital letters 0....9 numbers . , & ! # - _ @ / : * punctuation.
Font and height, the default for this listing is Times New Roman, 1 cm high, same as the lead picture.
SEEN ON INSTAGRAM