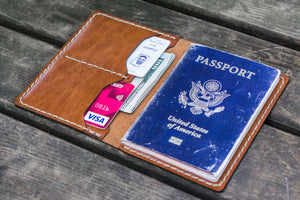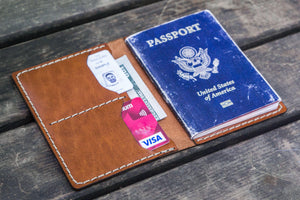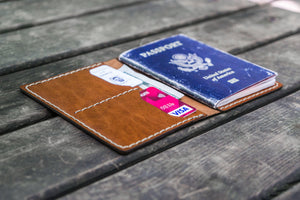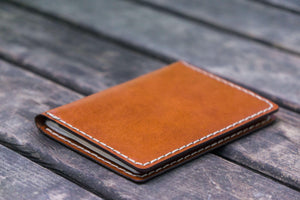 No.06 Leather Passport Holder - Chocolate Brown
100% HANDMADE IN TURKEY
PRODUCT:
No.06 Leather Passport Holder
COLOR/FINISH:
Chocolate Brown

This timeless color is a bestseller among all our items. It's a classic brown pecan color, darker than tan, with some deep chocolate tones.
SIZE:
Suitable for 125mm x 90 mm / 4.92" x 3.54" size passports
MATERIALS:
100% vegetable tanned cow leather
Hand stitched using

waxed polyamide thread

The edges are beveled, waxed and burnished for a finished look
DESCRIPTION:
Travel in style while keeping your most important travel document, your passport, safe and sound. Our handmade leather passport cover is made from high quality well aged leather. It comes with a slide pocket for passport, one full pocket (for money or receipts) and two ID/credit card slots.
This passport holder comes PERSONALIZED option. Please select this option and include the initials you would like stamped on the cover.
Happy Travels!
*Accessories not included
Nicest cover ever
Great quality, royal packaging. Recommend this shop. Wish you would create special case for diabetic stuff.
Very nice item
It's very well made but spoilt and made to look a bit cheap by the personalisation that is not straight or even
CHFG Passport Cover
Once again, a beautifully made product. I actually bought it to hold my newest "Books Read" notebook - The Everyday Notebook - Passport size, and I'm glad I did. Well done Galen Leather.
Best leather and best passport wallet ever👌🏼
Great leather quality, soft and smooth. Nice touch crazy horse brown color. 5* 👌🏼
Galen leather......THE BEST
O U T S T A N D I N G
the product I purchased is in crazy horse brown leather.
This is the best of the best leather wallets I have in my collection. I shopped many US made leather wallets, I don't want ant to mention their name by the way. But Galen leather is completely unique, their leather is no ordinary leather like US made Horween or, Italian Buttero leather! The leather Galen uses-unlike any other-is very beautiful, soft and supple and based on my own experience I can guarantee the leather of Galen will age the best! Believe me!
The moment I opened the box......wow.....oh my ...GOD.....I've become speechless! The holy Presentation! I was in complete shock ! So beautiful, so much love, care, & so detail! Hats off ❤️. In shock, I have literally read every alphabet in the package 🤓! Brother Yusuf, I mean no evil eye but you guys are literary geniuses ! No exaggeration!
The Turkish instant coffee, the refreshing tissue🥰, and the small piece of evil eye😈......really....! ...I mean what don't you do that any world class business would do to show care to its customers! It reminded me A piece of Turkish hospitality ! Love and respect brother!❤️.
And lastly brother Yusuf, I was having a bad mood today but your product mad me excited and happy. It means you do care you're customers from your heart. Thank you and God Bless you all. I'll alway come back as a returning loyal customer to Galen Leather.
Good stuff
So, I was looking at a smaller purchase from Galen Leather, before a larger purchase so opted for the forest green passport cover.
It's a good quality product, especially with the custom features, fits the passport excellently and looks fantastic. The ordering and the website were both good and worked well.
The only point of caution is that the company's doesn't do VAT at source, so you do need to pay an import fee. That said I subsequently purchased two moleskin covers which are both fantastic.
Extremely happy with the purchase
Indian Jumbo as well as normal passport fits in perfectly.
Before inserting actual passport fill it with paper of the size of passport and keep it for sometime for it to expand slightly.
Elegant design, excellent packaging and timely delivery.
Kudos to the maker.
Excellent quality
The quality and colour of the leather is amazing. I can easily fit my passport and two cards in the holder and it's great for keeping those items organised.
Perfect as always
I've bought a few things from these guys now. Always great quality and design. The passport holder is no exception, and the extra pen sleeve they sent me as a thankyou for being a repeat customer was a lovely surprise.
Love it!
Looks great and feels great. Definitely worth the price and way better than the stuff on Amazon.
Most of the items are handmade to order and usually take a minimum of 1-2 weeks to dispatch. Out of stock items mean, not in the production cycle and generally re-stocking in a few weeks. You can subscribe to the in-stock notification on the product page. Good things take time. We appreciate your patience!
Shipping
We ship worldwide. All items are sent via our shipping partners UPS/Fedex. Your items may need to be signed for upon receipt.

Due to security reasons, we cannot ship to PO boxes.

Some items are ready for shipment in our workshop, located in Istanbul. In stock items dispatch within 6-7 working days after payment has cleared using our shipping partners, UPS & FedEx. If the item is not in stock, then we will need to make your order.

Deliveries to USA addresses will take 3-4 days. For the UK and Europe, 2-3 days. To Australia, 6-7 days. For the rest of the world, expect a maximum of 7 working days. Plus production times.

Buyers are responsible for customs duties. There are no additional taxes for goods being delivered to the USA.

European Union : New rules after 1 July 2021; we charged VAT for orders up to 150€. It means no hidden or extra customs fees during the delivery. Orders more than 150€ subject to customs same as before.
UK : Orders are subject to VAT. Around %20 percent. + courier fees.
Brazil: Due to high taxes, we suggest to use a redirecting service like Regarding redirecting services, I've been using fishisfast.com

Most countries, except the USA, are subject to VAT (value added tax) and customs duties. These are the responsibility of the recipient. Since rates vary by country and by what was ordered.

Shipping fees are automatically calculated during the checkout process. See your checkout for shipping options. As an example, a small journal's shipping fee starts at US$9.80.
HS Tariff Code for Leather Goods 420221 (You can check your country import regulations with this code)
Returns - Cancellations
Items (except personalized items) can be returned for a full refund within 7 days of receipt. Buyer is responsible for the Shipping costs. Please feel free to ask any questions you might have before placing an order.
Due to all items are made to order, after receiving your order, we immideatly start to make your items. We don't accept cancellations/changes after orders placed.
Embossed Monogram
Products suitable for personalization, are shown on the product pages.It is and additional option.

Currently, we can't customize the wooden items.

If you want a monogram option on your item please select it from choose box at the right side of the page.
The Monogram default position will be on the front right bottom corner. Up to 3 characters.
Up to 3 characters you can personalize your item with ; A....Z Capital letters 0....9 numbers . , & ! # - _ @ / : * punctuation.
Font and height, the default for this listing is Times New Roman, 1 cm high, same as the lead picture.
SEEN ON INSTAGRAM