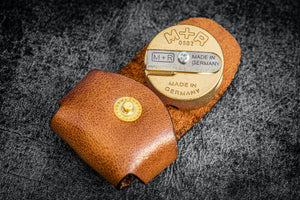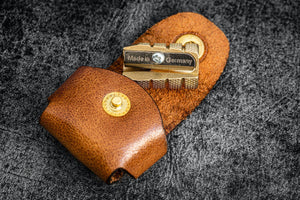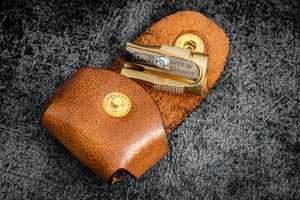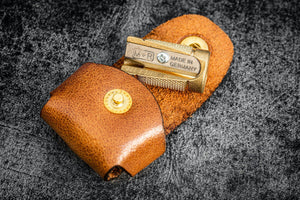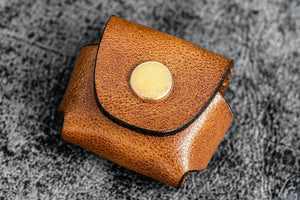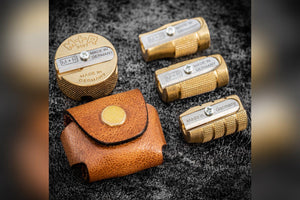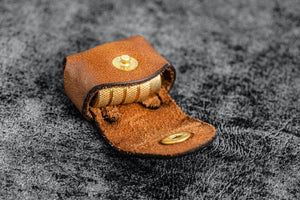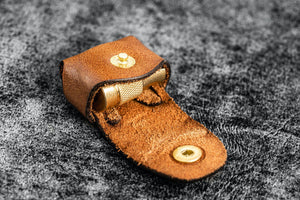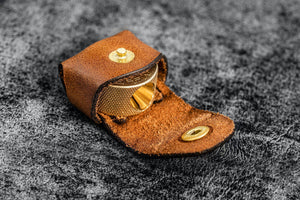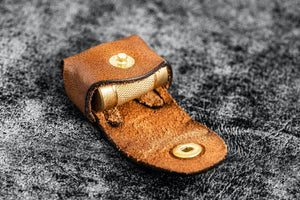 M+R Brass Pencil Sharpener - With Leather Case
NEW to Galen Leather: the classic brass pencil sharpener by German sharpener brand, Mobius + Ruppert. The M + R brass pencil sharpener comes with a leather case handmade by us at Galen Leather.
Möbius

 + 

Ruppert

 (M+R) Brass Bullet Pencil Sharpener 

Often known as the 'bullet' or 'cartridge' sharpener, the earliest forms of this brass pencil sharpener can be traced back to the 1890s both in Germany and the United States. It was manufactured by the Eberhard Faber Pencil Company.

Every pencil collection needs this classic sharpener. It's comfortable to use, super sharp and has a pleasant weight to it.

Size: 2.5 x 1.5 cm
Material: Brass and toughened steel
Pencil Diameter: Up to 11mm
Möbius

 + 

Ruppert

 (M+R) Brass Round Double-Hole Pencil Sharpener


A weighty sharpener for all pencil sizes. It sharpens pencils of all shapes and sizes to a reliable medium point. The double-hole can accommodate pencils of all diameters.

Size: 2.6 x 1.4 cm
Material: Brass and toughened steel
Pencil Diameter: Up to 8.2mm and 11.2mm
Möbius

 + 

Ruppert

 (M+R) 

Pollux Brass Concave Sharpener




This is a brass sharpener that's able to sharpen pencils to a long sloping point; a result usually only achievable using desktop crank blade sharpeners. The Pollux Brass Concave Sharpener is a comparable alternative to the A.W Faber Janus sharpener for its similar oncave capabilities. Suitable for sharpening standard pencils up to Ø 11 mm and high-quality pencils with well-centered cores.

Material: Brass
Pencil Diameter: Up to 11mm
Möbius

 + 

Ruppert

 (M+R) 

Castor Brass Long Point Sharpener




The sister sharpener to the Pollux, the Castor is a single-blade long point sharpener. It's made out of solid brass and does a point comparable to two-step long point sharpeners but with greater ease. Suitable for sharpening standard pencils up to Ø 11 mm and high-quality pencils with well-centered cores.

Material: Brass
Pencil Diameter: Up to 11mm
About M
ö

bius + Ruppert 


The company forefather, Theodor Paul Möbius, was the first to industrially manufacture a sharpener. The company was founded in 1922 and since then, they have continuously carried this innovative spirit along. Their premium products are made in Erlangen in the heart of the European pencil industry.

Möbius und Ruppert is owned and led by the fourth family generation and employs 75 people. Their range of sharpeners has continuously expanded over the years. They are most well known for manufacturing premium products in the fields of school, office, and leisure activities and are exported to 75 countries worldwide.
No other sharpener like this one!
This sharpener is awesome and used on a daily basis when sketching or writing notes. The sharpener has nice weight and a leather storage pouch. Very sturdy overall.
Double Round Double Happiness
Perfect sharpener for my thicker chalk pastel pencils. Creates a strong, thick point that is good for the types of leads which are prone to chipping and fracturing (Lyra Rembrandt PolyColour, Conte à Paris Pastel pencils). The photo below shows the difference between a Blackwing Two Step sharpener (black pencil) and the M+R sharpener
Spitzt fabelhaft
Wie hübsch der Spitzer verpackt ist. Man spürt die Liebe zum Detail. Ich bin ganz begeistert. Und er spitzt sehr gut.
M and R pencil sharpener
This is an excellent product. It sharpens pencils good and sharp. I would buy it again!
Most of the items are handmade to order and usually take a minimum of 1-2 weeks to dispatch. Out of stock items mean, not in the production cycle and generally re-stocking in a few weeks. You can subscribe to the in-stock notification on the product page. Good things take time. We appreciate your patience!
Shipping
We ship worldwide. All items are sent via our shipping partners UPS/Fedex. Your items may need to be signed for upon receipt.

Due to security reasons, we cannot ship to PO boxes.

Some items are ready for shipment in our workshop, located in Istanbul. In stock items dispatch within 6-7 working days after payment has cleared using our shipping partners, UPS & FedEx. If the item is not in stock, then we will need to make your order.

Deliveries to USA addresses will take 3-4 days. For the UK and Europe, 2-3 days. To Australia, 6-7 days. For the rest of the world, expect a maximum of 7 working days. Plus production times.

Buyers are responsible for customs duties. There are no additional taxes for goods being delivered to the USA.

European Union : New rules after 1 July 2021; we charged VAT for orders up to 150€. It means no hidden or extra customs fees during the delivery. Orders more than 150€ subject to customs same as before.
UK : Orders are subject to VAT. Around %20 percent. + courier fees.
Brazil: Due to high taxes, we suggest to use a redirecting service like Regarding redirecting services, I've been using fishisfast.com

Most countries, except the USA, are subject to VAT (value added tax) and customs duties. These are the responsibility of the recipient. Since rates vary by country and by what was ordered.

Shipping fees are automatically calculated during the checkout process. See your checkout for shipping options. As an example, a small journal's shipping fee starts at US$9.80.
HS Tariff Code for Leather Goods 420221 (You can check your country import regulations with this code)
Returns - Cancellations
Items (except personalized items) can be returned for a full refund within 7 days of receipt. Buyer is responsible for the Shipping costs. Please feel free to ask any questions you might have before placing an order.
Due to all items are made to order, after receiving your order, we immideatly start to make your items. We don't accept cancellations/changes after orders placed.
Embossed Monogram
Products suitable for personalization, are shown on the product pages.It is and additional option.

Currently, we can't customize the wooden items.

If you want a monogram option on your item please select it from choose box at the right side of the page.
The Monogram default position will be on the front right bottom corner. Up to 3 characters.
Up to 3 characters you can personalize your item with ; A....Z Capital letters 0....9 numbers . , & ! # - _ @ / : * punctuation.
Font and height, the default for this listing is Times New Roman, 1 cm high, same as the lead picture.
SEEN ON INSTAGRAM