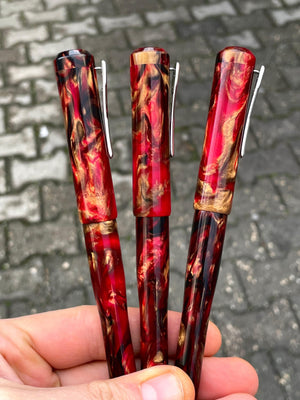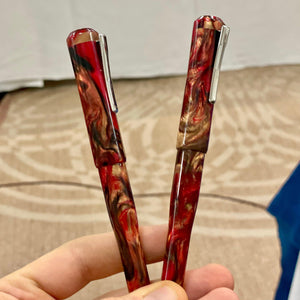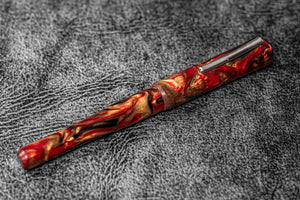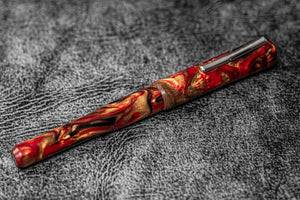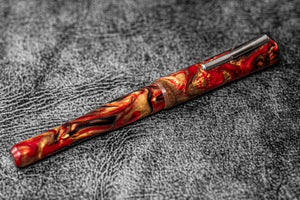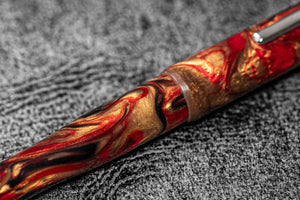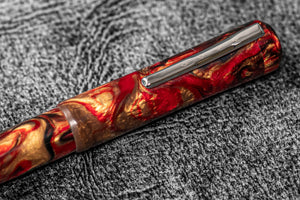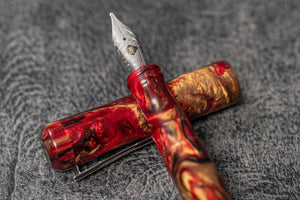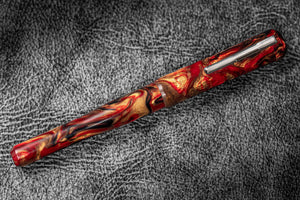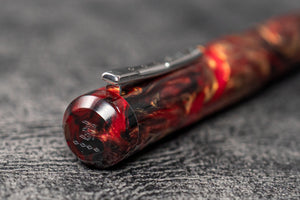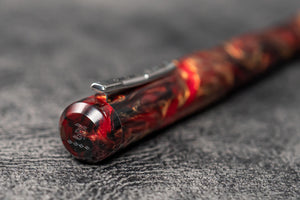 Franklin-Christoph Model 02 x Galen - Fountain Pen
A collaboration with Franklin-Christoph model 02   fountain pen, in the color Golden Rule, a special resin made by resin magician Jonathan Brooks. Comes with JoWo steel number 6 nib. Nib options are below.
A collaboration with Franklin-Christoph model 02   fountain pen, in the color Golden Rule, a special resin made by resin magician Jonathan Brooks. Comes with JoWo steel number 6 nib. Nib options are below.
Great-looking Smooth Writer
The Golden Rule material is the reason for my purchasing the pen. The Model 02 is not my preferred F-C model (the Model 03 is) but I took the plunge because of the Jonathan Brooks material. I was very excited about scoring a pen: it's smooth (M nib). It feels great - even for large hands. The only thing marring the experience is that the machining of the pen seems to have left uniform markings from cap and all of the barrel and to the finial (not sure picture has captured the markings). Posts of the pen I've seen on Instagram seem to show highly glossed pens without markings like my pen has). I've not rescheduled out to Galen, as the pen is sold out...
Galen's service: one of the best I've had. Packaged quickly, with shipping taking about a week.
Amazing collab pen
I have been always a big fan of Galen Leather, Franklin-Christoph pens and Jonathan Brooks blanks so having all those big names combined into one product made my heart race and I ended up checking very often if I finally received the stock update email. No surprise, I ordered the pen the moment it was available. Model 02 is a great choice to represent F-C pen under Galen Leather. Shopping delayed to Singapore but arrived safely and I am grateful for it!
Beautiful Pen
The colors are so deep, yet bright. Rich colors almost as if they melt & blend before one's eyes. I do not have a pen in this color. I love it and the model 02.
Glows
A beautiful material by a great maker
Awesome pen!!
Fantastic collaboration! Love the bright and vibrant colors! Absolutely happy. Thanks so much for these affordable collaboration pens. :-)
Such a beautiful pen
I have an addiction to FC Model 02, when I saw my 3 favorite brands make a collaboration pulled the trigger. Galen made a good job with this amazing material from Brooks. Really deep and textured material. Thank you.
Most of the items are handmade to order and usually take a minimum of 1-2 weeks to dispatch. Out of stock items mean, not in the production cycle and generally re-stocking in a few weeks. You can subscribe to the in-stock notification on the product page. Good things take time. We appreciate your patience!
Shipping
We ship worldwide. All items are sent via our shipping partners UPS/Fedex. Your items may need to be signed for upon receipt.

Due to security reasons, we cannot ship to PO boxes.

Some items are ready for shipment in our workshop, located in Istanbul. In stock items dispatch within 6-7 working days after payment has cleared using our shipping partners, UPS & FedEx. If the item is not in stock, then we will need to make your order.

Deliveries to USA addresses will take 3-4 days. For the UK and Europe, 2-3 days. To Australia, 6-7 days. For the rest of the world, expect a maximum of 7 working days. Plus production times.

Buyers are responsible for customs duties. There are no additional taxes for goods being delivered to the USA.

European Union : New rules after 1 July 2021; we charged VAT for orders up to 150€. It means no hidden or extra customs fees during the delivery. Orders more than 150€ subject to customs same as before.
UK : Orders are subject to VAT. Around %20 percent. + courier fees.
Brazil: Due to high taxes, we suggest to use a redirecting service like Regarding redirecting services, I've been using fishisfast.com

Most countries, except the USA, are subject to VAT (value added tax) and customs duties. These are the responsibility of the recipient. Since rates vary by country and by what was ordered.

Shipping fees are automatically calculated during the checkout process. See your checkout for shipping options. As an example, a small journal's shipping fee starts at US$9.80.
HS Tariff Code for Leather Goods 420221 (You can check your country import regulations with this code)
Returns - Cancellations
Items (except personalized items) can be returned for a full refund within 7 days of receipt. Buyer is responsible for the Shipping costs. Please feel free to ask any questions you might have before placing an order.
Due to all items are made to order, after receiving your order, we immideatly start to make your items. We don't accept cancellations/changes after orders placed.
Embossed Monogram
Products suitable for personalization, are shown on the product pages.It is and additional option.

Currently, we can't customize the wooden items.

If you want a monogram option on your item please select it from choose box at the right side of the page.
The Monogram default position will be on the front right bottom corner. Up to 3 characters.
Up to 3 characters you can personalize your item with ; A....Z Capital letters 0....9 numbers . , & ! # - _ @ / : * punctuation.
Font and height, the default for this listing is Times New Roman, 1 cm high, same as the lead picture.
SEEN ON INSTAGRAM