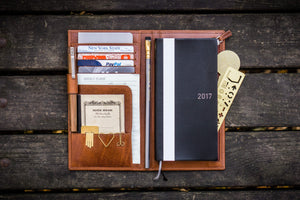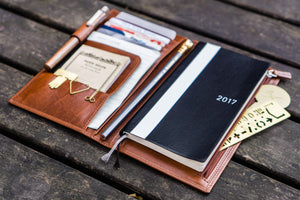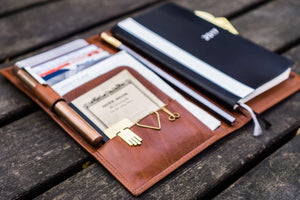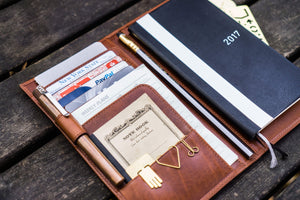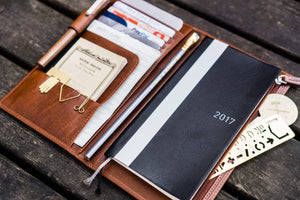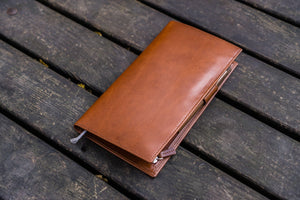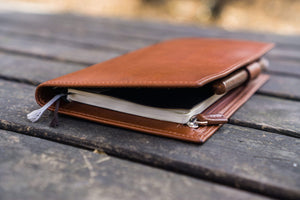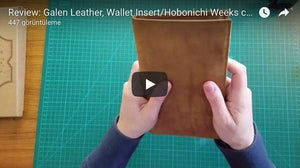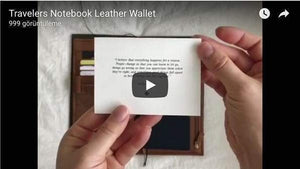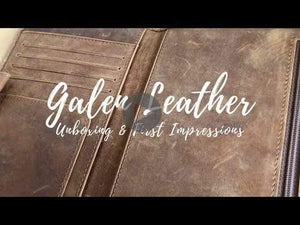 Leather Hobonichi Weeks Mega Cover - Brown
New updated version! It now fits the Hobonichi Weeks Mega with an additional notebook slot. This brown leather Hobonichi Weeks / Weeks Mega Cover Wallet can be used as a stand-alone wallet or can be incorporated in your Traveler's Notebook seamlessly (regular size 11x22cm).
Reviews On Youtube
100% Handmade in Turkey
Color/Finish:
Brown
This timeless color is a bestseller among all our items. It's a classic brown pecan color, darker than tan, with some deep chocolate tones.
Materials:
100% vegetable tanned cow leather
Hand stitched using

waxed polyamide thread

Sturdy YKK zipper
Description:
Our new and improved brown Leather Hobonichi Weeks Mega Cover features a left panel that can fit 4 credit card size pockets, one pocket size notebook and long pocket, one small separator and wide pocket which are perfect for small accessories. There's one large pocket which is great for keeping your cash, receipts or a mobile phone (an iPhone 7 plus fits easily).
There's also a special pen loop made from 60% leather and 40% hidden elastic which fits any pen or pencil whether it's a Caran Dache 849 or a Pelikan 1000 fp.
The right panel comes with a leather pocket with a sturdy YKK zipper and another hidden pocket underneath the leather pocket.
Can be used in 4 different ways:
Hobonichi

Weeks

Cover
Hobonichi

Weeks

Mega

Cover
Stand-alone

Wallet
Beautiful and high quality craftsmanship
I debated on this insert for a while and then when I decided to move forward, it had sold out. Don't make the same mistake. As soon as it became available, I placed my order and received sooner than expected. I am extremely pleased with the beauty and craftsmanship of this leather piece. Absolutely perfection. Go ahead and hit the buy button… you won't regret it. Attached picture is what it looks like before I filled it with my essentials.
Beautiful & Well Thought Out
I purchased the Hobonichi Mega - Crazy Horse Brown. It arrived very fast to Canada, was beautifully packaged, even their box cover looked like a work of art.. The gift with purchase was thoughtful & useful. The Crazy Horse cover is absolutely beautiful and well made, the leather is soft to the touch and almost feels suede like, I love how the leather will patina with time, and show its history, I purchased mine with a brown elastic. The zipper on the back pocket moves smoothly and freely-no snagging. I can fit my Hobonichi Mega with a cover easily into this cover, and I appreciate its slim design. The only suggestion I would make is a thicker tighter elastic, because I really like to add a lot to my planner. I'm really enjoying using it everyday! I would highly recommend this product. I especially enjoyed reading the history of how and who started this Company, very special and touching.
3 Years later... still love it
May 19th, 2019
My then fiancé purchased this insert for me as an early graduation gift. It lasted through my final year of college, field excursions, transit, camping, a honeymoon road trip, moving, a newborn that likes to grab things, being tossed into my purse-turned diaper bag, and generally being lived-in to the fullest. I have written in a journal/diary for 30 years of my 36 years of life, and have narrowed down what objects I always keep with me. This insert has stayed trustworthy for the past three years.
Now, with all the above mentioned trials it has gone through, there is to be quite some wear and tear. The first to go (albeit recently) was the pen holder. I wasn't particularly gentle as I often needed to shove a pen back on quickly (aforementioned baby to pick up while jotting down appointments). Next areas that have worn are the edges of the pockets that received the most use; receipts, scraps of paper, notes, doodads and trinkets, you name it, those pockets and card holders have seen it all.
I waited three years to write this. Has it gotten rough around the edges? Yes. Do I love this insert? You bet your a** I do!!! Do I love Galen's whole story and recommend them while fangirling to others probably too much? Emphatically yes.
My Wallet/EDC Planner
This was my first purchase from Galen and I have used it for a month. First impressions, this is such a rich true black that one rarely finds and the stitching was such high quality that I immediately placed another order for gifts for friends. After a month I can say that I am still as pleased with my purchase as I was initially. My only regret was not personalizing it! I use a hair tie to secure it closed, since I am always searching for my hair tie, this works well for me. I would suggest that Galen have more closure options and options for an additional pen loop as that would make it even better. I use the pen loop on my clear cover on cover (put upside down) which works well for my highlighter. I also have the Ohto Minimo mechanical pencil and ballpoint pen in the card slots in case I need those on the go. Awesome product and I love the zipper pouch for change. (This was the deciding factor for me as this is a must to do a combo wallet/planner cover and few covers have this.) Today I just received my 3rd Galen purchase, a large zip cover that I will use as a mobile desk setup and I love it too!
Beautiful craftmanship
Wow what a beautiful piece! I use the wallet insert with the forest green TN cover, but also decided to order the wallet with a stand-alone elastic closure, so I can use it on itself as a phone wallet. My smartphone fits spacious in de wallet (s10+)! Lots of space to hold my cards and some cash money.
Fantastyczna okładka, przepiękna w detalach.
Otrzymywanie takich przesyłek to czysta przyjemność. Okładka przepięknie zapakowana, pachnie fantastycznie. Idealne szycie i kolor. To piekny produkt który będzie mi służył nie tylko jako okładka notesu ale również portfel. Mimo że cena jak na polskie budżety dośc spora, to warto było bo to fantastyczny gadżet.
Lovely.
While meant for an insert for the TN (which I will get soon!) it's just as lovely a wallet on its own. The construction is divine. You can see the care of the detail put into making sure the piece is made exactly right. Just like the other pieces I have, the leather is buttery smooth and smells like heaven.
Very worthwhile purchase.
A very well made wallet which will last for many years to come. Can be carried on its own, thrown in a purse, or included in a traveller's notebook. Very versatile.
Most of the items are handmade to order and usually take a minimum of 1-2 weeks to dispatch. Out of stock items mean, not in the production cycle and generally re-stocking in a few weeks. You can subscribe to the in-stock notification on the product page. Good things take time. We appreciate your patience!
Shipping
We ship worldwide. All items are sent via our shipping partners UPS/Fedex. Your items may need to be signed for upon receipt.

Due to security reasons, we cannot ship to PO boxes.

Some items are ready for shipment in our workshop, located in Istanbul. In stock items dispatch within 6-7 working days after payment has cleared using our shipping partners, UPS & FedEx. If the item is not in stock, then we will need to make your order.

Deliveries to USA addresses will take 3-4 days. For the UK and Europe, 2-3 days. To Australia, 6-7 days. For the rest of the world, expect a maximum of 7 working days. Plus production times.

Buyers are responsible for customs duties. There are no additional taxes for goods being delivered to the USA.

European Union : New rules after 1 July 2021; we charged VAT for orders up to 150€. It means no hidden or extra customs fees during the delivery. Orders more than 150€ subject to customs same as before.
UK : Orders are subject to VAT. Around %20 percent. + courier fees.
Brazil: Due to high taxes, we suggest to use a redirecting service like Regarding redirecting services, I've been using fishisfast.com

Most countries, except the USA, are subject to VAT (value added tax) and customs duties. These are the responsibility of the recipient. Since rates vary by country and by what was ordered.

Shipping fees are automatically calculated during the checkout process. See your checkout for shipping options. As an example, a small journal's shipping fee starts at US$9.80.
HS Tariff Code for Leather Goods 420221 (You can check your country import regulations with this code)
Returns - Cancellations
Items (except personalized items) can be returned for a full refund within 7 days of receipt. Buyer is responsible for the Shipping costs. Please feel free to ask any questions you might have before placing an order.
Due to all items are made to order, after receiving your order, we immideatly start to make your items. We don't accept cancellations/changes after orders placed.
Embossed Monogram
Products suitable for personalization, are shown on the product pages.It is and additional option.

Currently, we can't customize the wooden items.

If you want a monogram option on your item please select it from choose box at the right side of the page.
The Monogram default position will be on the front right bottom corner. Up to 3 characters.
Up to 3 characters you can personalize your item with ; A....Z Capital letters 0....9 numbers . , & ! # - _ @ / : * punctuation.
Font and height, the default for this listing is Times New Roman, 1 cm high, same as the lead picture.
SEEN ON INSTAGRAM