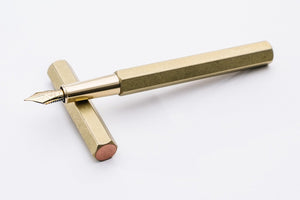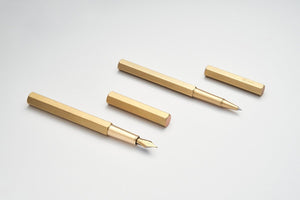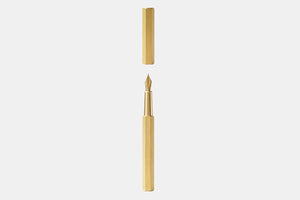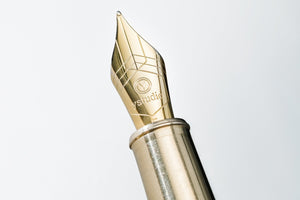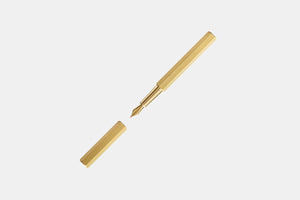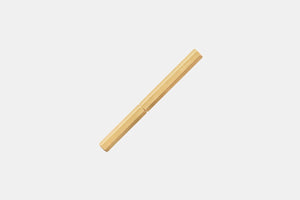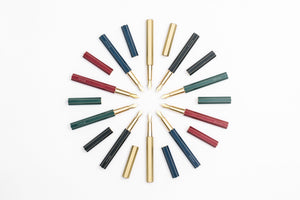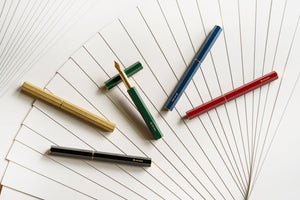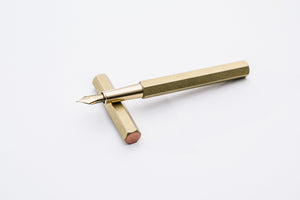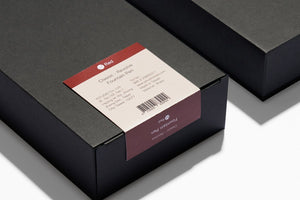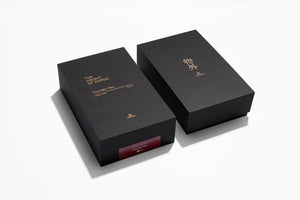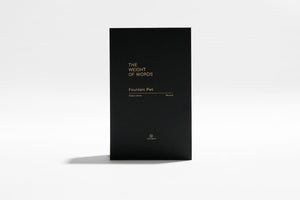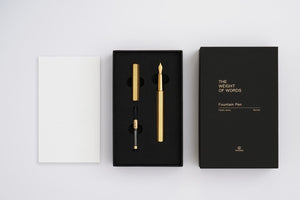 Ystudio Classic Revolve Fountain Pen - Brass
As a representative work of the brand's 10-year milestone, 'Classic Fountain Pen' represents the 10 years of experience of YSTUDIO. After designing a variety of unique writing instruments, YSTUDIO has returned to the essence of design to create a truly 'pure' fine fountain pen.
PRODUCT
Ystudio Classic Revolve Fountain Pen - Brass
DESCRIPTION
The 'Classic Fountain Pen Series' is covered with a matte lacquer finish, and the six corners of the pen are finely polished to shining gold brass lines.
Cut from solid brass, the pen's hexagonal body follows the brand's most popular design, pure and simple, with a thicker pen body and just the right balance of weight and solidity.
SPECS
Material: Brass, Copper

Specs: 13 x 11 x 138 mm

Weight: 46g

Box: 185 x 115 x 130 mm

Refills: one ink converter included (International Standard Cartridge Type)
A NEW IMPROVED NIB

The 'Classic Fountain Pen' is the first fountain pen with YSTUDIO's own nib. The nib of the whole series is embossed with the first logo of the brand in the early days of its establishment, while the body of the pen adopts the brand's new logo for the 10th anniversary, symbolizing the link between the past and the future.
USE & CARE
Brass
The color of brass would be changed by different users and various environments yet this is also its unique feature. The oxide is harmless. It would restore its original luster by wiping with Brass Polish. Without any surface treatment, we hope each product can maintain its individual marks by the constant use of the owner.
Blue、Black、Green、Red
The paint will gradually wear off during daily use, revealing the brass underneath which we called the 'brassing effect'. You can create a personalized brassing effect by removing the paint on the surface with sandpaper which is included in the product's package.
INK RECOMMENDATION
In order to enjoy the best writing experience, we recommend customers use bottled fountain pen ink with a moderate thickness.
YSTUDIO

Ystudio was founded in 2012 in Taiwan. Producing writing accessories and pens from raw materials like brass, copper. Ystudio believes that the value of simplicity in design is very important.
YStudio Fountain Pen = Wonderful
Let me start by saying: I have over 60 fountain pens, ranging in price from about $12 all the way up to about $5k.
In short, I think I'm fairly well exposed to the world of fountain pens. I rotate through my collection, and use them in my work. I can't wait for my next "YStudio" day, where I get to use this pen. TRULY, VERY NICE! Writes smoothly; fittings are clean and smooth. Nicely weighted.
I'm just very happy with this purchase, its quality, and the personal value it has which is way more than I spent to buy it.
I easily look you in the eye and say: Buy it! Worth it! You won't be disappointed!
Most of the items are handmade to order and usually take a minimum of 1-2 weeks to dispatch. Out of stock items mean, not in the production cycle and generally re-stocking in a few weeks. You can subscribe to the in-stock notification on the product page. Good things take time. We appreciate your patience!
Shipping
We ship worldwide. All items are sent via our shipping partners UPS/Fedex. Your items may need to be signed for upon receipt.

Due to security reasons, we cannot ship to PO boxes.

Some items are ready for shipment in our workshop, located in Istanbul. In stock items dispatch within 6-7 working days after payment has cleared using our shipping partners, UPS & FedEx. If the item is not in stock, then we will need to make your order.

Deliveries to USA addresses will take 3-4 days. For the UK and Europe, 2-3 days. To Australia, 6-7 days. For the rest of the world, expect a maximum of 7 working days. Plus production times.

Buyers are responsible for customs duties. There are no additional taxes for goods being delivered to the USA.

European Union : New rules after 1 July 2021; we charged VAT for orders up to 150€. It means no hidden or extra customs fees during the delivery. Orders more than 150€ subject to customs same as before.
UK : Orders are subject to VAT. Around %20 percent. + courier fees.
Brazil: Due to high taxes, we suggest to use a redirecting service like Regarding redirecting services, I've been using fishisfast.com

Most countries, except the USA, are subject to VAT (value added tax) and customs duties. These are the responsibility of the recipient. Since rates vary by country and by what was ordered.

Shipping fees are automatically calculated during the checkout process. See your checkout for shipping options. As an example, a small journal's shipping fee starts at US$9.80.
HS Tariff Code for Leather Goods 420221 (You can check your country import regulations with this code)
Returns - Cancellations
Items (except personalized items) can be returned for a full refund within 7 days of receipt. Buyer is responsible for the Shipping costs. Please feel free to ask any questions you might have before placing an order.
Due to all items are made to order, after receiving your order, we immideatly start to make your items. We don't accept cancellations/changes after orders placed.
Embossed Monogram
Products suitable for personalization, are shown on the product pages.It is and additional option.

Currently, we can't customize the wooden items.

If you want a monogram option on your item please select it from choose box at the right side of the page.
The Monogram default position will be on the front right bottom corner. Up to 3 characters.
Up to 3 characters you can personalize your item with ; A....Z Capital letters 0....9 numbers . , & ! # - _ @ / : * punctuation.
Font and height, the default for this listing is Times New Roman, 1 cm high, same as the lead picture.
SEEN ON INSTAGRAM