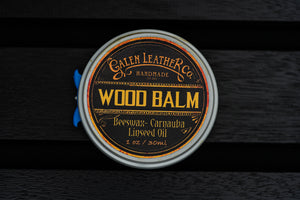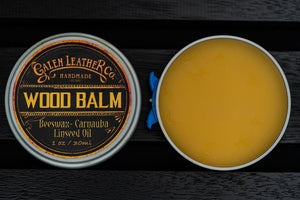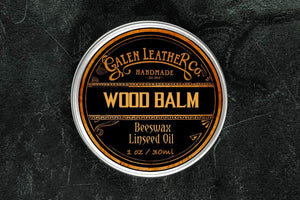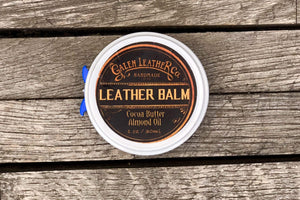 Wood Balm All Natural
Our Wood Balm conditions, restores, polishes and helps waterproof wooden items such as our various
wooden desk accessories
.
Our formula is not a secret; this is a traditional recipe which has been used for decades. It includes beeswax, carnauba wax and linseed oil.
The balm is non-smelly, non-sticky, non-greasy and non-slippery as the all natural wood balm is absorbed directly into the wood.
Conditions, restores and treats wood 
1 oz. (30 ml) handmade with all natural ingredients
Can be applied safely by hand or a soft cloth
Fits conveniently into a pocket
Does not alter the natural color of the wood
Works on all type of wood
Comes in a plastic fastened box

Application:
1. Ensure that the wood you are applying it to is clean and dry.
2. Test a small amount on a hidden patch of wood to preview the results.
3. Start with a small amount. A little goes a long way.
4. Best applied by hand and massaged into the wood, but a clean rag also works.
5. Wood will absorb the balm immediately. Some wood may darken slightly but return to their natural shade within 24 hours.
6. Repeat as necessary to protect, restore, and extend the life of wooden goods.

It's worked great on everything I've used it on
I've applied this to a number of items that were needing some care and it really helped restore a luster to the wood without leaving any greasy feeling afterward.
Helps protect your wood items.
Neat little balm to help protect wooden items against everyday wear.
Great balm for wood products
This balm helps day to day wear and tear of the wooden articles you use made by Galen leather, whether its is writing tool box, notepad or pen stand.
Helps extend life of the product for generations to come. Thank you Galen leather.
Already used it!!!
These beautiful wood pieces that you make always need to be appreciated and protected! This does the job!!!
Wood Balm is excellent!
I am so happy I purchased this wood balm. You receive a generous amount and it has a very faint, pleasant smell. I put it on The Writing Box that I purchased and it brought out facets of the wood that I hadn't noticed. This is a great product to have to protect and polish your wood items.
Wood Balm
Not used yet, but I am sure it will keep my lovely writing box in great condition.
You must have it!! Keep to be nice wood products
You must have it!! Keep to be nice wood products
Wonderful products!
I really want to congratulate to the nice and kind people of Galen Leather store! They make products with a great love and care! They are very unique and recommended sellers! Thank you so much!
Liked it
Haven't used it seriously yet, but liked the touch and smell of the balm.
Most of the items are handmade to order and usually take a minimum of 1-2 weeks to dispatch. Out of stock items mean, not in the production cycle and generally re-stocking in a few weeks. You can subscribe to the in-stock notification on the product page. Good things take time. We appreciate your patience!
Shipping
We ship worldwide. All items are sent via our shipping partners UPS/Fedex. Your items may need to be signed for upon receipt.

Due to security reasons, we cannot ship to PO boxes.

Some items are ready for shipment in our workshop, located in Istanbul. In stock items dispatch within 6-7 working days after payment has cleared using our shipping partners, UPS & FedEx. If the item is not in stock, then we will need to make your order.

Deliveries to USA addresses will take 3-4 days. For the UK and Europe, 2-3 days. To Australia, 6-7 days. For the rest of the world, expect a maximum of 7 working days. Plus production times.

Buyers are responsible for customs duties. There are no additional taxes for goods being delivered to the USA.

European Union : New rules after 1 July 2021; we charged VAT for orders up to 150€. It means no hidden or extra customs fees during the delivery. Orders more than 150€ subject to customs same as before.
UK : Orders are subject to VAT. Around %20 percent. + courier fees.
Brazil: Due to high taxes, we suggest to use a redirecting service like Regarding redirecting services, I've been using fishisfast.com

Most countries, except the USA, are subject to VAT (value added tax) and customs duties. These are the responsibility of the recipient. Since rates vary by country and by what was ordered.

Shipping fees are automatically calculated during the checkout process. See your checkout for shipping options. As an example, a small journal's shipping fee starts at US$9.80.
HS Tariff Code for Leather Goods 420221 (You can check your country import regulations with this code)
Returns - Cancellations
Items (except personalized items) can be returned for a full refund within 7 days of receipt. Buyer is responsible for the Shipping costs. Please feel free to ask any questions you might have before placing an order.
Due to all items are made to order, after receiving your order, we immideatly start to make your items. We don't accept cancellations/changes after orders placed.
Embossed Monogram
Products suitable for personalization, are shown on the product pages.It is and additional option.

Currently, we can't customize the wooden items.

If you want a monogram option on your item please select it from choose box at the right side of the page.
The Monogram default position will be on the front right bottom corner. Up to 3 characters.
Up to 3 characters you can personalize your item with ; A....Z Capital letters 0....9 numbers . , & ! # - _ @ / : * punctuation.
Font and height, the default for this listing is Times New Roman, 1 cm high, same as the lead picture.
SEEN ON INSTAGRAM