The Definitive Guide To The Traveler's Notebook System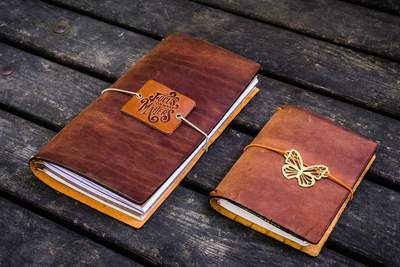 Origins of the Traveler's Notebook
In 2005, Atshuhiko Iijima brought a prototype of a notebook to a trade show in Tokyo with the hope of getting some feedback about the viability of the product. What made the notebook distinctive was its simplicity coupled with ingenuity: a simple cowhide cover, brass bindings, blind-stamped branding and elastic bands that gave the user endless possibilities for customization. Mr. Iijima was the Director of Imports Control at Designphil, the company behind the subsequently launched Midori Traveler's Notebook, which officially began changing the course of the planner world when it landed on store shelves in 2006. Arriving in the midst of a digitized world, the Traveler's Notebook was the antithesis of the modernization happening all around its developers.
Developing The Traveler's Notebook 
The Traveler's Notebook was designed and developed by a team of three at Designphil that still works on it to this day. Part of what makes it special is the production team's intimacy with one another having been working on the evolution of the notebook for so many years. There is a trust built amongst them and a solidarity that comes from working on such a small team.
A partnership with artisans in Chiang Mai, Thailand, a city known for small woodworking and leather studios, is a key part of the success of the TN, the shorthand name that enthusiasts have given the notebook. The artisans in Chiang Mai have approached the project with a carefree nature and flexibility that Mr. Iijima needed in the early days of developing the product.
In the past thirteen years, the Midori TN has remained virtually unchanged, but millions of users worldwide have discovered it and it is one of the most popular organizational systems in the world.
For those who have never experienced it, here are the basics on how it works.
How The Traveler's Notebook System Works
The leather cover has both horizontal and vertical elastic bands. The horizontal band on the outside holds the TN closed when it's not in use. The internal vertical bands are where the magic happens: these bands hold various inserts in place against the spine of the notebook and act as connecting bands to "bind" the inserts to one another. The size of the spine determines the number of inserts and accessories the TN can hold. A standard Midori TN holds four inserts comfortably. Midori's version comes in two sizes that hold four inserts: The Standard and the Passport, which was introduced as a smaller pocket version in 2009. Both come in Black, Brown, Blue and Camel, the latter two originally offered as Limited Edition colors, that were made a part of the permanent collection due to their popularity and functionality. Designphil offers limited editions and colors of the TN fairly regularly and have also embarked on strategic partnerships with other brands, the most recent being a collaboration with Prada made especially for the iconic British department store, Selfridge's.
They make a wide variety of inserts, i.e. watercolor, grid, lines, thin paper, kraft paper, folders, zip pouch, etc. and undated and pre-printed dated planner inserts for those who wish to use their TN's for date and timekeeping.
As the TN caught on, other companies began to offer notebooks based on this same system. The marketplace finds itself fortunate to have so many beautiful TN's for consumers to choose from.
Galen Leather's Traveler's Notebooks
Covers from Galen come in both standard regular and passport sizes, as well as, A5, Xlarge, Large and Pocket sizes. You can see the dimensions of these sizes and suggestions for the inserts here.
Galen Travler's Notebook covers are available in eleven colors of its signature leather. Additionally, Galen offers a host of other inserts, refillable notebooks, and accessories. The TN Wallet comes in both Regular and Passport sizes, allowing the TN to become both your organizing system and your wallet. This makes for a complete daily carry wallet that remains lightweight with a slim profile.
Galen's Everyday Notebooks made with Tomoe River paper fit the Passport, Pocket, Regular and A5 TN's, with additional sizes on the horizon. Brass charms, leather tags, monkey's knot bookmarks and a selection of nineteen colors of elastic, allow you to make the Galen TN's an expression of you. Use the handy "show me" feature on the Galen website to see all of these options for making the Galen TN your own.
Other Ideas For Your Traveler's Notebooks
Some of the other popular companies making well-made TN covers and accessories are Chic Sparrow (www.chicsparrow.com,) Sojourner (www.sojournerusa.net,) and Gillio (www.gillio.be). They offer leathers in a multitude of colors and designs. Etsy is an incredible resource for smaller makers creating exceptional inserts. Some of my very favorite inserts come from GoodINKpressions, YellowPaperHouse and BookfellStudio. All make wonderful tools for using your TN as a bullet journal cover, diary, datebook, habit tracker, sketchbook or whatever you desire it to be.
That is the beauty of the TN, that it can be what you need it to be and that can be ever-changing, as the TN allows you to change inserts as easily as you change your objectives for it.
Choosing The Right Traveler's Notebook
When choosing the size of your TN, you should always keep in mind what you'd like to use it for, what you will carry it in, and how much space you need for plotting and planning on its pages. While some like to keep their TN compact in size, others love a roomier TN. It's a matter of personal taste, which is the essence of why the TN is so universally appreciated. Which brings me to the crux of this entry. The TN is practical, simple, elegant, creative and flexible. All of those things are what make it a useful tool, but there is something special about the TN that has made it much more than just another system. It is beloved, and I have some ideas about why this is so.
Let's go back to Mr. Iijima. He said that the TN is "a way to look back on oneself". There is something powerful about compiling a record of your life. I think about all of the journals I filled while growing up and how they capture all the moments in time that define me. I put my emotions on the page and they remain even though I've changed and evolved. When we travel, whether to faraway places or through our daily lives, the TN goes with us and lets us engage with it while we engage with the world. It brings a sense of excitement to travel, life and work, and as Mr. Iijima noted "the essence of the person shows up in the pages". I love to think about the TN holding onto some small part of the person and who they were in the moments they were making entries in it.
Are Traveler's Notebooks Still Relevant?
Ironically, the digital world has played a major role in the Traveler's Notebook story. The TN arrived just four years before Instagram and IG has become the platform for TN lovers worldwide to share their passion and ideas for the system. At last check there were 3.6 million posts on Instagram using the #travelersnotebook. On any given day, well, you could spend the whole day, looking at them. It is extraordinary to see what a small piece of leather and some elastic bands has inspired. Its simplicity has birthed artistic expression all over the globe.
We are all on our own journey. Taking the time to record it in a TN makes us more aware of the present moment; what we see, smell, hear, taste and experience.
Maybe that is why the motto of the Traveler's Company is "Live Everyday Like a Journey". This simple product, the brainchild of a team of three, has profoundly changed the way that those of us who use it live, capturing moments of importance and clinging to the analog with all of our might.
One final note: The insert I used to make notes for this blog entry were written on my favorite Galen Everyday Notebook Insert in my Special Edition Blue Midori Traveler's Notebook, which I have recently painted stripes on using Angelus Acrylic Leather Paint (another really fun way to personalize your TN, you can find it at most craft stores). I'm planning to add a Crazy Forest Green (my favorite!) Galen Wallet insert and an "It leaves you speechless then turns you into a storyteller" Leather tag with dark blue elastic to make it completely my own. I hope you get as much joy from designing your TN as I did mine.
---
Leave a comment
Comments will be approved before showing up.
---
Also in Blog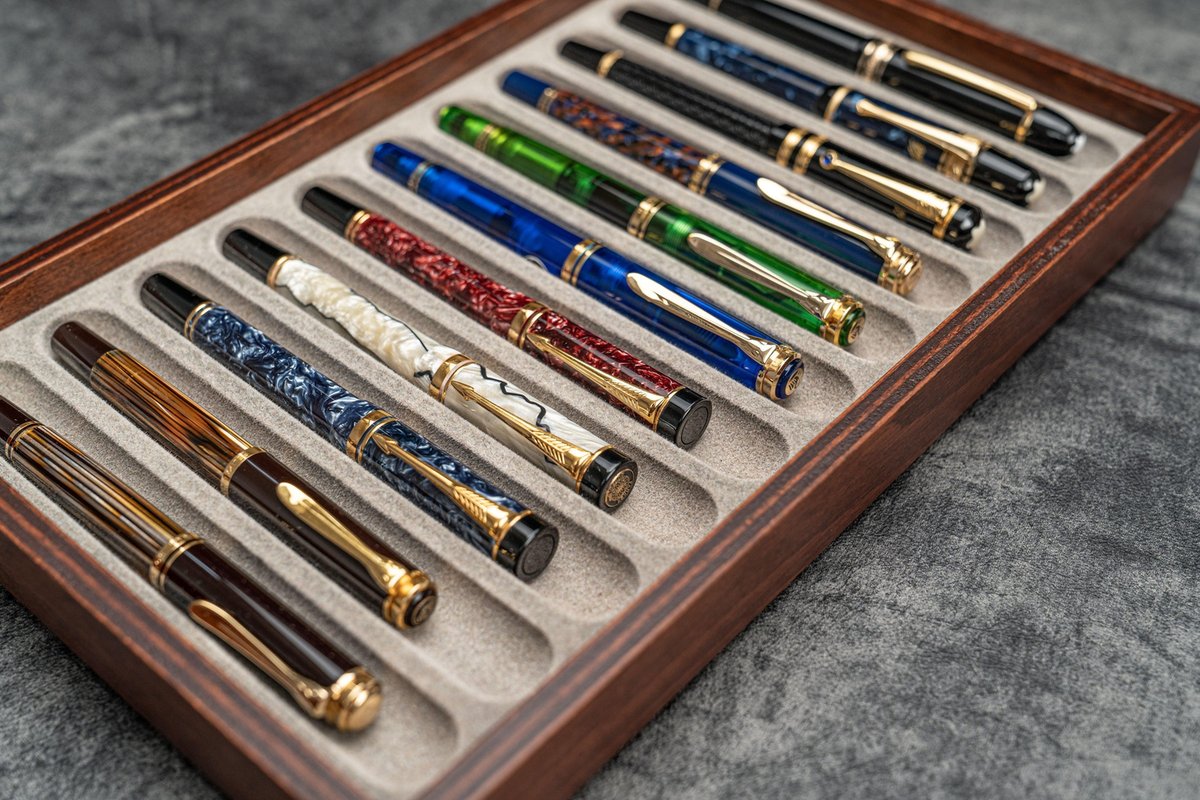 It's a specialty of our company and one of our most important signatures to make beautiful leather and wooden cases for all your needs.
In fact, we have nearly twenty ways for you to make sure your pen is carefully carried and stored for every personality and style.
Here are the 6 best Japanese Notebooks I gave a whirl that gave me hope for a happy future for myself and my pens.
Have you been on the hunt for the perfect fountain pen paper? 
As I have become more and more enamored with the art of the analog, I have found myself in search of the perfect blank page, and for me the answer to that search is 
Tomoe River paper
.