Leather Carry-On kit for The Writing Box
This listing is for the leather carry-on kit which is only avialable as an additional add-on when purchasing the handmade
Wooden Writing Box
.
a simple but excellent article to load my Writing Box
with this accessory it is more comfortable for me to carry my writing box everywhere the texture of the leather and its finishes the brass buttons make it look more vintage
Does everything a strap should!
As these other reviews have mentioned, the strap does take some effort to snap together due to the leather's taught-ness around the box. However, its tight fit does a lot to reinforce the security of its handle! When carrying it, I currently don't feel any threat of the box sliding out of its harness, though we'll see how it holds up after a few years of use. That said, at present, it works great and looks very charming!
A perfect fit!
This leather carrying is a perfect fit for my writing box. The leather is a nice thickness, and is held together with sturdy snaps, I don't unsnap it, it slides it on very nicely. It should hold up for many years to come. It makes carrying the writing box more comfortable. I'm really happy I bought it.
Must Have Accessory
If you're getting a writing box, get one of these, especially if you plan to take it anywhere, or... everywhere.
Wonderful Add-On
This is so fun and really adds to the fun-ness feel of the writing box. If you want a cool looking strap to complete the look, get it. It's worth the very agreeable price. Good quality. It was tricky figuring it out the first time, and the leather is tight, but you'll get it and it will loosen.
Very Handy
This leather strap is of very good quality with an old-fashioned design that gives my writing a vintage aesthetic that I love. It is sturdy and is perfect for carrying my box on-the-go. I recommend adding this to your purchase of the Writing Box, as it does help to transport your writing essentials wherever you go.
Useful
This handle is useful for carrying the box and keeping it securely closed while transporting. I recommend it.
Wish I had bought it before
For any one contemplating the Writers Box without the leather strap - DON'T DO IT!
It's the perfect way to carry and secure the box.
Lovely leather - perfect fit.
Couldn't be happier (unless of course I had t waited so long to get it!)
A must have addiction
I absolutely love it as it transforms the writer's wooden box into a carry on bag and allows me to take it with me and work on the go. The leather colour really suits the wooden surface of the box.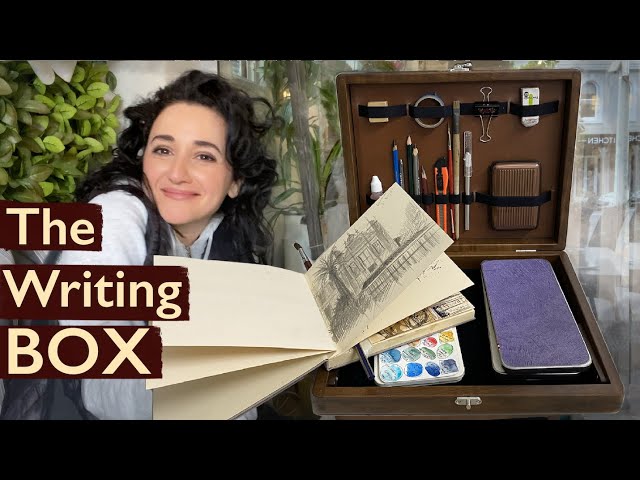 Leather carry-on for box
This is a really cool idea. Easy to use and a good price. Highly recommend if you ever plan on taking your box out.
Most of the items are handmade to order and usually take a minimum of 2-3 weeks to dispatch. Out of stock items mean, not in the production cycle and generally re-stocking in 2-3 weeks. You can subscribe to the in-stock notification on the product page. Good things take time. We appreciate your patience!
Shipping
We ship worldwide. All items are sent via our shipping partners UPS/Fedex. Your items may need to be signed for upon receipt.

Due to security reasons, we cannot ship to PO boxes.

Some items are ready for shipment in our workshop, located in Istanbul. In stock items dispatch within 6-7 working days after payment has cleared using our shipping partners, UPS & FedEx. If the item is not in stock, then we will need to make your order.

Deliveries to USA addresses will take 3-4 days. For the UK and Europe, 2-3 days. To Australia, 6-7 days. For the rest of the world, expect a maximum of 7 working days. Plus production times.

Buyers are responsible for customs duties. There are no additional taxes for goods being delivered to the USA.

European Union : New rules after 1 July 2021; we charged VAT for orders up to 150€. It means no hidden or extra customs fees during the delivery. Orders more than 150€ subject to customs same as before.
UK : Orders are subject to VAT. Around %20 percent. + courier fees.
Brazil: Due to high taxes, we suggest to use a redirecting service like Regarding redirecting services, I've been using fishisfast.com

Most countries, except the USA, are subject to VAT (value added tax) and customs duties. These are the responsibility of the recipient. Since rates vary by country and by what was ordered.

Shipping fees are automatically calculated during the checkout process. See your checkout for shipping options. As an example, a small journal's shipping fee starts at US$9.80.
HS Tariff Code for Leather Goods 420221 (You can check your country import regulations with this code)
Returns - Cancellations
Items (except personalized items) can be returned for a full refund within 7 days of receipt. Buyer is responsible for the Shipping costs. Please feel free to ask any questions you might have before placing an order.
Due to all items are made to order, after receiving your order, we immideatly start to make your items. We don't accept cancellations/changes after orders placed.
Embossed Monogram
Products suitable for personalization, are shown on the product pages.It is and additional option.

Currently, we can't customize the wooden items.

If you want a monogram option on your item please select it from choose box at the right side of the page.
The Monogram default position will be on the front right bottom corner. Up to 3 characters.
Up to 3 characters you can personalize your item with ; A....Z Capital letters 0....9 numbers . , & ! # - _ @ / : * punctuation.
Font and height, the default for this listing is Times New Roman, 1 cm high, same as the lead picture.
WHY SHOP AT Galen?
SEEN ON INSTAGRAM