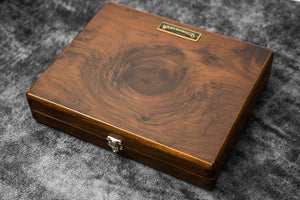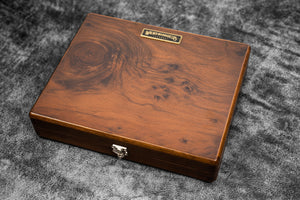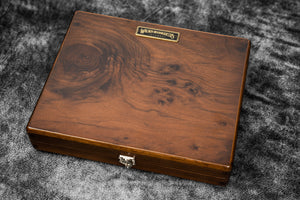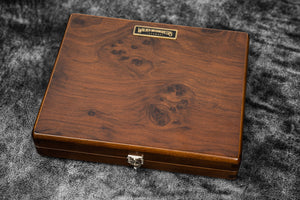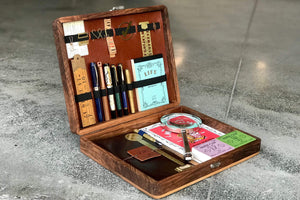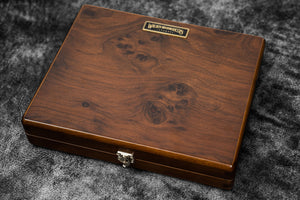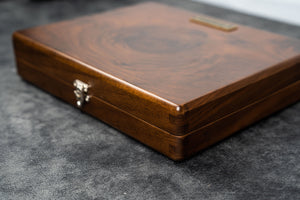 The Writing Box - Burl Walnut Special Edition
A special edition of the writing box, the top side is made of burl walnut wood.
An analog box for today's modern writers.
Crafted from solid walnut wood and vegetable-tanned leather.
Designed to carry analog writing tools and notebooks. The unique angled cover allows you to write comfortably on journeys.
For inspirations on Instagram, click here.
WRITING IS THE PAINTING OF THE VOICE.
Centuries ago, writing boxes enabled people to transport their stationery and writing instruments from place to place. These boxes were small and portable and served as a storage container as well as a writing surface. Now, the analog writer and avid creative can still enjoy this charming piece with Galen Leather's Walden Woodworkers Co. writing box. We have collaborated with Walden Woodworkers Co. to build this beautiful and unique writing box. 
Inspired by Thomas Jefferson's portable writing desk
Inspired by Thomas Jefferson's portable writing desk, this beautiful antique writing box is the perfect marriage of form and function. A vintage writing box for today's modern writers, this high-quality wooden writing box is crafted from solid walnut and secured with a sturdy, nickel-plated brass clasp. Optional vegetable-tanned leather straps fastened with snaps provide a handle for the box, making it easy to carry.

Unique Portable Wooden Writing Desk
When you open this portable writing box, you'll discover that the compact yet spacious writing slope box has plenty of room inside for all the tools a writer would need. Its leather lining features elastic compartments to secure writing instruments, fancy pens, inks, notebooks, journals, and more. Two wooden prongs sit inside the lower half of the box and flip up to support the lid, creating a 15-degree angled cover and writing surface. This allows the writing box to serve as an antique lap writing desk, enabling you to write wherever and whenever inspiration strikes.
Carry your writing supplies everywhere you go or simply use the writing box as an attractive display for your treasured fountain pen collection. The charm of this writing box helps channel your creativity and would make the perfect gift for a writer, an aspiring novelist, poet, calligrapher, or artist. 
The outer dimensions of the writing box are 12.5" x 10.2" x 2.7". Finished with natural linseed and tung oil, it's protected in shipping by a thick cardboard box.
*Due to the nature of the wood, each writing box will vary in color and no two will be identical. Also, we are adding current batch pictures from our recent production. Please review them carefully. 
*Accessories shown in the pictures are not included, but to complete your writing set, additionally you can purchase traveler's notebooks, fountain pens, and brass accessories. 
FEATURES
Six elastic pen slots
One big elastic pocket-size notebook holder
One small elastic pocket-size notebook holder
Four upper elastic slots for clips/ papers /rulers
The base fits two A5 notebooks, or TN, papers or documents
Outside of the top cover fits a flat lay A5 notebook
Shown in the picture is a Hobonichi Cousin (not included)
15 degree angled cover to write comfortably on
SPECS
Outside: 32 x 26 x 7 cm (12.5 x 10.2 x 2.7 inches)
Inside: 29 x 23 x 5 cm (11.6 x 9.2 x 2 inches) 
Made from walnut wood
Nickel-plated brass accessories
Vegetable-tanned leather inside the cover
Comes in a thick cardboard box
Finished with natural oils
Made by Walden Woodworkers Co. - the package was designed by Mathias Johansson
Reviews On YouTube
Notes
It is important to keep the lid of the box closed, when not using it.
This box is made of natural wood and due to the nature of the wood and depending on your location, you can see warping. (mostly in winter). So it is acceptable that you can see a gap up to 4-5 mm gap between sides. Again it depends on your region, climate... It is not a production problem. A seasonal difference in humidity and weather.
If you see this gap, you can put some heavy items and leave them for a while.
*To see the detailed history and plans of Thomas Jefferson's Writing Box, click here.
Treated Myself and Do Not Regret It!
I had my eye on this absolute beauty for well over a year but hesitated at the price and the reviews that talked about other editions warping. However, the good reviews outweighed the bad, and I could not pass on this burl walnut edition. Wow, this has far exceeded my already high expectations, and I'm so happy I own this! I've had this box since the end of December 2022, and there are absolutely zero signs of warping despite living in a dry climate. To be fair, we keep humidifiers running for the sake of guitars in our house, and when I'm not actively using the box, I usually have the straps on and something resting on top. How do I use it? Well, pens, pencils, watercolor, journal storage of course. This is great for propping up a journal or resting laptop or mechanical keyboard on top of. And really, it's just so nice to look at and a great reminder to write, draw, be creative in general. Highly recommend!
Excellent writing box :-)
What a beautiful piece! While everyone reviews it for the walnut wood (exquisite), and the leather interior (supple), and the amount of storage space (plenty for my writing/needs), I really appreciate the addition of the "feet" on the bottom of the box, which I don't believe are pictured on the product page. Such class and utility! See pictures for my set up :-)
Chef's Kiss! Perfection!
10/10! Would (and do) recommend!
If you're looking for a sign, this is it! Buy. The. Writing. Box!
If it's currently sold out and you're seeing this, put yourself on the waiting list!
The Writing Box is perfect in it's simplicity. The more i write with it, the more I love it!
While the interior is about 2cm too narrow to fit two A5 notebooks, as described in the features, it is wide enough to hold an A5 and an A6 notebook
The walnut wood is strong and perfectly smooth. It's polished to perfection. The leather insert with wide elastics holds everything you need and then some.
The leather carry-on kit is the perfect addition to the writing box, making it perfectly easy to bring with you, anywhere you go.
I 100% recommend this and am looking forward to using it for writing and art, for years to come
Awesome Box
This writers box is a thing of beauty. If you not have already purchased the original one you may want to splurge and purchase this one if you can. It is worth the extra money.
The special writing box
I am so glad that I waited for this one to come out. This writing box color is so beautiful and so deep brown. It is definitely worth the extra cost.
Writing Box is great!
But everyone knows that. They are sold out. :)
A Beautiful Gift
I bought my husband this writing box as a 5th-anniversary gift. The first box had a problem where the insert that holds pens and tools was installed upside down and there was damage that happened to the outside during delivery. Because it was a special gift I reached out the Galen and they were very helpful in making everything right. Now my husband has a 100% perfect box that he uses every day. It is great to see him enjoy his beautiful gift so much.
Love My Purchase
I love this writing box. It is perfect for holding my journal and supplies. The woodwork is absolutely beautiful. Galen Leather products are phenomenal.
absolutely divine
I love it and it was burl on both sides--I would recommend in the future that the brass plaque not be so big-- it rather intrudes on the smooth writing surface--could it go inside instead?
Beautiful writing box
This is a beautiful and beautifully-crafted writing box. I am thrilled to have one.
Most of the items are handmade to order and usually take a minimum of 1-2 weeks to dispatch. Out of stock items mean, not in the production cycle and generally re-stocking in a few weeks. You can subscribe to the in-stock notification on the product page. Good things take time. We appreciate your patience!
Shipping
We ship worldwide. All items are sent via our shipping partners UPS/Fedex. Your items may need to be signed for upon receipt.

Due to security reasons, we cannot ship to PO boxes.

Some items are ready for shipment in our workshop, located in Istanbul. In stock items dispatch within 6-7 working days after payment has cleared using our shipping partners, UPS & FedEx. If the item is not in stock, then we will need to make your order.

Deliveries to USA addresses will take 3-4 days. For the UK and Europe, 2-3 days. To Australia, 6-7 days. For the rest of the world, expect a maximum of 7 working days. Plus production times.

Buyers are responsible for customs duties. There are no additional taxes for goods being delivered to the USA.

European Union : New rules after 1 July 2021; we charged VAT for orders up to 150€. It means no hidden or extra customs fees during the delivery. Orders more than 150€ subject to customs same as before.
UK : Orders are subject to VAT. Around %20 percent. + courier fees.
Brazil: Due to high taxes, we suggest to use a redirecting service like Regarding redirecting services, I've been using fishisfast.com

Most countries, except the USA, are subject to VAT (value added tax) and customs duties. These are the responsibility of the recipient. Since rates vary by country and by what was ordered.

Shipping fees are automatically calculated during the checkout process. See your checkout for shipping options. As an example, a small journal's shipping fee starts at US$9.80.
HS Tariff Code for Leather Goods 420221 (You can check your country import regulations with this code)
Returns - Cancellations
Items (except personalized items) can be returned for a full refund within 7 days of receipt. Buyer is responsible for the Shipping costs. Please feel free to ask any questions you might have before placing an order.
Due to all items are made to order, after receiving your order, we immideatly start to make your items. We don't accept cancellations/changes after orders placed.
Embossed Monogram
Products suitable for personalization, are shown on the product pages.It is and additional option.

Currently, we can't customize the wooden items.

If you want a monogram option on your item please select it from choose box at the right side of the page.
The Monogram default position will be on the front right bottom corner. Up to 3 characters.
Up to 3 characters you can personalize your item with ; A....Z Capital letters 0....9 numbers . , & ! # - _ @ / : * punctuation.
Font and height, the default for this listing is Times New Roman, 1 cm high, same as the lead picture.
SEEN ON INSTAGRAM