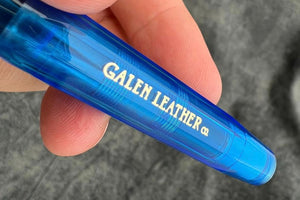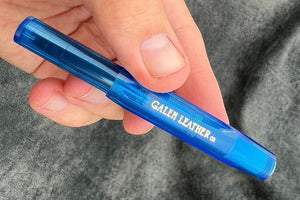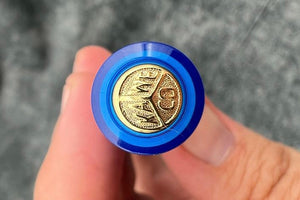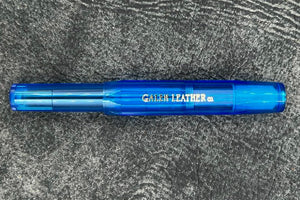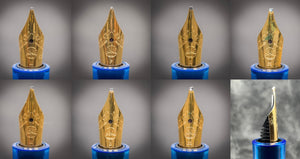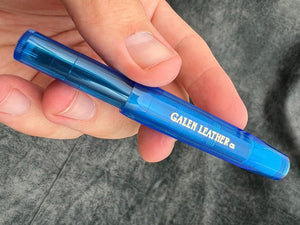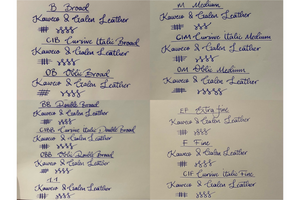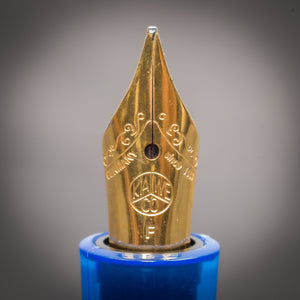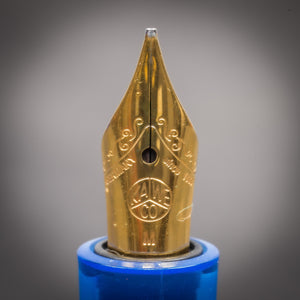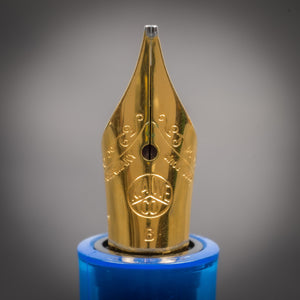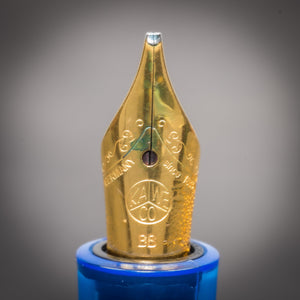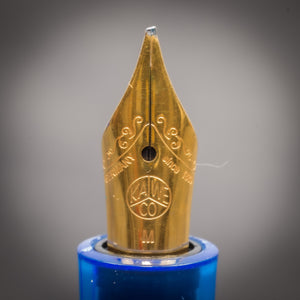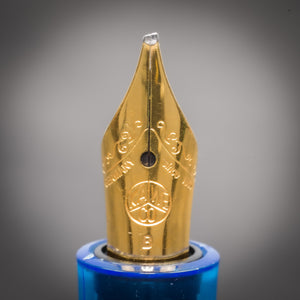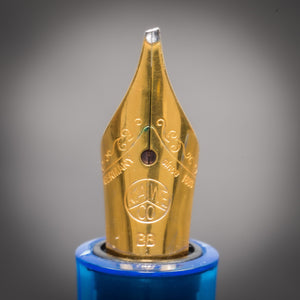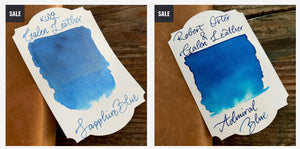 Kaweco Sport Fountain Pen Sapphire - Galen Leather SE
Produced as a special edition, 1199 pieces
Please note, clips is not included. Italic Fine, Italic Medium, Italic Broad, Italic BB, Architect, Oblique Medium, OB (CG), and OBB (CG) nibs are custom grind options.
Description
Check out this stunning Galen Leather exclusive: the Kaweco Sport Fountain Pen. It's a beautiful demonstrator pen that has a tinted, sapphire blue resin body and cap that's not only functional but aesthetically pleasing to the eye.
This has come about as a creative collaboration with Kaweco who are well known for their focus on beautiful utility and quality craftsmanship. And this is exactly what this limited edition Galen + Kaweco Fountain Pen is centered on. 

Following their iconic original 1935 octagonal design, this fountain pen can be described as 'small in the pocket, large in the hand.' The oversized cap arrangement creates a small closed pen but a full-length open pen. Closed, the Kaweco Fountain Pen is just 105mm long. Open, it is 133mm long.

Made from tough but exceptionally lightweight ABS Makrolon plastic, the Kaweco fountain pen features the Galen Leather and Kaweco logo in gold-colored metal on either end of the cap. The polished gold-plated stainless-steel nib is manufactured by Bock of Heidelberg. Kaweco fountain pens are refilled with standard international ink cartridges, such as those made by J Herbin or Kaweco. Available in various nib grades and colors. It's the kind of pen that pairs beautifully with one of our fountain pen friendly leather diaries or fountain pen cases.


About Kaweco
The Kaweco ethos is one of producing high-quality fountain pens at affordable prices. The German-based company has a long history – over 130 years – of producing excellent writing implements. Today much of its range is based on vintage designs using modern materials.
Specs
Pen Material: Tinted resin demonstrator
Nib Material: Gold Plated - steel with plastic feed (no. 5)
Filling Mechanism: Cartridge (standard international, included) or Converter (not included, Kaweco Sport Converter - proprietary), eyedropper convertible
Pen Length (closed): 4.17 in . / 106mm
Pen Length (open, cap off): 3.94 in . / 100mm
Pen Length (open, cap posted): 5.27 in. / 134mm
Pen Diameter (cap): 0.51 in. / 13mm
Pen Diameter (grip section): 0.35 in. / 9mm
Pen Weight: 0.3oz / 8.5g
Packaged in a cardboard gift box
Custom Grinds
Italics and Obliques Grinds by Meltem Hazarhun
Architect Grounds by Ahmet Çarpık (@nibworks)
Fine Italic
A smoother version of the formal italic. Suitable for everyday use and notetaking. Fine Italic has fewer line variations and is great for small handwriting.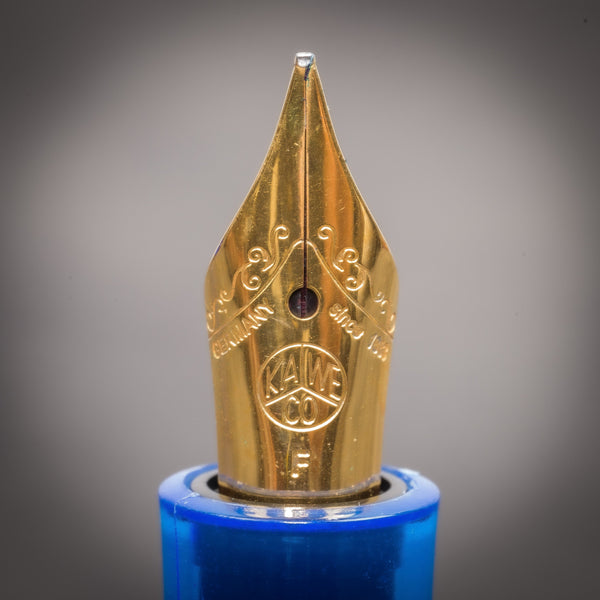 Medium Italic
A smoother version of the formal italic. Suitable for everyday use and notetaking. Still a very common nib with more line variations.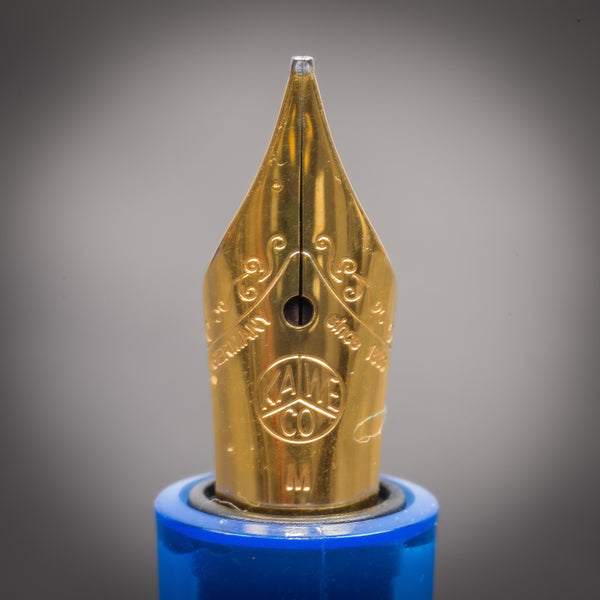 Broad Italic
A smoother version of the formal italic. Suitable for everyday use and notetaking. Almost the best line variations.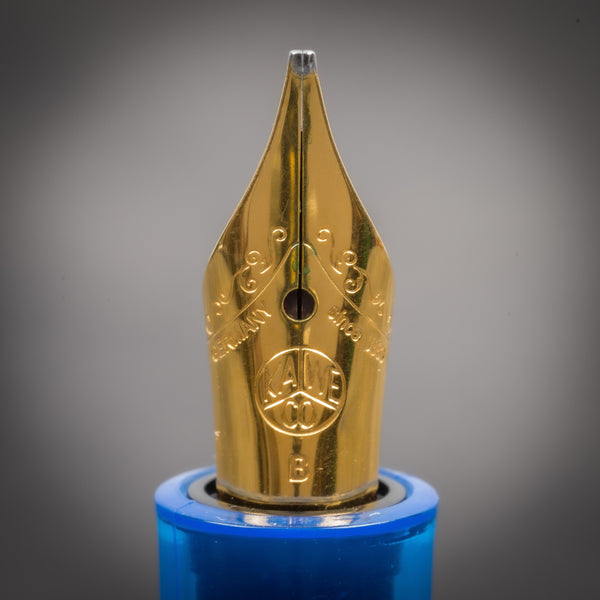 Double Broad Italic Italic
A smoother version of the formal italic. Suitable for everyday use and big handwriting. The best line variation. Compare to 1.1 standard nib IBB has more line variation and more feedback.
Oblique Medium
Allows for one that rotates their pen slightly. Standard 15 degree oblique.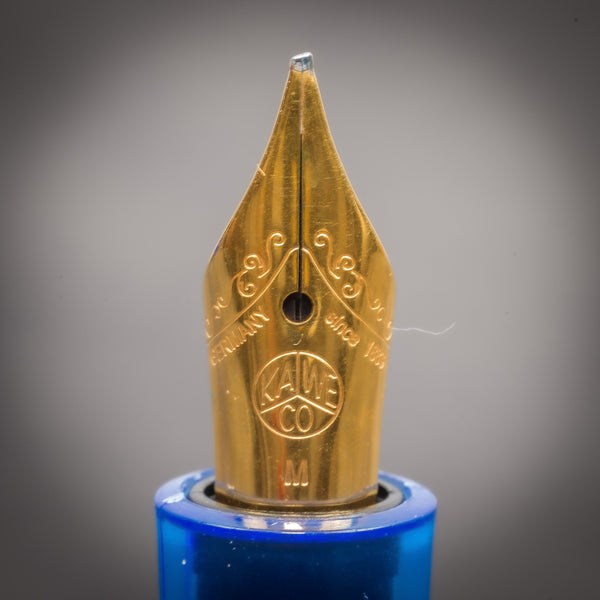 Oblique Broad
Allows for one that rotates their pen slightly. Standard 15-degree oblique.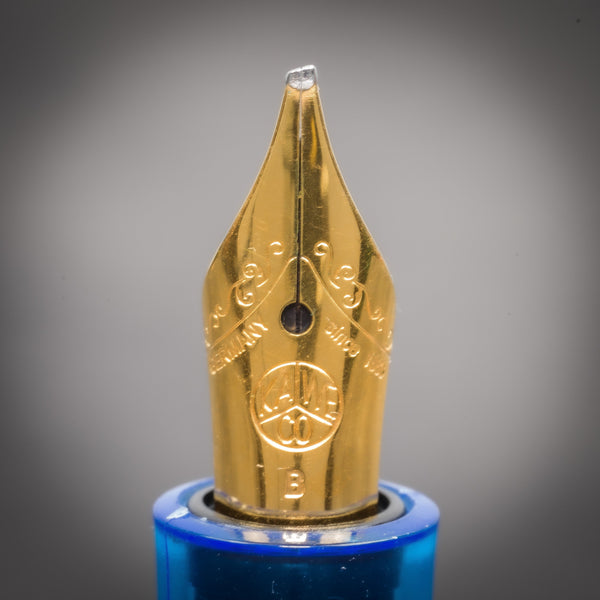 Oblique Double Broad
Allows for one that rotates their pen slightly. Standard 15-degree oblique.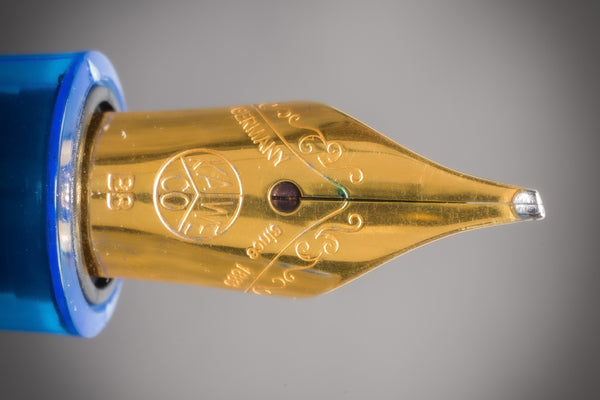 Architect
It is a reverse italic, Can be used for any variety of writing, but is the perfect nib for block lettering. Thin on the down stroke and wide on the side stroke.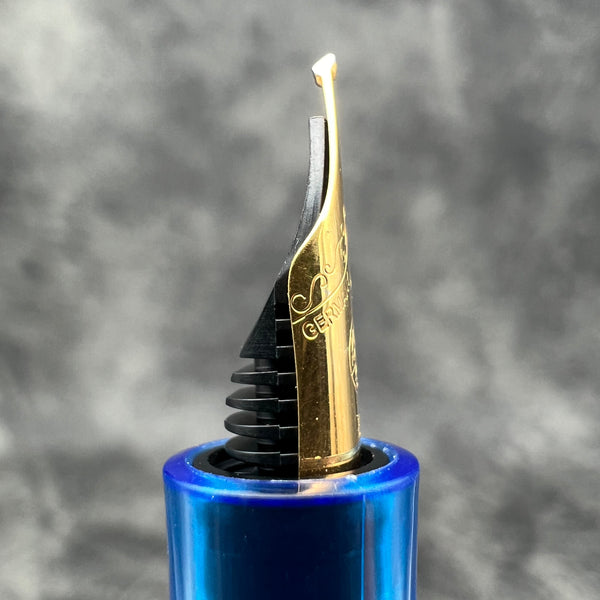 so beautiful!
The collaboration fountain pen this time was also wonderful.
I'm looking forward to reselling the cognac color fountain pen from a few years ago.
I think a lot of people want that.
Please consider it.
Excellent
I ONLY bought this for the fine italic nib as the replacement nibs had been out of stock for ages. Actually its rather nice. Lovely colour too.
Stunner!
I finally gave in and got this pen, even tho' the nib I wanted was sold out. Good move on my part--this is a stunning pen, and with the 1.1 stub, a smooth writer, I find myself reaching for it time and time again. Though it is not my first Kaweco Sport, I especially love the shiny demonstrator aspect most of all.
Incredible
Beautiful color and writes like a dream. It has quickly become my daily carry pocket pen.
Love the limited edition color
Love the translucent blue!
I own quite a few Kaweco pens, this is one of the greats. The blue is vibrant and is pocket friendly and easy to carry around!
A must every year!
Just received my KAWECO SPORT FOUNTAIN PEN SAPPHIRE - GALEN LEATHER limited edition! Beautiful 🤩. Also bought the matching ink. Can't wait for the next one! Thx Galen Leather 🥳
Absolutely bluetiful 💙
Blue and Kaweco are my favs. I absolutely love and look forward to Galen future collabs with Kaweco. So far I have been lucky to purchase the collabs so far.
Love the Transparent Galen Special Kaweco's
I think I have all of the SE Galen Kawecos . Now I get to display them in a Galen Mini Pen Case.
Most of the items are handmade to order and usually take a minimum of 1-2 weeks to dispatch. Out of stock items mean, not in the production cycle and generally re-stocking in a few weeks. You can subscribe to the in-stock notification on the product page. Good things take time. We appreciate your patience!
Shipping
We ship worldwide. All items are sent via our shipping partners UPS/Fedex. Your items may need to be signed for upon receipt.

Due to security reasons, we cannot ship to PO boxes.

Some items are ready for shipment in our workshop, located in Istanbul. In stock items dispatch within 6-7 working days after payment has cleared using our shipping partners, UPS & FedEx. If the item is not in stock, then we will need to make your order.

Deliveries to USA addresses will take 3-4 days. For the UK and Europe, 2-3 days. To Australia, 6-7 days. For the rest of the world, expect a maximum of 7 working days. Plus production times.

Buyers are responsible for customs duties. There are no additional taxes for goods being delivered to the USA.

European Union : New rules after 1 July 2021; we charged VAT for orders up to 150€. It means no hidden or extra customs fees during the delivery. Orders more than 150€ subject to customs same as before.
UK : Orders are subject to VAT. Around %20 percent. + courier fees.
Brazil: Due to high taxes, we suggest to use a redirecting service like Regarding redirecting services, I've been using fishisfast.com

Most countries, except the USA, are subject to VAT (value added tax) and customs duties. These are the responsibility of the recipient. Since rates vary by country and by what was ordered.

Shipping fees are automatically calculated during the checkout process. See your checkout for shipping options. As an example, a small journal's shipping fee starts at US$9.80.
HS Tariff Code for Leather Goods 420221 (You can check your country import regulations with this code)
Returns - Cancellations
Items (except personalized items) can be returned for a full refund within 7 days of receipt. Buyer is responsible for the Shipping costs. Please feel free to ask any questions you might have before placing an order.
Due to all items are made to order, after receiving your order, we immideatly start to make your items. We don't accept cancellations/changes after orders placed.
Embossed Monogram
Products suitable for personalization, are shown on the product pages.It is and additional option.

Currently, we can't customize the wooden items.

If you want a monogram option on your item please select it from choose box at the right side of the page.
The Monogram default position will be on the front right bottom corner. Up to 3 characters.
Up to 3 characters you can personalize your item with ; A....Z Capital letters 0....9 numbers . , & ! # - _ @ / : * punctuation.
Font and height, the default for this listing is Times New Roman, 1 cm high, same as the lead picture.
SEEN ON INSTAGRAM